Brazil: Plastic Food Samples--Manufacturing as Ultimate Craftsmanship
Makoto Ohnishi
Culture and Society Section, Arts and Culture Department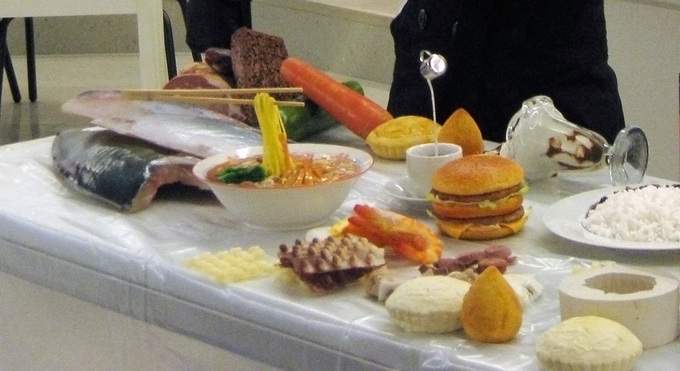 Launching a Program to Introduce Plastic Food Samples
In the Introduction of Japanese Culture Program, the Culture and Society Section carries out various activities covering a wide range of themes to introduce Japanese culture to people abroad. Activities include such traditional cultural fields as Japanese woodblock print art such as Ukiyoe, flower arranging and Origami paper folding, and contemporary cultural fields such as comics, cartoons and robot technology. This year, "Plastic Food Samples" was added to the new menu. A lecture and demonstration (lecture demo) event to introduce Japanese food was held only twice a year five years ago, but in response to the recent Japanese food boom the events have been held five or six times a year in the past few years.
This new program to introduce plastic food samples began from idea sharing among our staff members. One member said, "Some people abroad said they are interested in seeing plastic food samples." Another asked, "Why don't we use plastic food replicas to introduce Japanese food if we can't use real samples?" Others agreed and went on to say such things as, "I saw a TV program on how to make plastic food samples and the technique was just amazing," "Everybody will be impressed with the art of plastic food replicas," "Using plastic food samples for lecture demos will be easier than using real food." This is how we decided to introduce plastic food samples as an example of the manufacturing techniques that Japan boasts to the world.
It was several months later that I took charge of this program. We planned to give lecture demos on plastic food replicas in the following four cities in Brazil in 2011: Sao Paulo, where our overseas office is located; Manaus, in the remote state of Amazonas; Belém, right on the equator; and Recife, in the northeast.
Plastic food manufacturing factories are mainly located in Gifu, the birthplace of the industry, and large urban areas including Tokyo. I went to see two manufacturers in Tokyo and Nagoya who had previously given demonstrations and workshops to ask them to introduce plastic food samples in Brazil. The one in Tokyo had been really busy, and we just couldn't trouble them to make time for our program. Having heard how fierce the competition in the industry is, I visited one in Nagoya without being too optimistic. I met with Mr. Hiromasa Sugamori, the representative of the Sugamori Laboratory, and hesitantly told him about our plan. To my surprise, he said he was interested and willing to go to Brazil. This was the moment when a ray of hope started to shine.
"People in Brazil will not gain any understanding of Japanese culture if we show them something they don't recognize."
Unlike cartoons and real Japanese food, plastic food is not a well-known aspect of Japanese culture overseas. Therefore, we needed to start by clarifying what message we want to convey and how to raise the interest of Brazilian people in Japan through the introduction of food replicas.
After talking with Mr. Sugamori, we decided to implement the program in three stages. First, we explain what plastic food is. Next, he will demonstrate how to make it. Finally, we will have participants create molds and paint food samples. Even at this point, I was still clinging to the idea that plastic food is merely a fake version of Japanese food. I thought that we can promote understanding of Japanese food culture by showing local people plastic food and giving them an opportunity to make it.
However, that was not the case with Mr. Sugamori. He said, "People in Brazil will not gain any understanding of Japanese culture if we show them something they don't recognize." This indicates his strong awareness on what he should offer as an artisan. When I heard that, I finally realized that using plastic food samples for our lecture demos would mean introducing a Japanese manufacturing technique rather than presenting substitutes for real food.
There are many Brazilians living in Nagoya, and Mr. Sugamori asked around to find out popular Brazilian food. With the help of Brazilian food stores, he chose three dishes to replicate: Feijoada (a stew of beans), Coxinha (fried chicken croquette) and pudding for dessert.


Preparation at the Japan Foundation, Sao Paulo
For this program, we needed material and equipment we had never used before such as silicon to make molds, polyvinyl chloride sol (plastic sol), airbrushes to color food samples, an air compressor, thinner to thin oil paints and brightener to give plastic food a glossy appearance. The Japan Foundation, Sao Paulo talked to chemical product suppliers with which the center does not usually do business and managed to obtain all the items even though those suppliers were suspicious of what we were going to do with them. Furthermore, to procure a large oven needed to heat and solidify colored silicon molds, diplomatic missions kindly went out of their way.
During lecture demos, a lot of unexpected happenings occurred. For example, we got the wrong type of thinner. We learned for the first time that there are various types of thinner like vinyl and urethane. And the air compressor broke down because we did not know that the power supply and even types of power outlets can vary within a building in Brazil, which is amazing for us Japanese to see. Yet, the Japan Foundation, Sao Paulo and other local staff members were flexible and adaptable in dealing with these incidents, so nothing led to a catastrophe.
Lectures, Media Interviews, Demonstrations and Returning to Japan
In each city, we received media attention. An interview we had with a national television network was broadcast on the noon news, and some viewers came to our lecture demo. Participants were all amazed at how real plastic food samples look. In question and answer sessions, people always asked where they could get materials to make plastic food. We even had a request to make replicas for all vegetables sold at a market.


Interviews by local media.


A lecture demo in Manaus


A lecture demo in Belém


A lecture demo in Recife
The last lecture demo took place in Sao Paulo. The atmosphere of the venue was different from the other places. Some of the participants were or are engaged in plastic food manufacturing. I later heard from Mr. Sugamori that Brazil-made replicas had been displayed at restaurants in Japan. After Mr. Sugamori's demonstration, they bombarded him with technical questions about materials, equipment and manufacturing methods.
The next day he visited one of the plastic food manufacturers he met in the lecture demo and saw a factory where he exchanged opinions with workers. As he watched the manufacturing process, he could not help himself and gave them a quick demonstration.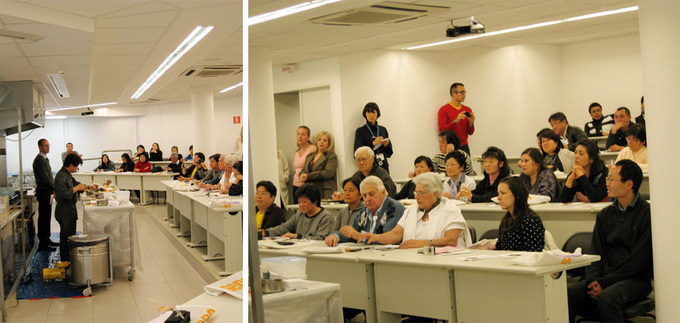 A lecture demo in Sao Paulo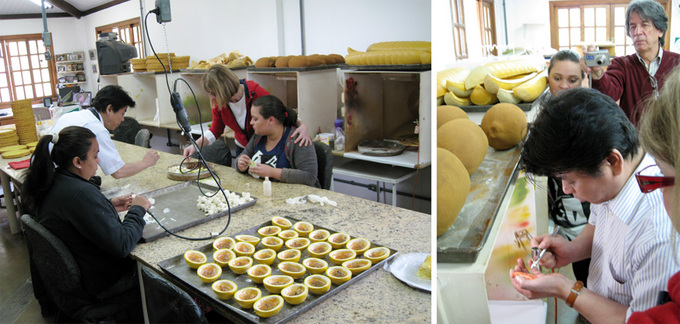 A visit to a local factory--Mr. Sugamori gave an impromptu demonstration
After giving six lecture demos in four cities in 10 days, we headed home. When we were getting on the airplane, Mr. Sugamori said to me, "I've learned a lot from this experience." I was unable to understand or respond to what he said because my mind had gone blank after completing the series of events. Having seen that the eyes of Brazilian people sparkled when they asked him questions and that they always talked cheerfully, he could tell they were enjoying their lives. He said the same thing every time he gave a lecture demo. He also said, "We got used to listening to Portuguese, but now we have to go home. That's too bad." He taught Brazilians the secret of plastic food manufacturing. At the same time, he learned something from them, too.
In plastic food manufacturing, there is no rule or standard. Each manufacturer has to find ways to give fake food a realistic appearance. Mr. Sugamori does not use any method often introduced on TV. His craftsmanship to make food samples look as good as the edible original or to produce "real" fake food is the result of years of research and dedication, and it is a trade secret. I was wrong to think that I got a glimpse of his endeavor through this program. No one but Mr. Sugamori himself would truly know how long and lonely his struggle has been, and it would be impossible for him to tell others how hard it was to get where he is now.
Plastic food manufacturers take different paths to master and perfect their food replication techniques and have different values and methods. Thus, when we organize a lecture demo on plastic food samples in the future, it will be nothing like this one.