Taiko Performances in Kuwait and Jordan
Shuichiro Ueda
Taiko Performer
For a 10-day period beginning on November 21, 2011, I was joined by a violinist Wasei Suma and a saxophonist Masahiro Tamura for a concert tour of the Middle East, where, with the assistance of five staff members from Japan, we successfully completed four performances in Kuwait and Jordan.
Not only was this the first performance in the Middle East for all of us, it was also the first time that we three had done a show together. In that sense, the tour was really a memorable start for us. Taiko (Japanese drum) resembles Tabla, a traditional Arabian instrument, and I had been told that the local people are very fond of drums, so as a performer I was thinking about how to express the essence of Japan through Taiko and through our ensemble's music.
I think music is a once-in-a-life time encounter of sounds, created as the spontaneous reaction of the audience is woven together with the interplay of the instruments. Because the music is played by human beings, the "dialogue of sounds" and the atmosphere produced are never exactly the same on any two occasions; there is a kind of chemistry born each time, as the musicians play off each other. That is why I always look forward to the audience's response, and I knew that on this tour too, each performance would be a new experience for all of us.
Our first stop was in Kuwait, which in 2011 marked its 50th anniversary of diplomatic relations with Japan. Our concert was scheduled as one of about twenty commemorative events sponsored or co-sponsored by the Embassy of Japan in Kuwait. The first two performances were held at the Abdullah Aziz Hussein Cultural Center Theater (Mishref Theaer) in Kuwait City on November 23 and 24.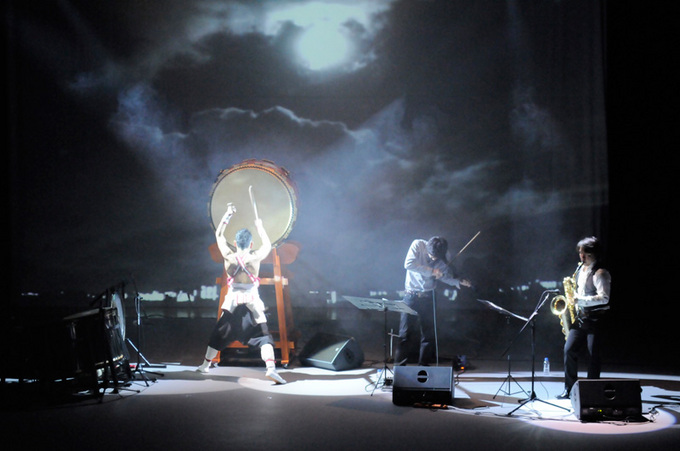 Performance in Kuwait
Kuwait and Japan have always enjoyed a close relationship, and the Ambassador told us that after the earthquake and tsunami in March 2011, Kuwait donated a large amount of oil to Japan, and many citizens contributed money to support the victims. Since the quake, I have held taiko performances titled Hikari tomoseshi kibo to inori no taiko purojekuto ("glimmer of hope and support" taiko project), to encourage the people in the devastated areas. On the day of the show in Kuwait, I exhibited photos of the performances and disaster sites at the entrance of the concert hall. The audience seemed very interested as they looked at the pictures one by one.
Our performance started with a greeting from the Ambassador of Japan to Kuwait, Yasuyoshi Komizo. A total of some 500 people attended the two shows and we played eight pieces during each of the 90-minute performances. The audience for the second day was especially enthusiastic as the concert was open to the general public. The hall was overflowing, with people standing in the aisles, and when we appeared on the stage, they welcomed us with a loud round of applause. Energized by their warm reception, we launched into the set in high gear.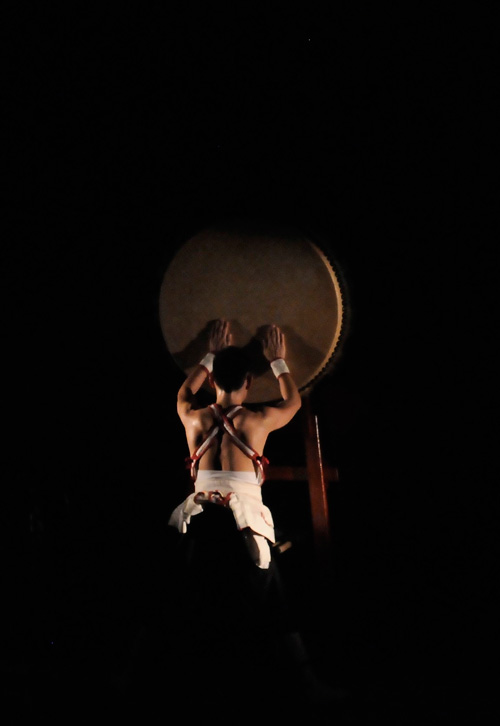 Guiding Light--our prayers for reconstruction
A special open-air stage set up in the city's Souk Sharq shopping center was the venue for our third performance. A Japan festival sponsored by the Japan Society in Kuwait was held there on the same day and the shopping mall was bustling with visitors. Many shoppers watched us even during the rehearsal and by the time our performance began, around 500 people had gathered both inside and outside the venue for the 30-minute show. The spectators shouted their characteristic Arab cries to cheer us on, and, sparked by their voices, our music burst forth and echoed in the night sky.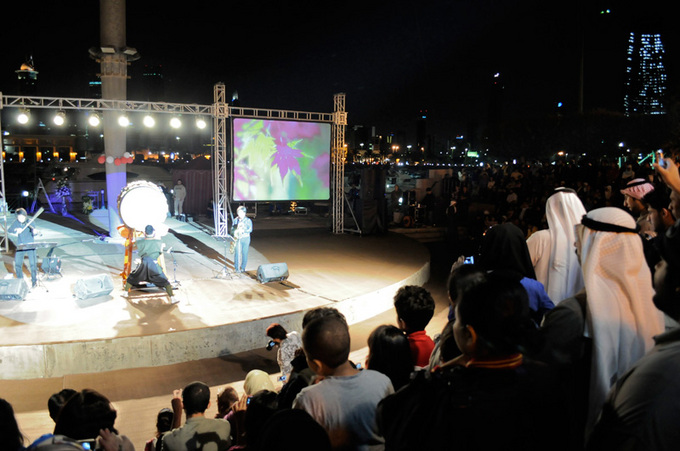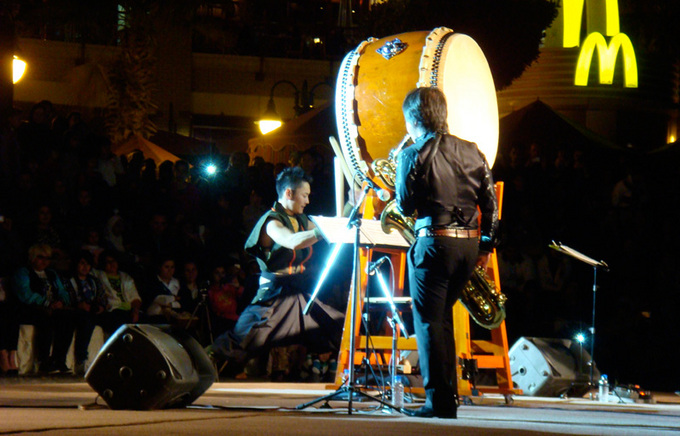 On the outdoor stage in Kuwait
Whenever I perform overseas, I notice how differently people in each country react to music and express their feelings, which is always fascinating to watch. The reaction from the audience in Kuwait was very direct and passionate, and we responded immediately to that. I have always felt that although cultures and languages may differ, conversation through music has no boundaries. Unlike words, the meaning conveyed by sounds can be interpreted in different ways, but that is the appeal of music--bypassing our differences, it enables us to communicate, as I experienced again in the Middle East.
After the three performances in Kuwait, we headed for Amman in Jordan. On November 27, I visited the city's "ACS International School" where more than 500 elementary to high school students gathered in the gymnasium for a workshop and performance.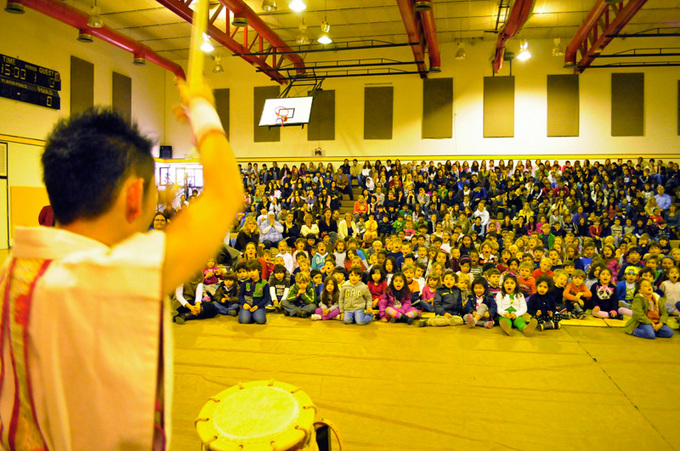 Performance at ACS International School
In the workshop, I conducted a quiz using Taiko in order to teach the children about the instrument. I demonstrated some of the sound effects used in traditional Japanese Kabuki performances, drumming out sounds from nature such as heavily falling snow or breaking waves. When I asked the children what they thought the sounds were, I got a lot of very interesting answers.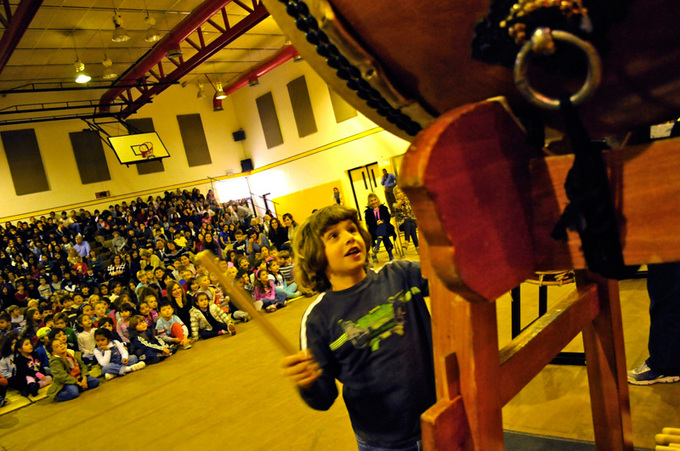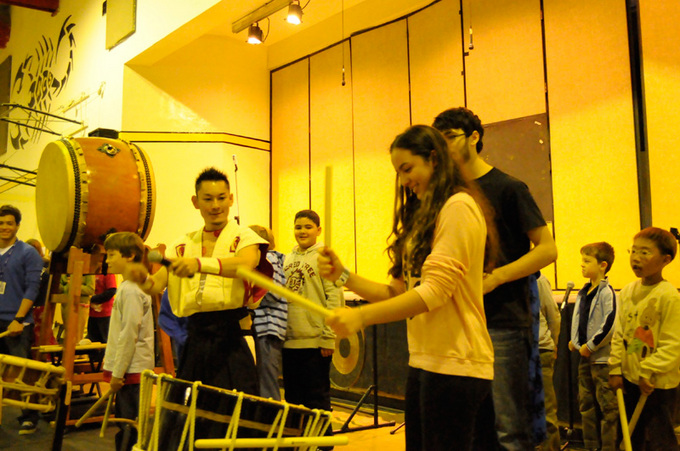 Workshop at ACS International School
I also hold workshops like this in Japan, but I am always amazed at the receptivity and imagination of young people; the kids in Amman were not different, and I was astounded by their creativity. After the quiz, we had about twenty students actually play the drums. Following my signals, they played O-daiko (big drum) and Okedo-daiko (stave-body drum). Unlike western drums, the head of Taiko is made of thick leather, and the resonance of the wooden shell together with the drumskin creates a big, powerful sound. But to make this sound you need to bend your knees, take a firm stance, and swing your arms down in a broad arc. At first, the children were shy about taking this posture but when they heard the difference in the tones, they started listening intently, and the sound they produced was great.
Our last performance was held at the University of Jordan's Prince Hasan Hall on November 28. More than 700 people, mostly from the city of Amman, joined us for the show. The concert began with an opening message from Ambassador Junichi Kosuge of Japan. We received a warm reception here as well, and were showered with loud cheers and applause as we played the nine pieces including the encore. At the end of the show, the audience gave us a standing ovation and many people came backstage to visit us and tell us directly what they thought of the program.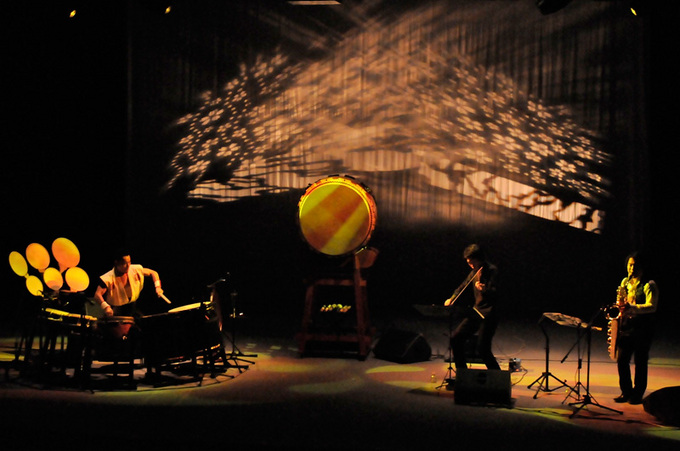 Performance in Jordan
I can say that playing for the audience in the Middle East and meeting the local people gave all three of us the opportunity to discover what we should aim for so that we may continue to inspire people, and we will strive to improve our performance for that purpose. I hope that our tour helped to strengthen the bridges of friendship between Japan and the nations of Kuwait and Jordan and to further cultural exchange between the countries.
Click here for further information on the project.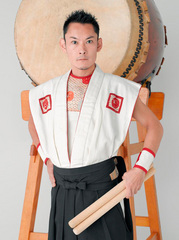 Shuichiro Ueda
Born in Kobe in 1976, Shuichiro first discovered taiko in high school. He sensed its power in performances held to console and encourage fellow Kobe residents affected by the Hanshin Earthquake in 1995, and after graduation, he toured Europe with Taiko group Wadaiko Ichiro. On return, he became a founding member of Matsumura-Gumi, a Kobe group in which he was a core member for eight years. Shuichiro has studied under legendary taiko soloist Eitetsu Hayashi. As a member of his group Eitetsu Fu'un No Kai, Shuichiro toured extensively in Japan and overseas with the master.
In 2004 he devoted himself to solo performance and made his debut at a Peruvian performance of Taiko ni tsuite (About Taiko: A concerto for Japanese taiko), composed by Shigeaki Saegusa. The following year, he served as general producer of the Oriental Night event at Club Citta' in Kawasaki. At this time Shuichiro organized his first concert, Aka to kuro (Red and Black). 2006 also marked the start of a series of performances at the New Year's World Rock Festival (held annually on December 31), produced by Yuya Uchida. 2007 saw the release of the live album Last Summer with pianist Kazuo Suzuki.
Next year Shuichiro performed taiko with the Heisei Nakamura-za kabuki troupe in stagings of Natsumatsuri naniwa kagami in Germany and Romania, at Cocoon Kabuki in Tokyo, and at Shinshu-Matsumoto Grand Kabuki in Nagano. Never before had orchestra members (in this case, Shuichiro and flutist Denjuro Tanaka) taken the stage and actually appeared in the play itself, and this attracted critical acclaim. Other kabuki performances followed in 2009 in Shukyo: Tamayura, a fusion of Eastern and Western genres with the traditional kabuki orchestra Sankyokai, pianist Hibiki Inamoto, guitarist Kaori Muraji, and shakuhachi performer Dozan Fujiwara. After contributing again in 2010 to stagings of Natsumatsuri naniwa kagami in Osaka, the 2011 calendar has seen Shuichi perform in Fukuoka.
In addition to solo performances, Shuichi currently performs with a range of musicians including tsugaru shamisen player Shinichi Kinoshita, shakuhachi player Keisuke Doi, pianist Kensaku Tanikawa, pianist Kazuo Suzuki, saxophonist Masahiro Tamura, 25-string koto player Karin Nakagawa, and flutist Denjuro Tanaka in a variety of genres, continuing to pursue his own musical style.