Spreading the Charm of Traditional Japanese Music in Cambodia, Myanmar and Laos: Learning What Our Ancestors Saw and Felt through Traditional Music
Sho Asano
Tsugaru shamisen player
From February 21 to March 1, 2013, the Japan Foundation hosted a concert tour of traditional Japanese music in Cambodia, Myanmar, and Laos to celebrate the 40th Year of ASEAN-Japan Friendship and Cooperation. Tsugaru shamisen player Sho Asano and his troupe of young and talented traditional Japanese musicians gave performances to appeal especially to younger generations. Workshops were also held to introduce the history of traditional Japanese musical instruments and how they were played, as well as provide an opportunity to interact with the local traditional music, deepening mutual understanding and friendship.
Tsugaru shamisen player Sho Asano who led the ensemble talked about the tour.
How to convey a message to Asian audiences
Since the countries we visited on this tour--Cambodia, Myanmar, and Laos--are all Asian nations just like Japan, it was very difficult for us to choose the best way to convey the message we wanted to project through our performances because after all, we have much in common with those nations compared to an audience in Europe or in North America.
After much deliberation we decided to perform Japanese folk songs with agricultural origins. The theme of each was Japan's four seasons, something that the three countries cannot experience. Japanese folk songs have existed since the old days and typically portray scenes of daily life, or prayers or thanks for a bumper crop for fish and harvest, so they represent the essence of Japanese people. We therefore designed our program to allow our indigenous music to convey the importance of keeping "good old" things alive, while collaborating with western instruments demonstrates an importance and an excitement of exploring the possibilities of folk instruments.
Before leaving Japan, we heard that the people of Cambodia, Myanmar, and Laos tend not to express their emotions openly. But during the tour, that was not the case.
Only at the beginning of a performance was the audience a little uncertain about whether to applaud or clap to the music. But once the silence was broken, everyone joined in with much enthusiasm. They sang, cheered, danced together, and fully enjoyed the performance.
We also performed their local songs in each country. We played "Arapia" in Cambodia, the "Water Festival song" in Myanmar, and the "Champa Flower" in Laos. Our interpreters taught us the lyrics and we did our best to sing in the local language and the audience broke into chorus at every venue. It really was then that I felt music brings us together beyond language or borders. Every concert was not just about the performers on stage but a performance created with the audience.
Even the audience's initial reserveness was something we could easily relate to as Japanese people, and it made us feel closer to everyone as Asians.
Performing with a Cambodian drum group
Our first concert was performed at the Japan-Cambodia Kizuna Festival held at the Cambodia-Japan Cooperation Center (CJCC) in Cambodia. Japan and Cambodia marks the 60th anniversary of diplomatic relations in 2013.
The festival showcased Japanese culture through a karate demonstration, nodojiman singing contest, Cosplay (Costume play) show and exhibition on Japanese anime characters. It was clear that the people of Cambodia were interested in and enthusiastic to learn more about Japan.
For our performance, we welcomed Sakochai, a local drum group, as our guest artist. This was a chance for us to see many Cambodian percussion instruments but what surprised me most was how the performers tuned the drums by adjusting an area of clay stuck on the surface. I was very impressed to see this rich and wonderful piece of wisdom, which had been passed down through generations. We also performed with Sakochai, using our own folk instruments. It is often said that there is no ethnic group without rhythm, but still, that rhythm may be completely different. Thus, we shared a wonderful time together as the different rhythms of Cambodia and Japan mixed together to create a rich tapestry of music. Lastly, the Sakochai leader danced to the Hanagasa Ondo (Flower straw-hat song), a folk song from Yamagata Prefecture. The audience was delighted.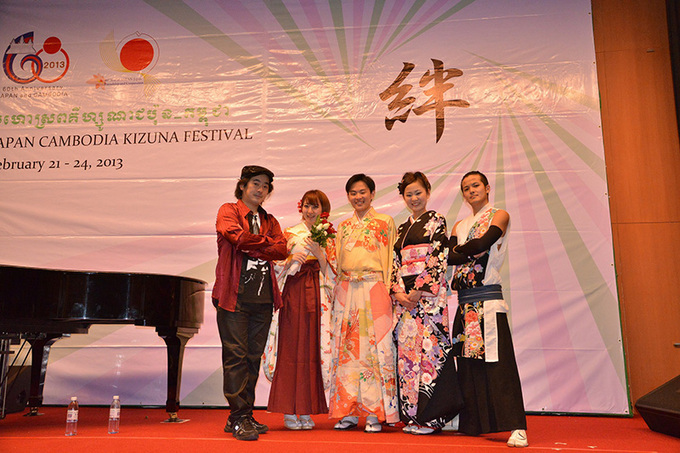 The Sho Asano Troupe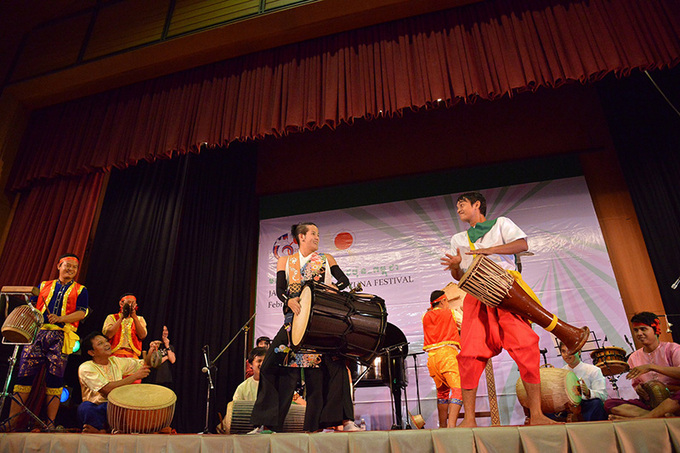 Performing with Sakochai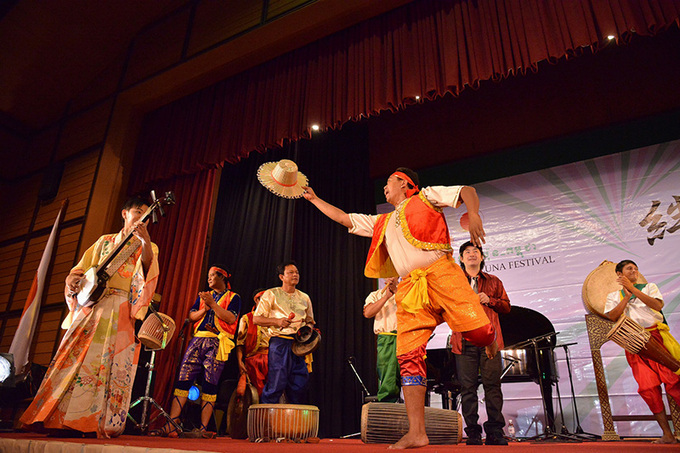 Hanagasa Ondo
Music exchange with a popular Lao band and singers
There were no guest artists at our Myanmar concert, but in Laos we welcomed two groups.
The first group was the people of Lao-Japan Center who danced the Yosakoi Soran. The second was the band Cells and singer SAM, both popular artists in Laos.
We played three songs with Cells and SAM: their signature song "Pieng mi," a well-known New Year's song in Laos, and the Japanese song "Subaru." When SAM started singing "Subaru" in Japanese, the audience applauded and cheered. I believe this exchange was so successful because of this mutual respect for each other's music.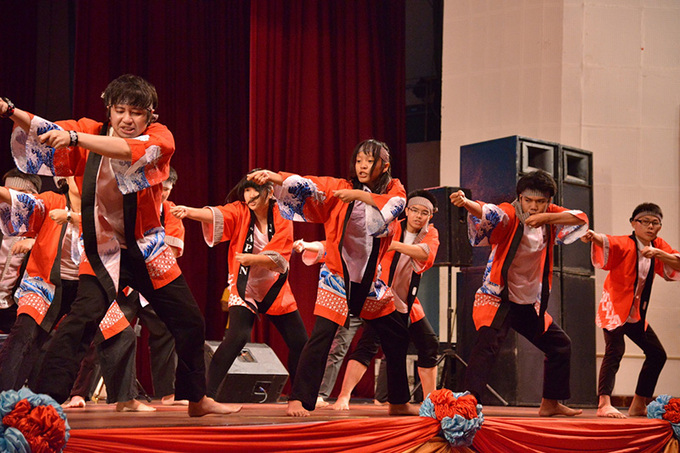 Yosakoi Soran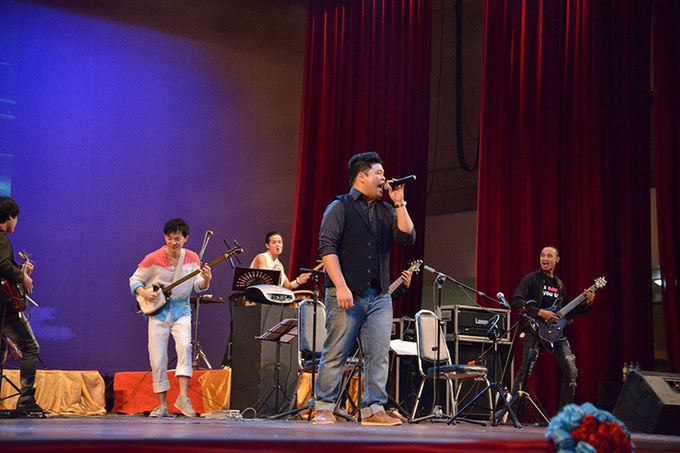 Performing with Cells
Workshops in various locations
In addition to the concerts, we had opportunities to have workshops in various countries. Although we had prepared the programs beforehand, we ended up changing it for each venue. This was because we had received feedback after visiting schools and getting tips from teachers what the students were studying and what tunes we could perform with them. We also talked to them in person, so not only were we able to introduce Japanese music and culture and offer the students a chance to play Japanese musical instruments, but we could also learn from the students about their folk music, instruments, and their traditional dance. We performed together in the end It was a delightful and important exchanges.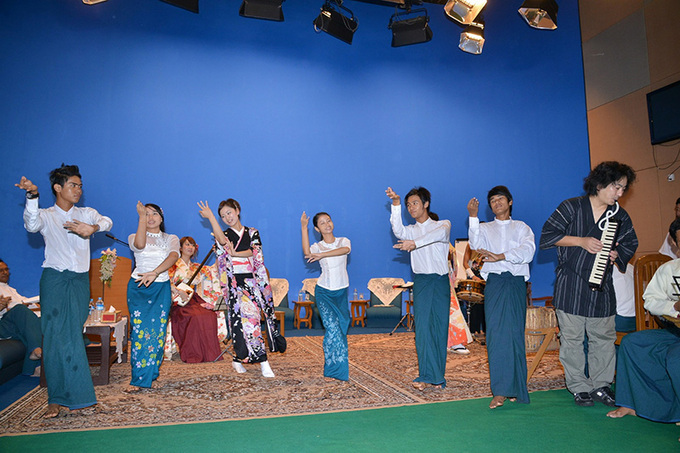 Enjoying the workshop together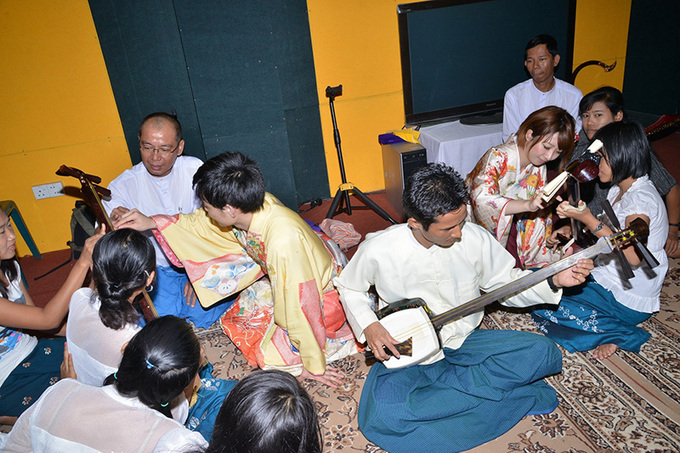 Playing the instruments at the workshop
One of the instruments we saw in Myanmar was the saung-gauk arched harp. This is a string instrument with 16 strings and a scale very similar to the Japanese koto. The strings are made of silk, the same as the shamisen, and apparently are made by the players. Other instruments included the wa patala (wood xylophone) and oozi percussion instrument.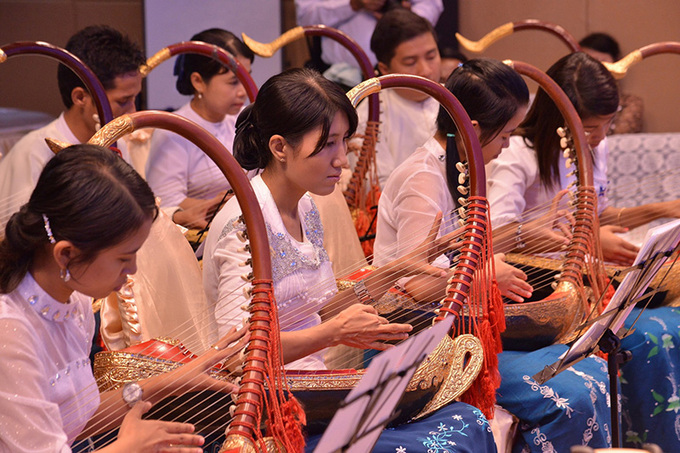 The saung-gauk arched harp of Myanmar
After listening to our performance, one of the students in Laos wanted us to listen to their performance, and they played an instrument called the khene for us. It is said to share the same ancestor as the sho, a Japanese wind instrument.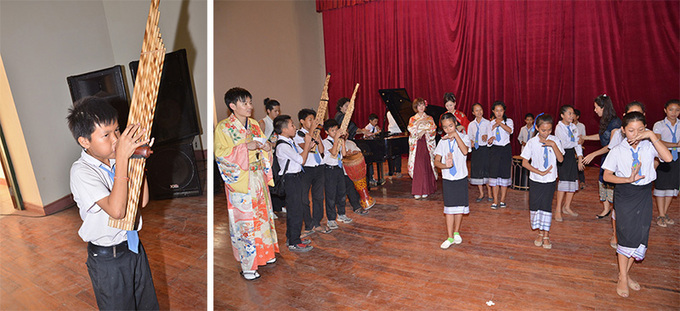 Khene performance and dancing
All three nations that we visited on this tour are advancing every day. As people forge ahead with economic development, perhaps they only pay an attention to the new things. But we owe our lives today to our ancestors, and I believe that learning what people in those nations saw, felt and thought will give us clues to how we should take steps for the future. It is important not to simply do away with the "good old" things that our ancestors left us. We must make sure we keep those things alive. Cambodia, Myanmar, and Laos are developing. Therefore as Asians, nothing would make us happier than being able to convey that message through Japanese folk songs or through this tour. I hope to have the opportunity to see the people we met on this tour once again someday.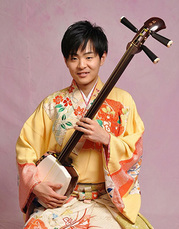 Sho Asano
Sho Asano was born in 1990 in Sendai City, Miyagi Prefecture. He got started playing shamisen at the age of five under the influenced of his grandfather. At the age of seven, he made his first appearance at the All-Japan Tsugaru Shamisen Championship (Hirosaki), and was the youngest participant ever. In the following years, he broke records for the youngest champion in each class. In 2004, at the age of 14, he became the youngest champion at Class A of the All-Japan Tsugaru Shamisen Championship, a title that he held for three consecutive years until 2006, before being inducted into the Championship's Hall of Fame. In 2007, Asano released his debut album titled Sho-fu (Wind of Sho) with Victor Entertainment. In March 2008, he performed a solo concert in Washington DC, and from April to May 2008 participated in a Canada tour organized by the Japan Foundation. In September 2011, he embarked on the "Sho Asano & Ensemble" tour in the Baltic States (Republic of Estonia, Republic of Latvia, Republic of Lithuania) also organized by the Japan Foundation.
Official website: http://www.j-s.co.jp/asano/
[Performance Schedule]

Phnom Penh, Cambodia
Date: Thursday, February 21 and Saturday, February 23, 2013
Venue: Cambodia-Japan Cooperation Center (CJCC)

Yangon, Myanmar
Date: Monday, February 25, 2013
Venue: Parkroyal Yangon Hotel

Vientiane, Laos
Date: Friday, March 1, 2013
Venue: Lao National Cultural Hall