Preparing Sudanese Athletes for the Tokyo Olympics
Kosuke Sunagawa (Competitive wrestler, teacher at Kashiwa-Nittai High School)


The Japan Foundation dispatched Mr. Kosuke Sunagawa as a wrestling coach to the capital of Sudan, Khartoum. There, he provided practical training on wrestling techniques to promising local athletes. Nuba Wrestling, a traditional Sudanese wrestling style with more than 3,000 years of history, is highly popular in Sudan. The Olympic wrestling rules, however, have not sufficiently permeated Sudanese wrestling, making it difficult to foster internationally-competitive athletes. As the winner of the 2012 All Japan Student Championship and an active competitive wrestler, Mr. Sunagawa, traveled to the capital of Sudan and conducted practical skill training based on the Olympic wrestling rules against this backdrop, and also participated in Nuba Wrestling matches during the training period. He contributed an article about his impressions from his experience as a wrestling coach in Sudan, and about future exchanges between Japan and Sudan in the field of wrestling.





Traveling to Sudan to provide wrestling training

In cooperation with the Japan Wrestling Federation, the Japan Foundation organized a training program for Sudanese athletes in order to foster wrestlers capable of competing in the 2020 Tokyo Olympics. As part of this program I traveled to Sudan twice--for one month in November 2014 and one month in February 2015--and provided training based on the Olympic rules for a period of two months in total.

When I was first invited to participate in the project, I did not have a clear image of Sudan. I knew it was in Africa, but I honestly had no idea what kind of country it was. The Japanese have a slightly negative image of Africa as they associate it with the Ebola virus disease that caused a global scare last November. In addition, a Japanese journalist was taken hostage and murdered by the Islamic State in Iraq and the Levant in February. Under such circumstances, my family and friends were worried about my trip to Sudan. I too felt slightly apprehensive. Personally, I have traveled abroad a lot, so I was not really worried, but on the other hand I have had almost no opportunities to visit Africa or any developing countries, so the days prior to my departure were filled with both anticipation and unease.



The language barrier

Language was the biggest problem that I encountered in my work coaching Sudanese athletes. There was no getting around it. Sudan is not an English-speaking country and most ordinary people speak Arabic. There are some who speak English, too, but in general most people cannot speak it.

Fortunately, I had a Sudanese interpreter for the training sessions. The interpreter's Japanese, however, was not very good. It was barely sufficient for basic everyday conversation. The interpreter could only understand individual words and could not really speak. If I had to be honest, it was not possible to smoothly conduct wrestling coaching with this level of interpreting. After all, oral explanation is an essential part of coaching in any sports. Under these conditions, I coached for a total of two months and during that time there was a clear change in the attitude of our Sudanese counterparts: the athletes, the Sudan Wrestling Federation, and their Olympic Committee.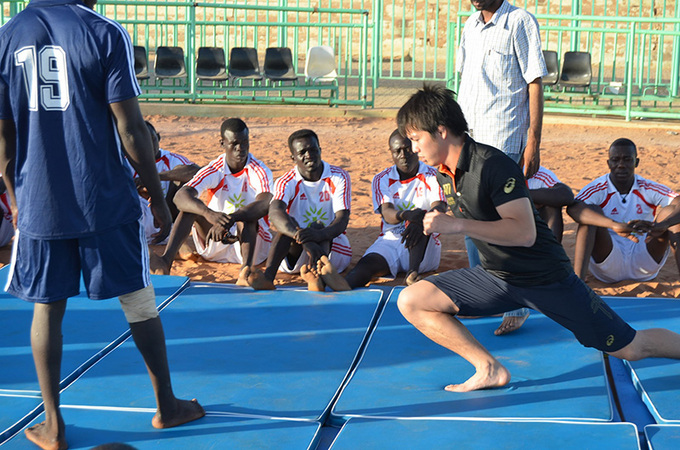 Top and bottom: Sudanese athletes receive wrestling training based on the Olympic rules. The differences with the rules of the local Nuba Wrestling are hard to overcome.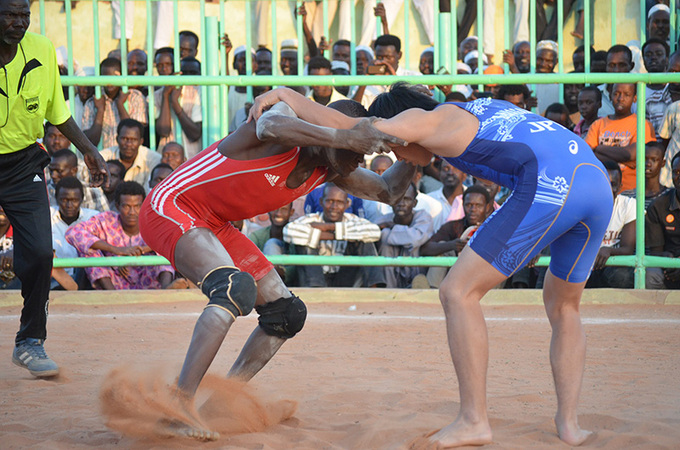 Mr. Sunagawa participates in a friendly Nuba wrestling match before a large audience.



The change in the attitude of our Sudanese counterparts

First, I was most surprised by the National Olympic Committee of Sudan. At the meeting held on February 18, the Japanese side was represented by Ambassador Ito, Secretary Sorimachi, and myself. On the Sudanese side, the meeting was attended by the Deputy Minister for Culture, Youth and Sports, the Deputy Chairman and other top officials of the National Olympic Committee, the Chairman of the Sudan Wrestling Federation, and other high-ranking officials. The major issues discussed at the meeting were what kind of training process should be adopted to ensure the participation of Sudanese wrestlers at the Olympics, and whether wrestling training was necessary. Overall, the meeting had both positive and negative aspects. The positive aspects included the various ideas conceived by the Olympic Committee and their proactive attitude. They told us that they would like to send coaches and athletes to Japan, have them study wrestling for a period of 10 days, then bring to Sudan the technical skills they will have acquired and the rules they will have learned in order to boost the level of wrestling in Sudan. I vividly remember our surprise upon hearing this because we had no idea that our Sudanese counterparts had such specific ideas. One of the negative aspects, on the other hand, was that prior to the meeting, their top officials had not come even once to observe the training in person, yet they kept asking why I did not teach the athletes more about the rules and techniques. I was greatly disappointed and frustrated to hear this.

My response was loud and clear: "The attendance at the training sessions is very poor. The number of athletes who participate in them declines each day. How am I supposed to teach wrestling in these conditions? If you are so concerned, you should come to see the training at least once."
A few days later, top-ranking officials from the National Olympic Committee came to a training session. Through the interpreter, I explained which athletes had great potential, what kind of exercises we were doing at the moment, etc., and the officials left very satisfied.

This experience helped me realize that when two countries are as different as Japan and Sudan, the mentality and dynamism of their people also differ. I intend to make the most of this valuable experience and improve my life skills, as well as my ability as an instructor. I also sincerely hope that some of the wrestlers that I trained will come to compete in the Tokyo Olympics, and we will meet again in Japan.




Left and right: Great excitement at the Youssef Hadji Wrestling Stadium after the end of a friendly match. Through wrestling, Mr. Sunagawa felt at one with the local athletes and audience.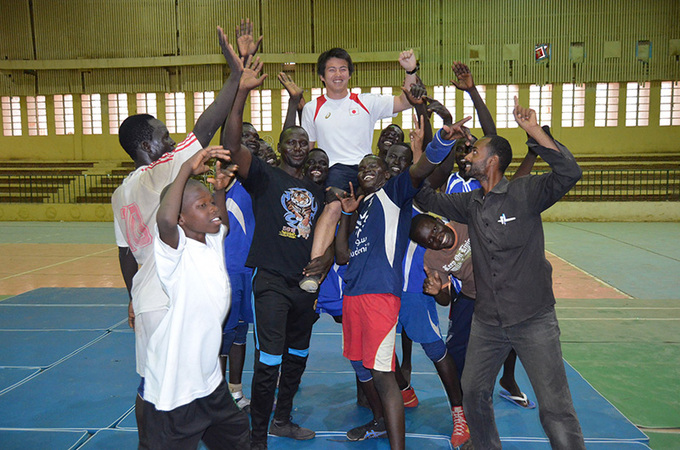 Mr. Sunagawa with the athletes who participated in the training program

Finally, I would like to express my gratitude to Mr. Kenshiro Matsunami, Chairman of the Board of Directors and Chancellor of Nippon Sport Science University and the Japan Wrestling Federation for their cooperation in the implementation of this project. I would also like to extend my appreciation to the Japan Foundation for organizing the project.





Kosuke Sunagawa
Started wrestling at the age of four. This year marks his 19th year as a competitive wrestler. His record includes: 1st place in the 2012 All Japan Student Championship, 3rd place in the 2013 Meiji Cup National Invitational Wrestling Tournament, and 5th place in the 2014 World University Wrestling Championship. Today, he actively participates in competitions while teaching at Kashiwa-Nittai High School.