"You Are The First to Bring Contemporary Dance to Manipur!"
Takao Kawaguchi (Dancer, performer)


 The Japan Foundation, New Delhi invited dancer Takao Kawaguchi to present a workshop and performance in Manipur, commemorating the 71st anniversary of the Battle of Imphal, and to serve as a mentor at a residence program in Delhi. We asked Mr. Kawaguchi, who has just returned from India, to write about his experiences at the workshop and performance in Manipur. Although there have been a few workshops and performances by Japanese dancers, such as Yoshiko Chuma (2004, 2012) and Sankai Juku (2014), in Manipur, it seems to be that contemporary dance is not yet widely well-received. By jointly performing with local dancers, the workshop and performance by Mr. Kawaguchi gave a great opportunity to find out about contemporary dance for young people in Manipur today.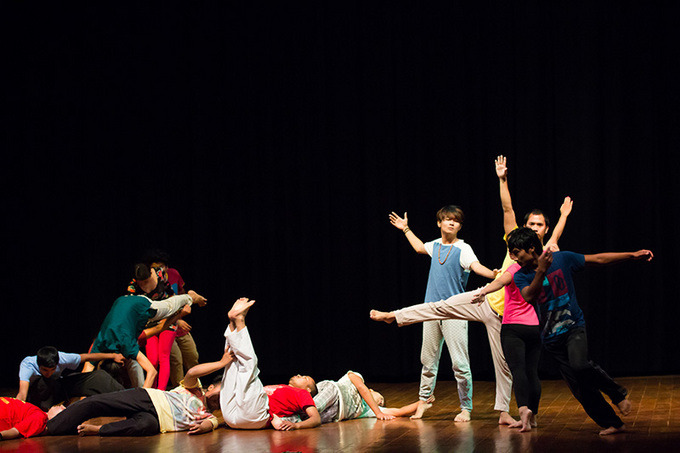 Performing The River, the work that resulted from the workshop ©Tantha



"You are the first to bring contemporary dance to Manipur!" Before I could flinch from the threatening words he had thrust upon me, Surjit Nongmeikapam followed up his onslaught with the words, "For the final performance, we reserved a distinguished 700-seat hall!"

"Now things are getting serious," I thought to myself. Just when I thought expectations over a Japanese dancer/choreographer coming to show and teach contemporary dance could not get any higher, I was told that almost 40 people from Manipur and nearby states had applied to the workshop. I mean, it's not as if I represent the Japanese dance world, or for that matter the contemporary dance world.

My two-week residence (May 25 through June 5, 2015) in Imphal, Manipur State1, an Indian territory in the country's northeast sandwiched between Bangladesh, Nepal, and Bhutan that sticks out towards Myanmar like a thin projection, was a veritable earthly paradise. The climate is warm and humid, and the landscape is green with rice paddies. Although it was muggy during the daytime, with the temperature reaching about 30 degrees Celsius, when rain fell and when the sun went down, the climate would become cool and a sweet breeze would blow, making things actually quite pleasant. The highways that cut through the center of the city, stretching to Myanmar, Thailand, Malaysia, and Singapore are in the midst of being expanded. To do so, the buildings lining the roadside are being cut down to half their size. I was left speechless by the sight of these buildings all lined up, and stunned by the way the cars took no notice of the areas where one lane was blocked off and drove against the traffic in the remaining lane. At this time, an annual festival was being held at the temples that dotted the area. Colorful streamers and flags were put up, music was played, and people dressed in an array of brightly colored clothes were singing and dancing.



Left: Buildings cut down to half-size
Right: A corner of the market



Freeing the Body of All Sensation

Surjit, who was born in this paradise and currently uses it as his base for activities, is a well-recognized contemporary dance choreographer and dancer who has already performed several of his own works in India, other Asian countries, and Europe. And even though I thought those threatening words at the beginning were a joke, it turned out that aside from a few who had appeared in his works, the 20-odd youths mostly in their teens and 20s who gathered at the workshop on the first day waited patiently, with wondering faces, to see what was going to happen. It seemed that this would in fact be their first experience with contemporary dance. Even so, when I heard about them, I was surprised to find out that they weren't rank beginners. In fact, all of them were students, dancers, or artists who were studying local traditional dance or music. "Okay, so where do I start with them?" I used my stock method of having the dancers first lay on the floor on their backs, close their eyes, and breathe quietly. "Hmm, this seems to be getting no response." Determining that the approach of having them meditate to free themselves from their bodies was no good, I changed tact, and had them get up, walk, run, jump, roll around, fall down, and use their entire bodies to release their energy into the space.




Left and Right: At the workshop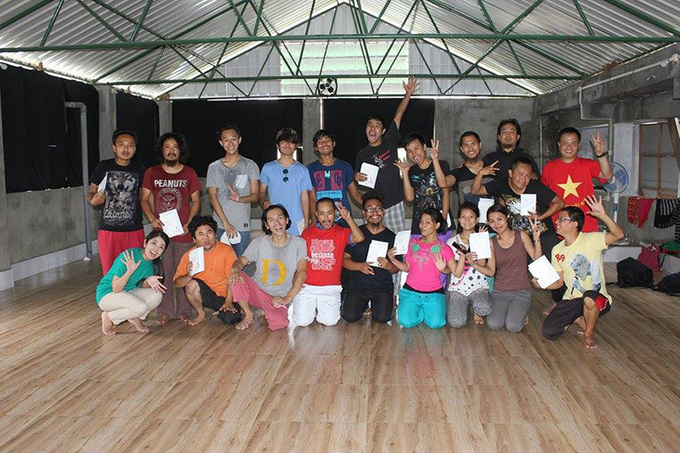 With workshop participants who enjoyed their first encounter with contemporary dance

At the risk of over-simplifying things, the local dances are characterized by creating forms through strict control of the body or the expression of beauty through traditional dance. In particular, the Manipuri dancing I saw at the temples featured mainly arm and hand movements and relaxed steps, without much bending of the body. In a sense, once these young people, who up to then had not been allowed to do any other type of dance, cast off the restrictive robes of tradition, freed all of their bodily sensations and started running, rolling, and spinning around, and recognized this as dancing, the scene became a wild romp, and the scheduled two hours flew by before we realized it. That wasn't enough time, so from the next day onward, we came in an hour earlier, and extended the session to three hours, from 8:00 a.m.2 to just past 11:00 a.m. Since this was a golden opportunity for these young people, we decided to have a performance to present the results of their work. We extended the workshop, which was originally scheduled for one week, to two weeks and we worked on creativity and training. I was not very experienced in running workshops, and had hardly ever done any choreographing, so it was not easy for me, but the second I saw the faces on these students who did everything I asked them to do with true verve and pleasure, I found myself lifted up by them. The pressure I had felt turned into joy.



Improvisational Exchanges from the Traditional to the Modern

The performance included four parts--a recital showing the results of the workshop, a solo dance by myself, a dance film from Surjit,3 and a collaboration with the local traditional music group "Laihui" (meaning "roots"). For the final collaboration, Chaoba Thiyam, who plays the pena, a string instrument that is of central importance in festival and dance music, joined us for a three-person improvised dance. We practiced twice at twilight in the ample garden of The Giving Tree, the guesthouse where I was staying. The improvisational exchanges that we carried out without planning anything in particular in advance went back and forth in a relaxed way between the traditional and the modern, and between storytelling and the abstract. Meanwhile, the three of us each openly embraced each other's differences and commonalities. The time flew by, and we danced for nearly an hour before we knew it. It was the most wonderfully blissful time that I spent during my entire residency.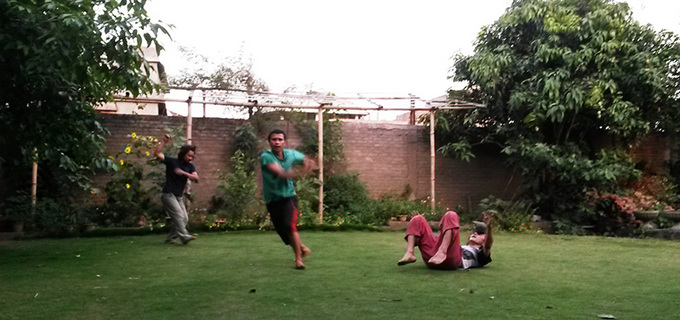 An improvisational dance at the guesthouse

Surjit is the hope of the local contemporary dance community. He put a roof on part of the top of his parent's house, where his extended family lives, and converted it into a studio. It was finished just in time for this project. After every morning workshop, his sister prepared a Manipur-style lunch that was exquisite. His mother, aunt, cousins and nephews all welcomed me with bright smiles, and the guesthouse where I stayed wholeheartedly supported me. Most importantly, the production team at the Nachom Arts of Contemporary Movement4 (a project organization where visual, musical, design, and other artists gather), which organized the entire project, was both meticulous and energetic, from attending to us to producing the performance and publicizing it. I found the tireless movement of these youths who shoulder the expectations of the Manipuri art community, which is trying to connect with the global contemporary dance world despite the actions of the Paramilitary forces of India that is trying to suppress a separatist movement, to be truly beautiful and refreshing.



Toward the Final Performance: The River

Then came the final day. Over 500 people attended the first contemporary dance event in Imphal, a regional city in Manipur state with a population of a few hundred thousand. All manner of media covered the event, from television to radio stations, newspapers, magazines, and online media. There was even a place to take photos with a red carpet laid out in the lobby with a poster in the background. Finally, the time for the performance came. First came my solo performance and the collaboration with Surjit, but I was most worried about the performance with the young people. I felt like an anxious parent. Although their first contemporary work The River was short at just under 15 minutes, in that time they performed with smiling faces full of life and explosive energy on stage that they hadn't shown during our practices. I was at the back of the audience watching nervously, but when they executed the climax perfectly I found myself jumping for joy. I wish I could say that the entire house of course gave a rousing standing ovation, but to my dismay, the applause was woefully sparse. It had been the same after my opening solo dance. "What is going on here?" I thought. Actually, the audience in Manipur had not been bored at all. It was just that they did not have a custom of expressing admiration by applauding and raising their voices. After the show, I stood there in the lobby with very mixed feelings as an endless line of people came out one after the other shaking my hand and asking me to take photos with them. It was the first time I ever had an audience that reacted in this way. So I guess you could say that Manipur's first ever encounter with contemporary dance was a smashing success!




Left: Performing the solo work Good Luck ©Tantha
Right: The collaboration with Laihui ©Tantha

Less than a month after I had finished my residency and left Manipur, I heard on the news about riots occurring there. Manipur is an earthly paradise where most of the people's unique traditional culture and the natural environment have escaped destruction and still survive, thanks to the fact that it has largely been untouched by the interference of global money and development. It is also a land that has had, throughout history, to endure repeated international conflicts, including conflict involving Japan, and tensions remain to this day. From the bottom of my heart, I wish for their peace and safety, and hope to visit their land to dance with them once again.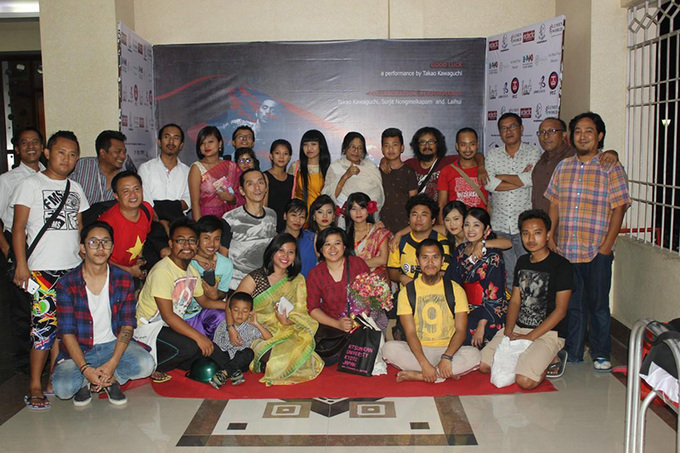 All those involved pose for a photo after the performance



Notes:
1. During World War II, the Imperial Japanese Army invaded this land and inflicted many casualties in the infamous Battle of Imphal. There is a monument in the city, and during my stay, a memorial ceremony to commemorate the 71st anniversary of the battle was conducted there.

2. Since there is an eastward difference of about two hours from the standard Indian time, the sun rises at 4:00 a.m. Therefore, people's mornings start early, and an 8:00 a.m. start is not considered unusual.

3. Takao Kawaguchi solo dance Good Luck (premiered in 2008). Black Pot and Movement (2013) is a collaborative visual work by Surjit with Japanese dancer Mayuka Ueno that was produced with assistance from the Japan Foundation, New Delhi. On October 12, 2015, it was screened at Dance and Media Japan, which was held at the Sai no Kuni Saitama Arts Theater.

4. Nachom refers to a flower decorating the ear. In Manipur, there is a custom among both men and women to wear these, especially during festivals.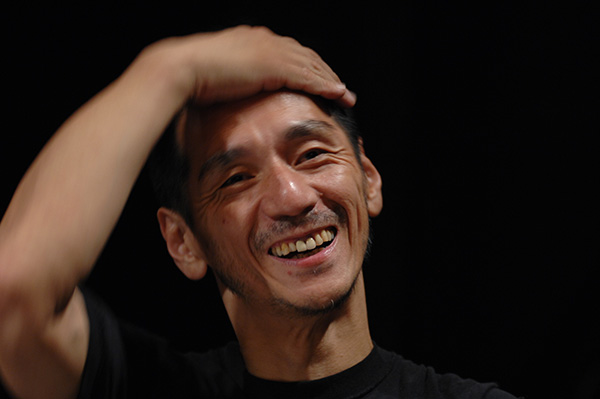 Takao Kawaguchi
Takao Kawaguchi was born in 1962 in Saga, Japan and is currently living in Tokyo. He started acting when he was a student, and after having learned the "mime" physical theater, he shifted to dance performance. He joined ATA Dance from 1990, and Dumb Type from 1996. Since 2003 he has worked mainly as a solo performer, exploring live performance crossing over the borders of theater, dance, video and plastic arts. In recent years, he has created "Butoh-related" performances: Yameru Maihime (The Ailing Dance Mistress) - Two solos inspired by the texts of Hijikata Tatsumi (2012), and About Kazuo Ohno - Reliving the Butoh Diva's Masterpieces (2013). He is currently working on Touch of the Other, a performance based on sociological research on male-to-male sex in public toilets from the 1960s, which is scheduled to premiere in January 2016 in Tokyo.