Resonance in Literary World that I Experienced in Armenia and Russia
Masatsugu Ono (novelist)



The Japan Foundation (JF), in cooperation with the Publishers Association for Cultural Exchange (PACE) put up a booth to represent Japan at the 17th International Book Fair for High-Quality Fiction and Non-Fiction held in Moscow, Russia, from November 25 through 29, 2015. JF and PACE introduced Japan's contemporary publishing culture from manga to literary works and magazines. Author Masatsugu Ono, who was invited to participate in the fair, kindly contributed the following article, in which he describes the lectures he delivered in Russia and Armenia, and his interactions with local people.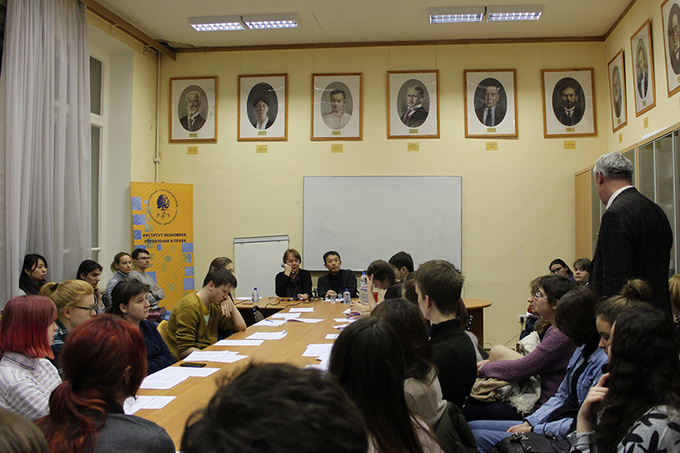 Masatsugu Ono delivers a lecture at the Russian State University for the Humanities

Initially, I was supposed to go only to Moscow.

Then, however, I received an invitation to extend my trip to Armenia in view of the fact that Japan opened an embassy in Armenia's capital Yerevan in January 2015. By coincidence, 2015 was the 100th anniversary of the genocide inflicted upon the people of Armenia by the Ottoman Empire, and the country was prominently discussed in the media. I had been interested in Armenia ever since my years as a PhD student in France, so, driven by my curiosity, I immediately accepted the invitation.

The problem, however, was that there were neither Armenian nor even Russian translations of my works. To solve this problem and bring meaning to my lectures and exchange events, Karine Karamyan, a Japanese language teacher at the Russian-Armenian (Slavonic) University (RAU) translated my novel Kyunen-mae no Inori [A Prayer Nine Years Ago] into Russian. Armenia was a republic within the Soviet Union until 1991, when it gained its independence, so most people there understand Russian. I appeared on a radio program during my stay in Armenia, and the radio station was broadcasting in Russian.

Aram Pachyan, a young Armenian author, with whom I had a dialogue at RAU, explained that there were very few foreign literature works translated into Armenian, so people have to read Russian or English translations. The look in his eyes and his manner of speaking clearly conveyed his strong desire to read world literature masterpieces even in a foreign language, and I felt strong empathy for him. Unable to read in Armenian, I read several of Pachyan's short stories in English. There was one particular story about a young man about to depart on a journey abroad bidding farewell to his homeland, which evoked an eerie sense of nostalgia in me.

Armenia has no large industries, so many people leave to seek work abroad. The number of Armenian people residing abroad apparently is three times the population of the country. The major work destination for Armenians is Russia, and there are Armenian communities in each Russian town.

Most of my works, including the one which was translated into Russian, are set in a small desolate area on the sawtooth coastline of the southern part of Oita Prefecture, which is my birthplace. Young people leave in search of work, and only elderly people remain in the villages. Apparently there were people in the audience of my lecture who superimposed over my stories the situation in the rural areas of Armenia, where the absence of men who had left to work abroad was particularly noticeable.





Left and right: Lecture at the Russian-Armenian (Slavonic) University (RAU). The lecture was followed by a dialogue with young Armenian author Aram Pachyan.

Armine Martirosyan, a graduate student at RAU, who served as my guide, came from an Armenian community in a city in East Siberia on the border with China. She explained to me in beautiful Japanese, but with downcast eyes, that because she was raised in Russia, "learning the Armenian characters was extremely difficult." Armine said she liked my work, but I wonder what kind of scenery she saw in them.

After the somewhat provincial ambience of Yerevan, Moscow overwhelmed me with its metropolitan energy. The roads and the buildings were on a different scale altogether. I was particularly impressed with the dusty luxury cars that filled the streets of Moscow. The people of Saint Petersburg call Moscow "a big village," but if this is true, then Moscow is a mind-bogglingly huge village.

I was afraid that the audience of my lectures in such a large city as Moscow might be bored by a talk about my creative activities as an author of novels set in a small seaside village in rural Japan, but these fears proved groundless. My lectures both at the book fair and at the Russian State University for the Humanities were fully attended, and the audience earnestly listened to my talks and followed up with an endless stream of questions. I not only responded to their questions, but also engaged in interactions, from which I took a lot of new ideas and information. Some people in the audience told me about the severe reality in Russia's rural areas: villages that have already vanished completely, not even marginal villages. I realized that Japan is not the only country that faces the issues of decreasing birthrates and aging population in rural areas. Other members of the audience quoted the names of authors known for their masterful depiction of the image of Russian rural people against the background of the beautiful nature, and urged me to read their works.





Left: Lecture at the 17th International Book Fair for High-Quality Fiction and Non-Fiction
Right: Masatsugu Ono is interviewed by local media at the book fair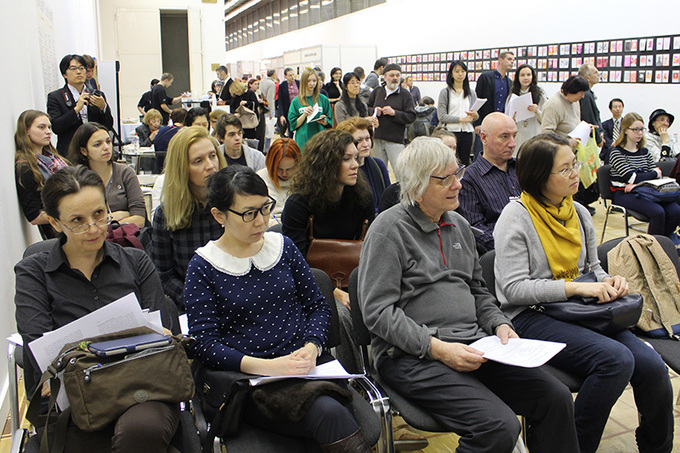 The audience is earnestly listening to the lecture delivered by Masatsugu Ono

One of the wonderful aspects of such cultural exchange programs is the unexpected encounters with concepts and works of literature that resonate in harmony with my own literary world in places that are geographically very distant from the stage of my works. The trip to Armenia and Russia was a precious experience that led me to the powerful realization that people have the ability to discover their home in distant lands. I was deeply touched by the feelings of love and respect for culture and arts conveyed by the audience that attended my lectures in Yerevan and Moscow. For an author, the encounter with such passion is a great source of inspiration. I still do not know what my next work will be, but I can tell with certainty that it will draw on the experience I had in Yerevan and Moscow.


In conclusion, I would like to express my heartfelt gratitude to everyone who worked so hard to ensure the smooth implementation of this two-country lecture tour and cultural exchange project. I am particularly grateful for the support of Ambassador Eiji Taguchi and Natsuko Fujii at the Embassy of Japan in Armenia, as well as Yoko Sakanoue and Yaroslava Gladysheva of the Japanese Culture Department "Japan Foundation" of the All-Russia State Library for Foreign Literature. I am thankful to everyone who responded in a courteous, generous, and cheerful manner to my incessant questions about the situation in both countries. I truly enjoyed the time I spent with them. It is a precious experience that I will never forget. I would like to thank all of them.

I have been invited to several countries under the Cultural Exchange Program implemented by the Japan Foundation, and all foundation staff members I encountered at those countries were unique and fascinating people who possessed not only deep and detailed knowledge and understanding of the local culture, but also distinctive areas of specialty. I was humbled by their courteous reception, which is more than I deserve. In any case, each encounter with JF staff members who spare no effort to facilitate meaningful and deep cultural interactions between Japanese guests and local people inspires me with feelings of respect and admiration. At the same time it fills me with confidence that, regardless of what some may say, as long as such people are involved in Japan's cultural exchange projects, these projects will produce wonderful results. My trip to Armenia and Russia only reinforced these feelings.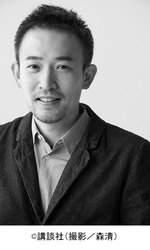 Masatsugu Ono
Author Masatsugu Ono was born in Oita Prefecture in 1970. Currently, he is an Associate Professor at Rikkyo University. His works include Nigiyakana Wan ni Seowareta Fune [Boat on a Choppy Bay] (Asahi Bunko), for which he won the 15th Mishima Yukio Prize, Shishiwatari-bana [Lion's Tread Point] (Kodansha), A Prayer Nine Years Ago (Kodansha), which was awarded the 152nd Akutagawa Prize, Nokosareta Monotachi [Those Left Behind] (Shueisha Bunko), and Suishinin no Kikan [Return of the Drowned] (Bungeishunju). He is also the translator of Marie NDiaye's Rosie Carpe (Hayakawa Publishing) and other literary works.