Progressive International Exchange Activities Connect "Citizens" in Japan and Abroad
Ever since establishing the Japan Foundation Prizes for Global Citizenship in 1985, the Japan Foundation has been annually honoring organizations engaged in international cultural exchanges to deepen mutual understanding, partnerships, and coexistence between the citizens of Japan and people abroad.
In 2015, a total of 134 organizations applied or were nominated from all over Japan for prizes. Following a selection process, the prizes were awarded to
NPO Peace Field Japan
in Tokyo,
Yamamoto Noh Theater
in Osaka, and
NPO Kobe Foreigners Friendship Center
in Hyogo. This article introduces the activities of the three organizations and the acceptance remarks made by the representative of each organization at the award ceremony.
(The 2015 Japan Foundation Prizes for Global Citizenship award ceremony, at The Capitol Hotel Tokyu, on March 1, 2016)
PFJ provides young people, responsible for creating a sustainable society, a place for deepening mutual understanding
The Israeli-Palestinian conflict has persisted since the early 20th century. Peace Field Japan (PFJ) invites young people from Israel and Palestine to Japan for activities aimed at fostering a young generation that will assume responsibility for building sustainable peace. Inaugurated in 2004, the organization then called Peace Kids Soccer initially hosted friendly football tournaments participated in by boys from Israel, Palestine, and Japan. Since 2007, the organization has been carrying out the KIZUNA Project to provide Israeli and Palestinian high school students and Japanese high school and university students an opportunity for dialogues and exchanges, with participation limited to females.
Kosuge, a village in Yamanashi Prefecture, is located at the source of the Tama River and the Sagami River. In this
satoyama
(traditional Japanese rural landscape) embedded in a spirit of human-nature coexistence, a total of 12 students--4 high school students from Israel and Palestine each and 4 high school and university students from Japan--participate in a two-week camp where they are exposed to rich nature. At the camp, participants live in a
satoyama
and experience local customs and traditional culture. At first, the participants from Israel and Palestine were conscious of each other, with some keeping their guard up. However, in the course of spending time together doing educational activities and preparing their own meals, Israeli and Palestinian students began to open up and make attempts to get to know one another. Through living together, which makes communication essential, young women from conflict areas realize the importance of respecting, understanding, and caring for one another.
In the KIZUNA Project, the people in Kosuge impart wisdom and skills useful for daily living, such as soba making, zori making, and woodwork. Students also learn about environmental protection and efforts to address regional challenges. After acquiring new insights based on positive human-nature relationships, participants think together about what a sustainable society is, how communities should exist, and what they can do in their respective home communities.
Needless to say, the KIZUNA Project provides a meaningful experience for Japanese high school and university students as well. They revisit their own cultural wisdom through the local and reflect on cultural wisdom in the global through the exchanges with the other participants.
Participants have shared feedback such as the following:
"I now consider the Palestinian issue as an issue that concerns my friends and one that is close to my heart."
"I learned that people can spend time together even if their views are different."
"I came away thinking that there must be ways we can contribute to our own communities."
By living together, the participants renew their determination to find common values, even if their ideologies, creeds, traditions, and cultures are different, and look ahead to the future as members of the same generation. The activities of PFJ foster a young generation that will be responsible for building peace and creating a sustainable society. Although this grassroots effort continues on a small scale, 12 young women per year, the resulting network is highly significant. The participants form strong ties with one another through the KIZUNA Project, and after the project, continue their exchanges by several means including Social Networking Sites. The educational activities are without a doubt creating a network of young people that cuts across national borders and generations.
[Acceptance remarks] Mari Murahashi, Executive Board Member, Peace Field Japan
I am delighted that the project is fostering a young generation that can play an active role based on both global and local perspectives
The conflict between Israel and Palestine remains unresolved. To build a peaceful society in this region, there needs to be places, first and foremost, where the young generation can talk face-to-face with each other as individuals and get to know one another. This is also a regional need, and that is why we have continued this activity.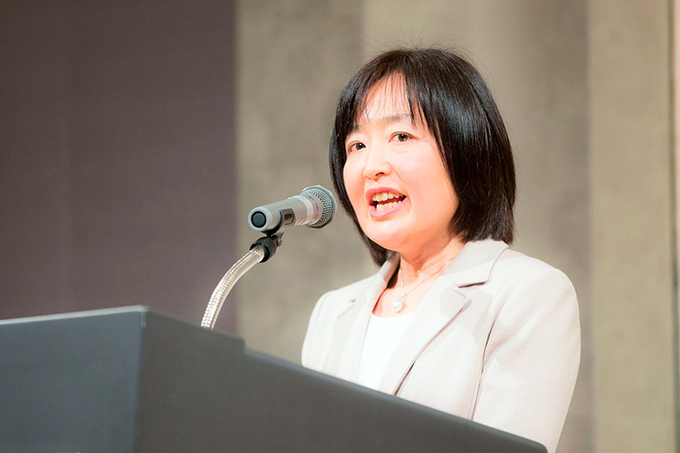 Ms. Murahashi sharing her views about the participants of the KIZUNA Project
The KIZUNA Project provides an opportunity for Israeli, Palestinian, and Japanese high school and university students to get to know one another, form strong ties, and think together about what they can do to create a sustainable society, by living together in a satoyama in Yamanashi Prefecture. We hope that this experience will enable the participants to discover that they have points in common, even if their lifestyles and cultures are different, and jointly look ahead to the future.
To ensure that participants utilize what they learned through the project, they are asked to create an action plan at the end of the program. These plans are implemented in their communities upon their return. For example, they have petitioned their mayor to create a waste disposal facility similar to Kosuge's and held a workshop at their school.
Japanese participants have also deepened their ties and networks with the Israeli and Palestinian participants by visiting them to enhance their exchanges. I am delighted that the project is fostering a young generation that can together take a look at their communities and the world, and play an active role based on a global perspective. This award will serve as a reward and encouragement to all the people working hard to better their communities and to better the world, even while confronting difficult problems. We hope to continue to grow as an organization every day while providing opportunities that will broaden the network of young people.
Through creative international exchanges, Yamamoto Noh Theater opens up possibilities of the traditional performing art of Noh
Yamamoto Noh Theater was founded in 1927. It is the oldest Noh theater in Osaka having a history of approximately 90 years. Although it was burnt down by the Great Osaka Air Raids in 1945, it was rebuilt five years later. It is a valuable architectural structure featuring a wooden building with a traditional Noh stage in a city, and therefore, Japan designated the theater as a registered tangible cultural property in 2006. Since its founding, the theater has upheld its mission of carrying on and promoting the performing art of Noh. Today, the theater carries out a variety of activities, including performances and awareness raising programs for people new to Noh, activities to promote Noh to children and foreign nationals, dissemination of information on the traditional performing arts of Kamigata (Osaka and Kyoto), and public viewing and use of the theater.
Previously, there were few opportunities for Noh to be introduced in Central and Eastern Europe. However, its encounter with Petko Slavov, who came to Japan from Bulgaria to study Noh in 2008, led Yamamoto Noh Theater to embark on cultural exchanges through Noh with Bulgaria. Subsequently, the theater's overseas performances have expanded to Central and East European countries. Yamamoto Noh Theater does not simply perform Noh overseas. It strives to realize cultural exchanges by collaborating with the local people to create a theatrical production.
These activities culminated in the performance of the Noh play
Momijigari
in 2015 at the Sofia National Opera and Ballet, which was joined by ten Bulgarian performers trained by Akihiro Yamamoto, a Noh actor of the Kanze school and Director of Yamamoto Noh Theater. This performance received much acclaim in Bulgaria. Such creative efforts lead to global awareness of traditional performing arts and expand the possibilities of international exchanges through Japan's ancient culture.
In addition, the new Noh work called
Mizu no Wa
based on an environmental theme is a story that rings true to modern society. Allowing foreign nationals and children to take part as performers, this leading-edge Noh play has come under the spotlight in Japan and overseas for showcasing the new attractiveness of Noh. Furthermore, the theater worked with Mr. Slavov to develop a free app for mobile devices called "OHAYASHI sensei" that easily allows anyone to experience the instrumental performances of Noh. There is no mistake that these initiatives that make Noh more familiar represent a significant contribution to its promotion domestically and internationally.
The international exchanges borne out of the encounter between Yamamoto Noh Theater, which has protected and carried on the Japanese traditional performing art of Noh, and Mr. Slavov, a Bulgarian national who cherishes Japanese Noh, are deepening the ties between Japan and Central and European countries, and simultaneously, are breathing new life into the world of traditional performing arts.
[Acceptance remarks] Akihiro Yamamoto, Director, Yamamoto Noh Theater
We will not limit to carrying on the classics, and communicate the new attractiveness of Noh to the world
Kan'ami and his son Zeami popularized Noh during the Muromachi Period. This traditional performing art then went onto influence Bunraku, Kabuki, plays, and visual arts. Unfortunately, however, I think many people do not have a very positive image of Noh, believing that it is a performing art for people of high social standing and is hard to approach, or that it is boring because there are few lines.
There are currently around 1,250 Noh actors in Japan who are members of the Nohgaku Performers' Association. The number is not a lot by any means. As one of the Noh actors, I, in Osaka, thought about what I can do to further spread Noh, which has been performed continuously for 650 years. That is when I met Mr. Slavov from Bulgaria.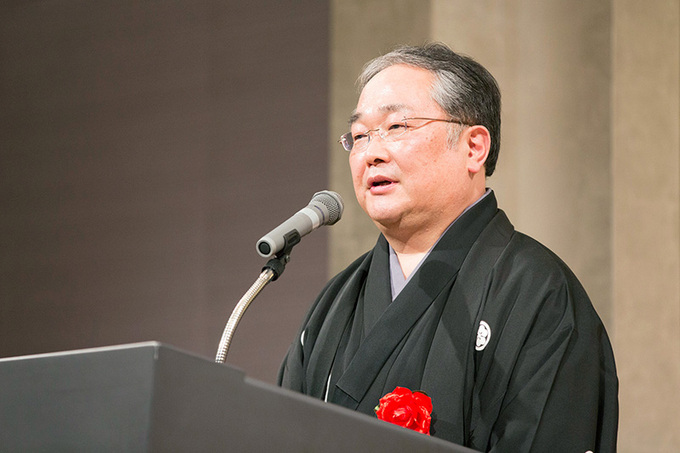 Mr. Yamamoto describing the motive for the Bulgaria performance and future aspirations
When I visited Bulgaria, I was surprised to learn that there were many people interested in Japanese culture. On that occasion, Mr. Tsuneharu Takeda, Japanese Ambassador Extraordinary and Plenipotentiary to Bulgaria at the time, encouraged us to perform Noh in Bulgaria. Receiving these words, our opportunities to perform in Central and Eastern European countries have steadily expanded. We not only perform Noh and return to Japan immediately, but also hold workshops and other activities for the local people to enable everyone to experience Noh. Now we even share the stage with Bulgarian performers.
In creating a new work called
Mizu no Wa
, I gave much thought to the approach that should be taken, and ultimately, I decided to create a work based on the theme of the environment that all countries share. Noh is not just about carrying on the classics. I am eager to resolutely embark on new works based on themes that people of any country can relate to, and communicate the attractiveness of Noh.
Noh is performed on a stage that is about six meters by six meters made of hinoki (cedar). As a recipient of the Japan Foundation Prizes for Global Citizenship, we will perform theater for a global audience and deepen peaceful exchanges with foreign nationals through our traditional performing art.
KFC is committed to supporting foreign residents from diverse backgrounds, and creating a harmonious society among communities

There are currently around 44,000 foreign nationals living in Kobe, Hyogo Prefecture. In particular, people with Asian citizenships make up a large proportion of these foreign nationals, including Koreans, Chinese, and Vietnamese. They not only face language barriers, but also encounter social disadvantages due to not having Japanese citizenship and hence, they confront a range of difficulties. Kobe Foreigners Friendship Center (KFC) has been supporting such people for the last 20 years.

In 1997, KFC was launched by merging two organizations that provided relief to foreign nationals affected by the Great Hanshin-Awaji Earthquake in 1995, with the objective of providing day-to-day support to foreign residents. Soon, KFC began offering consultations in different languages for difficulties encountered in daily life. Later, KFC broadened its activities to include comprehensive support for the various issues facing foreign residents, including language and institutional barriers and poverty.

Today, KFC provides support ranging from one-on-one and group lessons in the Japanese language for foreign nationals living in the region, creation and provision of Japanese teaching materials, learning support for children who have at least one foreign-born parent, management of scholarship programs for high school students, to book clubs for foreign children living in Japan in collaboration with public libraries. Furthermore, KFC has programs for aging foreign nationals in Japan. KFC creates environments that respect seniors' ethnic and historical backgrounds, provides nursing care services such as day care services and group homes, and also organizes networking events for Japanese nationals who were left behind in China at the end of World War II and later returned to Japan.
As illustrated above, there are support programs for all generations from elementary school children to elderly people at KFC. It is the largest NPO in Hyogo Prefecture. Over 30,000 people annually receive its support and the number of recipients has reached 350,000 in total since its establishment.
Though activities targeting foreign nationals may have a tendency to differentiate by cultural background, KFC attaches importance to collaboration among people that transcends differences in nationality and ethnicity. KFC's activities thus fully allow Koreans and Vietnamese living in Japan, Japanese nationals who were left behind in China and returned to Japan, and local citizens to support each other in the community.
With the number of foreign nationals residing in Japan reaching over 2 million, there is an urgent necessity to create communities where foreign residents can lead an enriching life as residents of Japan. KFC's activities, which take into account reforming the people's mindset and developing systems for a harmonious society, serve as a model for other regions aiming to create a harmonious society.
[Acceptance remarks] Kim Songil, Chairman, NPO Kobe Foreigners Friendship Center
We will conduct our activities based on our mission to protect the freedoms and rights of "immigrants" living in the region
KFC was formed in the aftermath of the Great Hanshin-Awaji Earthquake. Therefore, I am truly moved that KFC received the Japan Foundation Prizes for Global Citizenship in 2015, in the 20th year after the earthquake disaster.
Twenty years ago when we started our activities, it was said that in the 21st century people of diverse cultures would live in harmony by respecting each other. What is the reality we find 20 years later? As we become aware of the problems occurring in Europe and the Middle East, we need to think about how we should be living in this moment.
Mr. Kim explaining KFC's approach to supporting foreign nationals
Few of KFC's activities correspond to international exchanges. I myself avoid using the nice term "multicultural society." Every day I struggle with the question of how we can live without excluding others, recognizing that diverse cultures are also cultures of other people.
KFC has operated based on the concept that people with diverse cultures should support other people with diverse cultures. What is important in supporting foreign nationals is not the intrinsic qualities of culture, but acknowledging the foreign nationals as individuals and learning about their backgrounds. As someone with roots in the Korean Peninsula, I have sought to keep this in mind in supporting Japanese nationals who were left behind in China and have been isolated in their communities after returning to Japan, or Vietnamese children who cannot go to high school on the grounds that they have a low level of education.
While our organization is called "Foreigners Friendship Center," we are a center that supports "immigrants." The children that KFC supports are second-generation immigrants, and I consider myself a third-generation immigrant. Japanese nationals who were left behind in China and returned to Japan may also be considered immigrants in a sense. We are a small organization, but we will continue to conduct our activities based on our mission to protect the freedoms and human rights of immigrants.
(Text: Sayuri Saito; Photos from the award ceremony: Kenichi Aikawa)