A Message from Cai Guo-Qiang to Japanese Art Students
―The Japan Foundation Awards Commemorative Lecture Report
Cai Guo-Qiang (Contemporary Artist)
Contemporary artist Cai Guo-Qiang is known for his works that combine the dynamism of the "gunpowder drawing" technique, a blend of creativity and destruction, with abstract artistic concepts. He was selected as one of the recipients of the 2016 Japan Foundation Awards. Every year since 1973, the Awards have been presented by the Japan Foundation to individuals and organizations that have made significant contributions to promoting international mutual understanding and friendship between Japan and other countries through academic, artistic, and other cultural pursuits.
As the artist requested, his Commemorative Lecture was conducted at the Tama Art University Hachioji Campus on October 20, 2016 in front of an audience comprised of art students. The lecture hall where the event was held was completely filled, with people lining even in the aisles. This article reports on the lecture that conveyed Cai's warm personality and his beliefs as an artist.
The Japan Foundation Awards 2016 Commemorative Lecture delivered by Cai Guo-Qiang at Tama Art University (October 20, 2016)
2016 Presentation Ceremony for the Japan Foundation Awards (October 18, 2016)
To the young artists of Japan
Cai Guo-Qiang was born in Quanzhou in the Fujian Province of China in 1957. After studying stage design at the Shanghai Theatre Academy, he came to Japan in 1986 and spent approximately 10 years there. He gained popularity with his gunpowder drawings and explosion works, and moved to New York in 1995. He has won various prominent awards, including the 48th Biennale di Venezia International Prize - Golden Lion, which earned him international recognition. He also directed the magnificent firework show at the Beijing 2008 Summer Olympics. He transcends national borders and freely travels back and forth between diverse cultures to engage in his art.
Cai appeared on the platform sporting his trademark smile, and opened the lecture by explaining to the students his reasons for choosing Tama Art University as the venue for this event.
"Lately, I asked artists who were teaching at Japanese universities how the young students were doing, and they responded, 'They're so quiet that it's boring' (laughs). That is why I decided to meet you in person."
This opening was a perfect illustration of Cai's personality. Instead of giving the students a reproof, he surprised the audience with his first slide: a sketch of fireworks over a European cityscape. The drawing itself reminded the audience of graffiti that an adolescent boy would scribble in a restroom. In other words, it was anything but serious.
"The message of this first slide is: 'go crazy' (laughs). Today, I will talk about the methodology of my works, and then I want to talk to you."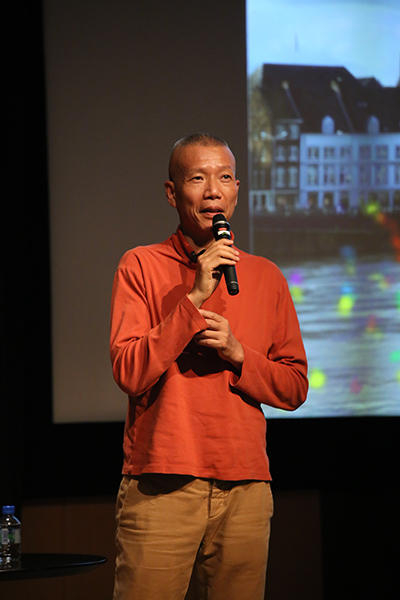 Cai speaks to the students
The next slide was from a group exhibition curated by Cai in the spring of 2016 called What About the Art? Contemporary Art from China (Qatar Museums Gallery Al Riwaq).
"I first asked the question 'What About the Art?' to various people in the world of art. From their answers, I realized that while a lot of attention was paid to expression that reflects society, much less consideration was given to the issue of whether artists were engaged in studying their own art. Also, people talk about the high prices at which certain artists' works are sold, but it is more difficult to discuss what kind of challenges these works present in terms of art history. Against this backdrop, I decided to introduce Chinese contemporary artists by placing the focus on 'original methodologies and new expressions' in this exhibition."
Cai explained the work of artist Xu Bing titled Background Story: Shangfang Temple (2016). It is a large piece that looks like a traditional Chinese landscape painting. However, when viewers walk behind the light box, they are surprised to find that it is in fact made from layers of disposed materials.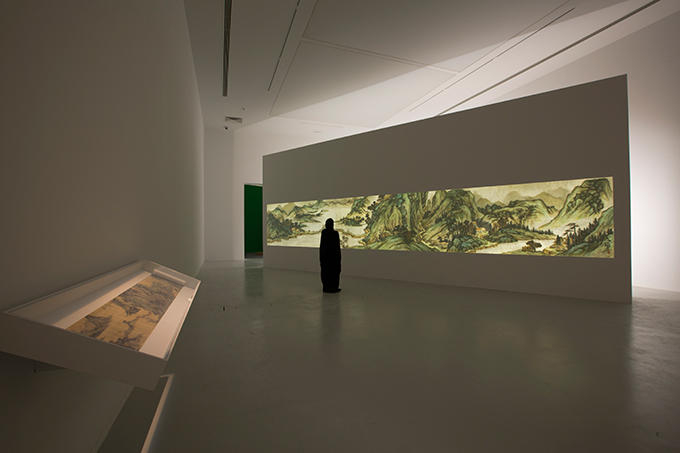 Xu Bing Background Story: Shangfang Temple exhibited at the Qatar Museums Gallery Al Riwaq in Doha, 2016
Photo by Wen-You Cai, courtesy of Cai Studio
"It simultaneously deals with destruction and dismantlement, features a certain methodology, and is backed by a concept of 'confronting art.' My works, too, attract attention for their impressive large-scale appearance, but they are backed by my longstanding research on art methodology."
Linking individuality to universality
"I am often asked whether my art originates in China, or Japan, or New York. To this, my answer has always been, 'Yes, yes, and yes.' I was born in China, lived in Japan for approximately 10 years, and have spent the last 20 years in New York. Today, my art transcends national borders and is the result of the crossing of various cultural backgrounds."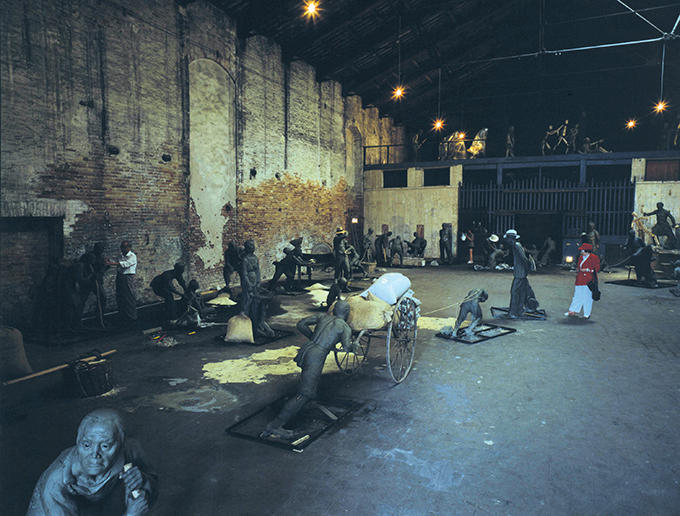 Installation view of Venice's Rent Collection Courtyard at the 48th Biennale di Venezia in 1999
Photo by Elio Montanari, courtesy of Cai Studio
In his work Venice's Rent Collection Courtyard at the Biennale di Venezia in 1999, Cai recreated a sculptural composition in the style of the socialist realism typical for China in the past. Throughout the exhibition, the artist invited sculptors who were working during that period and let viewers witness the process behind creating the work. This approach, which invited both acclaim and criticism, was eventually awarded the Golden Lion prize. In his work, the artist presents some problems regarding expressions that transcend specific cultures. He has also created many other works that pose universal questions. In Head On, Cai depicts 99 wolves crashing into an invisible wall. In Heritage, he created a beautiful scene in which various species of animals are peacefully gathered around a watering place.
"Head On is the first work that I presented in Berlin. I wanted to convey the idea that while it is possible to overcome visible walls, there are also invisible walls that are difficult to overcome. For this, I adopted a method of expression typical for East Asia, which, unlike the Western one-point perspective method, represents the flow of time as an unfolding scroll painting. Heritage presents a utopian situation that may bring some to tears with the beauty of its scenery, but in fact alludes to environmental issues and expresses concern for the future of the planet."
The lecture then moved to Cai's signature gunpowder works.
"Gunpowder was invented in China. While it can be used in violent acts, it can also be utilized as a creative tool for expression, like fireworks for example. At the Opening Ceremony of the Beijing 2008 Summer Olympics, I used fireworks to depict giant footprints advancing across the sky. That was a case of a national event that also became a personal work of art. I have always wished that the nation is something that can be 'influenced' by individuals, so in this respect I was satisfied. I believe that artists should make an effort to modernize their own nations and make them more open, little by little."
In fact, the concept of the fireworks, known as Footprints of History, originated while the artist was in Japan. During that period, he felt that Japanese art was very conscious of the way it was seen by the West. This inspired him to create the Project for Extraterrestrials, a series of artworks that examine the connection between humans and outer space from a broader perspective. Footprints of History is one of these artwork ideas and was realized years after its conception. Another piece, the Project to Extend the Great Wall of China by 10,000 Meters: Project for Extraterrestrials No. 10, which the artist realized in 1993 while residing in Japan, has also become very well-known. As suggested by the title, he used an approximately 10-kilometer-long gunpowder fuse at the western end of the Great Wall as a way of "extending" the historical site.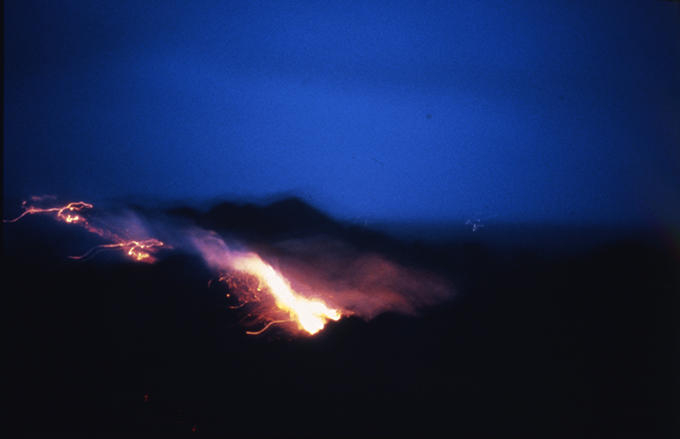 Project to Extend the Great Wall of China by 10,000 Meters: Project for Extraterrestrials No. 10 (1993)
Photo by Masanobu Moriyama, courtesy of Cai Studio
"Back then I organized tours to the project site. I used half of the money we collected to cover the travel expenses of the participants and the other half for the project production costs. Artists, too, need the capacity to make diplomatic and political decisions. I try to understand the current situation, and am always thinking about how I should live as an artist."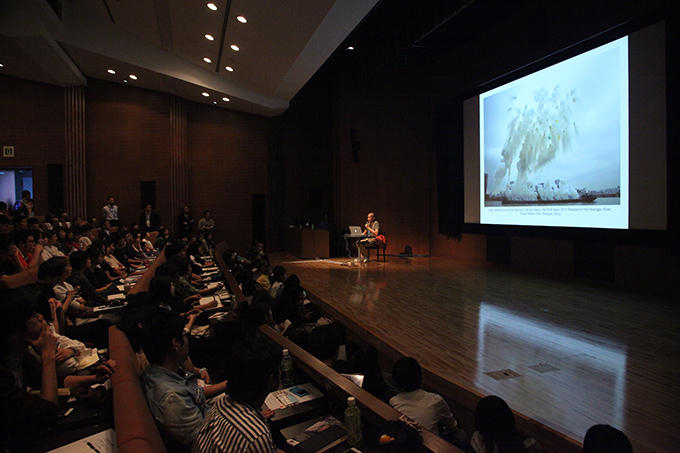 In 1995, Cai Guo-Qiang moved to the United States. His first U.S. studio was located at MoMA PS1. One of his first destinations as a new and unknown artist in the U.S. was the nuclear-testing site in Nevada. There, he stood in the desert and made a small mushroom cloud using gunpowder from a small firecracker.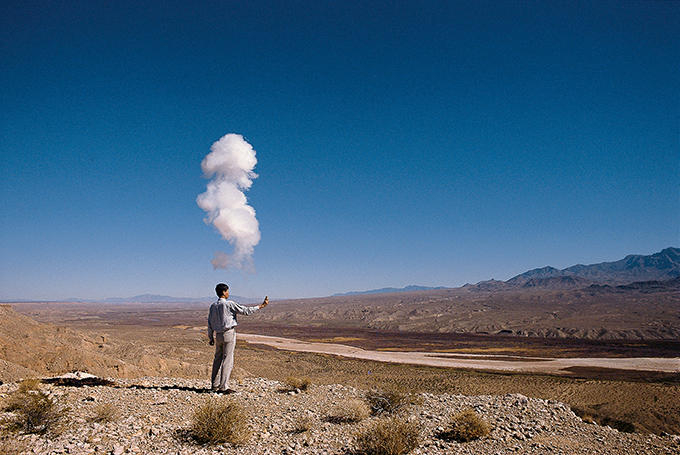 The Century with Mushroom Clouds: Projects for the 20th Century, 1996
Photo by Hiro Ihara, courtesy of Cai Studio
The series The Century with Mushroom Clouds: Projects for the 20th Century drew significant public response with the expansive scale of its expressive means born from small actions, and had a great impact on the activities of the artist in the years that followed.
Connecting with invisible space-time and worlds through art
One of these subsequent activities, a perfect example of the advice the artist gave to his young audience about "going crazy," is an explosion event on the Seine titled One Night Stand.

One Night Stand, an explosion event on the Seine, 2013
Photo by Thierry Nava, courtesy of Cai Studio
"We invited 50 couples from all over the world to spend the night in specially-built tents on a pleasure boat. If they wished to, they could switch on the light in their tent to show their lovemaking to the spectators. They could also trigger a firework display at their moment of climax by pressing a button inside the tent (laughs). We came up with this plan at the request of the city of Paris. We then needed to get permission from the French government to use the river. I approached the government well-prepared and used the appealing catch-phrase, 'The world will fall in love with Paris' (laughs). As a result, the city witnessed the first fireworks show on the Seine in 30 years."
Cai is fond of the saying "art must be exciting." He consistently followed this mantra in the creation of Sky Ladder, a project he realized in his hometown Quanzhou, where his grandmother lived.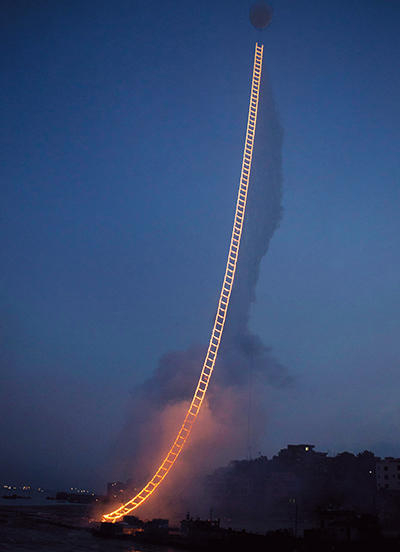 Sky Ladder, 2015
Photo by Lin Yi, courtesy of Cai Studio
Most of the people living in the fishing village near Quanzhou -- Cai's birthplace, the home of his grandmother, and the venue of the project -- attended the show. Tens of millions of people around the world watched the ladder of fire ascending to the sky via a video shared on the Internet.
"When I set fire to the 5.5 meter-wide ladder, the blaze of the firecrackers ascended to the sky. I think of it as a dialogue with space, and it also reflected my childhood, when I used to wonder whether I could touch the clouds. My grandmother, who lived near the site of the project, had never seen in person any of my works around the world, so I wanted the project to coincide with her 100th birthday. Almost all the residents of her village were present. When a video of the event was uploaded to the Internet, hundreds of millions people watched it. My grandmother passed away approximately a month after the event, so I am really happy that I managed to realize it while she was still with us."
Cai explained that art is a means to connect with invisible time-space and worlds. And while a lot of his firework projects abound with vitality and vigor, there are also profound works that reflect on the somber experience of funerals. Traditionally, Asian artists have approached nature with respect and a sense of awe, and explored the power of the invisible world, but he seems to feel that recently this attitude is gradually being lost.
"The question of how to imagine and represent the invisible world through art, which is a visual form of expression, has intrigued even Western artists since ancient times. Let's talk a little about paintings now. After all, that is also a dialogue about the history of art. My father was an artist who painted, and initially I wanted to follow in his steps. Years later, I received the 2012 Praemium Imperiale Award in Honor of Prince Takamatsu in the Painting category, and was praised for 'creating paintings with the sky as a canvas.' Although this makes me happy, I feel I should also create good paintings on real canvases."
Cai's solo exhibition My Stories of Painting (Bonnefantenmuseum) that opened in the Netherlands in September 2016 presents his long journey of painting: from drawings Cai created when he was only two, through his student years when he was influenced by Kandinsky among others, to his most recent works. The exhibition also features works by his father and other family members.
Cai's solo exhibition My Stories of Painting (Bonnefantenmuseum, Maastricht), held from September 30, 2016 through May 1, 2017
Photo by Harry Heuts, courtesy of Bonnefantenmuseum
"My father would draw landscapes of his hometown on matchboxes. In reality, the town was not such a majestic place, but it was his spiritual home. In this sense, his small matchboxes have influenced my art."
Expressions that transcend time and space
For his 2015 solo exhibition held at the Yokohama Museum of Art entitled There and Back Again, Cai took up the challenging task of painting with colored gunpowder. The result was Seasons of Life, a series of works conceived from the nikuhitsu shunga paintings of Tsukioka Settei.

Seasons of Life: Summer, 2015
Photo by the Yokohama Museum of Art
"There is a saying that children who are blessed by the gods are given what they need when they need it. Thirty years ago, I thought that colored gunpowder was boring, so I chose to work with black gunpowder. But the passing of time makes life more flexible, and emotions more complex. When that happened, I was able to face this material."
In 2017, the Prado Museum is planning to hold Cai's solo exhibition. He will be the second artist after the late Cy Twombly to hold a solo exhibition at the Prado in his lifetime. This will give Cai an opportunity to venture into a dialogue that transcends time and space with his beloved artist El Greco.
"A few years ago, I traveled in the steps of El Greco, from his birthplace in Greece to his resting place in Toledo. In an age where realistic narrative depiction was the mainstream trend, El Greco was expressing a spiritual mind. Works of art that express topics such as war or the environment, in which only the content is 'profound,' do not last long. On the other hand, even if you do not know about the ancient royalty and nobles, paintings by artists such as Velázquez carry messages that remain relevant through the ages."
The last slide was of a work that appears to reflect these words: Transparent Monument, exhibited at the Metropolitan Museum of Art, New York, in 2006.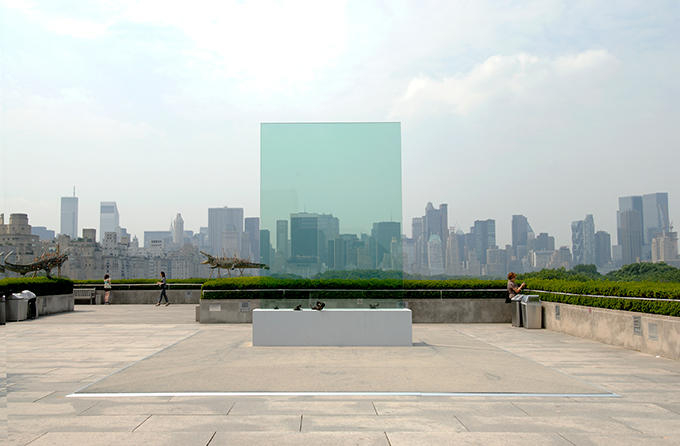 Installation view of Transparent Monument (The Metropolitan Museum of Art, New York), 2006
Photo by Hiro Ihara, courtesy of Cai Studio
"I set up a five-meter tall piece of clear glass at the roof garden of the museum. The site where the Twin Towers (the World Trade Center, destroyed in the September 11 terrorist attacks) once stood is visible through the glass. I placed a few birds made from paper mâché at its base, as if they had flown into the glass and fallen. I believe that those airplanes were not able to break through the wall of culture. At the same time, the installation reflects my recent awareness of the problems in painting. Whatever installations I create, eventually they all seem to crash into a two-dimensional wall (painting) and drop to the ground. Painting is very difficult. But I will continue to happily draw 'graffiti that an adolescent boy would scribble in a restroom.' Thank you."
The event ended with an exchange of straightforward questions from the students and answers from the artist. To the question "Is there a chance that your works can reflect places that you have never visited yourself?" Cai responded, "I try to connect invisible worlds through visible art. In other words, by climbing an endless ladder, I want to keep discovering new ladders and enjoying the process." Another student said that he chose Cai Guo-Qiang for his university assignment "who would you choose if you were possessed by a contemporary artist?" In response, the artist shared his experiences of various discoveries on the border between the invisible and visible worlds.
The theme of the lecture was "What about my art?" but it somehow left the participants with the impression that Cai's true intention was to move them to re-examine their own art. In this lecture, the master and the future artists transcended their differences to share the issues and possibilities of "the act of creating", inspiring anticipation for the future.
(Text: Shinichi Uchida)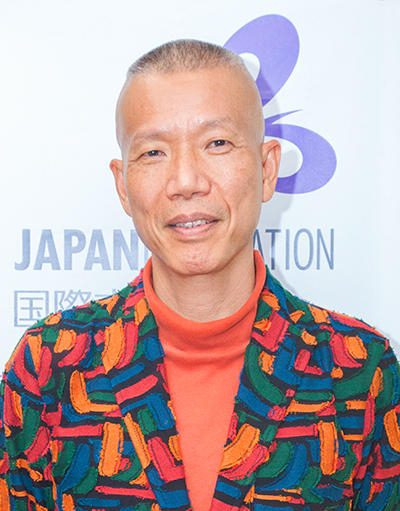 Cai Guo-Qiang
Cai Guo-Qiang was born in Quanzhou in the Fujian Province of China. In 1986, after studying stage design at the Shanghai Theatre Academy, he came to Japan, where he lived and worked for approximately 10 years. In 1995, he moved to New York and expanded his activities on a global scale. In 1999, he won the Biennale di Venezia International Prize - Golden Lion. Cai served as the Director of Visual and Special Effects for the Opening and Closing Ceremonies of the Beijing 2008 Summer Olympics. Since the Great East Japan Earthquake of 2011, he has supported the Iwaki Manbon Sakura Project, and participated in a special exhibition at the Echigo-Tsumari Satoyama Museum of Contemporary Art. In 2015, he held a large-scale solo exhibition at the Yokohama Museum of Art entitled There and Back Again. In 2017, his solo exhibition "Cai Guo-Qiang at the Prado: The Spirit of Painting" will be held at the Prado Museum in Madrid.