The Japan Foundation Awards Commemorative Lecture
Japanese Studies as a Dialogue: A View from a Small Country
Andrej Bekeš (Professor Emeritus of Japanese Studies, University of Ljubljana) [Slovenia]
Professor Emeritus Andrej Bekeš of the University of Ljubljana has long been a driving force for Japanese studies and Japanese language education in Slovenia and Europe and has contributed to the promotion of international mutual understanding. It was in recognition of his accomplishments over the course of many years that he was chosen as one of the recipients of the Japan Foundation Awards 2017. On October 20, 2017, Prof. Bekeš delivered a Japan Foundation Awards 2017 Commemorative Lecture at Sophia University, which was titled Japanese Studies as a Dialogue: A View from a Small Country. We have received this contribution from Prof. Bekeš that summarizes the topics raised in his lecture, which considered from a Slovenian perspective the potential for "dialogue" in today's globalized world where information flows can be distinctly one-sided.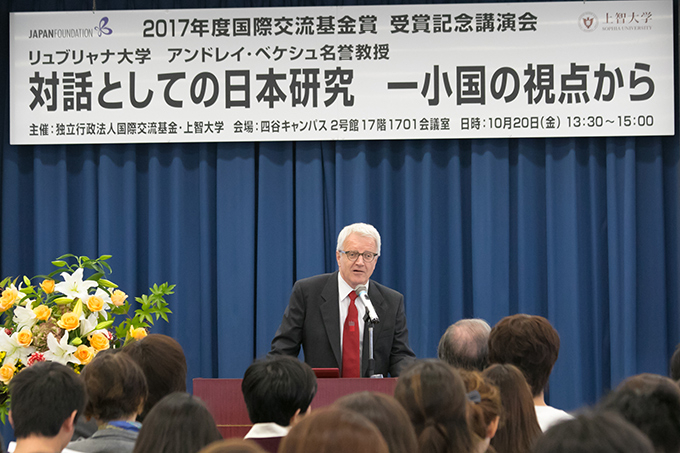 The Japan Foundation Awards Commemorative Lecture, delivered by Prof. Andrej Bekeš at Sophia University (October 20, 2017).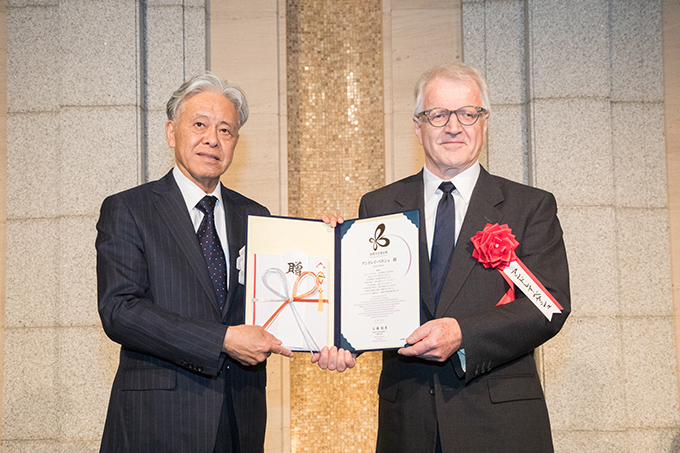 At the Japan Foundation Awards 2017 Presentation Ceremony (October 16, 2017).
Introduction
Globalization today has permeated every corner of the globe and it would be hard to say that it has a positive image, given the various adverse effects that are seen arising from differences in countries' economic strength and other aspects. Contact among peoples in various regions of the world has resulted in new concerns from which are emerging prejudices, as can be seen in the growing nationalist currents in the U. S. and countries of Europe. It is in this context, while limiting myself to cross-cultural interaction, that I would like to consider the response of Slovenia, a small country, using the example of Japanese studies and Japanese-language education.
Relationship between self and others
Distrust, or even contempt, for others and the cultures of others is not new--it has existed from antiquity in all times and places. So, how should we perceive the relationship between the self and others? Dialogue or confrontation? Research into "non-European" cultures began in the countries colonized by Western powers and it is precisely because the colonial relationship of ruler and the ruled influenced such research that it can be said to have basically been predicated not on dialogue, but rather on confrontation. This confrontation came out in the way in which researchers viewed their research subjects from an ethnocentric perspective. In many cases the indigenous peoples were branded as "natives," with the overriding view that little if any attention needed to be paid to what the people actually born and raised in those countries had to say. The result was that cross-cultural research was very often limited to being merely a tool for domination or just focusing on exoticism.
In the case of dialogue, however, it is essential to overcome one's own ethnocentric views. There are three kinds of dialogue in cross-cultural research that involves interaction with different cultures while engaging in dialogue: human dialogue, social dialogue, and cultural dialogue.
In addition, the following three elements are essential in order to realize such research as dialogue: curiosity, methodology for directing curiosity correctly, and reciprocity, or in other words exchange. As for cross cultural research as dialogue, first and foremost, it is language learning that is the key to it.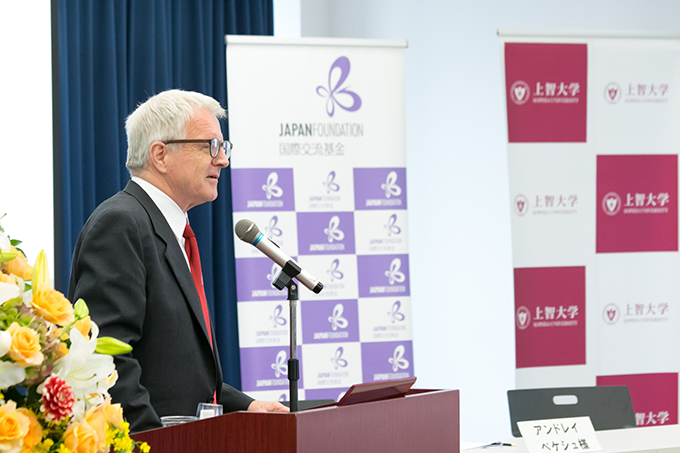 Prof. Bekeš talks about three kinds of dialogue in cross-cultural research.
Relativization
However, in order to create true dialogue in cross-cultural research, a process known as "relativization" is required. "Relativization" means "to reconstruct views about oneself and the society or culture to which one belongs by gaining knowledge regarding others." To put it another way, "relativization" means endeavoring to "understand oneself through the eyes of others." This kind of relativization takes place on various levels.
Language learning and exchange
In language learning for the purpose of dialogue it is not adequate simply to view language as a tool. As Ferdinand de Saussure observed, language is understood in the context of relationships. By engaging in language learning that focuses on relationships it is possible to accept the perspectives of others, and the result of looking at one's own social and cultural situation from an external perspective is to enable a deeper understanding of one's own situation. As can be inferred from the essay by C. Douglas Lummis, Boundaries on the Land, Boundaries in the Mind‬ (Tokyo: Hokuseido Press, 1982), it is only when you first make a true friend in a different country that you will have been there. If you replace the word "friend" with "dialogue," the necessity of reciprocity, or exchange, becomes self-evident. That is the basis for cross-cultural research at the University of Ljubljana and the starting point for Japanese studies and Japanese language learning.
Japanese Studies at the University of Ljubljana
At the University of Ljubljana, we seek to understand Japan as the subject of our research in terms of its relationship with historical and regional contexts. While combining observations from both internal and external sources we seek the possibility of deeper understanding. To that end, while incorporating a regional studies perspective, we implement thorough language learning in order to enable direct access to information and information exchange (dialogue).
In a small country with few human resources and financial limitations, it has been recognized that an appropriate method of realizing the above mentioned goals is double major programs, which combine specialist study of specific countries or regions with specialization in other disciplines within social sciences and humanities. In this way it is possible to ensure an effective combination of curiosity and methodology.
While coming this far we were also subjected to criticism as to whether study of "non-European" societies, languages and cultures, such as Japanese studies and East Asian studies, were even necessary for Slovenia. The answer is yes, it is necessary. It is precisely because Slovenia is a small country that it must always make efforts to engage in external dialogue. In order to overcome narrow perspectives and prejudice against different cultures it is necessary to engage actively in study not just of our neighbors in Europe, but also the societies and cultures of Japan and East Asia. This enables us to be a self-reliant member of the global community.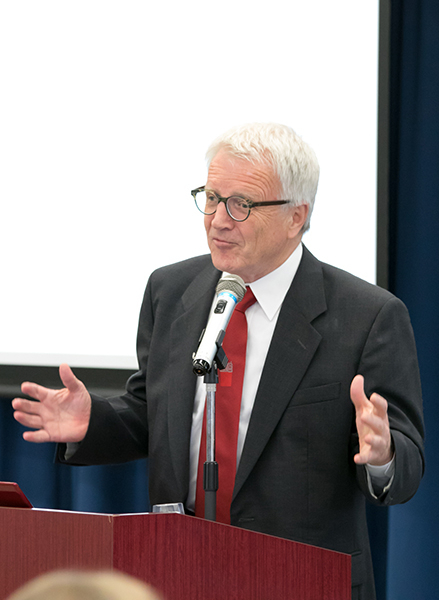 Prof. Bekeš talks about the necessity of Japanese studies in Slovenia, noting, "It is precisely because Slovenia is a small country that it must always make efforts to engage in external dialogue."
Conclusion
Given the continuing decline of the birth rate it is likely that there will come a time when it is necessary to more actively accept immigrants in order to maintain the work force. In this case not only will dialogue with the outside be important, but dialogue with "internal others" will become all the more necessary. In order to also prepare for such an eventuality, it is necessary to engage actively not just in research of cross-cultural exchange as dialogue, but also in its practice. This applies equally to both Slovenia and Japan.
Editorial note: Although some words that could be construed as being discriminatory are used in the text, these are used to accurately convey the context that Prof. Bekeš intended.
Andrej Bekeš
Born in Slovenia in 1949. After graduating from the Faculty of Natural Sciences and Engineering of the University of Ljubljana in February 1971, he traveled to Japan, where he received his PhD in literature from the University of Tsukuba in 1986. In 1995 he returned to Slovenia and was appointed as the first head of the newly established Department of Asian and African Studies (currently the Department of Asian Studies) in the Faculty of Arts at the University of Ljubljana. Since then he has continued to be a driving force for Japanese language education in Slovenia and has also concentrated his efforts on nurturing Japanese studies scholars and educating international students. He has developed many textbooks for Japanese language learners, and his best-selling A Handbook of Japanese Grammar Patterns for Teachers and Learners (1998) has been translated into several languages. In 2008 he received the Order of the Rising Sun, Gold Rays with Rosette. In 2017 he was appointed President of the European Association for Japanese Studies (EAJS).