DANCE DANCE ASIA in Tokyo 2018
Interview with Vince Mendoza and Fabien Prioville
Asia and Europe, street dance and contemporary dance: What emerged from this collaboration?
"Hilatas―The Light that Guides You," a work of performing arts presented in DANCE DANCE ASIA―Crossing the Movements in Tokyo 2018, an event that ran from March 23 to 25, 2018, was created in Bangkok from the end of December 2017 to mid-January 2018. DANCE DANCE ASIA (DDA) is a project that generates works of performing arts with a focus on street dance. Street dance has been drawing considerable attention over these few years as a new means of expression in the performing arts. The project got started in 2014 with the goal of promoting exchange among Asian artists and creating new culture. "Hilatas―The Light that Guides You" is a short performance choreographed and directed by Vince Mendoza from the Philippines. Premiered at DDA December 2016 in Tokyo, the work was presented once again in the following April in Hanoi and Manila. Fabien Prioville, a French dancer/choreographer who previously performed in the Tanztheater Wuppertal Pina Bausch, joined as an associate choreographer/director and dramaturg in 2018. The team will now present a long version of Hilatas. Three weeks after getting started with the creation, we interviewed Vince Mendoza and Fabien Prioville about their progress with the work, the message conveyed through the work, and the state of the dance arts in each country.
*The performance run has already ended.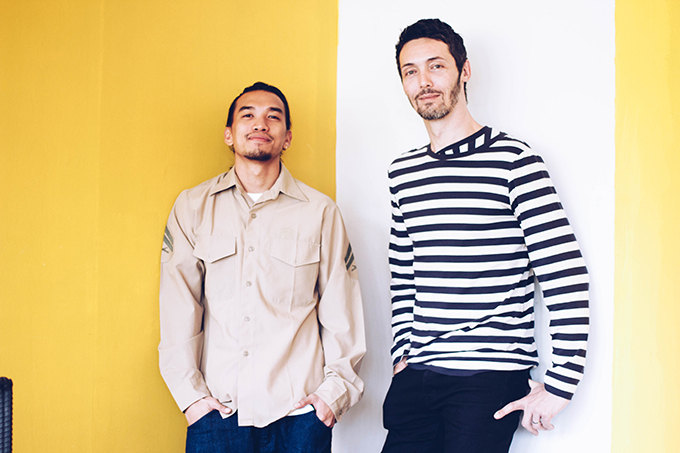 Vince Mendoza (left) and Fabien Prioville
―What does the short version of Hilatas mean to you, Vince?
Vince: It's a highly significant work for me in the sense that I express in it my life and what's on my mind. It's also the first work I've directed that accounts for the possibility of overseas performances. We started from scratch and set aside three weeks for collaborative work in the Philippines, then spent two more weeks adding to the work in Japan.
I was satisfied with the finished work, but two weeks after the work was presented in Tokyo, reviewing the work, I was already starting to look for something more. In looking back over my past work, I find that I'm in the habit of trying to discover something new. The people around me are creating really great work, so, I want to climb higher in my development, and I want the dancers to become more skillful. I believe an important aspect of life is the aspiration to improve at all times.
―You received an offer to make a long version, then went through the process of creating that work. What was that like?
Vince: It was a major challenge, but I was incredibly grateful for the offer. And it was great to see the progress made by the dancers, who'd been working together since we worked on the short version. They've become more open-minded, which strengthens the work. The theme of the work is "roots," so it's important for them to be themselves, to move naturally.
Fabien also taught them to move naturally on stage. I'd only known them as dancers who performed on stage. But in this work, which involved Fabien, all the dancers were united in harmony on the stage. They're just enjoying being candid on stage and letting their real selves out, so we want the audience to share in the same state of mind, to be your natural self. It's common these days to copy what you see on the Internet, but I'd like to point out it's also important within society to be true to yourself. We hope we can share this feeling with the audience.
―How did you decide to collaborate with Fabien on the long version?
Vince: When I talked to Sachiko Nakanishi, the producer, she suggested working with European directors. So, I checked out Fabien's works and felt really excited!
―Fabien, it's also the first time you've worked with a street dance choreographer. You've been involved in a joint production for three weeks. What are the results so far?
Fabien: It's made a great impression on me. I've been interested in street dancing techniques and wanted to get involved. Virtuosity in dance is a major topic in Germany at the moment, as well as the issue of how it is used and contextualized. My background in ballet provided a virtuosic training in moving my body. So, I was curious to try a design based on my sense of creativity. I was also interested in working with street dancers and coming up with something by making the most of their physical skills, which is referred to as a "hyper body" along with my creativity.
So, I was thrilled when Sachiko offered me to join the project. But I was also a little anxious about how this was going to work. Collaborations aren't easy. They can generate confrontation. Above all, it's difficult to assign to each member an appropriate part and direct what they do without overdoing the direction. But, overall, after the three weeks, I'm satisfied with what we've done.
―What were your interactions with the dancers like?
Fabien: In general, street dancers have totally different approaches toward exercise and movement. I was really wondering how they would manage long rehearsals that require intense concentration. I was quite surprised to see their concentration throughout the process of understanding and executing their tasks. Already, in the first week, as I was mostly observing Vince directing the dancers, I saw that his requests were quite similar to my own. That gave me confidence that we'd work well together.
The time working together included many steps forward and many day to day changes. The dancers accepted the daily events that came up in the production process with an open mind. The work reflects these positives from the collaboration generated during this process. The work would have been very different without those positives.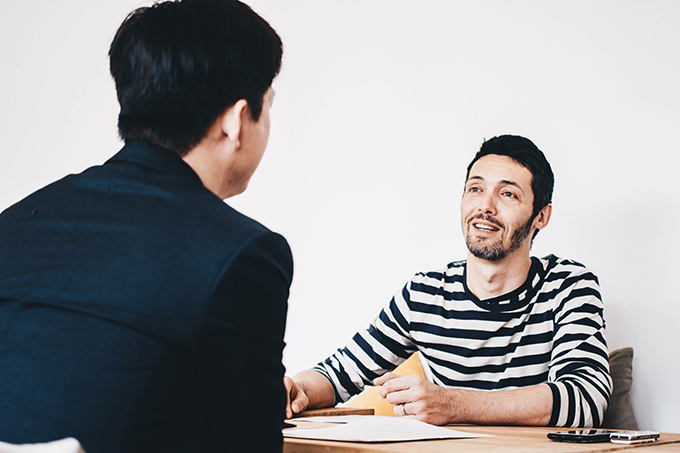 Fabien says he's wanted to get involved in street dance.
―In this production, what was the most exciting or eye-opening moment for you in working with the street dancers?
Fabien: It was interesting for me to propose some ideas and then to see how the ideas were translated into their bodies and movements. It was kind of a surprise for me. If I direct one section or one portion of the piece, the dancers would interpret the directions in the way they saw fit. This process sometimes resulted in more than I'd expected. I was impressed by how they approach the tasks in a straightforward way.
I asked them to express themselves, rather than hiding behind movements. When that worked, they were surprised at the discoveries their own expression generated.
―Vince, how did you feel about having Fabien's ideas in your work as he gradually began introducing more of his own proposals in the production process?
Vince: At first, I was confused. Fabien told me that it's a healthy reaction to get confused with it, though [laughs].
Fabien: [laughs]
Vince: Fabien shared the piece with me in detail and asked questions I couldn't answer, or talked about something I was unfamiliar with. I tried to sort through my confusion and came to a place where I pondered much more deeply on my piece. Through this process, I realized my conception of the piece wasn't clear enough, or I wasn't clear about what message I want to convey.
Fabien: Before I got involved as an associate director and choreographer, my first task as dramaturg was to let Vince sharpen the concept. I'd say, What do you want to say through this work? or What feelings do you expect to invoke in the audience when they see the performance? Do you remember those questions, Vince?
Vince: Yes.
Fabien: He struggled with these questions for a few days, but from the moment production began, he changed his mindset and approach toward the work, which led almost instantaneously to some significant results. So, I thought, Wow! He worked to get a grip on the dialogue, and that effort led to dramatic progress in his part of the process of creating the work. I feel super happy with that.
Vince: Working with Fabien was also a great experience from the aspects of experimental contemporary dance and street dance. As a street dancer, I'm lucky to have had this opportunity to learn about so many differing viewpoints and ideas and to experience diverse ways of approaching and directing the work. As Fabien says, although we have much in common in terms of how we approach our work, to my eyes, what he's doing features more gems and more tools, things I don't have.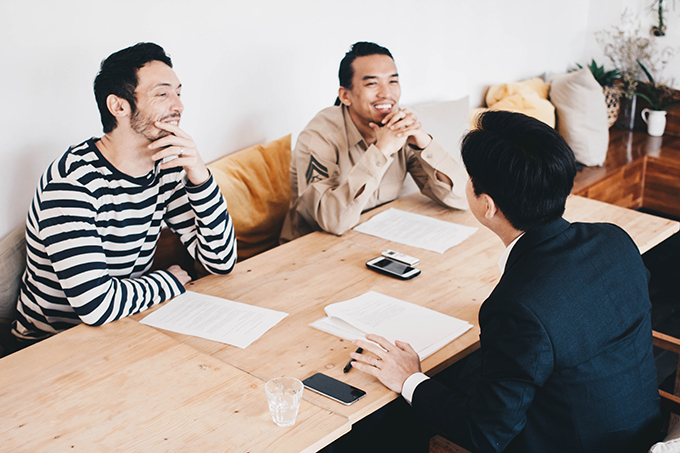 Fabien and Vince discuss their state of mind during the joint production.
―Contemporary dance and street dance have different audiences in Japan and Southeast Asia. In DDA, we're trying to offer works that encourage both audiences to mix and enjoy side by side. It might be difficult to achieve in the real world.
Fabien: From the merger of contemporary dance and street dance, we have categories called conceptual hip-hop and conceptual street dance in France where choreographers work conceptually with the body. I don't think there are any specific recipes for finding ways to make a merger like this work. Anyway, in Japan, contemporary dance and street dance are recognized, by convention, as two different dances. So, an attempt to fuse these two categories is in itself valuable. This project DDA shows a good example of the framing of this fusion, and the first step has had positive results. So, on performance days, I hope both types of audience will gather in one theater. The performance will offer something both types can enjoy, and I'm sure you'll enjoy it more than you expected.
Vince came up with some carefully conceived choreography. In the introduction, he offers a choreographed piece that street-dance fans would love to see. But at the same time, he alters that aspect slightly for the other target audience. That idea really impressed me. Of course, you can't satisfy everyone. Some people may be confused or dislike it, but that's not an issue.
In general, people aren't quite sure how to react when they come across something new. Even if you have no idea how to enjoy a performance, by persisting and trying to get in tune with it, you'll eventually come to have another perspective and come to enjoy it.
―I had a chance to see the rehearsal of long version of "Hilatas." In the scene in which B-boy Khenobu dances, the music was something B-boys wouldn't be likely to dance to. The dance was also choreographed using B-boy technique while introducing the style of contemporary dance. It was exciting.
Fabien: I hope the audience that watches the performance will feel the same way [laughs]. From the early stage of production, I've been talking to Vince about the challenge of choreographing street dance when you're trying to add a lyrical nuance. Still, I don't think it is impossible. B-boy performances typically involve a cycle of dancing, then taking breaks when they get tired. I talked to Vince and suggested changing that pattern. We came up with a longer sequence that lasts for five to seven minutes. We thought, by creating lyrical moments within the repeated cycle of fierce movement and stopping, we might uncover new movements and physical possibilities in B-boy dance.
―So, Khenobu was also happy with that scene?
Fabien: Yes, he's enjoying it. He never thought he could move this way before. Although it may have been confusing, it's good for him [laughs]. I think he definitely took something from that process. Whether he takes it further is his choice. He can't stop with this project, but he can decide to apply this experience to his art. In street dancing today, there seems to be a trend where dancers try to apply their styles to other forms of performance. There's no reason they shouldn't do that.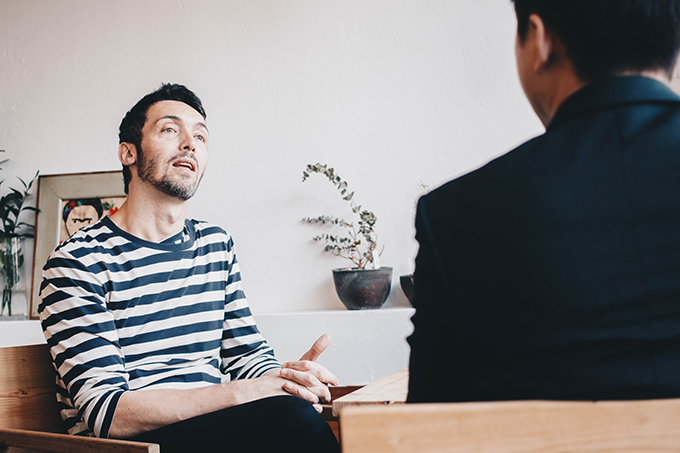 Fabien hopes fans of both contemporary dance and street dance will come to the theater.
―Vince, you were saying before that street dancers should have more opportunities to explore a world they don't know. On the other hand, sometimes I think DDA is trying to break a hole in street dance culture.
Vince: It's really good for street dancers to perform in wider forms like stage work and shows, but I still respect their culture. As with our work on DDA, if we try a new movement and find an outcome that inspires other dancers, we can call it progress. I've seen dancers making real progress through DDA.
Many street dancers have entered the field of the performing arts recently. That's also happening in the Philippines. I, myself, love the feeling of self-liberation the performing arts offer. Allen, one of our dancers, also experienced that feeling. After his experience with the performing arts, his dancing has shown something different from other dancers in the realm of dance battle.
―In Europe, contemporary hip-hop dancers are also active in dance battles. It looks like they interact well with street dancers.
Fabien: Yes, they blend differently in Europe, because dancers have much more access to diverse types of performing art presentations. Lots of theaters are interested in a mix of hip-hop and contemporary dance. As street dance gains recognition as an art form, contemporary artists, choreographers, and directors who incorporate hip-hop dancers into their work have grown more common.
―From the viewpoint of a creator, as you're doing now with DDA, how does working with artists from different background influence the production process?
Fabien: I talked about that with Vince. As you see, this time, the work's theme is to go back to your roots. We talked about how we can merge cultures from the diverse countries the dancers come from or how these cultures could be affecting street dance. The work reflects these ideas, although it may not be apparent if you watch it unfold on stage, since the theme was expressed subjectively.
We asked the dancers to present traditional dances, movements and music from their home countries. I was amazed to encounter traditional music from the Philippines and Indonesia and the fusion of ethnic dance and street dance into the work. The attempt to combine diverse elements influenced the work tremendously by generating an incredibly effective expressiveness the audience should feel.
Vince: I've found that even if a culture looks completely different from your own, if you go deeper into the culture, you'll find common ground. The technical staff for the last year's DDA told me that, as in the Philippines, you'll come across Jew's harps in Japan. It might be hard at first to find a link to other cultures, but after I actually meet people from different cultures and strike up friendships, I sometimes see them as mirrors, and I notice similarities between my culture and theirs.
Fabien: Vince and I regularly talk about that sort of thing. When people from diverse cultures gather, they can strengthen their expressive capabilities by accepting each other's differences.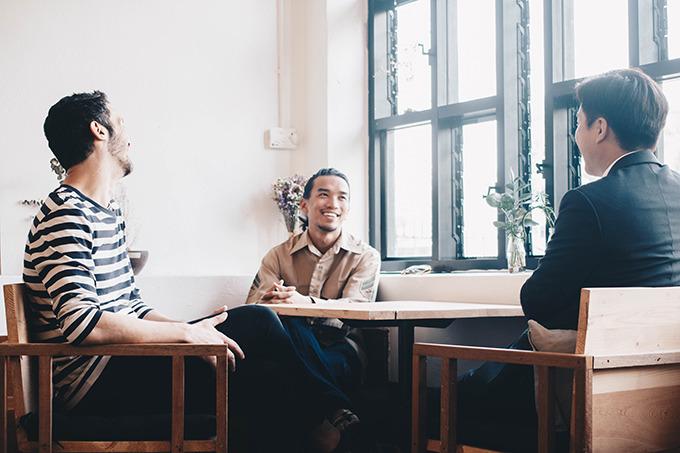 The theme of "Hilatas―The Light that Guides You" is to return to one's roots.
―Lastly, do you have a message for the audience coming to see the Tokyo performance?
Vince: The opportunity to present "Hilatas" in Tokyo fills us with joyful expectation. The work is intended to continue resonating longer after you view the performance. I hope you'll enjoy this work and the other two works directed, respectively, by Hamdi Fabas and Koutei Sennin. The works will surely evoke something special―the conviction that you're actually living in the here and now. They may even change your life in some ways. So, I invite you to come to the theater. I want everyone to see the work.
Fabien: Vince has already said what I wanted to say, but I'd like to add that I'm incredibly excited to present the work we've been working on together. I'd be happy if you view the performance with an open mind. If you come across something new, I ask you simply to enjoy the experience and accept the surprise. I'm also hoping you'll learn something about the wider potential of dance by actually seeing this performance on the stage.
Don't try to define whether what you're seeing is street dance or contemporary dance. It may be both, it may be neither. There's no answer. Our goal isn't a perfect harmony of contemporary dance and street dance but creating interactive effects through collaboration. I'm confident you'll like it. I hope we can share the joy and excitement we experienced in the process of making it.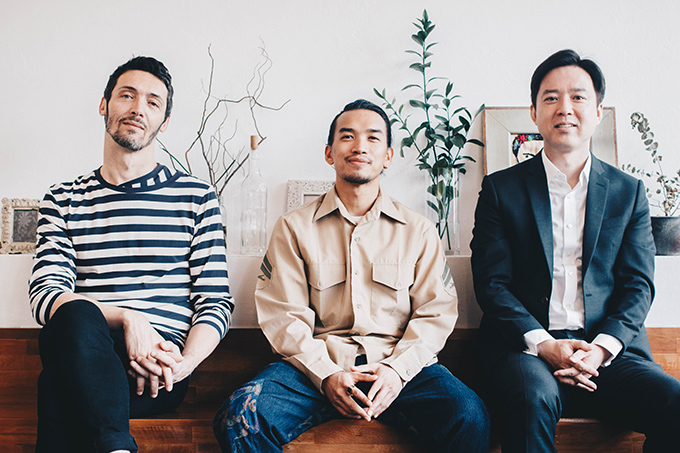 Interview: Norihiko Yoshioka, Director-General, The Japan Foundation, Bangkok
Photographer: Suradet Canda, Fellow
DDA official website: http://dancedanceasia.com/en/
Presentation schedule and details: http://dancedanceasia.com/en/schedule_pt/dda2018march/