Chicago: The 1893 Columbian Exposition
Yukiko Menda
Consulate General of Japan at Chicago
When asked, "What do you think when you hear 'Chicago'?" some people might reply, "The Great Chicago Fire of 1871."
People in Japan may find this a bit strange, but this fire is where the Chicago Fire, a professional soccer club, got their name. Incidentally, California also has a professional soccer club named after disasters, the San Jose Earthquakes.
The famous Great Chicago Fire is said to have destroyed three-fifths of the city. A mere 20 years after the fire, Chicago was chosen to host the World's Columbian Exposition in 1893.
Clusters of beautiful white buildings were constructed along artificial lakes and canals in an area located in the southern part of present-day Chicago. Their magnificence received worldwide coverage, regarded as a symbol that Chicago had risen from the ashes like a phoenix.
One of those buildings is now used as the Museum of Science and Industry, and one can still get a glimpse of how the things were during the exposition.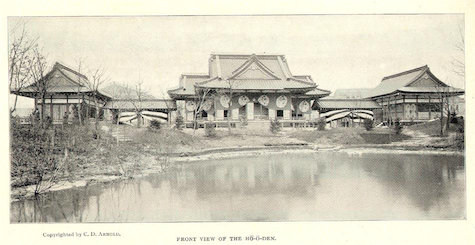 Okakura Tenshin's book Illustrated Description of the Hooden (1893)
The Japanese government sent temple and shrine carpenters to Chicago to build a pavilion called the Hooden (Phoenix Hall) using architectural styles of the Heian, Muromachi and Edo periods. Local people are said to have been delighted to see the phoenix used to decorate the pavilion, as it reminded them of the way Chicago had recovered from the great fire. The Hooden remained in a Chicago park for many years after the exposition. At one point in time, it was used as a tea house before it was destroyed in a fire.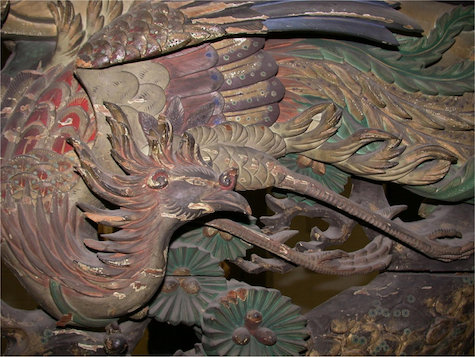 Four transom panels were all that remained after the fire, and they have been stored at the Art Institute of Chicago and the University of Illinois. Two of the panels will be restored and exhibited together at the Institute's Japanese Art Galleries, scheduled to reopen in fall 2010 after being expanded. They are likely to be put on display in summer 2011, so be sure to stop by if you're planning to go to the Art Institute of Chicago.