Hanoi: The "Ganbare Japan! You Are Not Alone!" Project
The Japan Foundation Center for Cultural Exchange in Vietnam
On March 23, 500 professors, staff members and students of the Vietnam National University's College of Social Sciences and Humanities in Hanoi gathered at a meeting to mourn the victims of the March 11 Great East Japan Earthquake and express their support for Japan's recovery.
People in Vietnam knew that a terrible disaster had occurred in Japan as newspapers and television stations reported on the damage caused by the earthquake and tsunami. The College of Social Sciences and Humanities, which was established 16 years ago, has a department of Oriental studies. It has been receiving support from the Japanese government, the Japan International Cooperation Agency (JICA), the Japan Foundation and a number of Japanese universities and companies. These close ties with Japanese institutions created a heightened sense of concern at the college for the plight of their Japanese friends.
The meeting began with a moment of silence for the victims. A group of students then showed a video of the disaster that they had put together. Students majoring in Japanese studies followed by presenting an introduction to Japan's geography and culture, including the origins of the senbazuru or a thousand origami paper cranes (as a symbol of peace, referring to the story of Sadako Sasaki, a girl who suffered and died from the long-term effects of the atomic bombing of Hiroshima). All of the participants folded origami cranes afterwards. When put together with the cranes that had already been folded, there were 10,000 of them. These paper cranes were handed to representatives from Japan along with a sheet of paper that everyone wrote their messages of encouragement on. The Vietnam National University's College of Science has an exchange agreement with Fukushima University, so the cranes and messages were delivered to the Japanese university at the request of the organizers of the event.
We later came across a blog written by a student at Fukushima University. She wrote, "I'm originally from the city of Minami Soma in Fukushima Prefecture. I wasn't able to see my family or friends for such a long time, and there were times these past three weeks when I felt like I was alone in the world. Then I happened to find the beautiful paper cranes and messages hung up in front of the student affairs office and realized again that the entire world was worried about us and praying for us."
Many people in Vietnam are praying for and supporting the people affected by the earthquake. Immediately after the quake, there were a number of media reports praising the Japanese for being highly disciplined. They said things like "Why aren't people looting?" and the "samurai spirit." We would like to keep the people of the world up to date on the steps that are being taken to lead to Japan's recovery and to the creation of its future.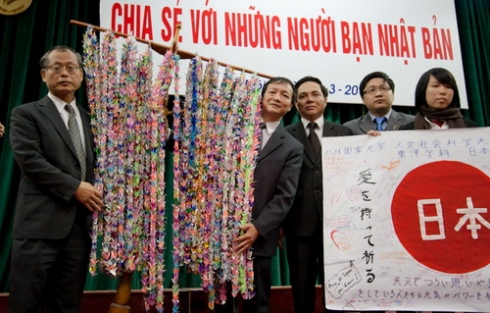 Photos by tuoitre online
The paper cranes handed to the Japan Foundation Center for Cultural Exchange in Vietnam

Left: Many students gather in the venue Right: Participants fold paper cranes in earnest

Left: Messages of encouragement written on a sheet of paper Right: Another sheet of paper carrying written messages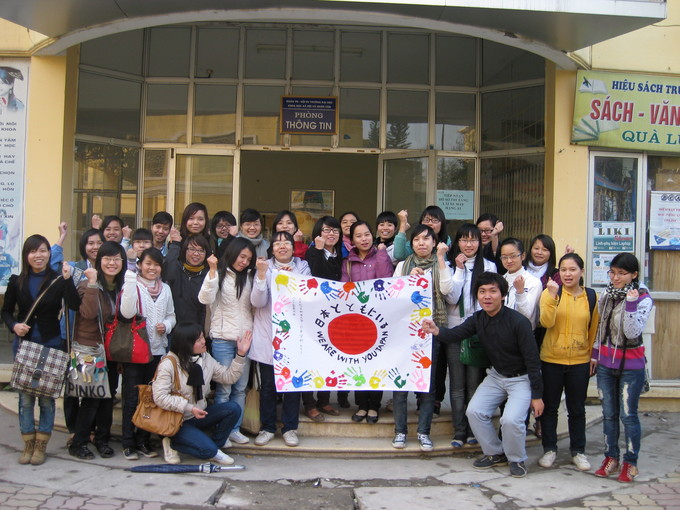 The messages were sent to the disaster-stricken areas