People Who Support Japan Converge in New York: NY Cares for Japan
Mitsuhiro Inada
The Japan Foundation, New York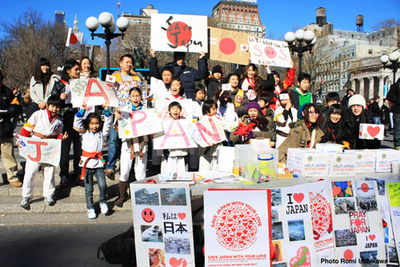 JP GIRLS NYC (Photo by Romi Uchikawa)
Major U.S. media started covering the Great East Japan Earthquake with breaking news immediately after it happened. Top newscasters later flew to Japan one after another, and programs about the quake and tsunami were broadcast daily. For a while, the news was almost exclusively about the disaster in Japan.
Campaigns to support Japan started in no time, centering on the Japanese community in New York. Many artists came together to ask for donations at a subway station the day after the disaster struck. A number of people asking for donations or messages were later seen in Times Square, Grand Central Terminal, and Union Square. There were also many charity events taking place every day such as concerts and fundraising parties.
There was some confusion, however, as a lot of information about those events was hurriedly passed on through Facebook and Twitter. Even though people had gone through so much trouble to create the events, their messages didn't get through properly. So I gathered the relevant event information scattered all over the Internet with my colleagues and friends. We organized the information and launched a website called NY Cares for Japan in which the details of events were given by date and type. The response was far greater than we had expected, as there was a steady stream of events in connection with the disaster in Japan. Almost 150 event details were posted on the website in the space of a month, and the site received 17,000 hits.
Even though it has been a month since the earthquake, countless events are still being planned. While we can't follow every one of them, we know that all of them are full of compassion for Japan, so we want to post as many event details as possible. The website mainly provides event details for people living in New York, but we would also like people in Japan to browse the site.
The only thing that we can do for Japan from faraway New York is donate. Money--or rather, the total value of the donations--is what ends up being delivered to Japan. But we also hope that this website will tell people in Japan how the residents of New York felt and gathered the money, which, we expect, will encourage Japan as it tries to recover from the disaster.
The information posted on the NY Cares for Japan website includes details on charity events, information about donations, videos with messages and links to posting websites. We'd like to introduce some of the activities listed on our website below.
Members of JP GIRLS NYC gather messages (Photo by Atsuko Tanaka)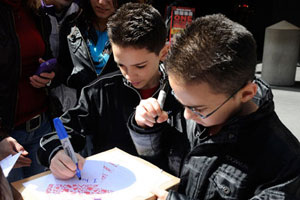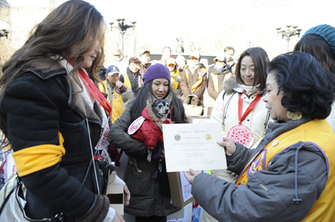 Some people ask for messages to be written on the Japanese flag and others fold Origami paper cranes at events across New York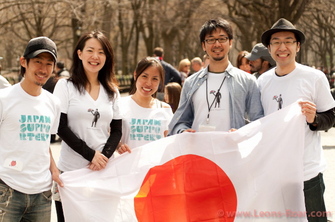 Donations are also collected at performances (Photo by Kenji Mori)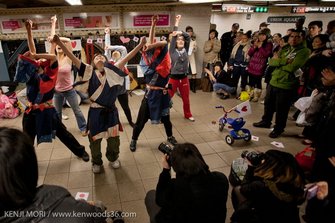 A video titled "Ganbare Nippon," in which children give encouraging messages to the people of Japan