Messages to Japan from Kids in Spain―Workshop by Taro Gomi at World of Books Festival
Izumi Shibasaki
The Japan Foundation, Madrid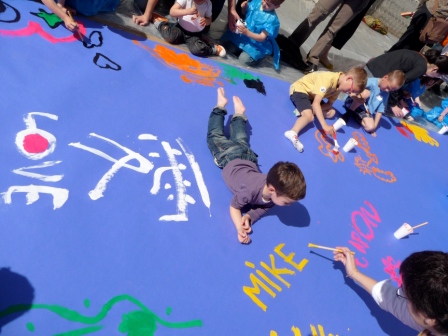 Spanish kids at Gomi's workshop
Barcelona, the regional capital of Catalonia in eastern Spain, is a popular tourist destination with large numbers of visitors from Japan as well. Every year on April 23, people in Catalonia celebrate the day of St. George, their patron saint, by sending a book and a rose to someone dear to them, and the streets are lined with stalls selling roses and books.
Prior to the day, the city of Barcelona holds a festival called Mon Llibre (World of Books) that aims to help kids become familiar with literature. This year, Mr. Taro Gomi, an internationally recognized Japanese author of picture books, was scheduled to organize a workshop at the festival. Children would draw whatever they liked on an enormous sheet of paper 25 meters long. Mr. Gomi's only rule was, "Use your favorite color and use as much space as you like to draw what you want to." It was decided that the Japan Foundation, Madrid would co-sponsor this interesting workshop, and we began preparations with Barcelona city officials and other people involved.
With less than a month to go before the workshop, however, the Great East Japan Earthquake occurred. The shocking news traveled immediately to Spain. We found ourselves very busy at our office in Madrid as messages of sympathy and words of concern poured in from not only people who usually help us but many ordinary citizens.
As our plans for various cultural events were canceled or reduced in scale following the disaster in Japan, what to do about Mr. Gomi's workshop became one of the issues we had to deal with. We asked ourselves how we should respond in view of the fact that so many people in Spain had offered help, saying, "Is there anything we can do to help Japan?"
Meanwhile, an organization called Casa Asia, which often cooperates with us, proposed an event to show solidarity with the Japanese people and to pray for their recovery. The event took place on March 26. We opened our center to the public for the day and taught people who came how to make Orizuru, or paper cranes. The idea was to make Senbazuru (a thousand paper cranes held together by strings). A total of 2,000 visitors came to the event, and every one of them lovingly folded paper cranes or left messages of encouragement for Japan. After seeing this, we gradually came to feel that instead of simply canceling events, it might be possible to go on with them in a way that would enable us Japanese overseas to come together with local people and send messages of encouragement to Japan.
Although we wanted to tell Mr. Gomi how we felt, our hearts became heavier every time we saw the tragic news that came from Japan and we didn't know how to approach him. But the time came for us to make a decision. We called Mr. Gomi's office, and were told that he was "undecided." Mr. Gomi sounded despondent, not at all like his usual cheerful self, and we didn't know what else to say.
So we traveled to Barcelona to inform the organizers of the Mon Llibre festival of the situation and decide whether or not to go ahead with the planned workshop. As fellow Japanese, we could relate to Mr. Gomi's state of mind. On the other hand, we had mixed feelings because we also thought that we could join Spanish children in sending messages of hope and prayer to Japan through this workshop.
We then found out that the people in charge of Mon Llibre also felt the same way. They proposed to change the original plans, add new ideas and turn the festival into an event to pray for Japan's reconstruction. What's more, we heard that the regional government of Catalonia had decided to designate the day of St. George for this year as a day to pray for the reconstruction of Japan, with a view to showing their solidarity with the country.
"If you can make it to the event and hold the workshop, we think it would be an opportunity for us and the children of Catalonia to send messages of hope and prayer for the reconstruction to the children of Japan. We understand very well that people in Japan are dispirited. That's why we people overseas have to encourage them." We told Mr. Gomi this was how we felt after meeting with the festival organizers. He replied, "There's no way I can ignore how grateful I am for the feelings of people in Spain. I'll go to Barcelona."
After all this had happened, it was finally the first day of Mon Llibre. A space was set aside for an Origami or paper folding workshop at the venue. There was also a stage where a flag with the character "Inori" (prayer) written on it fluttered, and a donation box set up by the Red Cross. There were various events for Japan going on in every part of the venue. The host opened the event by reading the message that the Japan Foundation, Madrid had prepared, in which we expressed both our sorrow for the victims of the disaster and our gratitude for the solidarity shown by Spanish people. And Mr. Gomi's workshop began.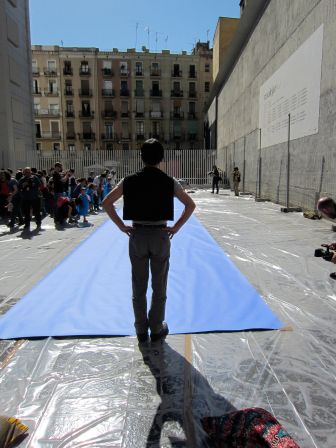 On the day of the workshop, the first sheet of paper lies spread out
A blue sheet of paper 25 meters long was spread out on top of a plastic sheet in an area outdoors. Kids that had been waiting with paintbrushes in hand slowly came up and began slopping paint on the paper. At first, they shyly stuck to painting on the edges of the paper, but the canvas was soon covered with kids, and they began going in and painting in the middle. They quickly filled the blank parts of the paper. Green, orange, white, pink...it was as if the brilliant colors of the paint were splashes of dye on a blue carpet.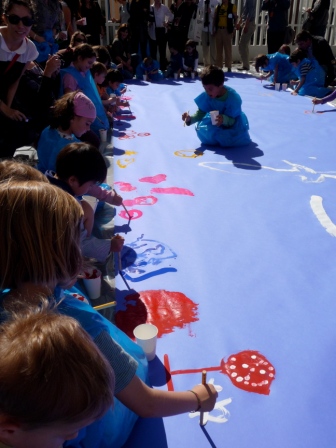 At first, the kids slowly begin painting on the edges

The area is covered in paint in no time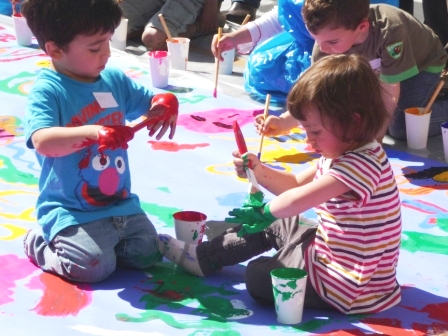 Some kids smear paint on their hands and use them as paintbrushes...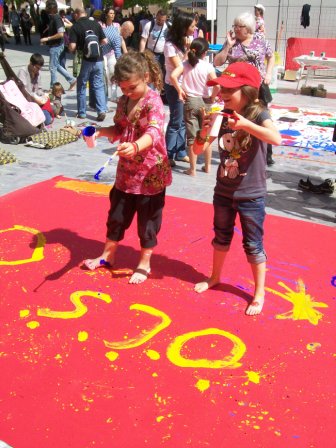 ...and others fling paint at the canvas from above. They paint in many different ways.
There were pictures of the Japanese flag and words like "Nippon" (Japan), "Japon" and "Love." At the beginning of the workshop, Mr. Gomi told the kids, "I would be happy if you could write a message to children in Japan," and the participants each painted what they felt toward Japan. Many times the enormous sheets of paper became full and were replaced. Many times the kids swapped places. But the participants never seemed to stop drawing messages for Japan. "You'll almost be able to go home," "Everyone in Japan, don't give up!" "We're friends"...all of us involved in the event were struck by the kind messages of the children.

As if in response to Mr. Gomi's words, the kids keep painting messages of encouragement for Japan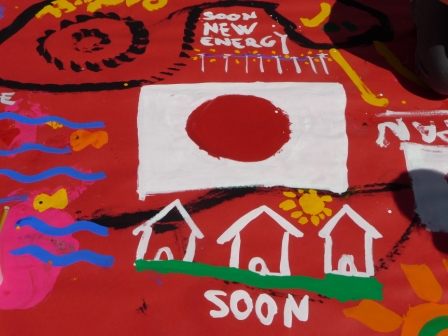 Messages like this...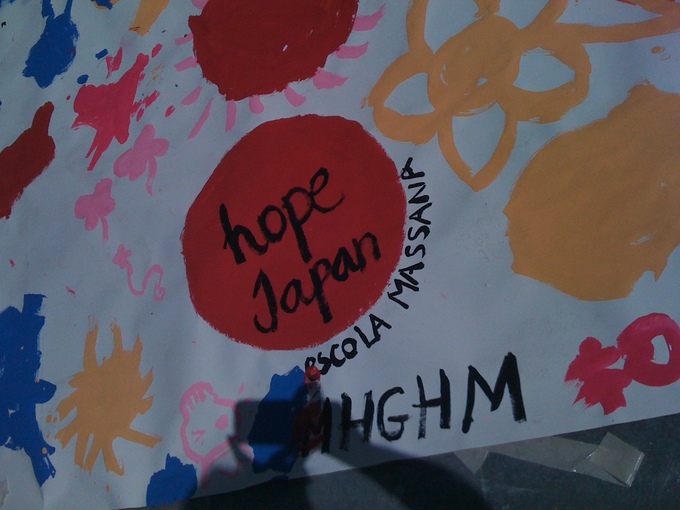 ...or this.
The sheets of paper weren't simply collected after the kids had painted on them. They were hung up in various areas of the venue of Mon Llibre, and many people were able to view them for the two days of the event. When viewed from a distance, the giant pieces of paper gave the impression that they were painted by a single artist, although the kids hadn't planned anything beforehand. We thought that it was because all of the participants had turned their thoughts toward Japan and joined their hearts as one.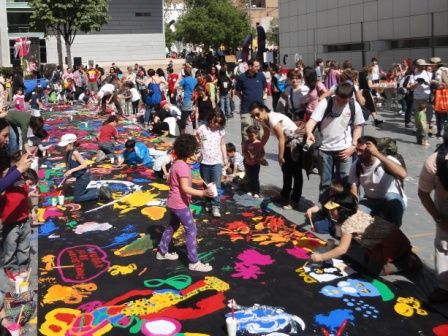 The huge canvas is covered by the kids' pictures in no time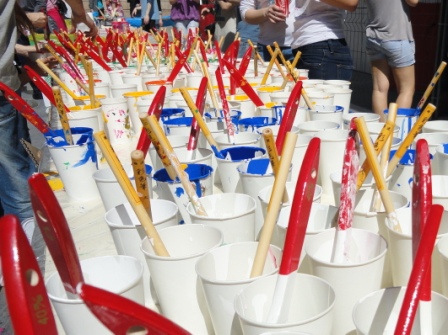 The paintbrushes and cups that the kids used...there are so many of them!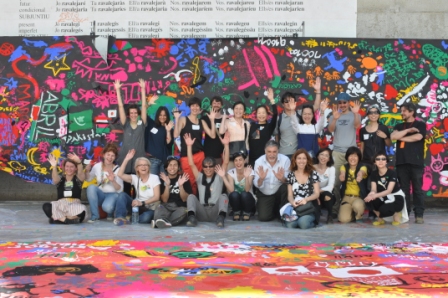 Mr. Gomi, everyone who helped, thank you very much.
Photos provided by: Bronze Publishing Inc., Manabu Matsunaga (group photo), Cocobooks