Beijing: Changing Society through Design―Kazuo Kawasaki, Designer of Sarah Palin's Glasses, Lectures in China
Noriko Sato
The Japan Foundation, Beijing
"I want to change society through design." Keen to achieve this aim, Kazuo Kawasaki, a design director and professor at the Osaka University Graduate School, has designed many things, including artificial organs, medical instruments and other items used in our daily lives. Young people in China, especially those born in and after the 1980s, are increasingly interested in Japan. They are drawn, in particular, to Japanese design. We at the Japan Foundation, Beijing invited Kawasaki to the Chinese capital, which has seen remarkable development in recent years, in the hopes that we could introduce the possibilities of his designs to people here. He gave lectures at our center and the Art Museum of China Central Academy of Fine Arts.

Kawasaki began his lecture, titled "Design--Power to Change Society," by shattering the old notion that design was simply about shaping things. He says that design encompasses a variety of fields from natural sciences to social sciences, and that connecting all of those fields can make people's lives better. He proposes that design should tackle the major issues of water, food and electricity for the world's population, which is estimated to reach ten billion by the year 2023. He insists that designers should work with the people at the bottom of the population pyramid instead of merely the one hundred million people at the top, and advocates a project called Peace Keeping Design (PKD).
In his lecture, Kawasaki explained his activities and the philosophy behind them by giving examples of things related to his own body and items he has designed. He began by talking about his defibrillator. His presentation, which included actual footage of the defibrillator inside his own body, had a lot of impact, and the audience was fascinated. The traffic accident he was in when he was 28 years old spurred him to make the decision to design things that are used inside the human body instead of simply what people wear on the outside. Kawasaki is currently working on designing an artificial heart. The initial model of the artificial heart that he had designed was chosen by the Montreal Science Centre in Canada as one of the "21st century's dreams," and is currently on loan for display there. Kawasaki then talked about the glasses worn by former U.S. vice presidential candidate Sarah Palin, which made him famous all over the world. He says glasses aren't just a fashion tool--they're a medical tool as well. The glasses designed by Kawasaki are light and easy to wear, as they are screwless and use a special kind of material. The lightest glasses only weigh five grams.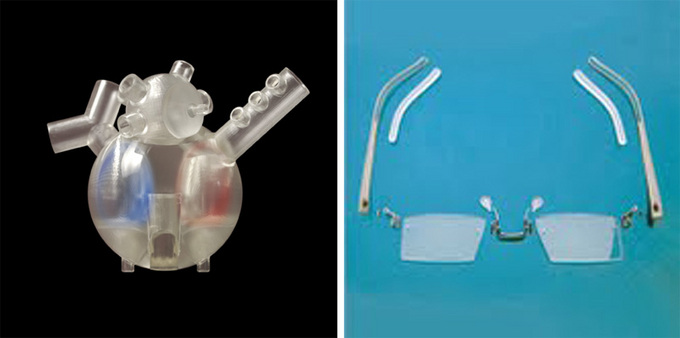 The philosophy behind all of Kawasaki's designs is "Life, Feeling and Form." He believes that the designer's job is to create the form, thereby making people feel good and helping them live their lives.
This philosophy also extends into Kawasaki's international contributions. It is estimated that 5,000 children die each day, and the PKD project that he advocates is currently trying to save as many of those children as possible by developing new types of syringes used for vaccinations. He has designed syringes contained in special packages, so that they couldn't be re-used, and strives to ensure that they are delivered to poor children in developing countries. In his lecture, Kawasaki also introduced a new iPhone application being developed to raise funds for the PKD. He said he would be working on designs related to vaccines, including vaccines that are in powder form instead of liquid form and can be administered nasally, and new ways to transport the vaccines.
At the close of his lecture, Kawasaki referred to the words of Tenshin Okakura (a scholar and prominent figure in the late 19th to early 20th century art movement in Japan): "If you live with beautiful things, you can die a beautiful death." Kawasaki also touched upon social conditions in China, where design is becoming more and more important. He said, "I want people to pay attention to design that can contribute to the international community and make life safer for people, not just design that focuses on industry or the economy. I want students studying design to fully understand how design can contribute to society."
Many members of the audience identified with Kawasaki's approach of contributing to society through design, and the question and answer session lasted for as long as an hour. The lecture also attracted attention from a number of design magazines and science and technology newspapers in China. We hope that Kawasaki will continue to connect with people in China through his designs.
This lecture meeting was organized as the second part of a lecture series titled "Discovering Modern Japanese Culture." The series invites leading professionals in a variety of fields in Japan to China to help people there better understand the various aspects of modern Japan through lectures. For the first part, we invited art director Fram Kitagawa, who talked about revitalizing local communities through art. For the third lecture, we plan to invite a young, up-and-coming artist who is gaining recognition around the world to talk on the theme of architecture in Japan, a topic of high interest in China.
Discovering Modern Japanese Culture Lecture Series (in Chinese)
Part One: Fram Kitagawa http://www.jpfbj.cn/newsC64.asp
Part Two: Kazuo Kawasaki http://www.jpfbj.cn/newsC70.asp