Risa Wataya's Lecture Tour of Germany and Italy
Risa Wataya
Akutagawa Prize winner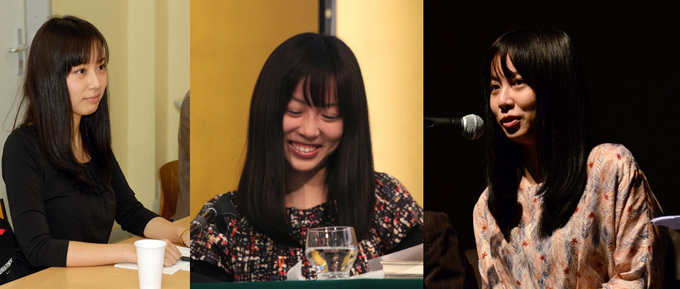 My first reaction when I was invited to do a lecture tour of Germany and Italy and also meet some local writers was, "Me? You're asking me to go?" I knew that my works had been translated into Italian and German, but that was more than five years ago--and they were already out of print in Germany. Although I wanted to go, I hesitated, thinking maybe no one or at the most only two or three people would come, and imagining myself standing in front of a chilly, almost empty hall not knowing who to look at when speaking from the stage.
But in the end I decided to accept the offer and the challenge. For one thing, I was fed up with myself for always trying to avoid something different so that I wouldn't put myself in a situation where I might not live up to expectations. I had always been like that since I was little.
A shy girl was asked to tour places foreign to her, and she braced herself to answer the call, thinking maybe she's needed. And so my ten-day tour of Cologne, Berlin, Hamburg and Rome began.
If asked what I found most difficult about the tour, it would be lovely if I could say that I had trouble communicating with the audiences, that I regretted not being able to express myself when speaking with local writers, or that I was so nervous during the lectures that I wasn't able to say what I had intended. But to tell the truth, the most difficult part was the flights.
For most people, a flight from Japan to Germany is a leisurely thirteen-hour stroll among the clouds. But I had to forget I was flying. So once on the plane, I had a couple of drinks and took some sleeping pills, which anyone would say is a no-no. I knew that I'd have to run into the bathroom every now and then as a result of my recklessness, but that was that. I just prayed the concoction would numb me and black out my crystal clear mind, but my prayers were not answered. I felt every up and down and wasn't able to sleep a wink till we reached our destination. I knew that airplanes were safe (or maybe deep in my mind I didn't, and that was why I was so scared), but I just couldn't make myself believe that I was up in the sky, flying--humans don't fly! And it was beyond me why those other passengers looked so relaxed and comfortable. Flying was not a happy time for me. I just tried to bear the solitude, the rolling and tossing, and the fear. The smiling flight attendant temporarily became my hero.
My long and enduring flight finally came to an end, and people from the Japan Cultural Institute in Cologne met me at the airport. It was already dark when we headed to the hotel down a very wide road, where I saw the beautiful Cologne Cathedral from the car. The cathedral was lit up at night and looked like a mystic castle. It was the most beautiful building I saw during the trip and I will always remember it. I was told that a mass was held and its bells were rung to pray for the victims of the earthquake and tsunami that struck northeastern Japan in March 2011. When I had some free time one morning, I climbed to the top of the cathedral. I got dizzy going up the never-ending spiral staircase, but when I finally reached the top, I saw the streets of Cologne spreading before me. Standing there, I realized that what I really wanted to see was the entire cathedral from that height. I was a bit disappointed when it came to me that I couldn't possibly see the whole building from inside it. The stained glass windows on the first floor were beautiful, and I imagined how thrilling it would be to celebrate Christmas or the New Year in this magnificent building.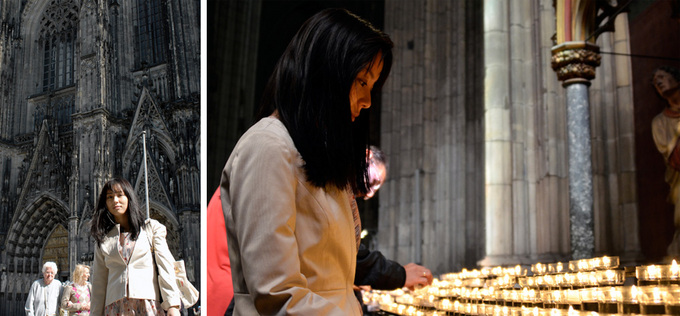 At the Cologne Cathedral
On my first day in Cologne, I visited a high school and met some students who were studying Japanese. They gave me a warm welcome and asked me about Japan and Japanese novels. Only one student was half Japanese and half German. The others came from various backgrounds and, at first glance, I saw no link between them and Japan, which made me wonder why they were studying Japanese. I learned that reading about Japanese culture on the Internet aroused their curiosity. They also told me that their German teacher spoke perfect Japanese, which boosted the faculty's enthusiasm to teach the language. It was fascinating to discover that students are attracted to a subject when there is even one good teacher. When I told the kids that I like Lady Gaga, several girls jumped up and excitedly said, "Me too, me too," and that made me happy. Most of them were taller than me, but their eyes were innocent and sincere, as you would expect of young high school students, and their responses to what I said made me feel warm inside.

Meeting high school students in Cologne
Then I visited the University of Bonn, where I met a Swiss professor who was really funny and spoke fluent Japanese. I spoke with students of various age groups who were studying Japanese culture. Many were Japanese, and I was able to speak in Japanese freely, not worrying about whether or not I would be understood. What impressed me the most was the debate that started when I asked them about Greece. "Greece has a very long history and is an important country to the world, so we should do whatever we can to help them," said one German student; another said, "The Greeks are taking naps while we Germans work our fingers to the bone." The discussion heated up so much that my interpreter couldn't keep up with the dialogue. I thought both opinions were equally reasonable. Senbazuru made by the students were hanging in the classroom. They told me that they had folded the thousand paper cranes to pray for the people affected by the March quake and tsunami. The students also raised funds to send to the devastated areas. I was touched to know that there were many people in Germany who were so concerned for us.
My lecture was scheduled for the second day in Cologne. It was a talk show held at the Japan Cultural Institute between Sabine Mangold, who translated my novel into German, Andreas Regelsberger, an associate professor specializing in Japanese literature, and myself. Many Germans and Japanese came, and my worries about an empty auditorium vanished. Two local high school girls read aloud my works Keritai Senaka (The Back I Want to Kick) and Katteni Furuetero (Keep on Trembling by Yourself). Reciting novels seems to be popular in Germany, and the girls read considerably long chapters with all their hearts. I didn't understand German, but seeing the girls under the spotlight so focused on their reading was fascinating, something that I had not experienced before. And I was amazed at how powerful and alive the words became when read aloud. In the discussion that followed, Regelsberger argued that the manga illustration of a girl on the cover of the German version of Keritai Senaka narrowed the book's readership. He criticized the publisher, saying that the picture didn't fit the content and it was obvious what the publisher was aiming at. I kind of agreed with his opinion but didn't say anything, knowing that I was invited here only because that book was published in Germany, and also the translator, Sabine Mangold, was sitting right next to me and I didn't want to hurt her feelings. My keeping quiet was probably very Japanese. In retrospect, I was a little upset with myself for possibly disappointing the audience by not stressing my views and participating fully in the debate; I am basically in favor of letting sleeping dogs lie. The staffers decided that the talk went too much in pre-established harmony and suggested that we improvise somewhat the next time. That is, I was given the new challenge of speaking ad lib.

Lecture at the Japan Cultural Institute in Cologne

Two local high school girls reciting Wataya's works
The following day, I did an interview with German novelist Marie T. Martin. Actually, it wasn't a formal interview. We just had fun chitchatting and complaining endlessly about all the hardships of writing novels. Martin was also an actress and very beautiful. And I liked her German style of fashion. Talking with her sitting in the nice breezy café made me feel like I had turned in to a refined lady, but later on when I was shown photos of the talk, I saw that I was just my old self, unrefined and unchanged. From time to time, I still remember Martin sipping her coffee, cuddling the bowl with both hands--she was so lovely.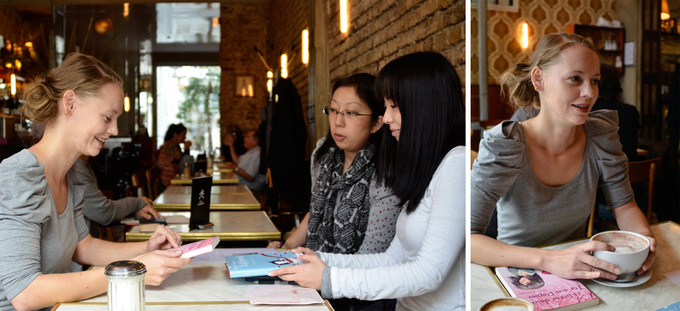 Interview with German novelist Marie T. Martin
Then we went to Berlin and visited the Mori Ogai Memorial Hall of Humboldt University. I was surprised when a seemingly ordinary apartment turned out to be the memorial hall. The room was reproduced to depict the times when Ogai lived in Berlin. I was so excited to see it with my own eyes that I rushed into the room gasping. It was in traditional European style that you might read about in novels and wasn't that indicative of Ogai. Once inside, it felt funny because it was like I had stepped into a storybook. The room had an antique bed, a writing table, faded linens, a washing basin, and a tall chimney-like stove that almost reached the ceiling. I liked Ogai's room better than any fancy hotel room that I stayed in. Visitors are allowed to touch the exhibit and even sit on the chairs. It was a great experience. A guide at the memorial hall gave us a thorough talk on Ogai. I learned that he was very popular with the ladies and that he had moved house several times. He also had an obsession with cleanliness and was very particular about getting rid of bacteria, maybe because he was a medical doctor. The guide told us a lot more about Ogai, but you must excuse me for remembering only the vulgar details. I had thought Ogai was an absolute perfectionist, and finding out that he had his share of imperfections made me feel a little closer to him.
The lecture in Berlin was held in the same format as in Cologne, with the same participants, but this time we did some improvising and tried to see how the audience would react. I found one Japanese person in the audience vigorously nodding his head in approval, and was very encouraged. I talked about the extreme expressions used to depict sex and violence by today's Japanese women writers. I said that Japanese women are oppressed in their daily lives, and by using forceful words they are trying to free themselves from the restraint. In the discussion, I talked about "women writers" in the third person, but realized that I was the only Japanese female writer in the place; I thought that I had developed nerves of steel for being able to speak so boldly. This time, an actress living in Berlin recited my novels in German. The neurotic anger and irritation exploded in her strong delivery and I was absorbed in her voice. It's not an overstatement to say she looked like a stunning rose as she sipped wine and read the stories.
We traveled to Hamburg the following day. I write this as though we took a few easy steps from one place to the other and reached our destination just like that, but of course, we had to fly. And it was difficult for me every time. I turned pale and became reticent an hour before each departure. I chatted with Suzuki, who accompanied me from Japan, and tried to prepare myself mentally for the ordeal.
I could tell that Hamburg was an affluent city at a glance. Luxurious high-rise apartment houses lined the river, and I was told that the rents were very expensive and no ordinary person could pay them. The spacious warehouse area was also beautiful, but to me the picturesque city seemed somehow indifferent. What surprised me was that all the stores closed on Sundays. I was told that the people here do not work on Sundays but spend their time going to museums and doing other things. Not one shop was open, and many tourists were walking around having to settle with just window-shopping.
One section in the spacious lobby of a shipping company's building was set up as the venue for the lecture. The members were the same as the previous lectures, but this time we had a moderator. His comments were spontaneous and he was great at improvising. As for me, I feel more comfortable when things are arranged in advance, so his ad libbing made me nervous. A Japanese lady in the audience who subscribes to the Shukan Bunshu weekly magazine explained the mentality of Japanese people living overseas. Learning about why they want to read Japanese literature gave me the motivation to work harder so that I can deliver more good reading material to people all over the world.
After Hamburg we went to Munich, and then to Rome. Our plane to Rome took off considerably later than scheduled, and an incident occurred just before it landed. The plane descended under the clouds, then went up above them again. The airport was crowded and we were held up in the air. The ups and downs during the wait was too much and I thought I was going to faint. I am a bit ashamed of myself for being so frail, but I couldn't help it. When we finally landed, the passengers all applauded like we had returned from outer space.
"Take it slowly, one step at a time. Don't be anxious. Hey, Anxious, stay back! If you don't, be ready for the consequences." People in Rome are strictly easy-going. They don't allow you to be fidgety, like me. So I had to try not to show my restlessness, which made me oddly nervous. On one sunny day, I went out to the streets of Rome alone. The bright sun was becoming of the approachable yet historical buildings that lined the magnificent city. Compared with Germany, where most of the old buildings were lost in the war, almost all of Rome's cityscape had survived. Walking down the Spanish Steps and strolling around the Piazza del Popolo, I thought of Kyoto and wondered why we weren't able to both modernize and preserve the ancient city. In Rome, traditional buildings are protected while new things are enjoyed. I realized that the beauty of balance between old and new had something in common with the rigorously laid-back nature of the Italians.
My talk with Antonietta Pastore, who translated my works to Italian, at the Japan Cultural Institute in Rome was also strictly easy-going. In Germany we went to the venue two hours before the lecture and discussed arrangements for an hour, but in Rome we arrived one hour before the opening and were not told anything about the talk. I was told that Pastore forbade any prior discussion because she thought that the talk would be more interesting if comments were spontaneous. Her words were, "It'd be no fun if everything was planned ahead. Talk slowly and try to say what comes to your mind at the moment."

Lecture with translator Antonietta Pastore at the Japan Cultural Institute in Rome
Pastore is a prominent translator and an elegant and kindhearted lady. She spoke gracefully and in a composed way, and her Japanese was very soothing to my ears. Although it was already fall, Rome was still hot. But Pastore's leisurely and somewhat melancholic manner of speech helped the audience forget the heat as they laid back and listened. After the lecture, several enthusiastic Italians came up to me and asked about my book and about Japanese literature. Discovering how interested they were made me glad I came. And Italian food was so good! The cooking was simpler than I had imagined, but the cheese, meat, bread, and pasta were all fresh and delicious, and my taste buds were delighted. It was amusing that a waiter looked sad and refused to clear the table when I couldn't finish my plate because the servings were too big.
The return flight to Japan wasn't as scary as when I left. I listened to Queen all the way back for some reason, and was exhilarated for having done my job.
Looking back, I remember only the good moments. Travelling is truly magical. I saw and learned many new things, and now that I'm back to my everyday life, I cherish even the trivial memories. A novel cannot be introduced to foreign countries unless it is translated. And when it is, the barrier created by a wall called language is torn down and people living in completely different cultures are able to read and learn about other cultures. Unlike movies, where much of the information can be conveyed with images and sounds, it may be more difficult for novels to be understood through the sole medium of words. But by visiting distant countries and speaking to the people, I found we can understand each other and that we don't have to be so overly conscious of the wall between us. This lecture tour made me feel I want to continue these relaxed and warm exchanges using my books as a catalyst, so that we can forget the distance between us.
Photos in Cologne by June Ueno, Photos in Rome by Mario Boccia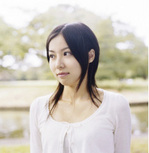 Risa Wataya
Born in 1984 in Kyoto, Japan. Received the 38th Bungei Prize in 2001, at age 17, for her debut work Install. At age 19, became the youngest novelist to win the Akutagawa Prize in 2004, for Keritai Senaka (The Back I Want to Kick). Her latest works are Katteni Furuetero (Keep on Trembling by Yourself) and Kawaiso dane? (Should I feel sorry?).