I Visited China and Mongolia to Talk about Manga--Yoshiaki Iwami

Yoshiaki Iwami
Manga story writer / Lecturer at Manga Production Course, Faculty of Manga, Kyoto Seika University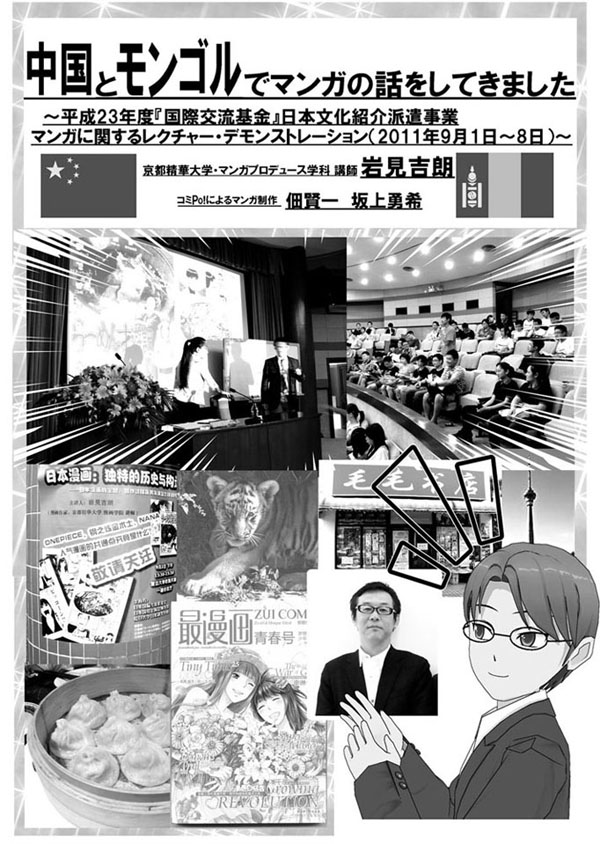 Visited China and Mongolia to Talk about Manga
The Japan Foundation Cultural Presentation Abroad Program in fiscal 2011:
Lectures/demonstrations on manga (from September 1 to 8, 2011)
Report: Yoshiaki Iwami, lecturer at Manga Production Course, Faculty of Manga, Kyoto Seika University
Manga production using ComiPo!: Kenichi Tsukuda and Yuki Sakamoto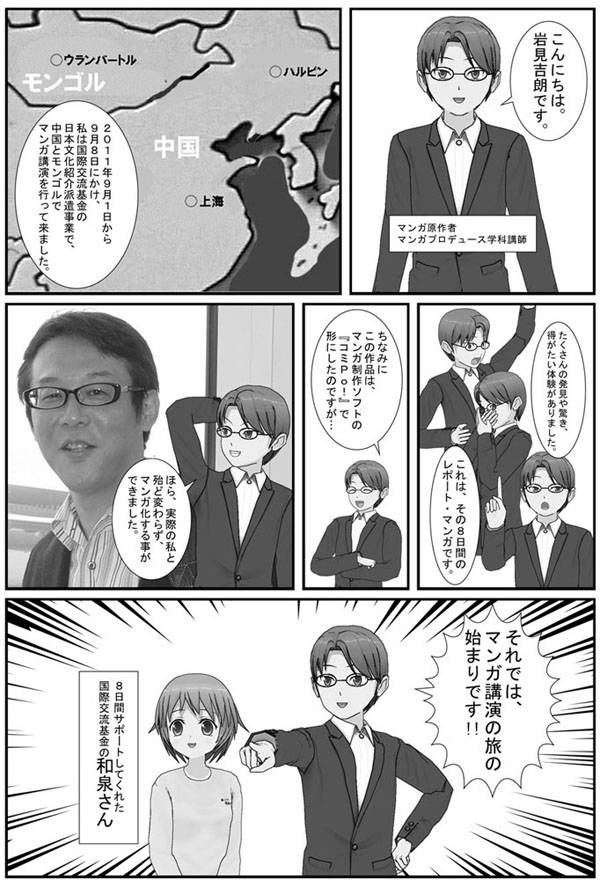 1: Hello, there. I'm Yoshiaki Iwami.
Manga story writer
University lecturer at Manga Production Course

2: I visited China and Mongolia from September 1st through 8th, 2011, to give lectures on manga under the Japan Foundation Cultural Presentation Abroad Program.

3: I had many discoveries, surprises, and valuable experiences there.
This is a manga-style report on the eight-day visit.

4: By the way, this report was drawn up using "ComiPo!" manga production software.

5: See? My avatar and I are almost identical.

6: OK, let's take a look at the manga lecture tour!
This is Ms. Izumi from the Japan Foundation, who assisted me during the eight-day visit.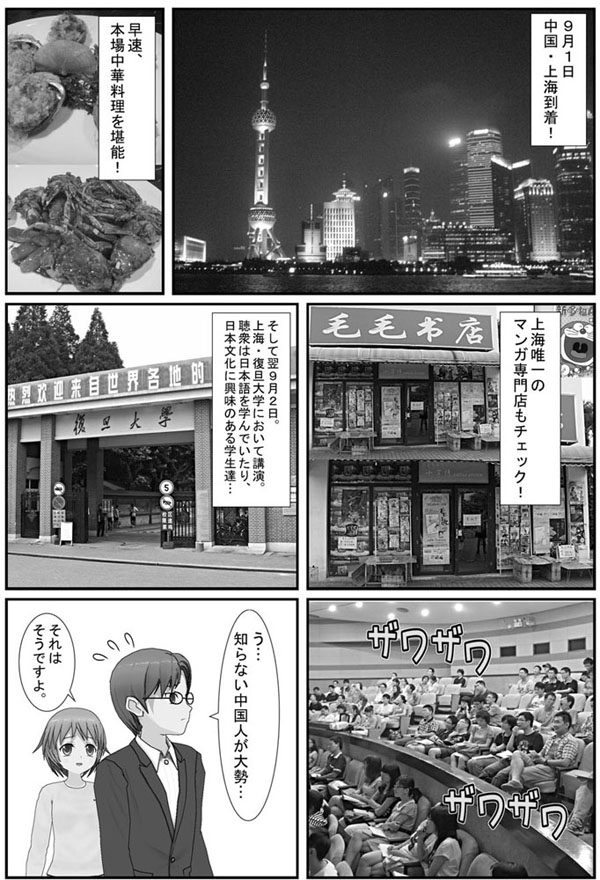 7: We arrived in Shanghai, China on September 1st.

8: Shortly afterwards, we enjoyed authentic Chinese cuisine.

9: We also went to the only manga bookstore in Shanghai.

10: And on the next day, September 2nd, I delivered a lecture at Fudan University. The audience consisted of students who studied Japanese or were interested in Japanese culture.

11: CHATTER CHATTER CHATTER CHATTER

12: Oops... There are so many Chinese people that I don't know.
Absolutely.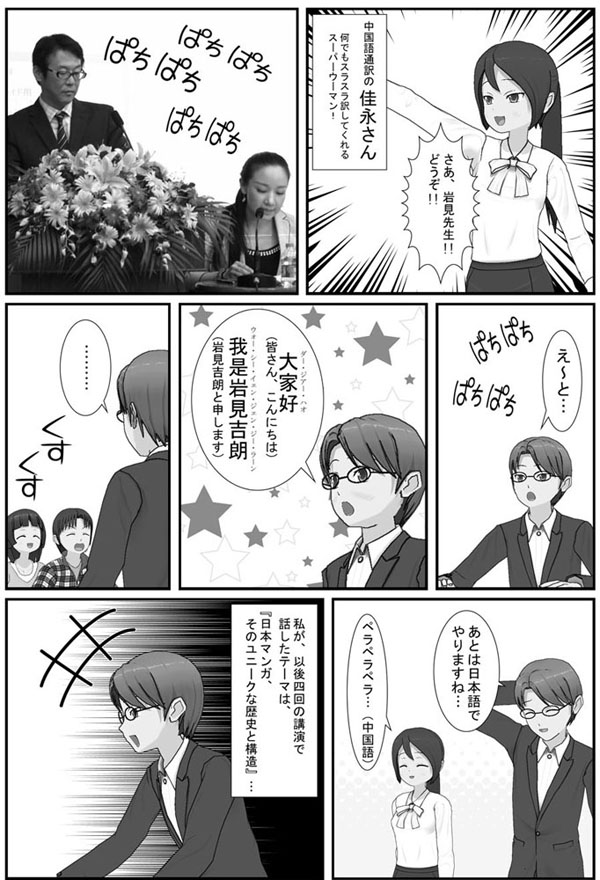 13: Now, please welcome Mr. Iwami!
This is Ms. Yoshinaga, my interpreter in China. She is a superwoman who can interpret anything with ease.

14: CLAP CLAP CLAP CLAP CLAP CLAP

15: CLAP CLAP CLAP CLAP CLAP CLAP
Well...

16: 大家好 我是岩見吉朗 (Hello, everybody. I'm Yoshiaki Iwami.)

17: .........
GIGGLE GIGGLE

18: Let me do the rest of the lecture in Japanese...
X X X ... (in Chinese)

19: The theme of the four lectures I delivered on this tour was "Japanese manga: Its unique history and mechanism."

20: In the lectures, I referred to various manga works, and pointed out the three major factors behind the success of Japanese manga: the limitless variety of subjects; their division into groups by gender and generation; and the quasi-group production system.

21: Although Japanese anime and manga were popular with the Chinese people, I wasn't sure to what extent they would be interested in such a complex theme.

22: It turned out that they were very interested.

23: I hope one day people in Japan and China will work together for the future of manga. Thank you for coming here today. 謝謝 (I appreciate it.)

24: CLAP CLAP CLAP CLAP

25: I gave the second lecture at Tongji University, also in Shanghai, on the next day, September 3rd.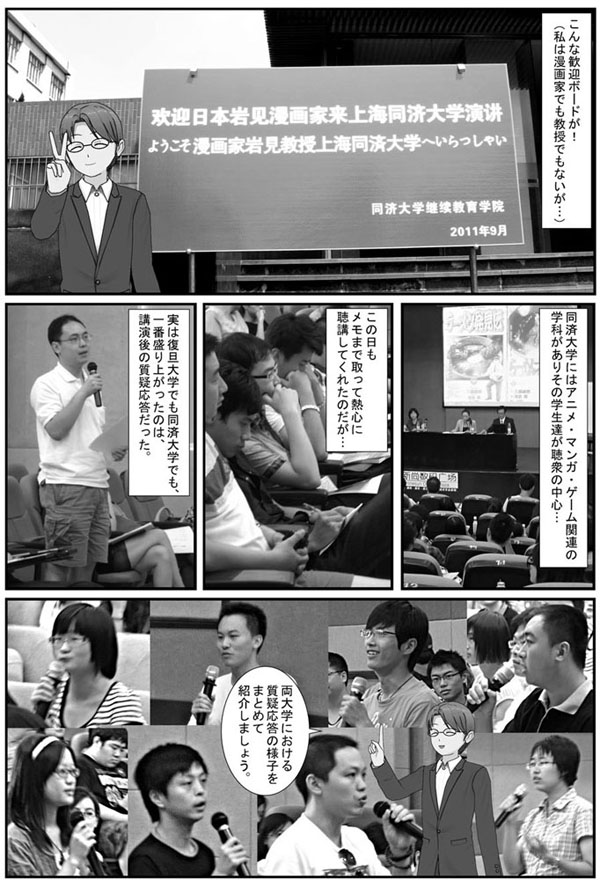 26: This signboard was a nice surprise. (Though I'm neither a manga artist nor a professor...)
"Dear Professor and Manga Artist Iwami, Welcome to Tongji University
Institute of Further Education, Tongji University
September 2011"

27: Tongji University has a department dedicated to anime, manga, and video games, and the audience that day consisted mostly of students from that department.

28: The attendees listened and took notes eagerly...

29: ...but in fact, both at Fudan University and at Tongji University, the climax was the Q&A session after the lecture.

30: So let's take a look at some of the questions and answers.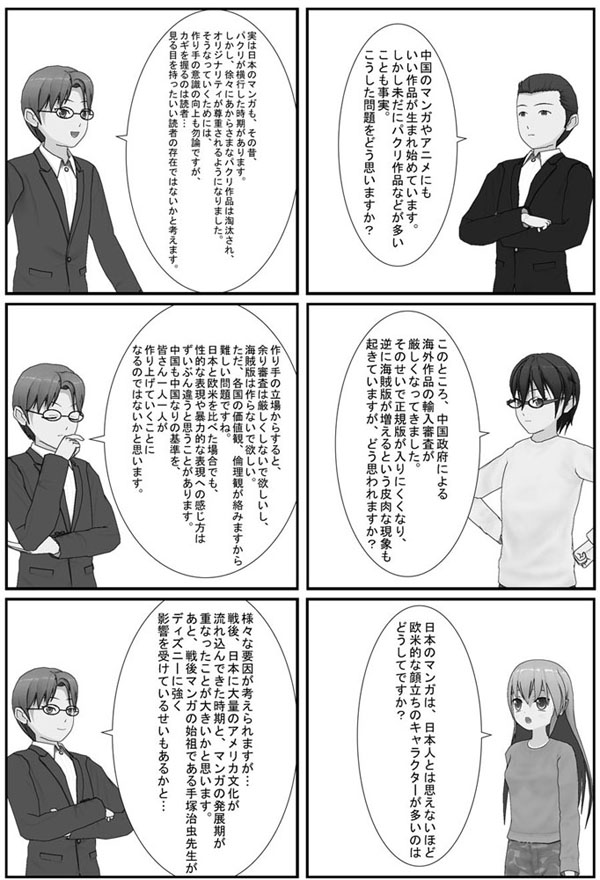 31: Fine manga and anime works have begun to emerge in China, but plagiarism is still a big problem. What do you think of that?

32: Even in Japan, there was once a time of widespread plagiarism. But manga works full of plagiarism were gradually weeded out, and readers began valuing originality. To make that happen in China, the key is to raise the readers' good judgment as well as the creators' awareness; so the future of manga depends on the readers.

33: Recently the Chinese government has been tightening its controls on imported entertainment publications and software, which has resulted, ironically, in our access to fewer authorized copies and more pirated copies. What is your opinion on this?

34: As a creator, I want neither import controls to be too strict nor pirated copies to be made. This is not a simple issue, though, because it involves each country's values and ethics. I sense that the Japanese people and people in Western countries have quite different views on sexual and violent expressions. And I think each of you in China has to play a part and help your country establish its own values.

35: Why do many Japanese manga characters look more Western than Japanese?

36: There are a number of reasons for that, but the primary one is that the period when American culture poured into Japan after World War II coincided with the developing period of Japanese manga. Also, Osamu Tezuka, the founding father of post-war Japanese manga, was influenced greatly by Disney.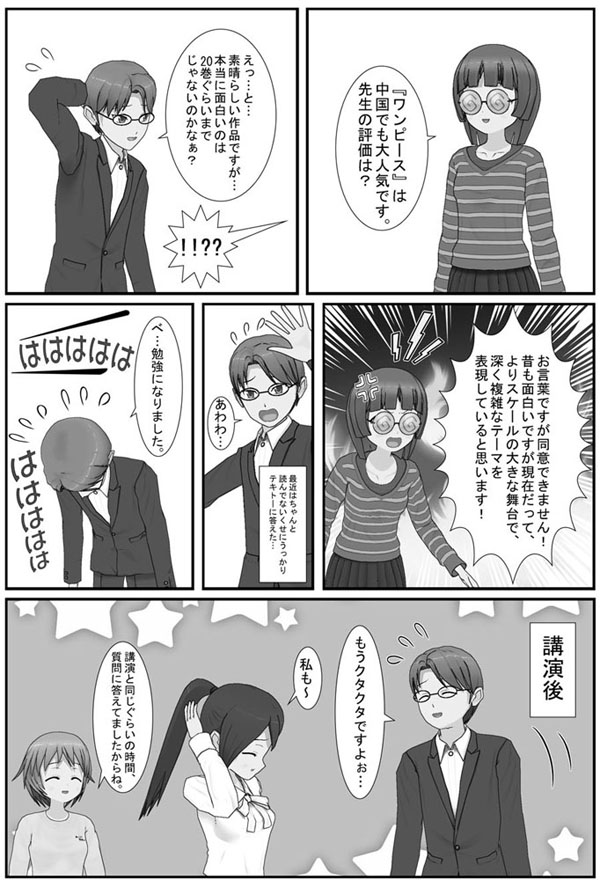 37: ONE PIECE enjoys popularity in China. How do you evaluate it?

38: Well... It is a great work, but honestly, it seems to lack punch after the 20th volume.
!!??

39: I'm afraid I don't agree! It has been fun, and I think it still captivates readers, dealing with profound, complex subjects in larger-scale settings!

40: Oops...
I hadn't been following ONE PIECE for a while, so I gave a half-hearted response.

41: I... I learned my lesson.
Ha, ha, ha, ha, ha! Ha, ha, ha, ha, ha!

42: After the lecture
I'm exhausted...
Me too.
No wonder. You spent as much time answering questions as giving the lecture.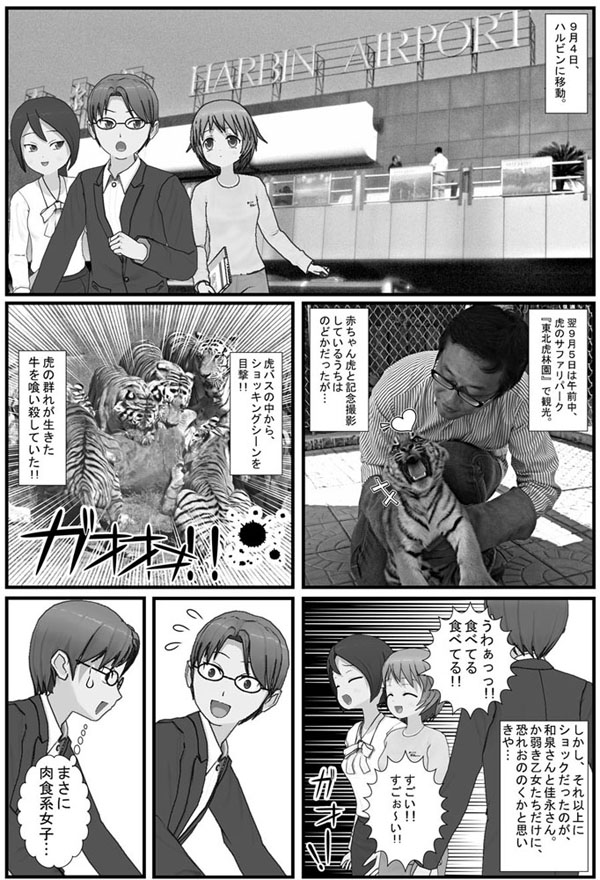 43: We went to Harbin on September 4th.

44: In the morning of the next day, September 5th, we visited the Siberian Tiger Park.
I had a peaceful time, taking pictures with the cubs...

45: ...until on the bus tour, I witnessed a shocking scene.
A pack of tigers were eating a cow alive!
Grooowl!

46: But even more shocking were the reactions of Ms. Izumi and Ms. Yoshinaga. I had thought these young ladies would be horrified...
Wow! Look at those tigers go!
Amazing! Amaaazing!
Growl!

47:

48: Talk about carnivorous women!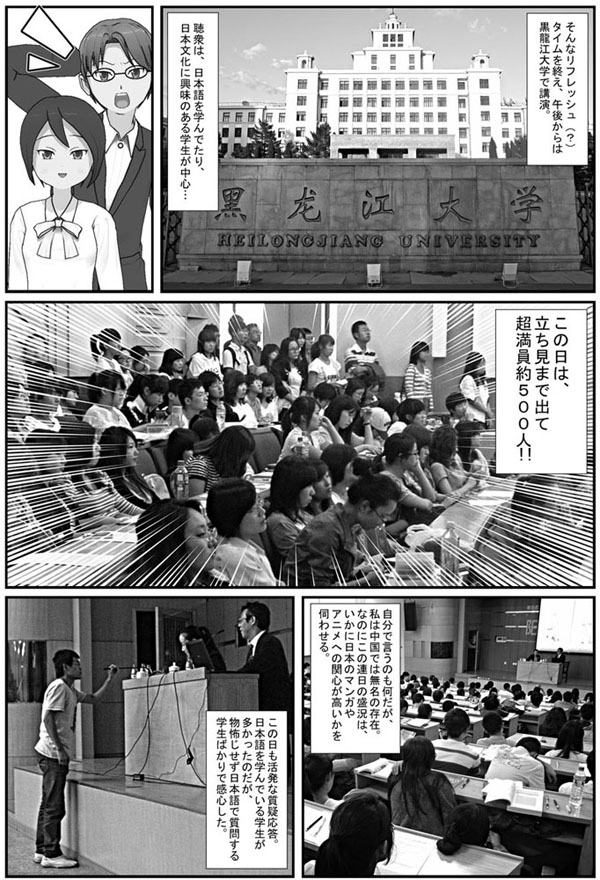 49: After we were "refreshed," I delivered a lecture at Heilongjiang University in the afternoon.
Most of the audience consisted of students who studied Japanese or were interested in Japanese culture.

50:

51: The hall was packed with about 500 people, some of which couldn't find a seat!

52: This is a bit embarrassing to say, but I am unknown in China--yet each of the lectures attracted so many people, which indicates a strong interest in Japanese manga and anime.

53: The Q&A session was lively on that day too. I was really impressed that the attendees, many of whom studied Japanese, didn't hesitate to ask their questions in Japanese.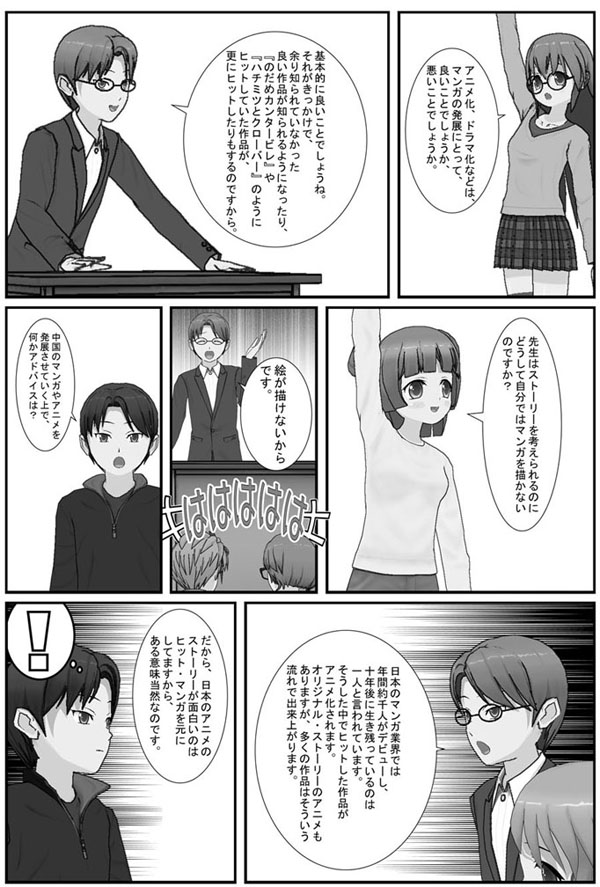 54: Is adaptation into anime or TV dramas beneficial or harmful to the development of manga?

55: Basically, it is beneficial; it can help good but obscure manga works become widely known, and already popular works, such as Nodame Cantabile and Honey and Clover, become megahits.

56: While you write manga stories, you don't draw manga. Why?

57: Because I can't draw.
Ha, ha, ha, ha, ha!

58: What do you think is necessary for Chinese manga and anime to develop?

59: It is said that in Japan's manga industry, only one out of the 1,000 artists who debut every year survive for 10 years. And amid that fierce competition, only hit manga works are adapted into anime. Some anime works are based on their own stories, but many originate from hit manga.

60: So given that fact, it is no wonder that the stories of Japanese anime are fascinating.
!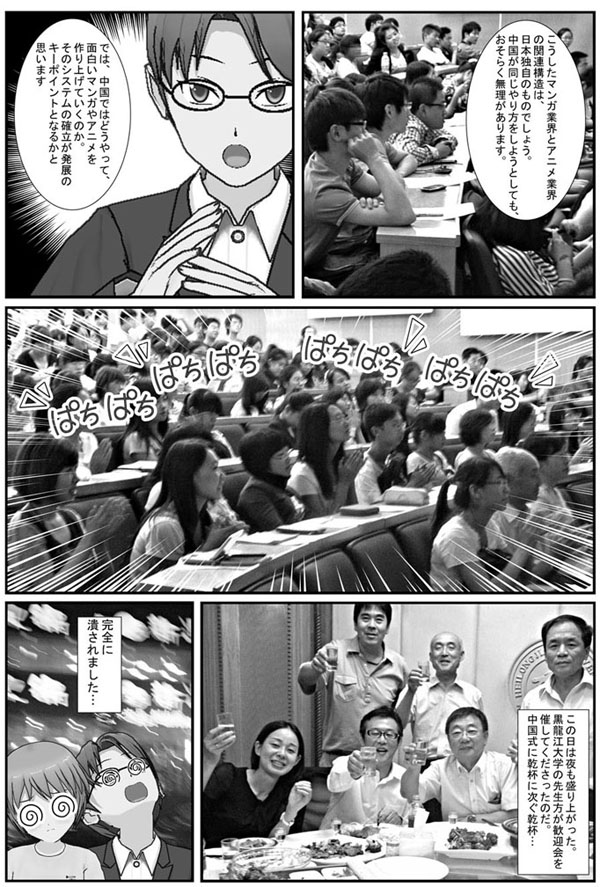 61: Such a relationship between the manga and anime industries is unique to Japan. I don't think it would work in China.

62: That brings up the question: How can China produce appealing manga and anime? I think the key to success lies in the creation of an appropriate system.

63: CLAP CLAP CLAP CLAP CLAP CLAP CLAP CLAP

64: In Harbin, we had a wonderful evening too. Teachers at Heilongjiang University kindly threw a party for us. Following the Chinese custom, I emptied my glass over and over again.

65: I was completely knocked out...

66: Late at night on September 6th, we arrived at Ulan Bator, Mongolia.

67: I assume many people associate Mongolia with vast steppes, but Ulan Bator, the capital, is a modern city. (This picture shows a large bookstore that even carries manga.)

68: I even found a ramen shop from Akita, my hometown! 
Ta-da!

69: Being the story writer of Ramen Saiyuki, I couldn't miss the opportunity to try it.

70: It tasted very good, even by Japanese standards.

71: I gave a lecture at the Khan Bank Theater on September 7th. Most of the audience consisted of young people who were greatly interested in Japanese culture and manga.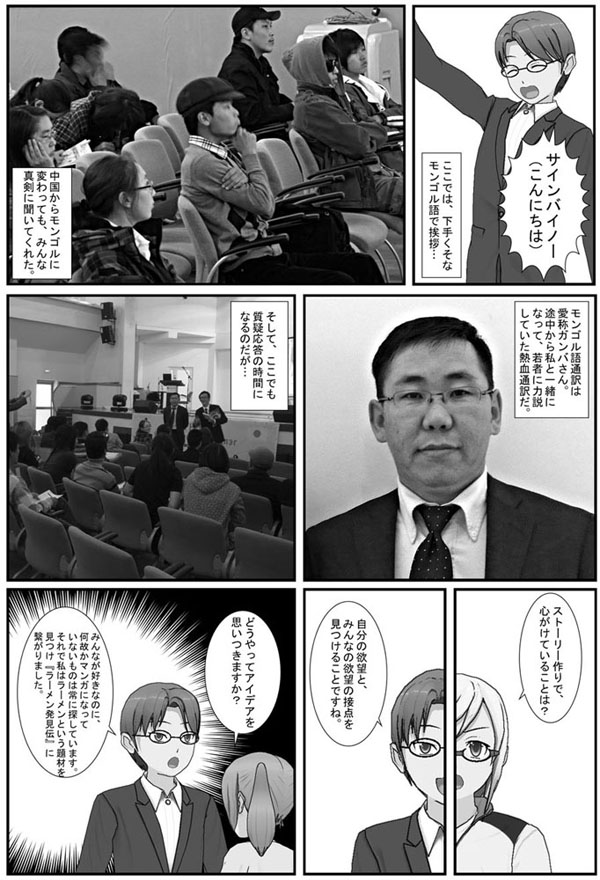 72: Sain baina uu (Hello!)
I attempted a greeting in my poor Mongolian.

73: The attendees listened as earnestly as those in China.

74: This is Mr. Gambator, my interpreter in Mongolia. He conveyed my words to the young Mongolian people as passionately as I talked.

75: Then came the time for the Q&A session.

76: What do you keep in mind when writing a manga story?

77: I try to find common ground between what I want and what the readers want.

78: Where do you draw your ideas from?
I always look for subjects that everyone is interested in, yet somehow no manga deals with. That is how I found that ramen was suitable material for manga, which led to Ramen Hakkenden.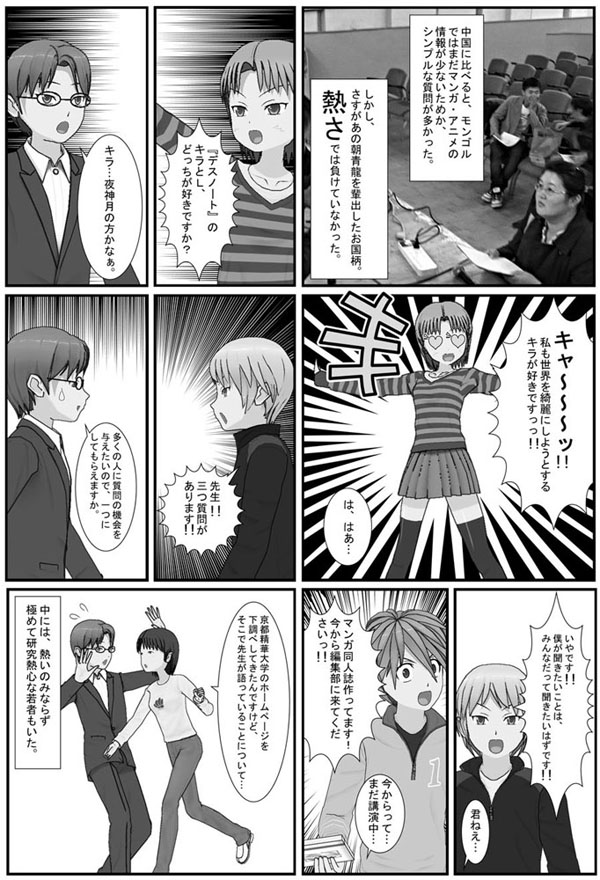 79: Many of the questions were simple, maybe because there was so little information available about manga and anime in Mongolia compared with China.
Nonetheless, the Mongolians were as passionate as the Chinese; after all, Mongolia is the mother country of Asashoryu, the former Yokozuna (sumo grand champion).
80: Which character in Death Note do you like better, Kira or L?

81: I prefer Kira, or Light Yagami, I guess.

82: Eeeek! I like Kira too, because he tries to cleanse the world!
Right...

83: Mr. Iwami! I have three questions!

84: Would you narrow it down to one? I'd like to give as many people as possible a chance to ask a question.

85: No, sir! I believe what I want to ask is what everybody wants to ask!
Be more sensible...

86: We publish manga magazines! Please come to our editorial department right now!
Right now? The lecture isn't over yet...

87: Before I came here, I browsed the website of Kyoto Seika University. About what you say there, I...
Some young Mongolians were not only enthusiastic but also studied a lot about manga.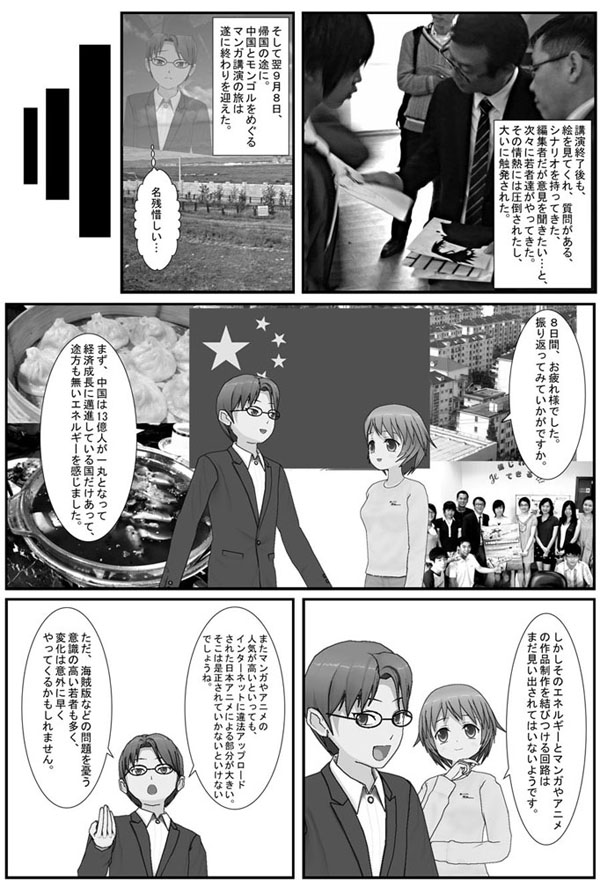 88: Even after the lecture was over, one young Mongolian after another came to me to show pictures, ask questions, give a script, and ask for editorial advice. I was overwhelmed and inspired by their enthusiasm.

89: The next day, on September 8th, I left for Japan. The manga lecture tour in China and Mongolia had come to an end.
I wish I could have stayed longer...

90: You really worked hard in the past eight days. Would you sum up the tour?
First of all, I saw tremendous energy in China, where 1.3 billion people join forces to achieve economic growth.

91: However, it seems that they still haven't found out a way to tap into their energy to produce manga and anime works.

92: In addition, the high popularity of manga and anime in China owes much to illegally uploaded Japanese anime. That must be corrected.
Still, there are many sensible young people who are concerned about piracy and other issues, so the situation might change sooner than expected.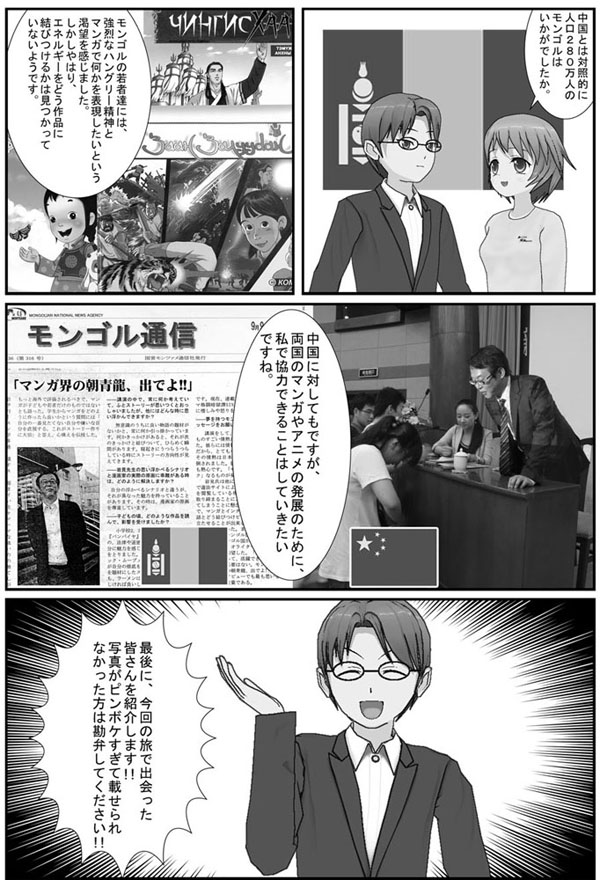 93: How about Mongolia, a country with a population of 2.8 million--far less populated than China?

94: I felt that young Mongolian people were highly motivated and had aspirations to express something with manga; still, like their Chinese counterparts, they don't seem to have found how to pour their energy into creating manga and anime works.

95: I will do whatever I can to help Chinese and Mongolian manga and anime take off.
"Follow Asashoryu and Become a Yokozuna of the Manga World!" (Mongol Tsushin)

96: Finally, let me introduce the people I met on this tour. My apologies to those whose pictures were too blurry to post!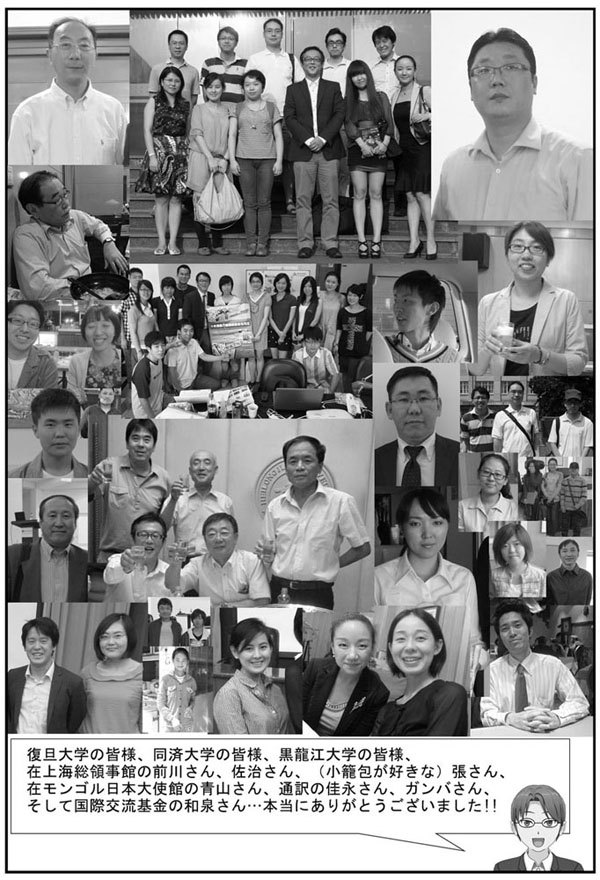 97: I thank everyone at Fudan University, Tongji University, and Heilongjiang University; Mr. Maekawa, Mr. Saji, and Mr. Zhang (who likes xiaolongbao steamed dumplings) of the Consulate-General of Japan in Shanghai; Mr. Aoyama of the Embassy of Japan in Mongolia; Ms. Yoshinaga and Mr. Gambator, my interpreters in China and Mongolia; and Ms. Izumi of the Japan Foundation.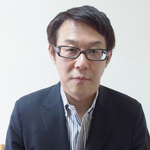 Yoshiaki Iwami
Lecturer at Manga Production Course, Faculty of Manga, Kyoto Seika University

Yoshiaki Iwami, born in Akita Prefecture in 1965, is a manga story writer. He was an editor at a music magazine in his twenties, and then became a freelance writer covering culture and sports. In his mid-thirties, Iwami chanced upon the profession of manga story writer. His works include Ramen Hakkenden and Ramen Saiyuki, both written under the pen name Rokuro Kube, and Virtus and Sin, both written under another pen name, Gibbon. In June 2011, Iwami published Manga Gensaku Hakkenden, which reveals in detail the hidden realities of a manga story writer. In September 2011, he delivered lectures on manga in Shanghai, Harbin, and Mongolia.