The Ryukyu Cuisine Lecture and Demonstration Tour in Europe--Spotlight on Okinawa's Food and Longevity
Yoko Oshiro
President, Okinawa Kenjinkai in France
The Japan Foundation sponsored a lecture and demonstration tour to introduce Okinawa cuisine in three European cities between November 1 and 16, 2011. Events were held in Paris, France; Augsburg, Germany; and Stockholm, Sweden; and were a great success at each location.
This was probably the first time Okinawa cuisine--Ryukyu cuisine, to be precise--was introduced in Europe. It was personally a great pleasure for me, as an Okinawa native, to see Ayaka Yamamoto, who is considered to be the last authentic cook of genuine Ryukyu cuisine recipes, preside over the lectures and the cooking demonstrations.
At each event I started off the program with a brief introduction of Okinawa, and then Ms. Yamamoto took over. She would first speak about Ryukyu cuisine in general, and then give a simple demonstration of how to prepare the dishes that were later going to be served for tasting, explaining the recipe as she went along. After the tasting, Ms. Yamamoto took questions from the audience.
We were particularly eager to see what the audience's reaction would be in France, a country known for culinary delights. Fortunately, people enjoyed our dishes and asked many questions. We received quite a few favorable comments, such as: "It is simply marvelous to have food that is both delicious and healthy," and "It was a pleasure to learn about Okinawa cuisine, and it was especially good to know that we could try the recipes using ingredients readily available in Paris." Also in the audience we had a chef running a restaurant in Paris, who inquired if it would be possible to study with Ms. Yamamoto in Okinawa. The enthusiastic response appeared to give Ms. Yamamoto confidence , and we all found the event's success in Paris very encouraging.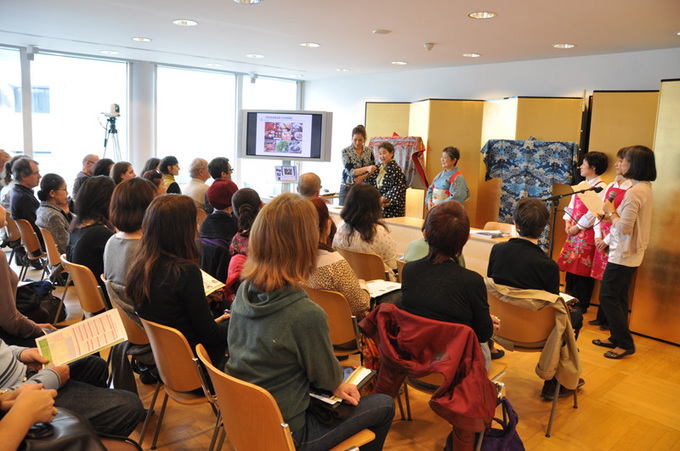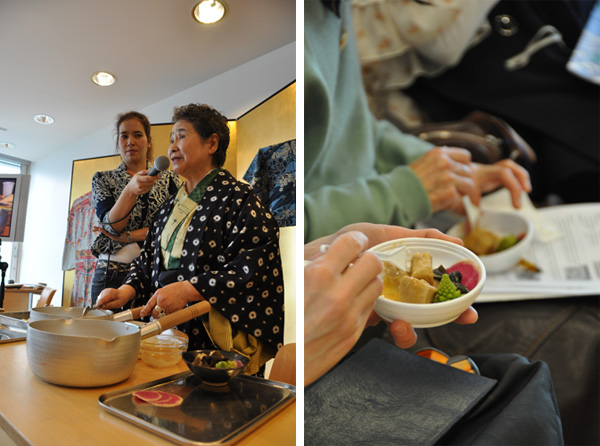 Lecture and demonstration in Paris
Following Paris, we headed to Augsburg. We were a little anxious as to whether the German audience would appreciate Okinawan food because we were under the impression that German cuisine was quite different from the delicate flavor of Ryukyu dishes. The event took place in a local Japanese Teppanyaki restaurant. Thanks to the very helpful owner, all our preparations went smoothly. The atmosphere of the event itself was altogether different from the one in Paris; it was more relaxed and felt like one big dinner party. Pork is a popular meat in Germany, and our audience appeared to enjoy the Okinawa pork dish we had prepared; people were studying the recipe intently as they sampled the food. What was notable here was that the people were interested in aspects of Okinawa besides its food--the subtropical island charm and the longevity of its people. We received many tourism-related questions, such as: "When would be a good time of the year to visit Okinawa?" and "Are there local guides for tourists who do not speak Japanese?" I was truly happy to see that people were interested in visiting Japan at a time when the nuclear plant accident in Fukushima has driven away significant numbers of foreign tourists. This experience has taught me that cultural exchange events are all the more meaningful at challenging times.



Lecture and demonstration in Augsburg
In Stockholm, our final destination, the event was held at one of the most prestigious hotels in Europe, Yasuragi Hasseludden, a Japanese style spa resort. Since the venue was the hotel at which we were staying, there was none of the stress of moving from one location to another. The warm hospitality of our hosts made us quickly forget our fatigue from all the travelling, and the preparations for the event could not have been better.
On the day of the event, Ms. Yamamoto appeared wearing a kimono. Just before starting the cooking demonstration, she put on an apron in the shape of a wooden horse, a popular Swedish souvenir. Seeing this, the audience broke into laughter at the contrast between the apron and the delicate design of the kimono. Ms. Yamamoto's gesture lightened the mood and, despite the size of the audience at about 300 people, the event progressed in a friendly and intimate atmosphere. We received numerous specific questions, such as: "It is difficult to find some of the ingredients for Japanese food in Sweden. Can you suggest an alternative cooking alcohol if we can't get Awamori (Okinawan liquor)?" or "Steamed food is not common in Sweden, so we do not have the right pots for it. What can we use to make the kind of steamed food you showed us?" In fact, there were so many questions that the food tasting had to be delayed until much later than was scheduled. The sample dishes prepared for the 300 guests disappeared quickly, and afterwards, Ms. Yamamoto was surrounded by people who had missed the opportunity to ask questions earlier and those who had grown even more interested in Okinawa cuisine after having tasted it. Bombarded with questions, Ms. Yamamoto nonetheless looked very happy to answer each one, and the Swedish guests surrounding the teacher were all smiles, indicating that this event was again a great success.



Lecture and demonstration in Stockholm
If, as a result of this program, people abroad start to cook Ryukyu cuisine, and Okinawan food appears on dinner tables and on restaurant menus in foreign countries, only then will we know the program has truly accomplished its mission. We have sown the seeds during this tour. It is our wish that this event will help genuine Ryukyu cuisine take root in Europe, where Okinawa's longevity and food are attracting ongoing interest.
---
*Lecture and demonstration of Okinawa's traditional Ryukyu cuisine in France, Germany and Sweden:
http://www.jpf.go.jp/j/about/press/dl/0649.pdf
*Selection of culinary specialists for the Japanese cuisine lecture and demonstration program at the Japan Cultural Institute in Paris and other locations:
http://www.jpf.go.jp/j/culture/new/1011/11-03.html
---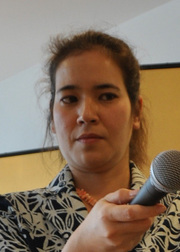 Yoko Oshiro
Born in Nago, Okinawa Prefecture. After graduating from a university, Oshiro studied in France on a prefectural scholarship. She has taught at the University of Renne 2 and other institutions and is now a freelance interpreter and coordinator. Since 2006, Oshiro has been serving as the president of Okinawa Kenjinkai (an association of Okinawans) in France.