THE COLOURS OF KESENNUMA--A reflection on the JENESYS East Asia Future Leaders Programme, Education Group
Marcia Jones
Colours are everywhere. Bright, bold, happy colours that make us smile and make our homes and schools cheerful and welcoming. But when a natural disaster strikes those colours can disappear completely. For children recovering from a natural disaster it may take a long time to see bright colours again, especially when the adults around them are struggling to rebuild their lives too. Educators are in a unique and privileged position to help young people not only see bright colours again as they face their emotions and fears, but also to help create them.
The JENESYS East Asia Future Leaders Programme that was held in early March gave educators from 16 different countries the opportunity to share ideas and experiences about resilience and helping children overcome hardships. I was fortunate to be invited from Christchurch, New Zealand where I work as a Primary School Teacher. The JENESYS programme gave all participants an opportunity to reflect on the issues that had arisen in education in their home countries after a disaster, and a heart-warming opportunity to visit Kesennuma in Miyagi Prefecture to see first-hand how schools there are bringing colours back into childrens lives.
As seen in Tohoku and many other places around the world, children have the power to recover from disasters. However at a time when Mother Nature is showing her immense power around the world, it is more important than ever that programmes like the JENESYS Education Group provide educators with an opportunity to learn from each other. Indeed an essential component of resilience is the ability to not only overcome hardships, but to learn and grow from every experience. By hosting such a programme in Japan, the Japan Foundation has acknowledged the value of learning from others' experiences in order to ensure we are doing all we can to help our children recover from natural disasters.
The JENESYS Future Leaders Programmes strive to build solidarity between the nations of South-East Asia and to build a network of educators. By inviting the participants to Japan and providing such a variety of formal and informal opportunities to share, learn and observe, the Japan Foundation has ensured that all participants returned home with a greater awareness of being part of the South-East Asian region and are armed with a enthusiastic network of educators to seek support from and communicate with.
Mr Oikawa, Deputy Director of the Kesennuma City Board of Education, spoke to the participants about the importance of making friends within your community before a disaster. The JENESYS Future Leaders Programme takes this to a global level by connecting participants from a variety of countries who have a common desire to help support local communities and schools. By making friends with other educators we can better support others when a natural disaster occurs in our wider region. Now that we have heard first-hand about the difficulties others face, especially in education, we will be first to put up our hands to support others.


Left: Making friends with students at Ashinaga Rainbow House, Tokyo
Right: Sharing what we have learned from Kesennuma City
The role of the future leaders in education is to be creative and take the initiative to undertake research and projects to support our schools. By participating in the programme the participants have taken on the responsibility to empower others in their community to make changes and implement new ideas. In return the participants also brought different perspectives to Japan. We were all able to share difficulties and problems faced after disasters and hopefully the seeds have been planted to find solutions. Leaders in education are a vital part of any community, even more so when disasters strike.
Opportunities to meet face-to-face are so important. By meeting others from different countries and experiencing the joy of finding similarities, no matter what language you speak or where you live in the world, you come to a deeper understanding about the connectedness of the world. When having school lunch in a 6th Grade classroom in Ohya Elementary School in Kesennuma I caught the teacher's eye and we shared a smile about a student's boisterous behaviour. Without saying anything at all and even though we teach in classrooms thousands of miles apart in that moment we were connected, two teachers from different countries who speak different languages understanding each other without saying a word.


Left: With students from Ohya Junior High School
Right: Passing down traditions to a younger generation, Sakihama-Tairyo-Utaikomi Preservation Community Society, Karakuwa Junior High School
The JENESYS Future Leaders Programme is a unique opportunity for different cultures and religions to share experiences and learn together. The opportunity to learn about other cultures is so vital for educators who are responsible for ensuring they model acceptance and promote understanding of different cultures in their schools and communities. The programme makes learning about different cultures so much more colourful and meaningful. What the participants learned from each other cannot be simply learned from a book and taught to students. We learned about the latest Korean pop music, how to say good morning in many languages, that Malaysia has delicious potato chips, but most importantly how vital it is to celebrate our differences and to share this understanding with our children in order to make the world a more colourful place. Mr Yagi from the Ashinaga Rainbow House in Tokyo spoke to the participants about the importance of children going through disasters understanding that they are not alone. The JENESYS Programme is a good reminder for educators that they too are not alone.
The participants of the JENESYS programme were very fortunate to have the opportunity to spend four days in Kesenuuma, Miyagi Prefecture. Visiting schools was a highlight of the trip, as well as an art workshop from Mr Saito and his helpers from Studio Wind. Many people who work with children acknowledge the importance of art to help students express their emotions. Mr Saito took the participants through a collaborative art activity with children from the local schools. Against a beautiful white snowy backdrop the hardships we have all faced were briefly forgotten and the smiles on the faces of the children reminded us all how powerful art and play can be. Our school visits were so rewarding. As educators being in the classroom and around children is where we all feel most at home. A member of our JENESYS group was given the opportunity to thank Ohya Elementary School for allowing us to visit. After saying thank you we were all surprised when he asked to sing a song thinking it would be a song from Indonesia (his home country). Before we knew it all of us in the school hall were smiling and singing the Doremon theme song together. We can help each other see the colours again; we just need to find the opportunities and the words.


Left: Younger students watching the 5th Graders get ready for a performance at Ohya Elementary School
Right: Jenesys East Asia Future Leaders Programme Education Group at Karakuwa Junior High School
The participants were fortunate to have the opportunity to meet many inspiring people throughout the programme. It was inspirational to meet Dr Kuwayama from the non-profit organisation Frontline who has worked in many countries suffering from both man-made and natural disasters. His haunting performance using music and photos gave the participants a real sense of the human tragedies the people of Japan have faced since the tsunami disaster. Meeting educators from Kesennuma who were so honest about the difficulties they encountered as well as the inspiring stories about how they were able to reopen schools so soon after the disaster have inspired us all to work harder.
Schools in Kesennuma have really strong ESD (Education for Sustainable Development) programmes that have encouraged strong links between schools, their local communities and nature. Students have been encouraged to think creatively about environmental problems in their local area and seek solutions. As part of the ESD studies locals have helped pass down traditions to the children and the participants of the programme were deeply moved by a performance by the Sakihama-Tairyo-Utaikomi Preservation Community Society at Karakuwa Junior High School. In my opinion these strong community and school bonds have helped Kesennuma pull together after the tsunami and begin the long process of recovery.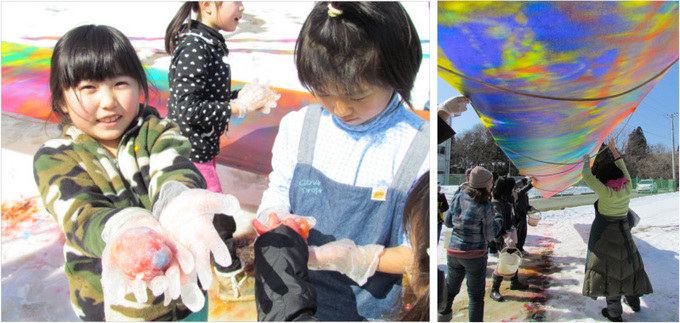 Nozome art workshop with Mr Saito
Experiencing the joys of Japanese culture such as sake, onsen, and visiting temples, was an important, and very enjoyable, part of the JENESYS programme. As with any exchange the participants also shared their own cultures with Japan. New Zealand and Japan have many cultural differences and this is what makes travel to Japan so exciting. From figuring out the Tokyo subway system to working out how to walk up school steps in slippers without tripping, we were constantly learning more about Japan and its kind-hearted people. We all did our best to learn as many Japanese words as possible and after a few lessons from our very patient organisers, the participants were all soon able to say "yoroshiku onegaishimasu" without stumbling over the words.
Like the children of Kesennuma, school students in Christchurch have been using art and play to help them express their emotions after countless aftershocks following an initial 7.1 magnitude earthquake on September 4 2010. It was interesting to see the similarities in approaches towards supporting students and teachers. The focus on looking to the future and the opportunity to 'build back better' were common themes as was the importance placed on child-directed art and play activities. From now on we can continue to share practical ideas and support to continue fostering resilience in our schools.
The participants were fortunate to have had the opportunity to hear a lecture from Satish Kumar, a peace and environmental activist during his recent stay in Tokyo. Satish stated that 'nature and culture should dance together'. In order to foster resilience after natural disasters and bring all the colours back to our towns and cities I suggest that 'nature and all cultures should dance together.' By working together and forming friendships across the world we can all share the responsibility of fostering resilient global citizens of the future.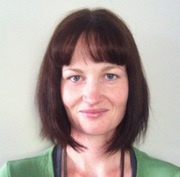 Marcia Jones
Teacher, Mairehau Primary School, Christchurch, New Zealand