A Visit to Australia to Discuss Disaster Recovery after the Great East Japan Earthquake
Kiyotaka Akazawa
Representative, NPO Youth Vision
I participated in a panel discussion in Australia on the theme "Disaster Recovery and Human Connections," which took place in the cities of Melbourne and Sydney over a five-day period from February 21 to 25, 2012.
That was a hectic time, with the first anniversary of the Great East Japan Earthquake approaching, and preparations underway for various events, but I agreed to be on the panel, thinking that it would give me a chance to organize my thoughts about the activities I'd been involved in since the earthquake, and because I was curious to see how the disaster was viewed overseas. The panel was made up of four panelists, including Rob McNeil and Andrew McNamara of Fire and Rescue NSW (New South Wales), and Professor Rikki Kersten, a specialist in the history of modern Japanese political thought at the Australian National University, along with myself.
Australian Fire and Rescue Squad members share experiences
In response to a request from the Australian government, a 76-member Search and Rescue Team from Fire and Rescue NSW was deployed to Minamisanriku City soon after the earthquake occurred. Mr. McNeil described the relief efforts he was involved in as a leader of that task force.
Working together with a team of Japanese firefighters, they carried out their tasks amid the horrendous conditions that existed in the immediate aftermath of the disaster, conducting searches for victims left behind in collapsed houses or in cars that had been swept away by Tsunami. Mr. McNeil said that he felt great respect for the self-devotion with which the Japanese Self Defense Forces and firefighters approached the disaster recovery work.
Mr. McNamara had been to Japan in November 2011 to participate in the JENESYS Future Leaders Programme "Disaster Prevention and People: Working Towards the Creation of a Strong Society" organized by the Japan Foundation. There, participants studied disaster response in the context of the Great Hanshin Awaji Earthquake of 1995, as well as the Great East Japan Earthquake. In his report, Mr. McNamara gave a detailed presentation on the state of damage in the city of Kamaishi in Iwate Prefecture, which they had visited as part of the program. He described the terrifying power of the Tsunami, against which even the largest breakwater in the world was no protection, and noted that huge Tsunamis had ravaged the same area in the past, raising the question of why people had failed to take a lesson from that experience. Perhaps, he suggested, the existence of the strong breakwater itself eroded the sense of danger. Disaster prevention depends not only on physical defenses, he pointed out, it is also vital for each individual to acquire the awareness and skills to protect him or herself in an emergency.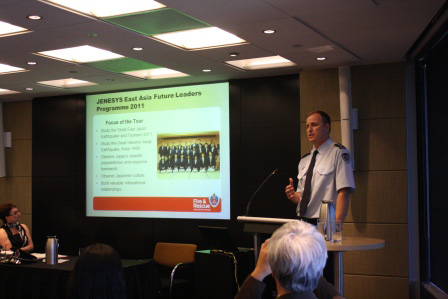 Andrew McNamara talks about his experience of studying examples from the Great East Japan Earthquake and the Great Hanshin Awaji Earthquake with government administrators, educators, NGO employees, journalists, researchers, and community leaders involved in disaster prevention in the Asia-Oceania region
Report on case studies of town revitalization efforts.
Following on McNeil and McNamara's reports, I gave a presentation about the situation in Japan. I talked about how the evacuees were moving from evacuation centers to temporary housing, and described how assistance by external volunteers was gradually giving way to the start of town revitalization efforts on the part of local people. As an example, we looked at the "Joint Project to Support Disaster Sufferers through Coordination with Nonprofits (Tsuna-pro)." Life in an evacuation center is particularly hard on people who have handicaps or serious illnesses, pregnant women and nursing mothers, those with allergies, and so on. I explained how we visited evacuation centers and temporary accommodations to carry out needs assessments, in order to speed up the response of NPOs and specialized organizations by providing information and matching them up with the people in need of support.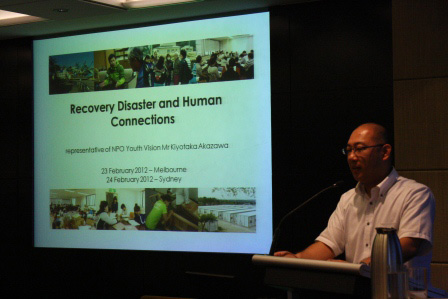 The author reports on matching disaster victims for whom life in an evacuation center is particularly difficult with appropriate support organizations
Finally, Professor Kersten discussed the response of the Japanese government to the disaster. In her opinion, at a time when government and bureaucracy needed to pull together to work towards restoration and revitalization, the presence of leading politicians who were in conflict with the bureaucracy, namely the Democratic Party administration of Naoto Kan, may have hindered a prompt response to the disaster.
Keen interest in disaster prevention; Australia-Japan solidarity
The keen interest of the audience in how to protect themselves in the event of a disaster was clear from questions such as "If this kind of disaster occurred in Australia, how would the national and state governments, and fire and rescue squads respond?" and "Is it possible to prevent a building from collapsing?" I was also very happy to hear many people ask what kind of assistance Australian citizens could offer, indicating that they wanted to continue helping Japan in spite of the distance that separates the two countries.
Australia, a society where diverse cultures coexist
During our stay in Melbourne, I took advantage of what little time I had between panel sessions to do some sightseeing around the city. The first thing that struck me was the diversity of the people passing by on the streets. People of various races and nationalities strolled through town dressed in whatever style they pleased, while shops catering to European, Asian, or other tastes jostled for space along the avenue. I had heard that Australia was a very progressive society in terms of multi-cultural coexistence, with a long history and abundant experience of taking in immigrants, and that is exactly how it felt. Even a traveler from Japan such as myself seemed to blend easily into the scene, and I felt strangely at home.
I was also a little taken aback by the prices. I would say that food and drinks were about 50% more expensive, but the portions made up for it! Meals were double the size you'd expect. At a café beside the Yarra River, I shared a beef sandwich with my friend, but even between the two of us we couldn't finish the mountain of fries that came with it. You would certainly put on weight eating like that every day.
In the evenings, you could see lots of people on their way home from work, stopping in the cafes and bars of town for a chat, playing sports, or enjoying other pastimes. It seems that many people are involved in volunteer activities as well. In Japan, it is still the norm to work overtime and on weekends, but I suddenly wondered whether a society where self-fulfillment is not overly tied to work, but one in which work was considered as a kind of duty and the rest of the time could be spent on self-fulfillment, doing what you like, or engaging in community activities, whether this would not be a society where more people could live happily.
On the last day, in Sydney, the schedule didn't leave much room for sightseeing, but the panel discussion venue in the Blake Dawson office offered a panoramic view of Sydney Harbour, and I was amazed by the tapestry of urban and natural scenery.
It was a short stay, but fantastic five days during which I got a good sense of the feelings of the Australian people for Japan, and enjoyed the cultural and natural attractions of the country.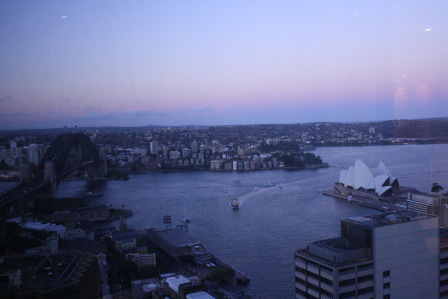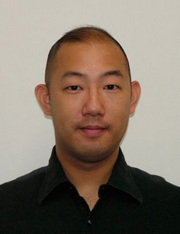 Kiyotaka Akazawa
Born in Hyogo Prefecture in 1974, he experienced the Great Hanshin Awaji Earthquake in 1995, which made him realize the significance and potential of involving students and young people in volunteer activities. The following year, he set up the Kyoto Students Volunteer Center (now Youth Vision) with other student volunteers, and became its representative. His work includes support for student volunteer activities and volunteer management assistance for facilities and NPOs.
Since the Great East Japan Earthquake, he has been managing director of the "Joint Project to Support Disaster Sufferers through Coordination with Nonprofits (Tsuna-pro)," which links the expertise of NPOs to the disaster victims and stricken areas that need help, and the "Iwate GINGA-NET Project," which sends 1,000 student volunteers from around Japan to Iwate Prefecture.