Keeping the Memory of the Great East Japan Earthquake Alive: Delivering an update on Tohoku and smiles from the people in the region to Canada
Nobuyuki Kobayashi
Photographer and Representative of the 3.11 Portrait Project
"What can I do to help the people of Tohoku?" I think that's the question that crossed many people's minds all over Japan and the world on March 11, 2011. I was no exception, and kept thinking about it from that day on. But though I wanted to do something to help, it was difficult to know exactly what, and I spent day after day just feeling helpless. In the meantime, the only thing I was able to do was to donate money. But I just felt it wasn't enough and became even more frustrated. My heart was heavy.
Since I didn't get anywhere just fretting at home, I finally decided to go and see the actual site for myself, meet the people, and witness the reality of what had happened; and so it was that I visited the afflicted areas in early April of 2011. I hoped I might be able to find something that would nudge me in the right direction if I knew more about the actual devastation. Already a month had passed since the earthquake, but still I was met with a horrifying sight--towns that were wiped out, completely unable to function, people living in less than desirable conditions at evacuation centers, and so many other things far beyond my imagination. It made me ask myself once again, "Could there possibly be anything I could do to help?" but in the midst of all that, I was also struck profoundly by the attitude of the people. They were not about to be beaten down by their plight and were trying to move forward.
That was inspiring, and I thought that I would take pictures of them as they strived to get through each day, and by doing so I could also provide some support to the people who were unable to get back on their feet just yet. That was how I started the 3.11 Portrait Project, as an effort to help recovery. Though the idea was to use photography as a means to offer support, I hoped it would be more than simply a transient effort of just taking pictures and then giving them to people. Our bigger goal was also to try and connect the people in the disaster areas with those in other parts of the country. So, while part of the initiative was to try and heal the victims' psychological scars by communicating them during the photo sessions and before the shoots when they had their hair and makeup done, we also asked elementary school, junior high, and high school students in other parts of the country to help frame the pictures and write letters of support to each individual. With these framed photos and letters, we would then return to the afflicted areas and hand them to each person, while also asking how they were getting along.
People were not only happy to see us again, but maybe because of the intimacy of receiving a letter specifically addressed to them, many were so touched that they wrote back to the students, and then they would look forward to receiving their replies. In this way, our hope was that the project would help make each day worth living for and give hope and courage for tomorrow. Meanwhile, we also hoped that, for the students, the experience of writing letters to people in the photographs would make them feel that they had a direct link to the people in the disaster area and were part of the recovery efforts, and inspire them to support the regional recovery efforts five or ten years from now when they have become adults.
So far, the 3.11 Portrait Project has taken pictures of 1,080 families, and 2,201 students have been involved in writing letters (as of December 2011). This has brought many people together and has created human ties that continue to this day.


3.11 Portrait Project portraits



Having hair and makeup done before the shoot and the photo session
The 3.11 Portrait Project photo exhibition in Canada
As we were working on the 3.11 Portrait Project, some people suggested that we should also let people abroad know about the initiative. This led to us holding a photo exhibition reporting our activities in Toronto, Canada, in January 2012, with the cooperation of Shiseido Canada and the Japan Foundation, Toronto.
Now, this event made me realize that people abroad also wanted to hear about the present state of the Tohoku area and how the survivors were faring. There is no denying that global media coverage has diminished compared to last year, and as focus has shifted to the radiation issue rather than the tsunami damage, it's as if everyone has started to forget about the people who had everything swept away by the monstrous waves. This may be something that cannot be helped, but it was all the more reason for us to appreciate the many people who came to our exhibition and said they were comforted by looking at the smiles on the faces of the victims. We were very grateful for their concern and interest.
Many people also came to the opening talk for the exhibition. Most of the questions from the audience expressed concern for Japan and for people in the afflicted areas. But some people also voiced words of appreciation to us for providing an opportunity for them to catch a glimpse of how people were living after the earthquake. It was a moment for me to reconfirm the meaning and significance of reporting our activities overseas.
I am also rather embarrassed to say I hadn't realized until then that, even if we were not actual disaster victims, we Japanese have a responsibility to tell the world what has been happening in Japan after the earthquake, since many groups and regions in Japan impacted by the Great East Japan Earthquake received kindness and support in the form of goods and donations from many countries, companies, and individuals abroad.
I would go even further and say that it made me believe that all Japanese people traveling abroad have almost an obligation to act as representatives of our country, having experienced the earthquake firsthand in whatever circumstances, and to tell people about the current situation of Japan and the Tohoku region as a way of expressing thanks to the many people all over the world who came to our aid.
I believe it is important to keep talking about the aftermath of the earthquake in order to keep the memory of the disaster alive and help as many people as possible regain control of their lives and smile again. Now, a year after the earthquake and with this thought in mind, I have renewed my resolve to let more people know about our activities and to continue with our efforts for a long time into the future.



The 3.11 Portrait Project exhibition in Canada
*The 3.11 Portrait Project was featured in NHK for School's documentary program Kokoro o tsunagu shashin (Photos Connecting Hearts).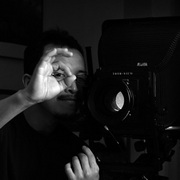 Nobuyuki Kobayashi
Photographer, born 1970 in Saitama Prefecture. Freelancing since 1993 in advertising and magazine photography, with a focus on people in general. Has also created platinum fine art prints on the theme of nature. Work presented and acclaimed in Japan and overseas. Selected as one of the 50 Great Photographers You Should Know, has also won several awards and held many exhibitions. Representative of the 3.11 Portrait Project (311PP), and member of the Japan Advertising Photographers' Association. www.zenne-inc.com
"The World of Photography by Nobuyuki Kobayashi" exhibition, including both 3.11 Portrait Project activities and platinum print pieces, was held from May 15, 2012, to June 24, 2012.