The Fascinating World of Cherry Blossoms and Wagashi Captivates New Yorkers
Nakayama Keiko
Senior Researcher, Toraya Archives
As part of the centennial celebration of Japan's gift of flowering cherry trees to the United States, the Japan Foundation co-hosted with the Japan Society of New York a lecture, demonstration and workshop on wagashi in March 2012 with the cooperation of Japan's leading confectionery store Toraya. Keiko Nakayama, senior researcher of Toraya Archives, traveled to New York to give the lecture, and contributed the following report on the successful wagashi promotion event.
---
A lecture followed by a lively question and answer session
A lecture and demonstration event titled "Wagashi--Japanese Confections, Seasonal Treats" was held at the Japan Society of New York, on March 21, 2012, with an audience of about 190 people. Moderated by Julia Moskin, a food journalist and reporter from The New York Times Dining section, the lecture with slide show presentation lasted about 40 minutes, including translation time. I introduced the audience to the fascinating world of traditional Japanese desserts that come in a variety of shapes representing the four seasons. In addition to talking about the ingredients and history of wagashi, I touched on where the tradition stands today. This event being part of the centennial celebration of the gift of sakura, or cherry blossom trees, from Japan to the United States, I also chose to include in my lecture some information about sakuramochi (red bean paste wrapped in pink Sakura-flavored rice cake), the cherry blossom designs, and other sakura confections.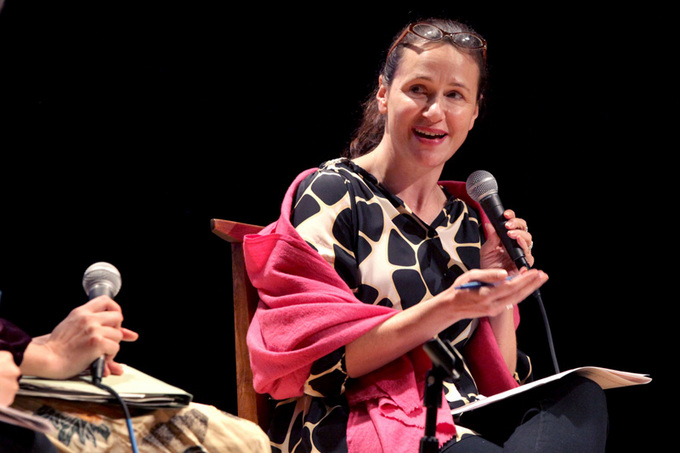 Moderator Julia Moskin of The New York Times discussing wagashi with the lecturer
Photo: George Hirose
Following my lecture, Ms. Moskin led off the question and answer session by asking me various questions, such as: "How can wagashi become a part of American dining?" "The taste of azuki (red beans) is not especially appealing to most Americans; what do you think of mixing them with chocolate or something?" and "Is Japanese confectionery having an influence on French cuisine in the same way that Japanese cuisine did?" Then the audience followed with a series of interesting questions that I found very thought-provoking. For example, one person asked what the difference was between Tokyo's and Kyoto's wagashi, and another wanted to know if confectioners were experiencing any difficulty finding raw ingredients since the Great East Japan Earthquake and Tsunami in March 2011. There were still more questions, such as: "Was wagashi influenced in any way by sweets from Southeast Asia?" "Tell me more about higashi (dried sweets) today," "Is there a set range of sweetness for each type of wagashi?" and "What ingredients are used to color the sweets?"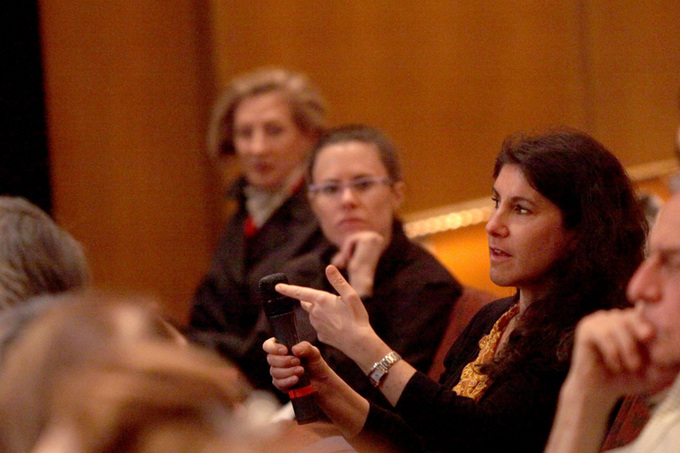 Question and answer session
Photo: George Hirose
Appealing to the five senses: The successful demonstration
Following my lecture, the audience was treated to a live demonstration of wagashi-making. Everyone watched in admiration, sometimes exclaiming in amazement, as the chef prepared two types of unbaked confections, Kankobai (winter plum tree) and Toozakura (cherry blossoms in the distance), making them three times the ordinary size so the people standing in the back could see.

Kazuhiko Furumaki, Toraya master chef and General Manager with over 25 years of experience, making Kankobai three times the ordinary size. (This is the size of confections that are presented to the imperial family)
Photo: George Hirose
The demonstration continued through the tasting reception that followed. We prepared a variety of sweets for the audience to sample at the reception. There were two types of unbaked sweets, Toozakura and another one designed specifically for this event--we left it unnamed so the audience would be free to give it a name of their choice. We also offered a number of yokan, cakes of thick jelly made from red beans, named Kumoinosakura (cherry blossom in the imperial garden), Shikinofuji-haru (Mount Fuji in spring), Yorunoume (plum tree at night) and Omokage (a reminder of the past). In addition to tasting the treats, the audience was invited to touch the raw ingredients, samples of dried sweets, and salted cherry blossom leaves and flowers. These were displayed on a table so that people could feel the texture of the ingredients and enjoy the smell of the cherry blossoms. I am pleased to report that the lecture, Q&A session, demonstrations, display and tasting reception all combined into a successful program that appealed to the audience's five senses.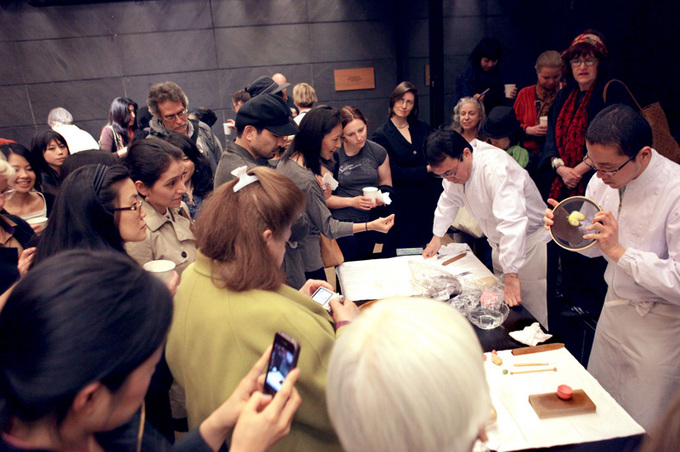 During the tasting reception, Kazuhiko Furumaki and Hiroki Yoritomi, a chef in charge of made-to-order wagashi at Toraya Akasaka shop, gave a demonstration. The audience crowded around the chefs for a closer look.
Photo: George Hirose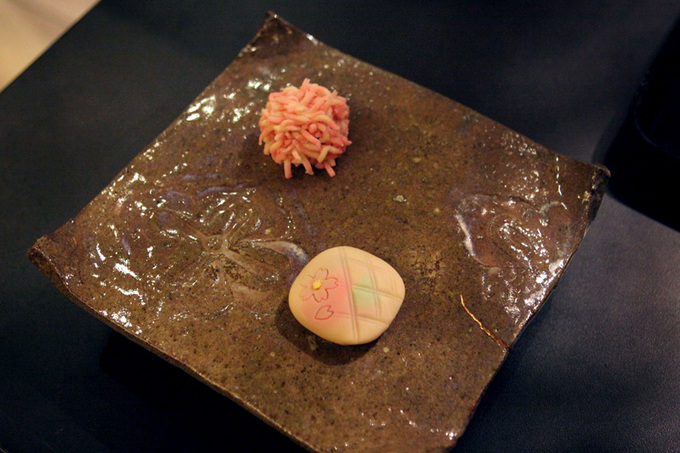 The audience sampled Toozakura (left) and an original confection designed for this event.
Photo: George Hirose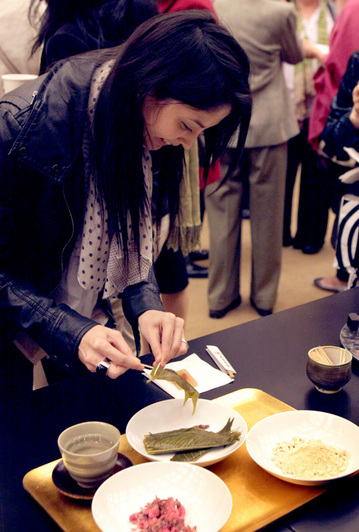 Only at a live demonstration can the audience feel the texture and enjoy the smell of raw ingredients: A display of cherry blossom leaves and flowers.
Photo: George Hirose
We received some wonderful responses from wagashi lovers at the reception. A young American man told me that he had acquired a taste for an (red bean paste) during his two-year stay in the Tohoku region so he was looking forward to visiting Japan again and eating onsen manju (steamed buns with red bean paste). An elderly woman commented that she used to buy sweets at Toraya New York all the time. One of the most memorable moments for me that day was meeting an old friend that I had not seen in 11 years. Marybeth Welch is a New York resident who enjoys making wagashi. We became friends when Ms. Welch was living in Japan and we had kept in touch by e-mail after her return to the United States. Speaking to her at the event, I was profoundly touched to learn that her enthusiasm for wagashi making was undiminished.
"Learn to Make Wagashi!" Workshop
On the following day, March 22, 2012, we held two hands-on wagashi making workshops. First, the participants watched the chefs make a number of unbaked wagashi using cherry blossom motifs, such as Temarizakura (a cherry tree variety), Toozakura, and others. Then the participants themselves made two pieces each of Toozakura; they went through the whole process from putting the red bean paste filling into the dough to decorating the dough with soboro (minced dough). When finished, they sampled their creations with green tea. The chefs were there to answer questions from the participants during the tasting time.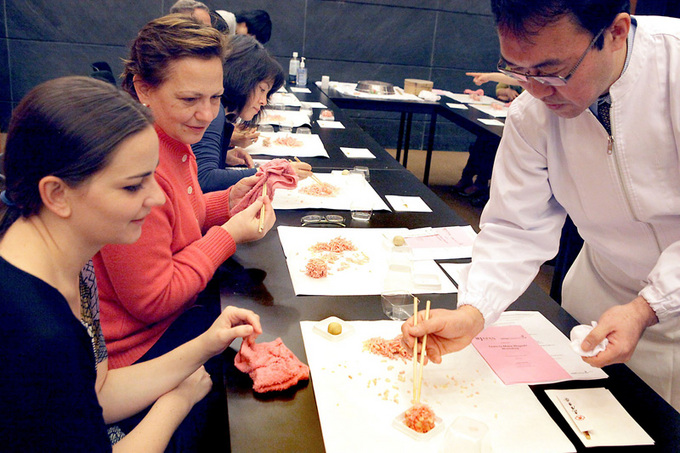 Furumaki showing a participant how to decorate the sweet beautifully
Photo: George Hirose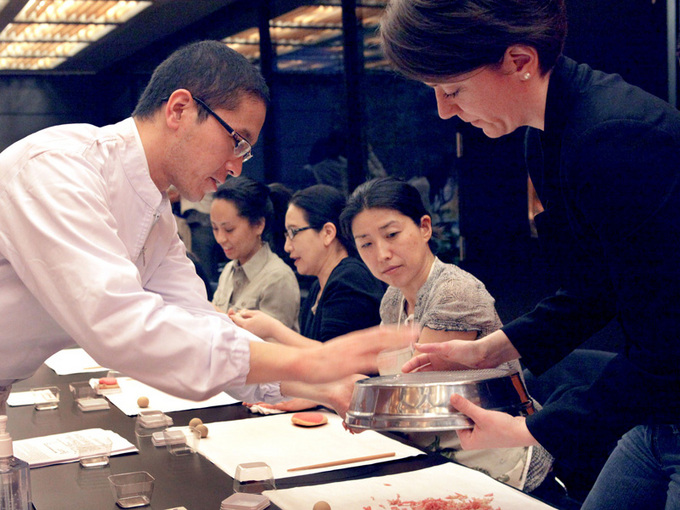 Yoritomi helps a participant make soboro shreds.
Photo: George Hirose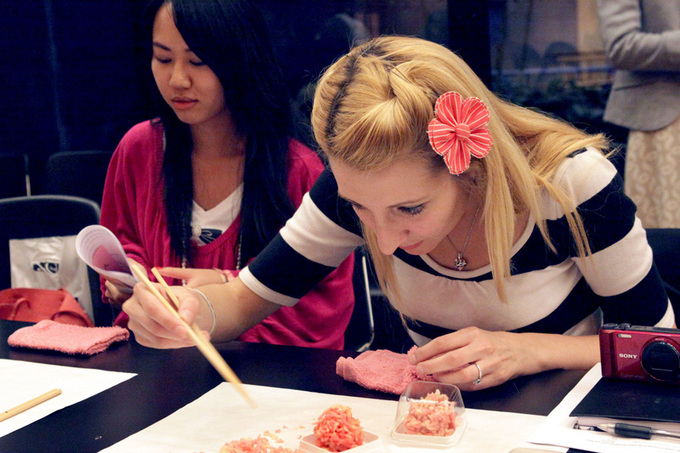 Wagashi-making began with wrapping up the filling in the dough. A participant carefully puts the final touches on her Toozakura.
Photo: George Hirose
Ms. Welch attended the workshop as well as the previous day's lecture. For a long time she had continued to make wagashi diligently, but had no guidance, there being no teacher around to seek advice from. This workshop proved to be an excellent opportunity for her to get professional tips to improve her skills. She was so delighted she was practically in tears. It occurred to me that people like Ms. Welch are the key to success in our efforts to promote wagashi and wagashi-making abroad.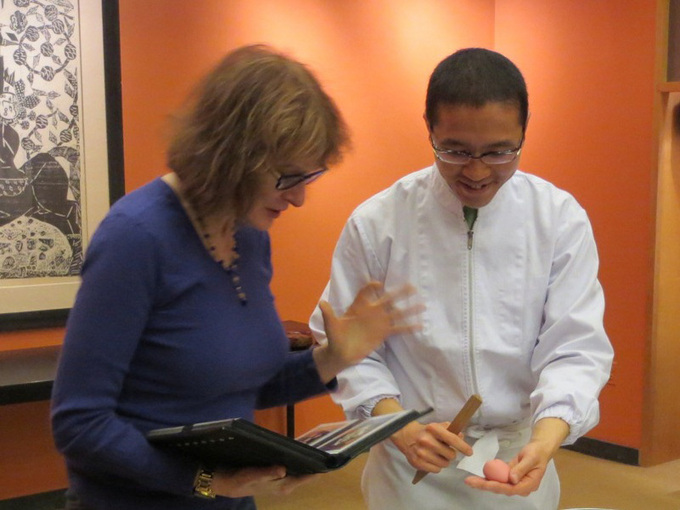 Marybeth Welch asked Yoritomi questions as she showed him her own works.
It was a valuable and meaningful experience for me to be a part of this event, co-sponsored by the Japan Foundation and Japan Society. Thanks to the large number of New Yorkers who are interested in Japanese culture, the programs we organized were very well received. Nevertheless, I also recognized that wagashi has a long way to go before gaining widespread popularity in America. It may take some time to succeed but there is a move to put Japanese cuisine on the UNESCO list of intangible cultural heritage. I would like to see more people around the world take an interest in Japanese confections as well as in the cuisine. This promotional event has caused me to think anew about the culture of Japanese food and confections in an international context. I look forward to building on this experience and sharing the rich Japanese culture with the people overseas through my work on wagashi.
Nakayama Keiko
Nakayama graduated from the Faculty of Fine Arts, Tokyo University of the Arts. She wrote her thesis on the designs of wagashi. Currently Nakayama works as an archivist and researcher at Toraya Archives. She has authored many books, including Jiten wagashi no sekai (A Dictionary of the World of Wagashi), Iwanami Shoten, Publishers, Edo Period Japanese Confection Designs, Poplar Publishing Co., Ltd., and others.