A New Challenge: Young Chefs Give Southeast Asia a Taste of Wagashi [Part 1]
Noriyuki Myojin, Mitsuya-Honpo
Keisuke Yoshihashi, Yoshihashi Kashijo
Naoya Koizumi, Koundo Honten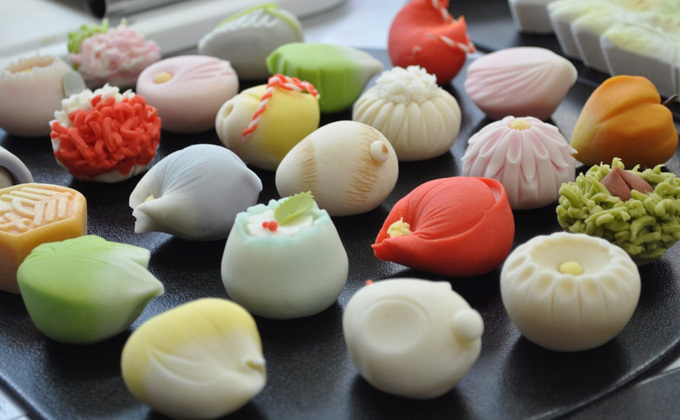 Wagashi--traditional Japanese sweets--are regarded by many as an art. From February 11 to 15, 2012, three young chefs recommended by the Japan Wagashi Association embarked on a trip to promote this wagashi in Bangkok, Thailand; Kuala Lumpur, Malaysia; and Manila, the Philippines.
――This was the first time any of you introduced wagashi overseas. Is that correct?
MYOJIN: Yes, it is. When I first heard about the tour, I was excited and anxious at the same time. On the one hand, I was curious to find out how wagashi would be received in other countries. On the other hand, there was this tremendous pressure because we knew that we would be representing the entire wagashi industry and, in a way, Japan.
Since this was a new challenge for all three of us, we were determined to go fully prepared and do the best job we could.
So we visited our former teachers at Ecole de Patisserie de Tokio to seek advice and hear stories about their experiences of holding lectures abroad. We also asked for help from the Japan Foundation offices in Bangkok, Kuala Lumpur, and Manila in collecting information about various local sweets. And we had a series of discussions among the three of us to plan the specifics of the event.
We knew that the audiences in all three countries were largely going to be the general public, so we didn't want the lectures to be too specialized or technical; they had to be general and appealing to the masses. We also wanted to make sure the audiences had the chance to see many different types of sweets, so in addition to demonstrations we planned displays and tasting receptions.
The one thing we didn't want to compromise on was the taste of wagashi. We brought as many ingredients as possible, like an (sweet red bean paste), from Japan so our audience would get to taste genuine wagashi. We wound up dragging around heavy luggage and it was a lot of work, but when I saw people enjoying the sweets, I was so happy I almost forgot about all the trouble we had gone through.


(Left) Yoshihashi serving uchigashi, (Right) The chefs preparing sweets to put on display
――Tell us about the events and how you introduced wagashi to the local people.
MYOJIN: The lecture and demonstration consisted of a PowerPoint presentation in which we outlined the history, ingredients, and artistic values of wagashi, a live demonstration of wagashi making, a tasting reception, and a question and answer session. In the live demonstration we made hasamigiku (a type of wagashi resembling chrysanthemums), jonamagashi (high-quality raw wagashi), uchigashi (dry sweets using wasanbon, or fine grain Japanese sugar), and yakigashi (baked sweets, specifically dorayaki pancakes filled with red bean paste).
In the workshop, too, we first introduced the audiences to wagashi. Then we called for participants to make kinton (a type of jonamagashi made from mashed food like sweet potatoes and chestnuts), heragiku (a type of raw wagashi resembling chrysanthemums), and dorayaki. And finally, we had a question and answer session.
We also distributed a dorayaki recipe, in either English or the local language, to all participants so they could make the pancakes at home.
YOSHIHASHI: At the tasting reception we served dorayaki, monaka (red bean paste sandwiched between crisp wafers), rakugan (a type of higashi, or dried sweets), mizuyokan (jellied dessert) and kangoori (solid gelatin sweets). Quite a plateful, I admit. But the people in Southeast Asia generally have a weakness for sweets, and indeed, the samples were so well received there were hardly any leftovers.
We had prepared the kangoori in Japan, before leaving for the tour. To help give a sense of familiarity to wagashi first-timers, we added to the recipe some coconut milk, a common ingredient in Southeast Asian countries, for flavor.
KOIZUMI: On the eve of each event, we got together and discussed the arrangements for the next day because every venue was different in terms of layout, distance between the kitchen and the demonstration area, and room temperature.
We had to find ways to get around the hot weather in Southeast Asia. For instance, there was a risk the dorayaki dough would go bad if we made it early and let it sit before baking it in the demonstration. To prevent that, we cooled the ingredients like eggs and water before making the dough, and added a small amount of powdered oil to keep the dough in good shape.
――The first stop on your trip was Thailand. Can you describe the event there?
KOIZUMI: In Bangkok, we did lecture and demonstration sessions on both the two days. The venue was an exhibition space at the Emporium Department Store. There was a Japanese garden set up in the center, and we couldn't have asked for a more suitable setting for an event on Japanese culture. Our stage was at the base of an atrium, so we had the audience watching us from the second and third floors as well as from the seating area in front of us.
There was a huge crowd presumably because the events were held in the afternoon on a weekend. I was struck by the sheer size of the audience. It was helpful to have a large projection screen above the stage, because it allowed everyone to see the fine details of wagashi making.
On the first day I felt more nervous than anything else, but I began to relax as I saw the audience enjoying the show.
YOSHIHASHI: I didn't expect such a big turnout. It put me under pressure. I couldn't help wishing we had a more experienced, seasoned confectioner with us.
What I did expect was for people to talk and create a lively atmosphere. But in fact most people appeared to be paying close attention, and it was quiet most of the time. Also to my surprise, many of them were young people.
KOIZUMI: After the lecture and demonstration, we held a small hands-on workshop where we invited participants to make kinton and dorayaki. Unfortunately, not everyone could take a turn because, again, the audience was bigger than we had anticipated, and also we were cut short by a television interview. Nevertheless, I was happy to see the Thai people's high level of interest in wagashi.
YOSHIHASHI: The workshop was good because we got a stronger reaction from the audience than we did during the lecture and demonstration. Some participants looked amazed; others talked cheerfully with one another.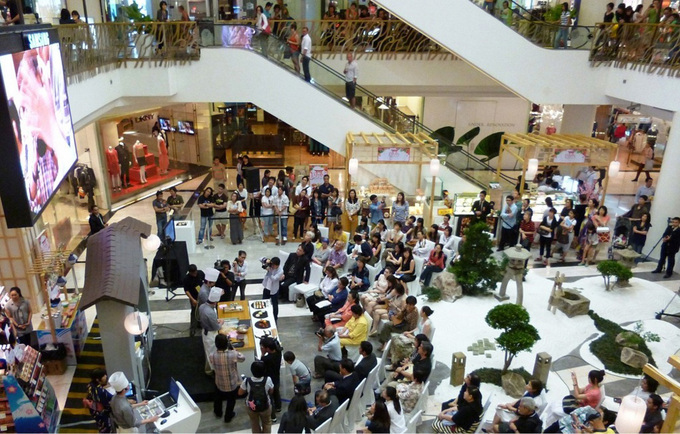 Lecture and demonstration in Bangkok
――After the lecture and demonstration, did you have the chance to mingle with the crowd?
MYOJIN: Yes, we posed for dozens of photos. And some people were kind enough to send them to me via Facebook. Thanks to this event, I have many more Facebook friends now!
YOSHIHASHI: After we returned to Japan, the chairman of the Ishikawa-Kingdom of Thailand Amity Association sent me a copy of Bangkok shuho (Bangkok Weekly) with an article about the event, along with a letter of thanks. One person I met at the event even came to visit me at the store carrying a local press release and a present. I was touched.
KOIZUMI: We had many media interviews for feature stories in local newspapers and on the Internet. Many of the questions went along the lines of "How would you like to promote wagashi into the future?" I answered, "I would like the young generation to appreciate the taste of high quality an bean paste" and "I hope to further my skills and help preserve the tradition of wagashi."


Venue in Bangkok
――Your next stop was Malaysia. Tell us how the event went. Was the atmosphere there different from Thailand?
KOIZUMI: In Kuala Lumpur, we did a workshop on the first day with about 20 participants, and a lecture and demonstration on the second day with about 50 spectators. I think we attracted mostly fans either of Japan or of sweets. Both sessions took place on weekday afternoons, so there were many housewives.
The venue was a popular Japanese restaurant called Kampachi, which has a stylish interior and is always full of customers. The staff and chef were all Japanese, so it was a comfortable environment for us to work in.
In the cozy space of the restaurant, we weren't as nervous as we were in Thailand. We were closer to the audience, which was also smaller, and on both days we were able to give a more detailed presentation.
In the workshop, I remember getting into a small panic because the heat from the spotlight illuminating the worktop made the nerikiri (white bean paste) dough very soft and sticky. Still, I was happy to see every participant taking an interest in wagashi. Each did a wonderful job with the kinton and heragiku.
The lecture and demonstration was rather long--two and a half hours--but not one person left during the session. Everyone was taking pictures or earnestly taking notes, and I could tell the audience was engaged and fully attentive.
YOSHIHASHI: Around the second day, I started to get the hang of speaking through an interpreter. I learned that the trick is to use simple words and short, concise sentences.
The audience in Malaysia asked many questions even during the demonstration, and they often talked to each other, too. I could tell they were really eager to learn about wagashi. The one disappointment was that we ran out of time and couldn't serve matcha green tea. It was a shame we couldn't give them the opportunity to taste wagashi with matcha, as is the custom.
――What kind of questions did the audience ask?
KOIZUMI: In Thailand, the questions tended to focus on the cultural and historical aspects of wagashi. But in Malaysia, where many of the participants were women, the questions were about practical tips or recipes, like how to make the nerikiri dough and what different types of an bean paste to use as fillings for dorayaki.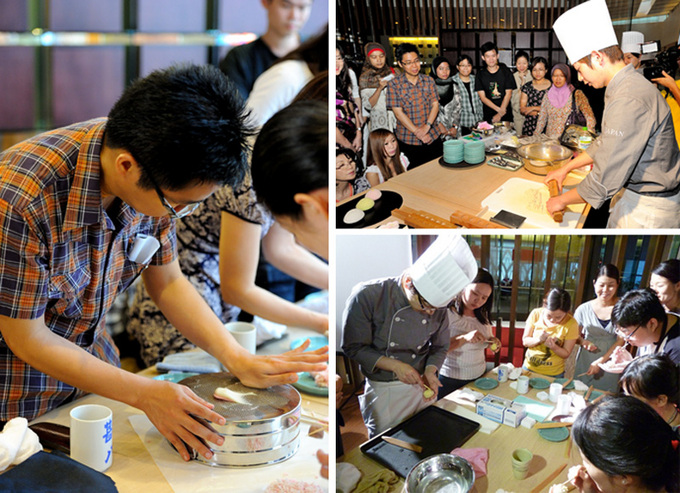 Workshop in Kuala Lumpur


Lecture and demonstration in Kuala Lumpur
――You appeared in a TV show in Malaysia. Tell us about that.
MYOJIN: We were invited to appear in a live morning show called Hot Shot. It was entirely off the cuff, and I was a bit anxious about not knowing what kind of questions I would be asked. As it turned out, the hosts asked us simple, straightforward questions about wagashi and wagashi craftsmen, so I believe we succeeded in communicating to the viewers the charms of wagashi. We brought to the studio several types of sweets we made for display, and they were amazed at the intricate designs of kogei gashi, or confectionery craft.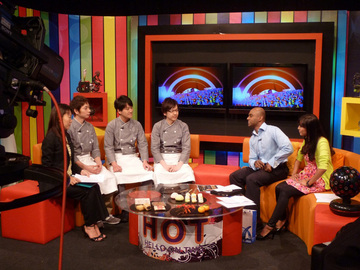 The chefs introducing wagashi on a morning show of the Malaysian national television station RTM TV2
To be continued to Part 2
On the event in the Philippines and incorporating Southeast Asian ingredients into wagashi.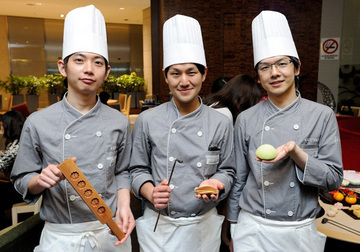 From left: Keisuke Yoshihashi, Naoya Koizumi, and Noriyuki Myojin
Profiles
Noriyuki Myojin
Born in 1982. A graduate of Ecole de Patisserie de Tokio with a specialty in wagashi, Myojin currently works for Mitsuya-Honpo, a confectionery known for its mitsu manju, a specialty of Kure City, Hiroshima. He received an Annual Grand Prix Award by the Japanese confectionary association, Towakai, and earned the title of skilled Wagashi chef from the Japan Wagashi Association.
Keisuke Yoshihashi
Born in 1982. A graduate of Ecole de Patisserie de Tokio with a specialty in wagashi, Yoshihashi currently works for Yoshihashi Kashijo, a renowned confectionery in Kanazawa City, Ishikawa, one of the top three cities in Japan known for their confectionery.
Naoya Koizumi
Born in 1982. A graduate of Ecole de Patisserie de Tokio with a specialty in wagashi, Koizumi currently works for Koundo Honten, a 100-plus year old confectionery based in the historic city of Ashikaga City, Tochigi.