Living Together with Japanese Language <3>
Contributed by Yamawaki Keizo, Professor, School of Global Japanese Studies, Meiji University and Members of the Yamawaki Seminar 
Yasashii Nihongo and Tabunka Kyosei
October 5, 2022
[Special Feature 077]
Special Feature: "Living Together with Japanese Language" (for more on special features, click here)
Recent years have seen an increasing number of television programs that urge people to evacuate using simple phrases such as "Escape to somewhere high." "Yasashii Nihongo" or plain and caring Japanese has been attracting attention as the language that is easy to understand for native and non-native speakers alike, and it also plays an important role in efforts to promote tabunka kyosei or intercultural cohesion. What are the possibilities and challenges of plain Japanese?
Yasashii Nihongo and Tabunka Kyosei
Yamawaki Keizo
Contributed May 2022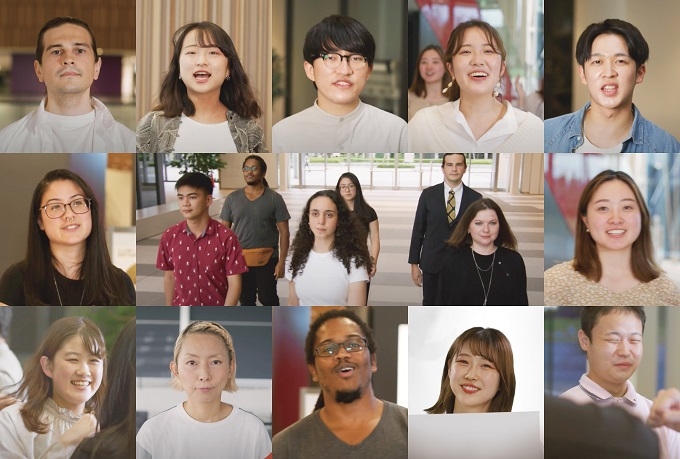 From "Yasashii Sekai," a rap video on the theme of plain Japanese produced with the assistance of the Yamawaki Seminar (courtesy of Yoshikai Akira, chairperson of the Plain Japanese Hospitality Initiative)
I began my career as a researcher at Meiji Gakuin University in 1989. In the late 1990s, I started lecturing on the issues of foreign workers at seminars organized by local governments and NPOs, and in 2000 I became involved specifically in local governments' intercultural cohesion efforts. I was first involved with the city of Tachikawa, which consulted me on how to position the concept of intercultural cohesion with regard to the establishment of an association for international exchange*1. I also became involved in the formulation of Hamamatsu City's "Global City Vision" after speaking in a public seminar on the education of foreign children held by Meiji University in that city*2. Around 2000 was just the time when local activities were shifting from international exchange to intercultural cohesion.

I became increasingly interested in intercultural cohesion under these circumstances, and in November 2002, I contributed to a national newspaper proposing the enactment of a basic law for an intercultural society. In December 2004, I started a blog called Tabunka Kyosei no Susume or Proposing Intercultural Cohesion, and that began my internet posting that continues to this day*3. Soon after, in January 2005, the tenth anniversary of the Great Hanshin-Awaji earthquake, I wrote an article titled "Disasters and Intercultural Cohesion: Multilingualism and Japanese Language*4." I touched on the multilingual support provided to foreigners in the aftermath of that earthquake and the Chuetsu earthquake in Niigata, and also presented plain Japanese efforts. I mentioned that Hirosaki University's Sociolinguistics Laboratory was conducting research on plain Japanese so that foreigners could have good access to information, based on experiences in the Great Hanshin Earthquake, and quoted a newspaper article calling plain Japanese a "universal language" and stating the need to use plain Japanese not only in emergencies but also in daily life to promote intercultural cohesion. I concluded my article by saying, "Both the use of multiple languages and plain Japanese are important for intercultural cohesion. It should not be a choice between the two." This was perhaps the first time I became aware that plain Japanese is an important topic for intercultural cohesion.

However, I am not a specialist in linguistics or Japanese language education, and I was not specifically involved in the research or practice of plain Japanese. In addition, although the "comprehensive measures for foreigners as residents," formulated by the government in December 2006 included "making administrative and living information available in multiple languages" and stipulated efforts to promote plain Japanese, there were no concrete efforts by the government to promote plain Japanese until recently.
Plain Japanese and the Yamawaki Seminar at Meiji University
The distance between myself and plain Japanese closed in 2017, when I met Yoshikai Akira, chairperson of the Plain Japanese Hospitality Initiative, through a mutual acquaintance. I invited him to speak at my seminar and class at Meiji University. And plain Japanese has been one of the central themes of my seminar since 2018*5. In 2018, we organized a shopping district tour for international students in cooperation with a shopping district in Nakano City, Tokyo and encouraged merchants in the district to communicate with the international students using plain Japanese. To promote plain Japanese, the seminar students created badges, stickers, and also a short video introducing plain Japanese, posted on YouTube*6.

The Yamawaki Seminar continued its collaboration with the shopping district in 2019 and also held a workshop on plain Japanese for employees of the well-known department store Marui, headquartered in Nakano. Then, when the COVID-19 pandemic spread in 2020, we took the plunge and redirected our activities to online. We completed a video explaining National Health Insurance in plain Japanese, which we started making in cooperation with Nakano City the year before*7, and also made a video about consultation services and financial assistance regarding COVID-19 for foreign residents using plain Japanese*8. 2020 was also the year that the Immigration Services Agency and the Agency for Cultural Affairs of the Japanese government formulated the "Plain Japanese Guidelines for Foreign Residents Support" and called on local governments, ministries, agencies, and other administrative officials nationwide to disseminate information to foreign residents using plain Japanese*9. I chaired the advisory committee that developed the guidelines. The Yamawaki Seminar produced two videos explaining the guidelines right away*10. This video production led the Yamawaki Seminar to conduct a face-to-face workshop on plain Japanese as part of Toshima City's training program for its officials*11.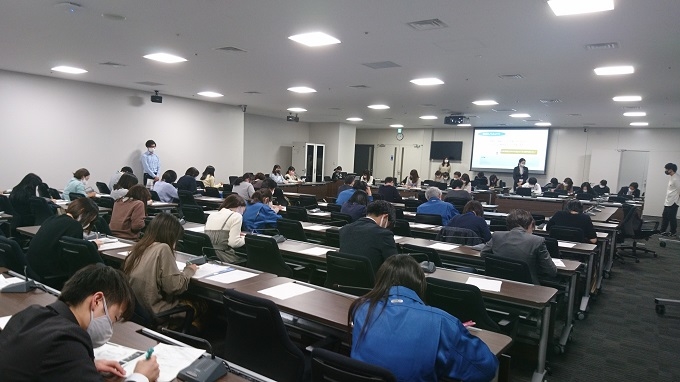 A workshop for Toshima City officials (December 2020)
In fact, in 2020 Yamawaki Seminar was planning a major face to face event in a park near our campus, "Plain Japanese Market --Yasashii Nihongo Ichiba (Yasaichi)," in which Japanese and foreign residents of Nakano City would interact in person in plain Japanese. We planned to have several Nakano City restaurants open stalls where participants and store owners could communicate in plain Japanese, open cafes where people could interact in plain Japanese, and set up a stage where people from various countries could perform. We received a subsidy for the event from Nakano City following the International Exchange Sports Day we organized in the previous year, but face-to-face events were no longer possible due to the pandemic. They were replaced with online-centered events*12.

The pandemic continued in 2021, and the Yamawaki Seminar focused on intercultural workshops for children that year*13. Actually, the year before, we held two online workshops for upper elementary school students from all over Japan and the world. The first workshop in particular was highly acclaimed as a new style of learning and was featured in the Nikkei and Asahi Shogakusei Shimbun newspapers*14. In 2021, we expanded the target group to include mid-elementary, junior and senior high school students and conducted intercultural workshops in various locations, sometimes online. Among them were workshops on plain Japanese for sixth graders at Aizawa Elementary School in Yokohama and second-year students at Yahata Junior High School in Setagaya City*15.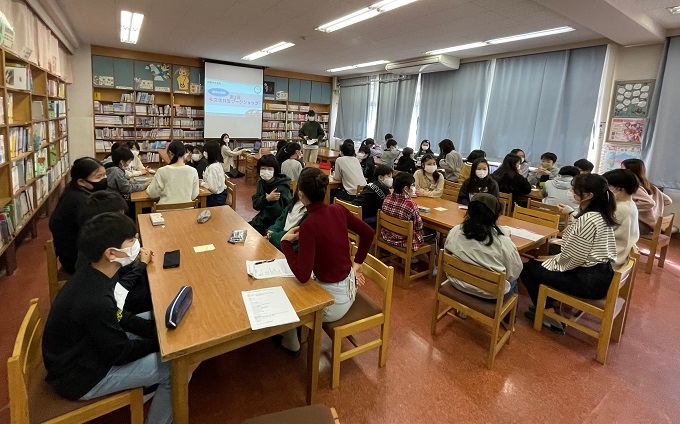 A workshop at Aizawa Elementary School in Yokohama (January 2022)
We organized workshops not only for children but also for municipal employees. The workshop held in Toshima City in 2020 was well received, and a second workshop was held there in 2021. The first focused on written language, but the second focused on spoken language. Two similar workshops were also held in Nakano City, the home of the Yamawaki Seminar, and were so well received that two more workshops are scheduled to be held in 2022*16.
Advocating Plain Japanese in Rap
In this way, plain Japanese became one of the central themes for the Yamawaki Seminar. The Seminar undertook its largest project ever in 2021: cooperation in the production of a music video featuring a rap on the topic of plain Japanese. The video was created by the above-mentioned Plain Japanese Hospitality Initiative, and it was a full-scale music video production with the participation of a professional film director and rappers. It was in late May that Mr. Yoshikai announced a launch of the project at a meeting of our seminar, and three male students decided to join it. In early June, these students asked international students from East West Japanese Language School, with which the Yamawaki Seminar interacts regularly, to join them online for an interview about the fun and difficulties of learning Japanese. The students came up with the rap lyrics based on this interview. Then, in August, nine students and around ten staff members gathered at East West Japanese Language School for a day-long recording of the song.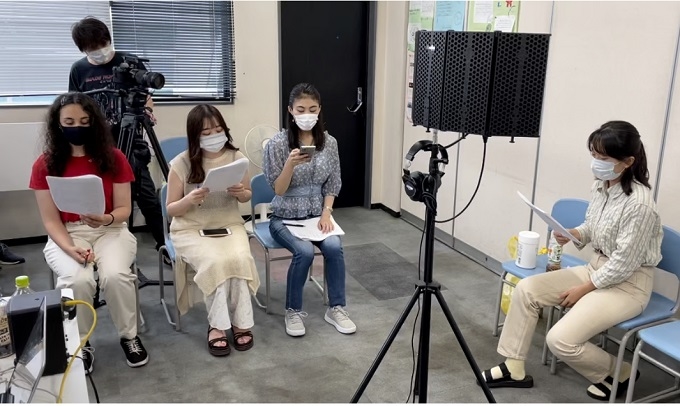 Students at a rap recording session (August 2021)
In September, 16 cast members and almost ten staff members gathered at Meiji University's Nakano Campus for another day-long video recording session. It was hard work, but the students who rapped and performed seemed to feel a sense of fulfillment surrounded by the professional production staff. This was a very difficult time for in-person activities, as the fifth wave of the pandemic had reached a peak in Japan, the number of people infected increased rapidly, and one of the seminar students actually caught the virus in another meeting, but the video was completed with the utmost care taken to prevent infection.

The first part of the lyrics of the song "Yasashii Sekai" introduces the difficulty of the Japanese language for learners of Japanese and the basic skills of plain Japanese: the "ha-sa-mi rule" of speaking clearly (hakkiri), to the end (saigo made), and briefly (mijikaku). The second part of the lyrics touches on the barriers that foreign residents feel in Japanese society and calls on native Japanese speakers to speak with compassion and consideration for others. The lyrics were drafted by the seminar students and then completed by Mr. Yoshikai and professional rappers, and they express the relationship between plain Japanese and intercultural awareness in a way that is easy to understand.
Immediately after its release on YouTube at the end of September 2021, the video attracted the attention of people involved in Japanese language education and intercultural cohesion in Japan and received over 10,000 views by the sixth day. The video was soon subtitled in multiple languages and was recognized by European and Canadian experts of the Intercultural Cities Program of the Council of Europe, an international network of cities, and in November was featured on the social media of the PLAIN, a global network of organizations that promote plain language in each country. The Japan Foundation (JF), the video's supporting organization, invited Japanese language learners around the world to submit videos with their own lyrics to the song from October after the release of "Yasashii Sekai" until January 2022. They received 23 submissions from Vietnam, the Philippines, Thailand, the United States, Brazil, Poland, Australia, and other countries. The seminar students selected seven outstanding works from these entries and held an online meetup with the creators from each country. A global-mix version of the video was created in March by combining the best entries. For the seminar students, the production of "Yasashii Sekai" was an experience that connected them to the world. By the end of May 2022, the video had over 40,000 views.
The Future of Plain Japanese
Seventeen years have passed since I wrote that blog in 2005 on the subject of plain Japanese, concluding that "Both the use of multiple languages and plain Japanese are important for intercultural cohesion. It should not be a choice between the two." The "Enhancement of Comprehensive Measures for Acceptance and Coexistence of Foreign Nationals" decided by the Ministerial Conference on Acceptance and Coexistence of Foreign Nationals in June 2019 included the use of plain Japanese as part of multilingualization, and the "Plain Japanese Guidelines" were established in August 2020, as mentioned above.

Thus, the government is finally taking the initiative to promote the multilingualization of information and the use of plain Japanese. However, striking a balance between multilingualism and plain Japanese, without having to choose between the two, may be an eternal theme for an intercultural society. The number of countries of origin of foreigners living in Japan is currently close to 200*17. Language support by local governments in Japan has been expanding to English, Chinese, Korean, Portuguese, and Spanish since the 1990s. After the formulation of the "Comprehensive Measures for Acceptance and Coexistence of Foreign Nationals" in December 2018, the number of languages expanded to 11, and currently 14 languages are considered the standard. Needless to say, further multilingualization from this point on would require an enormous amount of cost and effort. On the other hand, there are a certain number of foreign residents who do not understand even very basic Japanese, and even for those who understand plain Japanese, interpreters are indispensable in the healthcare field, which involves life and death, and the judicial field, such as trials. In other words, administration cannot just lean toward either multilingualization or plain Japanese.

In addition to guidelines for plain Japanese, local governments such as Yokohama City, Tokyo's Minato City, and Shizuoka Prefecture have established guidelines for multilingualization and positioned plain Japanese within these guidelines*18. The Immigration Services Agency and the Agency for Cultural Affairs formulated guidelines for plain Japanese in August 2020. The Immigration Services Agency, which is also the government's leader in multilingualization, should formulate guidelines for multilingualization, as well, and place plain Japanese within those guidelines. In addition, it is also important to indicate the division of roles in multiligualization: which information will be offered in multiple languages by the national government, and which will be offered in multiple languages by local governments.

In fact, along with the balance between multilingualism and plain Japanese, there is another major challenge. It is the balance between the spread of plain Japanese and the development of a Japanese language education system. In many foreign countries, systematic, national language-learning programs are in place. In Germany, for example, the Federal Office for Migration and Refugees was established at the Ministry of the Interior in 2005 to run integration courses where immigrants learn the German language and German legal order, culture, and history. In South Korea, the Korea Immigration Bureau of the Ministry of Justice was reorganized into the new Korea Immigration Service in 2007, and a social integration program has been implemented to help foreign residents acquire basic knowledge of the Korean language, economy, society, and law. Such a national program does not yet exist in Japan. If we focus on promoting plain Japanese under these circumstances, it may be misunderstood that the Japanese government would like foreign residents to just learn basic Japanese. The government is currently preparing a five-year plan ("roadmap") for the creation of an intercultural society. I believe it is also necessary to promote the use of plain Japanese from a long-term perspective.

Although the government is making efforts to promote the use of plain Japanese among government officials, plain Japanese is a means of communication that can be used not only by the government, but also in a wide range of areas, such as at companies, in hospitals, and in schools*19. For example, Mercari, which operates a flea market app, has been working to use plain Japanese and plain English since 2018 to promote inclusive communication in the office*20. In addition, efforts are underway to create teaching materials and workshops for the use of plain Japanese in the healthcare field*21. The mayor of Minato Ward in Osaka City drew tens of thousands of likes when she tweeted in last April that she wrote school documents in plain Japanese when she was principal of an elementary school*22. Meanwhile, in the tourism, the efforts of Yanagawa City in Fukuoka Prefecture are well known*23 and the website for MATCHA, which operates a media outlet for inbound tourism, is available in ten languages, including plain Japanese*24. Plain Japanese is also effective for communicating with people with disabilities, such as those with hearing impairment*25.

And if we focus on the alternative meaning of yasashii in plain Japanese, that is, "kind" or "caring," native Japanese speakers' efforts trying to communicate with consideration for non-native speakers will also contribute to creating a sense of intercultural awareness in the community. Efforts that began in 2018 to build community ties through plain Japanese in Ikuno Ward, Osaka City and to spread the plain Japanese mindset among local residents in Minato City, Tokyo are noteworthy from this perspective, as well*26. The Yamawaki Seminar has been working from a similar perspective, focusing on Nakano City, as mentioned above. We hope that the message of plain Japanese and interculturalism expressed in rap by "Yasashii Sekai" will spread throughout Japanese society and reach the world.
*1 The author served as chairperson of the Internationalization Promotion Committee of Tachikawa City in 2000. As a result of discussions between the Tachikawa City government and the private sector, the Tachikawa Multicultural Center was established in January 2001 and became a non-profit organization the following year, in October 2002.  https://www.tmc.or.jp/about.html
*2 The author served as an advisor of the Hamamatsu City Working Group for Formulating an Global City Vision in 2000 and was in charge of the area of "Living together" in the "Global City Vision" formulated in 2001.
*3 The blog Tabunka Kyosei no Susume  https://blog.goo.ne.jp/yamawaki_keizo
*4 Yamawaki Keizo, "Disasters and Intercultural Cohesion: Multilingualism and Japanese"
https://blog.goo.ne.jp/yamawaki_keizo/e/b4d16ffb53f265e0209d83922f0c4787
*5 Refer to https://yamawaki-seminar.o0o0.jp/japanese/ for the Yamawaki Seminar's activities related to plain Japanese.
*6 "Yamawaki Seminar Produces Video Introducing Plain Japanese" https://www.meiji.ac.jp/nippon/info/2018/6t5h7p00000s63xx.html
*7 "Yamawaki Seminar, School of Global Japanese Studies, in Collaboration with Nakano City, Produces Video on National Health Insurance Using Plain Japanese" https://www.meiji.ac.jp/nippon/info/2020/6t5h7p0000347eoy.html
*8 "Yamawaki Seminar, School of Global Japanese Studies, Produces Video Presenting COVID-19 information in Plain Japanese" 
https://www.meiji.ac.jp/nippon/info/2020/6t5h7p000034a695.html
*9 Immigration Services Agency, "Plain Japanese Guidelines for Foreign Residents Support"
https://www.moj.go.jp/isa/support/portal/plainjapanese_guideline.html
*10 "Yamawaki Seminar, School of Global Japanese Studies, Produces Easy-to-Understand Videos Explaining 'Plain Japanese Guidelines'" 
https://www.meiji.ac.jp/nippon/info/2020/6t5h7p00003a35jr.html
*11 "Yamawaki Seminar, School of Global Japanese Studies, Presents Plain Japanese at Toshima City Training Program for its Officials" 
https://www.meiji.ac.jp/nippon/info/2020/6t5h7p00003a6s6e.html
*12 Plain Japanese Market -- Yasashii Nihongo Ichiba special website
https://www.isc.meiji.ac.jp/~nakanoborderless/yasaichi/
*13 The Yamawaki Seminar's workshops 
https://yamawaki-seminar.o0o0.jp/workshop/
*14"Yamawaki Seminar, School of Global Japanese Studies, Holds Online Intercultural Workshop for Elementary School Students"  
https://www.meiji.ac.jp/nippon/info/2020/6t5h7p000034mczv.html
*15 "Yamawaki Seminar Holds Third Intercultural Workshop at Aizawa Elementary School in Yokohama"  
https://www.meiji.ac.jp/nippon/info/2021/6t5h7p00003dsqaj.html
"Yamawaki Seminar Holds Intercultural Workshop at Yahata Junior High School in Setagaya City"
https://www.meiji.ac.jp/nippon/info/2021/6t5h7p00003dti0q.html
*16 "Yamawaki Seminar, School of Global Japanese Studies, Organizes Workshop on Plain Japanese for Officials at Nakano City"
https://www.meiji.ac.jp/nippon/info/2021/6t5h7p00003cohcy.html
"Yamawaki Seminar, School of Global Japanese Studies, Organizes Workshop on Plain Japanese for Officials at Toshima City and Nakano City"
https://www.meiji.ac.jp/nippon/info/2021/6t5h7p00003drqsp.html
*17 Immigration Services Agency, "Number of Foreign Residents as of the End of 2021" (March 2022)
https://www.moj.go.jp/isa/publications/press/13_00001.html
*18 "Yokohama City Multilingual Public Relations Guidelines" (2010, latest revision 2022), Yokohama City's "Communicating in Plain Japanese" (2014), Minato City's "Practice! Official Documents in Plain Japanese" (2017), "Minato City Guidelines for Multilingualization of Administrative Information" revised edition (2021), Shizuoka Prefecture's "Guidelines for Providing Information to Foreign Residents of the Prefecture" (2021), Shizuoka Prefectural Government's "Guide to Plain Japanese" revised edition (2021)
*19 The Tokyo Metropolitan Government collects and shares examples from various fields such as healthcare, welfare, and education.
https://www.seikatubunka.metro.tokyo.lg.jp/chiiki_tabunka/tabunka/tabunkasuishin/0000001620.html
*20 Mercari, "Mercari's Unique Language Support Policies for Inclusive Communication Bringing Japanese and English Speakers Together"
https://mercan.mercari.com/en/articles/20363/
*21 Healthcare and Plain Japanese Study Group
https://easy-japanese.info/
*22 "Praise for Effort to Make School Printouts in Plain Japanese: With Happy Results of Fewer Forgotten Items and Less Absenteeism"; Netlabo; April 14, 2022
https://nlab.itmedia.co.jp/nl/articles/2204/14/news108.html
*23 Yanagawa City, "Plain Japanese Tourism"
https://www.city.yanagawa.fukuoka.jp/kanko/shiru/omotenasi/yasashiinihongo.html
*24 MATCHA https://matcha-jp.com/ The company also began providing information on the COVID-19 pandemic for foreigners living in Japan in 2020. Living in Japan Guide: Work and Study, Lifestyle, and More | MATCHA - JAPAN TRAVEL WEB MAGAZINE (matcha-jp.com)
*25 Refer to Yoshikai Akira, The Deaf and Sign Language: Plain Japanese Will Open the Future (Chikumashobo, 2021) and Osaka City Hand in Hand Inclusion Society, "Support Using Plain Japanese to Communicate with People with Intellectual Disabilities"
https://tabunka.tokyo-tsunagari.or.jp/pdf/yasanichi/03_city-osaka-ikuseikai.pdf
*26 Ikuno Ward, Osaka City, "Connect with Each Other Through Plain Japanese"
https://www-city-osaka-lg-jp.j-server.com/LUCOSAKAC/ns/tl.cgi/https%3a//www.city.osaka.lg.jp/ikuno/page/0000448076.html?SLANG=ja&TLANG=en&XMODE=0&XCHARSET=utf-8&XJSID=0
Minato City/Minato International Association, Tokyo, "Making Plain Japanese an Engine for Community Participation and Collaboration by Foreign Residents"
https://tabunka.tokyo-tsunagari.or.jp/pdf/yasanichi/20_minato.pdf
Voices of Seminar Students
Here are some comments from students who have been involved in activities to promote plain Japanese in the Yamawaki Seminar. (In no particular order)
Plain Japanese and Local Governments
Matsumura Yurie, fourth-year student in the Yamawaki Seminar, School of Global Japanese Studies, Meiji University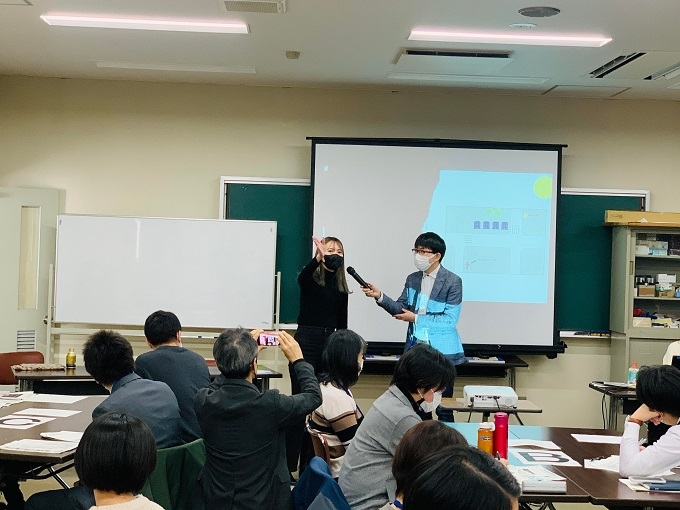 Plain Japanese language training for Nakano City officials
Plain Japanese and Elementary School Students
Dobashi Narumi, fourth-year student in the Yamawaki Seminar, School of Global Japanese Studies, Meiji University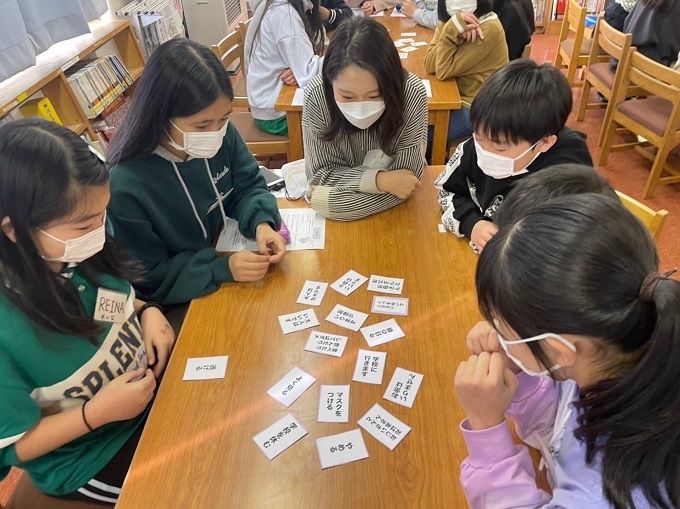 Children playing a plain Japanese karuta game
Plain Japanese and Rap
Morinaga Itsuki, fourth-year student in the Yamawaki Seminar, School of Global Japanese Studies, Meiji University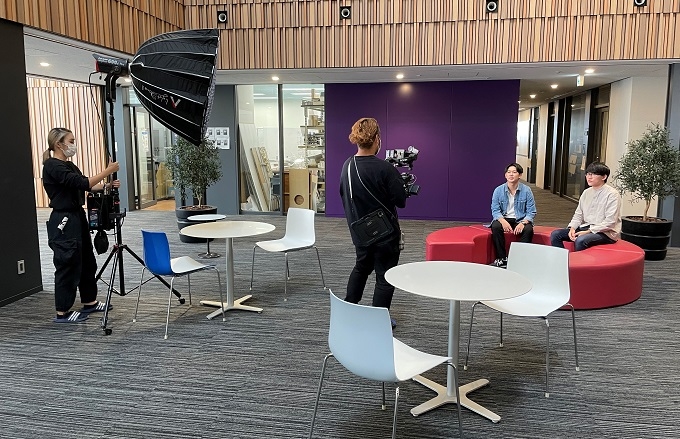 At the recording of the "Yasashii Sekai" plain Japanese rap
All unidentified photos courtesy of the Yamawaki Seminar, Meiji University