The 48th Japan Foundation Awards―Linking the World through Culture amid the COVID-19 Pandemic<4>
" From the Field: Linking Japan and Vietnam through Developing Human Resources with Japanese Language Skills "
June 13, 2022
[Special Feature 075]
In recent years, Vietnam has seen a rapid increase in the number of people learning Japanese. According to the Japan Foundation's Survey on Japanese-Language Education Abroad 2018, Vietnam has the world's sixth largest number of Japanese language learners. This was a 2.7-fold increase from the 2015 survey, the largest increase in the world. The number of examinees for the Japanese-Language Proficiency Test (JLPT) has also shown rapid growth, from 319 in 1996 to 69,843 in 2018, an approximately 219-fold increase. For the fourth installment of our special feature, "The 48th Japan Foundation Awards―Linking the World through Culture amid the COVID-19 Pandemic" (for more on special features,click here), we interviewed deans at three universities in Hanoi, Vietnam, about the current state of Japanese language education, which is currently making great strides forward. They are making efforts to promote the Japanese language and Japanese language education in Vietnam and have established the country's first national organization in this field, the Association of Japanese Linguistics and Education in Vietnam.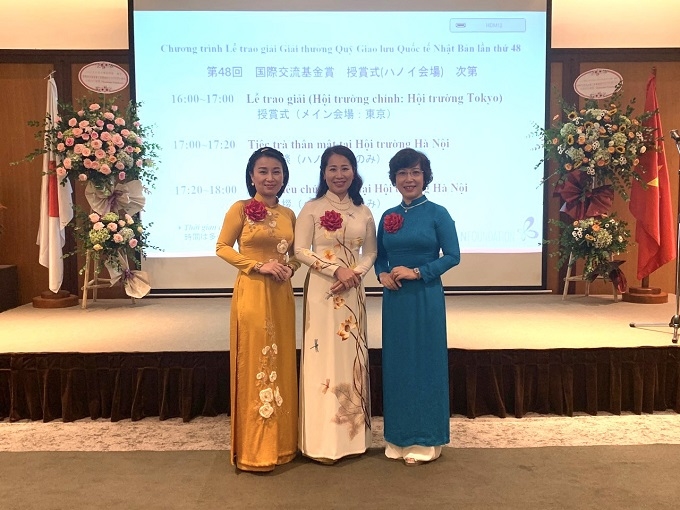 Interviewees
Ms. Dao Thi Nga My (Dean, Faculty of Japanese Language and Culture, University of Languages and International Studies - Vietnam National University, Hanoi (VNU) = center of photo)
Ms. Tran Thi Thu Thuy (Dean, Faculty of Japanese, Foreign Trade University = right of photo)
Ms. Nghiem Hong Van (Dean, Faculty of Japanese, Hanoi University = left of photo)
──First of all, could you tell us how, having been born and raised in Vietnam, you became interested in Japanese and how you came to pursue a career in Japanese language education?

Ms. Dao Thi Nga My

(Dean, Faculty of Japanese Language and Culture, University of Languages and International Studies - Vietnam National University, Hanoi (VNU); who is referred to as

My

in the rest of the article): I studied Russian from middle school to high school and enrolled in the Russian department at university. However, at the time, the former Soviet Union had just collapsed and it was difficult to find a job even after graduating from the Russian department, so Russian majors were able to take another foreign language course for free. There were three options: English, German, and Japanese. Actually, I chose English at first, but all my classmates chose Japanese, so I had no choice but to study Japanese (laughs). However, the more I studied, the more I fell in love with the Japanese language and culture, and I realized that the Japanese language was something I wanted to pursue further, so I enrolled in the Japanese language department. One year after enrolling in the Japanese language department, I studied at Saitama University as an exchange student. After that, I returned to my hometown and became a teacher in the Japanese Language Department of my alma mater, but once I started teaching, I realized that my Japanese language proficiency and teaching skills were inadequate, so I decided to study for a master's degree at Tokyo University of Foreign Studies. After completing my master's degree, I returned to work at my alma mater and have been there ever since. Vietnamese culture and Japanese culture are very close to each other, so I did not feel any discomfort during my stay in Japan, and I was able to enjoy my life there.



Ms. Tran Thi Thu Thuy

(Dean, Faculty of Japanese, Foreign Trade University; who is referred to as

Thuy

in the rest of the article): When we were children in the late 80s and early 90s, Vietnam had just introduced the Doi Moi reforms,*¹ and still had strong ties to the socialist bloc. The main focus was on Russia rather than relations with capitalist countries, including Japan, the West, and other developed countries, so most people studied Russian. I had studied Russian from childhood to my third year of high school, but just like Ms. My, when I entered Foreign Trade University, I was suddenly told that Russian was being discontinued that year, so everyone who came to study Russian had to choose a language from English, French, Japanese, or Chinese.
When I was a child, I received a calendar of Japanese women wearing kimonos and thought it was beautiful. I was so fascinated with Japan that I kept it on display for a long time. But Japan was still a developed, capitalist country, and although geographically close, it seemed somewhere very far away compared to Russia or Hungary. So even though I admired the country, I never thought I would ever actually study Japanese. I had the option of studying English at university, but since there are so many talented people around when it comes to English, I decided to take a new path and take on a new language that I was completely unfamiliar with, Japanese. I am still truly glad that I made that choice.
──If you hadn't received that calendar, you might have gone on to a different career path.

Thuy

: Yes. I still have a vivid memory of the image of Japanese women in kimonos that was displayed in the corner of the room.



Ms. Nghiem Hong Van

(Dean, Faculty of Japanese, Hanoi University; who is referred to as

Van

in the rest of the article): I had studied English from the fourth grade through high school, and I wanted to master English at university and have a job involving English in the future. However, when I was writing my application for university admission, I made a mistake filling in the university admission code and ended up going to the Japanese language department. When I went home and told my parents about it, they said, "You read Doraemon and Detective Conan in Vietnamese every day, so why not study Japanese so you can read them in Japanese?" So I reconsidered. When I was at junior high and high school, Doraemon and Detective Conan were famous, and everyone was engrossed in reading them. The dean and vice dean at the time told me that if I studied hard and reached my third year, I would have a good chance to study abroad, so I pushed myself to finish my Japanese studies. When I think back to this, it seems like fate ── I'm glad I studied Japanese.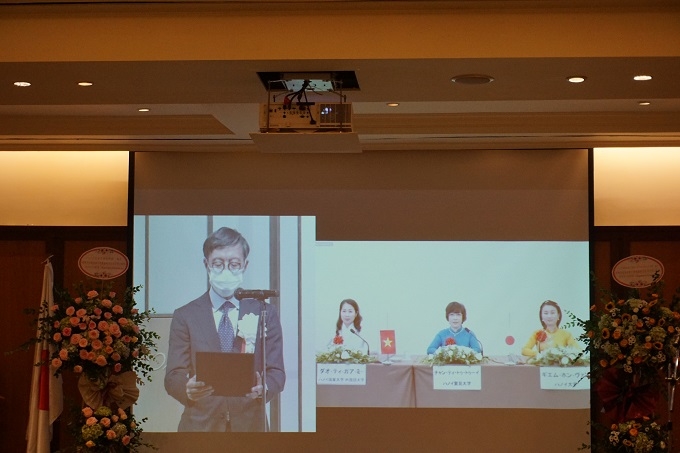 JF President Umemoto Kazuyoshi presented the award via a video screen
──According to the Survey on Japanese-Language Education Abroad 2018, the number of Japanese language learners in Vietnam has increased 2.7-fold since the previous survey, and the number of institutions and teachers has nearly quadrupled. What do you think is behind the increase?

My

: First of all, there is the close friendship between the two governments. As fellow Asian countries, I believe that the ties between our governments are stronger than those with Europe and the U.S., and both governments are putting a lot of effort into Japanese language education in Vietnam, which is why it is making progress. Also, because of the close distance and cultural similarities, many people go to Japan as technical interns to learn new skills. Japanese language education is becoming popular not only in large cities like Hanoi and Ho Chi Minh City, but also in rural areas.

Vietnamese people are basically fond of Japan, and in many cases, parents encourage their children to study Japanese. Recently, Japanese language education is being introduced not only at higher education institutions but also at primary and secondary schools.



Van

: I think there are three main reasons for the increase in the number of Japanese language learners. One is that because of their close proximity, there is a lot in common in terms of culture and ways of thinking, and so more and more people are interested in Japan. Another is the hope that, by learning Japanese, you can get a good job. The more proficient you are, the more opportunities for advancement you will have. And finally, another important factor is that nowadays, if you want to study Japanese, there are many ways to do so. You can study on the Internet and there is an environment in place that will allow you to learn from elementary school. As such, I think the number of people studying Japanese will continue to increase.
──As well as language learners, the number of Vietnamese people living in Japan has taken second place in terms of nationality, so there are now more opportunities to meet Vietnamese people in Japan.

Thuy

: Underlying this is that although Japan originally expanded into the West, China, and, in Southeast Asia, Thailand and Indonesia before Vietnam, recently there has been diplomatic, economic, and trade friction between Japan and the U.S. and between Japan and China. This is one reason why the Japanese government and Japanese companies have begun to take a deeper interest in Vietnam, as they need to find other places to invest and do business outside of the U.S., China, and Thailand.
This has led to a closer relationship between Vietnam and Japan in recent years, first as a strategic partnership and then as a comprehensive strategic partnership, which is another step forward. That being the case, I believe that the relationship between the two countries has made great progress, not only in terms of culture and diplomacy, but also in terms of security and trade. That is probably the biggest reason.
In fact, the number of Japanese companies expanding into Vietnam is also increasing dramatically, so speaking Japanese has the advantage of making it easier to find work. I think this is why there are growing numbers of Vietnamese who want to learn more Japanese.

As for why more Vietnamese are going to Japan, as shown in statistics from the Japan External Trade Organization (JETRO), there has been an increase not only in Japanese companies moving into Vietnam, but also in Vietnamese companies expanding into Japan, particularly in the IT industry. FPT, a major Vietnamese IT company, is a good example. Furthermore, due to shortages of personnel, many Japanese companies are interested in taking in more and more talented Vietnamese technical interns. Accordingly, more people will find jobs in Japan, and as a result, there will be more Vietnamese companies offering services to Vietnamese living in Japan. People say this will lead to the proliferation of all kinds of services, such as rental housing, travel, or even educational opportunities for Vietnamese children.
──It is also important for the Japanese side to create a place where Vietnamese living in Japan can work comfortably.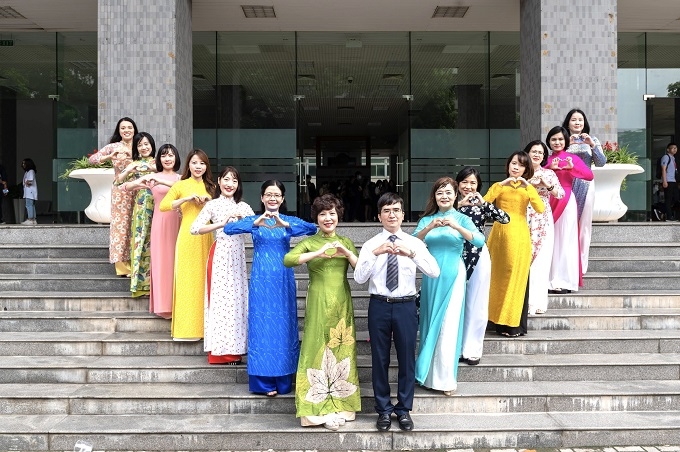 Faculty and staff of the Faculty of Japanese gather to commemorate the 60th anniversary of Foreign Trade University
──Although the last two years have been very difficult in terms of education on the ground, with COVID-19 leading to foreign students being unable enter the country, or being unable to return home once they do manage to get in, I think there has been progress in some areas, such as e-learning and online learning environments. How do you see things on the front lines?

My

: The infection began to spread in Vietnam in March 2020. Certainly, I was not used to online classes at all and had a very hard time working things out. The students were not used to them either, so it was difficult for us all. However, I think it's great that you can interact with all kinds of people in any location as long as you have an Internet connection and a device.
Dozens of our undergraduates receive scholarships to study in Japan every year. Although not having been able to visit for the past two years, these undergraduates have been able to interact with Japanese university students more than ever before. We conduct cooperative learning with students from partner universities, and many students said they learned a lot by working in teams to undertake a variety of projects.
In the past, in order to hold meetings, we had to travel to Japan or Japanese university professors had to come to Vietnam, but recently we have the advantage of being able to hold meetings online. However, I feel that even in the post-COVID era, the future of Japanese language education should be based on in-person classes, with some classes conducted online.
──Are your classes currently a combination of in-person and online?

My

: Classes at the University of Languages and International Studies are all online now.
Van

: Hanoi University has also been conducting classes online since February 2021. The advantage for teachers is that they can teach from home and students can take courses from home, but now three major problems have emerged. One is the difficulty in getting all students to take online classes on an equal basis. For example, students' performance may be affected by their internet environment, such as those living in the countryside versus those living in the city, or by what they use to study, such as those with smartphones versus those with computers.
The second is the issue of awarding degrees and credits. Our university offers online exams in most subjects, but we still cannot eliminate the risk of cheating. The question of how to prevent misconduct from occurring is a very pressing one.
Another point that I have heard from both students and teachers over the past eight months or so of teaching online is concerns about their health. Online classes were also introduced in 2020, but were shortened to one and a half to two hours, compared to three hours for in-person classes. Given that COVID-19 has yet to be brought under control, we had no choice but to increase the duration to three hours, the same as for in-person classes. However, we have received many complaints that prolonged use of computers and electronic devices is not good for the eyes or has had adverse health effects. We are working on ways to help address this.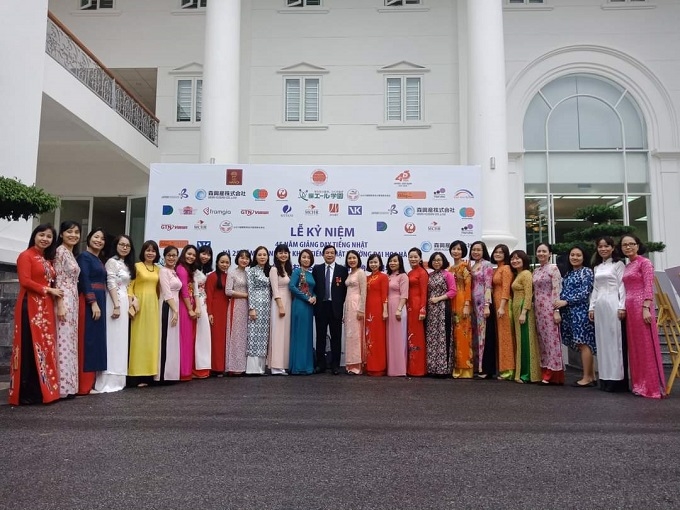 Faculty members of the Faculty of Japanese gather to celebrate the 45th anniversary of the start of Japanese language education at Hanoi University and the 25th anniversary of the establishment of the Faculty of Japanese
──Perhaps this is an opportunity for us to rethink the basics of what language education should be.

Thuy

: I think it is, yes. COVID-19 has forced us rethink the fundamentals of how we conduct language education. First, there must be a change of mentality on the part of those who learn and those who teach. At first I thought that online classes were only temporary and that we would return to in-person classes when COVID-19 ended, but in the era of "living with COVID," we have to change our approach to one of making our classes more efficient even when conducted online.
Also, the term "blended learning"*² has become popular recently, so there's the question of when COVID-19 comes to an end, how can we combine in-person classes and online classes and take advantage of the benefits of each? I think it is time to explore hybrid classes.
──This applies to other subjects as well, but heart-to-heart interaction is especially important in language education.

Thuy

: Heart-to-heart interaction is inevitably weaker online. Although we can see each other's faces, it is difficult to perceive warmth through the screen. Teamwork and contact between students have been almost non-existent for the past two years. I am a little worried about the graduates four years from now, in terms of what kind of generation will grow up in the future.
── What is students' motivation like with them unable go to school or study abroad?

My

: I think they still want to go to school and see their friends. I am quite worried that, as a result of students not being able to meet up and have fun together, or even to chat over these past two years, more of them are suffering from depression due to stress than ever before. For this reason, we are thinking of various measures we can take in terms of student-to-student and student-to-teacher interaction, such as setting up a consultation room.



Van

: We are also struggling a lot right now with how to improve students' motivation in online classes. However, although I can't say that nothing in our faculty has changed, I can say with confidence that motivation has not declined much either. This is because we have a student-led Japanese Language Club where students who want to speak Japanese or are interested in Japan gather once a month for about three hours to talk about various topics and interact with each other. We have suggested to the students that they increase the frequency to two or three times a month rather than once a month.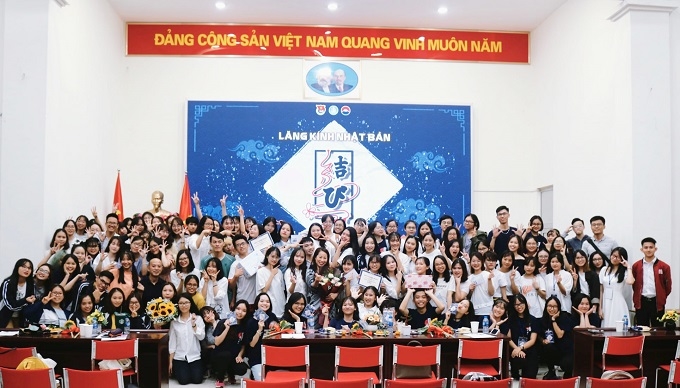 Student activity "Musubi" at the Faculty of Japanese Language and Culture, University of Languages and International Studies, Vietnam National University
We also have more than 40 partner schools in Japan, so we hold online exchange meetings between our students and students from partner schools who are interested in learning more about Vietnam. So far, we have done this once or twice with students from Osaka University and Ibaraki University.
For third-year students, there is also an exchange program. It is not easy to go to Japan now, but we have partner schools that offer online classes, so in 2021, 27 students took those classes in Vietnam. Therefore, there are quite a few students whose motivation has not suffered at all.
Thuy

: From what I can see, there is no change in students' desire to go to Japan. I think there is a great desire on their part not simply to take classes at a Japanese university, but to experience various things about Japan aside from studying, like going out into town and making friends. For this reason, although it is a "study-abroad" program in Japan, some students do not really enjoy classes that they can only see online through a screen. Some students may decide to hold on for now because they have no choice, and go to Japan when COVID subsides, while others may change their plans, for example, giving up studying in Japan for their undergraduate degree and doing it for their master's degree instead.
──I think the Association of Japanese Linguistics and Education in Vietnam sounds like a wonderful venue to share ideas and challenges. Can you talk about what prompted you to set it up?

Thuy

: The starting point was really the motivation on the part of the three of us to do it. Japanese language education in Vietnam started in the 1960s, but there was no organization that covered the whole of Vietnam, and I always felt slightly sad that I could only attend international seminars and international exchange events in the capacity of a single university. I was also frustrated that Vietnam was the only country that did not have one, despite the long history of the subject here. As such, we hoped to somehow create an organization that would bring the universities together as one, allowing us to stand alongside other countries on the international stage as Vietnam, rather than just as individual institutions. Under President My's leadership, we took the time to complete the various procedures, finally achieving our dream of creating our own organization in 2017.

I also thought it is wonderful that we, teachers and researchers of the Japanese language, can exchange information, discuss issues and problems we are facing together, share our thoughts and ideas, and explore ways of dealing with difficulties. I find it very rewarding.

No matter how busy we are, and even amid the pandemic, we always hold a yearly seminar at the end of the year. Every year around November, teachers from all over the country inquire about the year's seminar, so I think it has taken root to some extent.

Founding Conference of the Association of Japanese Linguistics and Education in Vietnam held on November 25, 2016
My

: Another purpose of establishing the Association of Japanese Linguistics and Education in Vietnam is without doing that, we would not be able to join the Global Network for Japanese Language Education (GN), and therefore would not be able to stand on an equal footing with Japanese language education in other countries.
By 2022, five years after the association's establishment, we plan to join GN and hold events to link up with academic societies, research groups, and teachers' associations involved in Japanese language education around the world. We also hope to host a world-class international convention on Japanese language education in Vietnam in the near future.

The association's other activities include recommending participants for the annual Japanese Language Teacher Training Program held at the Hiroshima International Center (Hiroshima City). Previously, participants had to go there to undergo the training, but since 2020, it has been conducted online. The activity itself will not be cancelled or postponed, pandemic or not.
──That's wonderful. I hope this award will be an opportunity for you to further expand your activities in the future.

My

: Although our three universities represented Vietnam for this award, it is truly an honor for Vietnam as a whole and for each university. Thank you very much.
*¹ Doi Moi reforms......A slogan proposed at the National Congress of the Communist Party of Vietnam held in 1986, which aimed to shift the country in a new direction, mainly in terms of the economy and social thought.


*² Blended learning......An educational method that combines e-learning and traditional group learning. By using these methods in combination, it aims to achieve better learning outcomes than if each is used alone.
November 2021, online interview
Interview and text: Terae Hitomi (The Japan Foundation)
Text: Segawa Yoko (The Japan Foundation)