Japanea
Sohei Iwata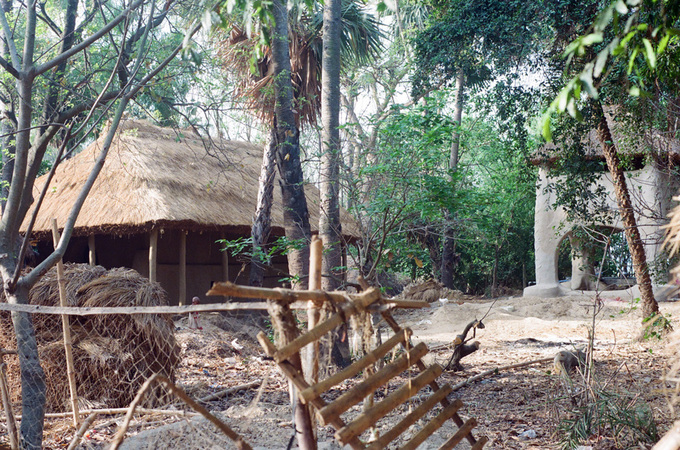 "Adivasi House" and "Adivasi Water Tower"
"Japanea! (It's a Japanese person!)"
Somnath shouted so loudly to let his people know of my presence that even the trees seemed to shudder--that was our first encounter. It has been two years since then, and, Somnath is now a key figure in my work. He has acted as the local coordinator for construction of my artwork, such as the Adivasi Water Tower and Adivasi House, recruiting skilled mud-wall and thatched roof workers from among his people, the Santal, and also helping me make the right material to turn my images into actual structures.


Left: "Adivasi House" and me, Right: "Adivasi House" in the making


Left: East side of "Adivasi House", Right: Inside "Adivasi House"
I first visited India three and a half years ago as a trainee on Program of Overseas Study for Upcoming Artists sponsored by the Japanese Government's Agency for Cultural Affairs. When I first set foot in the country, the surging waves of people and their rough ways baffled me, making me wonder whether I could fulfill my mission here. When you think of India, Hinduism is the first thing that comes to mind, and even the guidebooks for tourists refer only to ruins and holy places related to Hindu culture. Initially, my contact with India was limited to the Hindu and Islamic world, but luckily, a friend that I met after being there for about a year introduced me to Adivasi. Adivasi is a general term for indigenous minority races in India, like the Santal. To this day, they live semi-self-sufficiently in the wild, and many of their villages have no electricity.
Mr. Boro Baski, a Santali sociologist, introduces his people as follows: The Santals are an aboriginal ethnic minority and form the largest homogeneous community among the ethnic minorities in India. Santals are also found in the neighboring countries like Bangladesh, Nepal and Bhutan. They have oral traditions, songs and rituals which play an important role in cultural maintenance and transmission. Originally Santals were hunter--gatherers in the jungle as well--known for clearing forest for agriculture. Presently they are indifferent agriculturist. For centuries, the Santals have been living as neighbours of other communities maintaining cultural and social distance. The Santals are regarded as one of the economically non-affluent communities of India. They are known to be simple, honest, peace loving, jovial in character, fond of their rice beer and ready to crack a joke. Santals are divided into twelve exogamous clans and sub-clans. Their religion is animistic, spirits (bongas) are everywhere around them: the spirits of their ancestors, the spirit of the house, the spirits dwelling in the patch of primeval forest preserved in each village. Every hill tree and rock may have its spirit. These spirits are propitiated by elaborate ceremonies and sacrifices, which generally terminate in dances and the drinking of rice beer.


Left: Rice farming supports their livelihood, Right: A tavern
Adivasi races, like the Santal, are scheduled castes and are still discriminated against today. But I was fascinated by their skills, their worldview and their individual personalities. The pleasure of living in a village where everything is made from earth, the way they skillfully combine dozens of different kinds of mud, how they build and paint, and their creativity even in cooking--it is an ingenuity deeply rooted in the land. Their culture is produced as they knead the soil. I was struck by the exquisite silhouettes cast on the earthen walls by bodies toughened through work in the fields. I was amazed by the countless shades of darkness at night. I felt for the first time the beauty of a human being just standing in nature. Their bodies look so transparent that the background scenery seems to be visible right through the bodies of people. Such transparency of environment and spirit are not found in societies where people are trapped within the framework of their own communities and cling to personal ownership.
Getting to know this kind of village community broadened my imagination, allowing it to move across defined borders. I ceased thinking of myself as a resident of the art world while creating, and began to design works that were needed in the village, such as the water tower and library. I thought to myself "I've never heard of a water tower being a work of art" or "People might mistake the structures for aid work by some NGO," and I was thrilled at the fact that my works were stepping out of the realm of art. I wanted to show the people the unknown beauty of structures made of earth, and by designing public facilities, create a work of art that only I could produce.


Left: "Adivasi Water Tower", Right: Santal people at the "Adivasi Water Tower"


Left: "Village Library", Right: Inside the "Village Library"
In the Santali village where I am currently based, I have so far completed the "Village Library" and "Adivasi Water Tower," as well as "Adivasi House" which provides accommodation for visiting artists and other experts in various fields. We negotiated with the government to bring electricity to the village so that the water tower could be operated. The villagers are very eager for the modernization of India and the ensuing development of the village. But modernization would also mean that they would have to abandon their beautiful old customs and exchange them for rows of houses built of concrete and galvanized iron sheets. Outsiders cannot stop this inevitable trend, but it is possible and meaningful for artists and specialists of folklore, architecture, farming and many other fields to gather in the village and carry out experimental projects together with the villagers.
---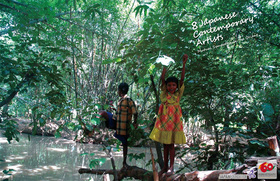 "8 Japanese Contemporary Artists: Mutual Sympathy in the Orient" organized by Sohei Iwata
---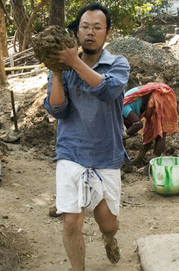 Sohei Iwata
Born 1979 in Shiga, Japan, Iwata currently works out of India. He completed his master's course in Inter Media Art at Tokyo University of the Arts in 2008. From 2008 to 2009 participated in the Agency for Cultural Affairs' Program of Overseas Study for Upcoming Artists. Was a visiting fellow at Visva-Bharati University (Tagore's University) from 2010 to 2011. Received subsidies from the Yoshino Gypsum Art Foundation in 2010 and the Pola Art Foundation in 2011. Major exhibitions and projects: Organized "Art Project SICE" (Sarajevo International Cultural Exchange) Sarajevo, Bosnia-Herzegovina (2003-2007); organized "Apam Napat Project" Visva-Bharati University (Tagore's University) in Santiniketan, India (2008-2012); "Field Work in Delhi", In Context: public.art.ecology, Khoji International Artists' Association, New Delhi, India (2010); "Social Dive", 3331 Art Chiyoda, Tokyo, Japan (2011).