A New Challenge: Young Chefs Give Southeast Asia a Taste of Wagashi [Part 2]
Noriyuki Myojin, Mitsuya-Honpo
Keisuke Yoshihashi, Yoshihashi Kashijo
Naoya Koizumi, Koundo Honten
Continued from Part 1
A New Challenge: Young Chefs Give Southeast Asia a Taste of Wagashi [Part 1]
――The third and last stop on your trip was the Philippines. Tell us how the event went there.
KOIZUMI: In Manila, we did a workshop for teachers and students of the Center of Culinary Arts (CAA) on the first day, and a lecture and demonstration for the general public on the second day. This being our third country, everything went off without a hitch.
The workshop participants were young students--in their teens and twenties--enrolled in the CAA's baking and pastry program. They were very enthusiastic and energetic. It seemed they couldn't get enough of making sweets. Some were absorbed in baking dorayaki pancakes all through our lecture; others were taking dozens of pictures. One student wanted to know where they could buy the special wagashi utensils.
With a small group of 14 participants, we were able to adjust our pace to accommodate everyone and give a close-up demonstration and more personal instructions. Several students helped us make the dough, and while we worked we had a great time asking each other questions and talking.
YOSHIHASHI: I think we were able to give the students a nice surprise as we saw that they were excited about each and every step of the production process.
The techniques we use to make uchigashi and hasamigiku were apparently new to the CCA students because they don't have those in western baking. When it came to making dorayaki pancakes, though, they were in their elements.
Overall, I was left with the impression that they didn't quite get the taste of matcha or the meaning behind the abstract designs of some sweets, which to me was disappointing because I believe they represent the very essence of wagashi. I wish I could have done better to drive home this important message.
MYOJIN: In the lecture and demonstration on the second day in Manila, I think we were more relaxed than in any other session of the trip. In content, too, it was a great way to finish off the tour.
The venue was an open exhibition space slightly smaller than the venue in Thailand. All of the 100 seats were filled, and many people were watching standing up.
As in Malaysia, we invited a few members of the audience to come up and make the sweets with us for each type of wagashi. We learned that getting the audience to take part makes it easier for us to manage the time and get the crowd more interested and engaged. In fact, we kept getting questions until we ran out of time.
――Not only did you answer questions; you asked them, too. Is that correct?
MYOJIN: That's right. Most of the audience members were Filipinos, and I asked if anyone had ever been to Japan. To my surprise, no less than a third of them replied that they had.
KOIZUMI: But only five said that they had ever tasted dorayaki pancakes before!


Workshop in Manila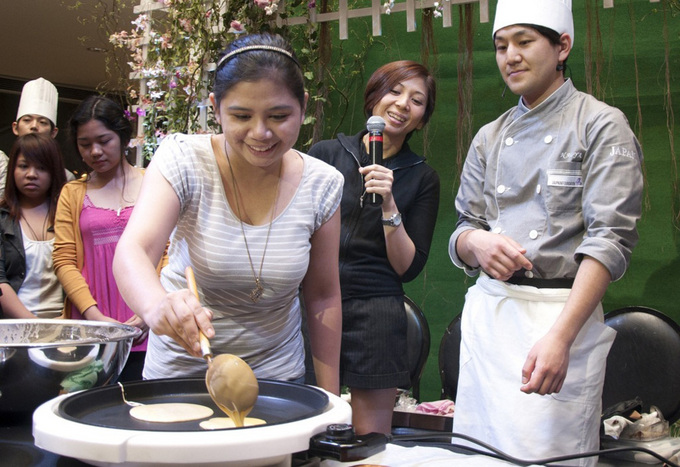 Lecture and demonstration in Manila
――As confectioners, were you interested in the three countries' local sweets?
KOIZUMI: Certainly. Between presentations, we asked the staff to show us around and see all the local sweets. In Thailand, we went to see some traditional desserts in the Old Siam Plaza, which was very educational. In Malaysia and the Philippines, we visited confectioneries in the shopping mall and tried some of the local sweets.
In all three countries, we frequently saw Japanese restaurants serving sushi, tempura, and ramen. But there were only a handful of stores selling wagashi, and not one made them using authentic techniques. We did, however, discover a Japanese restaurant in Malaysia that served Japanese sweets adapted to the local taste, like banana-flavored dorayaki pancakes and abekawamochi rice cakes dusted with peanut power instead of the usual kinako (soybean powder). The innovative desserts were delicious and very interesting.
The Japanese generally like an bean paste with a strong azuki flavor, but we learned that the Thai prefer it more plain. I saw many coconut-flavored or banana-flavored sweets in the three countries, so perhaps people in Southeast Asia are more accustomed to adding these flavors to their desserts rather than accentuating the straightforward taste of azuki. That being the case, I think our events provided an excellent opportunity for them to get to know the real taste of azuki. Everyone enjoyed the sweets we offered wherever we went, and in Manila one person actually said, "I never knew azuki tasted this good."
During the media interviews in Malaysia, I showed reporters some of the wagashi on display and asked which ones they liked. Many pointed to the pink flower sweets.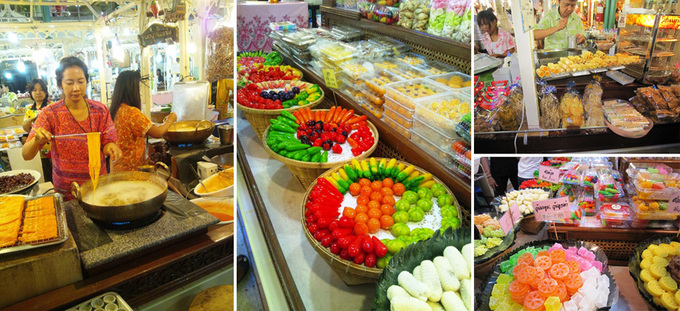 Traditional Thai desserts in the Old Siam Plaza (Photo: Naoya Koizumi)
――Did you find any local ingredient you might like to incorporate into wagashi?
KOIZUMI: In all three countries, there was a good variety of fresh fruit, and they were cheap, too. I think fresh fruit and wagashi would go quite well. For instance, it would be interesting to use seasonal fruit to make different variations of ichigo daifuku (rice cake stuffed with strawberry and sweet bean paste).
YOSHIHASHI: I was drawn to the sugar made from coconuts, which has a texture similar to Japanese brown sugar. If I used this coconut sugar instead of brown sugar, I might come up with a sweet that tastes similar to regular wagashi but not quite the same.
I also found that sweets originating in Europe were quite popular in Southeast Asia, just as keiransomen (noodle-like shreds of sweetened egg yolk omelets) is popular in Japan. It might be fun to compare the different varieties and create a new recipe that blends the best feature of each.
――Lastly, what are your thoughts on the tour now that you have completed it?
KOIZUMI: I learned so much on this trip. It made me more aware of my responsibility to promote and keep making high quality wagashi. At the same time, it was very encouraging to see people in Southeast Asia take an interest in learning about wagashi.
YOSHIHASHI: My experience in Southeast Asia enhanced the sense of pride I have always felt in my work of making traditional Japanese sweets.
MYOJIN: Our team members were all young, and that turned out to be part of the reason we attracted so much attention from the local media. A lot of the questions we received were framed in terms of "the young generation versus tradition." Throughout the trip, the audiences asked us for even more wagashi recipes than we offered, and some even suggested that we write a book on wagashi targeting an overseas readership.
I hope our work on this trip not only helps to promote wagashi abroad but also contributes to a greater cultural exchange between Japan and Southeast Asia, and ultimately leads to an advancement of the confectionery industry in these countries.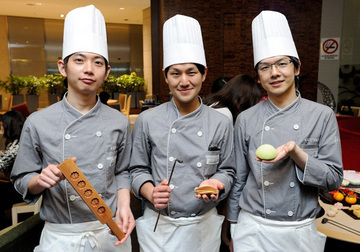 From left: Keisuke Yoshihashi, Naoya Koizumi, and Noriyuki Myojin
Profiles
Noriyuki Myojin
Born in 1982. A graduate of Ecole de Patisserie de Tokio with a specialty in wagashi, Myojin currently works for Mitsuya-Honpo, a confectionery known for its mitsu manju, a specialty of Kure City, Hiroshima. He received an Annual Grand Prix Award by the Japanese confectionary association, Towakai, and earned the title of skilled Wagashi chef from the Japan Wagashi Association.
Keisuke Yoshihashi
Born in 1982. A graduate of Ecole de Patisserie de Tokio with a specialty in wagashi, Yoshihashi currently works for Yoshihashi Kashijo, a renowned confectionery in Kanazawa City, Ishikawa, one of the top three cities in Japan known for their confectionery.
Naoya Koizumi
Born in 1982. A graduate of Ecole de Patisserie de Tokio with a specialty in wagashi, Koizumi currently works for Koundo Honten, a 100-plus year old confectionery based in the historic city of Ashikaga City, Tochigi.