The Latent Powers of Culture that I Discovered as a Japan Cultural Envoy to Korea
Manjiro Tatsumi
Noh Performer, Japan Cultural Envoy by the Agency for Cultural Affairs
I am a Noh performer.
My late father, grandfather, great grandfather, uncle, brother, nephew and son are all Noh performers. We all walk on the same road, in the same direction, and the younger ones follow the elders' footsteps as though their lives depended on it, so as not to lose sight of them and be left behind.
I happened to be born into a family that had been Noh performers for generations, which has a lot to do with why I have been appearing on stage since I was four years old. My father was my teacher and I was always trying to avoid his strict lessons, but he also taught me the pleasures of performing Noh and, as time passed, it became the path that I would follow, unswervingly, for the rest of my life.
I have been active in promoting Noh both in Japan and abroad, not only through performances, but also by organizing lectures, classes and "hands-on" workshops where the participants actually perform Noh. The aim is to change the image of Noh from "boring, incomprehensible, and sleep-inducing" to "fun, easy-to-follow, and thrilling." I was pleasantly surprised when the Agency of Cultural Affair, learning of my activities, asked me to become their cultural envoy.
The mission delegated to a cultural envoy was just what I had wanted to do and I was very grateful to be given the opportunity. I have always tried to increase the understanding of Japanese culture whenever I performed overseas, but being able to work as an envoy for more than 30 days would open the doors much more widely, giving me more opportunities to achieve my objectives of promoting cultural exchange and popularizing Noh.
But I was to be dispatched to Korea.
Hesitation
"Korea...."
Personally, I was under the impression that Koreans generally harbored strong anti-Japanese feelings, and I knew that there were many thorny political issues between the two nations. So I figured that they would not be very welcoming toward Japanese culture. I had my doubts about taking on such a formidable assignment; after all, it was only recently that bans on music, films and other Japanese culture had been lifted in the country.
But I also thought that there were probably many misunderstandings on both sides and that cultural exchange might be a way to be accepted by the people. Perhaps they would come to understand Japanese spirituality by coming in contact with our culture--my hesitation gradually turned into anticipation and then conviction.
I, too, had some challenges as I started to get my mission underway. Basically, the envoys plan and execute projects entirely on their own, but I had never been to Korea, and even as the day of my departure was approaching, I still hadn't found a tour coordinator in the country. On top of that, although I was to have a total of about 30 days to hold events as an envoy during my three-month stay starting in January 2012, I was told that the weather in Seoul is so cold during winter that schools are closed until early March and people hardly go outside the house--another adverse element that I had to overcome.
A lucky start
Even though things appeared gloomy at the outset, the Public Information and Cultural Center of the Embassy of Japan in Korea was there to lend a hand and it was decided that my first job would be to hold a workshop at the New Year's Japan Exhibition held at the center.
I prepared a two-minute speech in halting Korean, being very careful with my choice of words to express my respect to the people. When I finished my speech, the response was wonderful, totally overturning my preconceived ideas.
To tell you the truth, I had had dwaeji galbi (Korean barbequed spare rib) for dinner the night before and had already become a fan of Korea, so when I saw their friendly reaction, I fell in love with the country on the spot.
Now that I had gained confidence, I decided to hold a workshop during the Dolls' Festival event held in March at the Public Information and Cultural Center. Thanks to the assistance of the National Noh Theater in Japan, we were able to let participants play Noh instruments in a program called "Experiencing a Real Five-man Hayashi Ensemble."


"Experiencing a Real Five-man Hayashi Ensemble" workshop held with assistance from the National Noh Theater
Cultural course at the Japan Foundation, Seoul
In March, I held a variety of events organized and supported by the Japan Foundation, Seoul.
In the three lectures of the cultural course held at the Japan Foundation, Seoul I had the Korean participants learn utai (songs) and shimai (simplified dance) from a Noh play called Takasago.


First day--a lecture on Noh


Left: Second day--Takasago practice began. Diagrams were used to explain the movements of shimai.
Right: All the participants wore tabi socks to practice the moves.


Left: We took advantage of the whole classroom space to learn the moves. The participants looked serious.
Right: Watching a DVD to learn about Noh.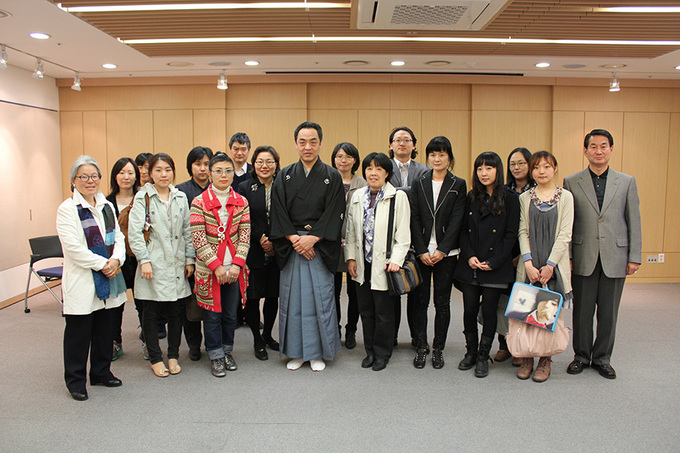 Tatsumi with the participants on the final day
Held an intensive series of events in cities around Korea
I held workshops at eight universities in Seoul, Daejeon, Asan, Anseong, and Daegu, as well as at theatre and dance companies. We conducted a total of 25 events during the 32 days of activity, concluding with a workshop at Keimyung University on April 18.
Of the 25 events, 16 were organized by the Japan Foundation, Seoul. It functioned like a base-camp, storing items needed for the workshops and performances, including white tabi (Japanese split-toe socks), dancing fans, instruments, and costumes used in performance.



Workshop held at Anseong campus, Chung-Ang University
The Japan-Korea traditional culture exchange program was held at the Seoul Namsan Traditional Theater in the Namsan district, where N Seoul Tower is located. The program "Noh & Gugak (traditional Korean music)," featured a full-scale Noh play, a gugak performance, and a historic joint staging of a newly created Noh dance called Komyo (light). The performances came to a successful conclusion, thanks to the support of the Japan Foundation, Seoul.
While in Korea, I hired as my assistant a young Korean, who had been a disciple of mine when he was studying in Osaka. He commented, "Even though Koreans say they hate Japanese people, they love Japanese food, Japanese-style pubs are booming, and Japanese music is all the rage. Koreans like Japanese culture."
He also told me that he had decided to learn Noh because he wanted to wear kimono.
Discovering the latent powers of culture
Cultural exchange is all the more important between countries divided by numerous historical and political issues. Although Korean people may have anti-Japanese feelings, they don't dislike the culture--in fact, they appreciate and understand Japanese culture, including the food. I am always saying that now is the time to promote cultural exchange, but even I feel that I finally realized the power of culture through this project.
My term as a cultural envoy has ended, but I would like to visit and perform in Korea again as a professional Noh actor.
I believe that for both sides, by learning about others, we learn about ourselves, and that this enables us to grow.
I would also like to introduce the splendor of traditional Korean culture to the Japanese people.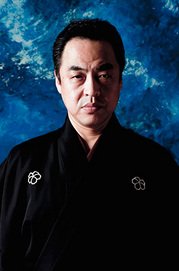 Manjiro Tatsumi
Noh performer of shite-kata Hosho School
Was born as the second son to the late Takashi Tatsumi and made his stage debut when he was four years old. Graduated from the Department of Traditional Japanese Music, Faculty of Music, Tokyo University of the Arts. On entering the university, became a live-in apprentice of the late Fusao Hosho, 18th head of the Hosho School. After working as an assistant at the Tokyo University of the Arts, he now conducts live performances, holds classes on practical Noh techniques, and activities to promote Noh around Japan, mainly along the Tokaido Highway corridor which runs between Tokyo and Osaka.
Performed in Noh masterpieces: Shakkyo Renjishi, Midare, Dojo-ji, Okina. Has performed in many countries abroad, including productions at the United Nations Plaza in New York City, the Metropolitan Museum of Art (Great Hall), and torch-lit Noh in front of the sphinx in Egypt.
Also participates in creating new Noh works. Directed and played the leading role in Macbeth (2006), Rokujyo (2008). Was designated as a general holder of Important Intangible Cultural Property in 2001. Was awarded the 2005 Encouragement Prize of Osaka Cultural Festival.
Is a member of the Association for Japanese Noh Plays and Hosho-kai.His grandfather, Koichiro, moved his base of operations from Kanazawa to Osaka and his father, Takashi, supervised the Hosho School for the entire Kansai area, a position Manjiro has inherited. He organizes Shippou-kai, the Hosho school's Scheduled Noh Performance in Osaka and also Manjiro-no-kai, Tatsumi-kai, Hosho-ryu Amaneku-kai.