Exporting the Experiences of Modern Japanese History--Intellectual Inspiration from Young European Researchers of Japanese Studies
Toshikazu Inoue
Professor, Gakushuin University
International exchange, as I understand, is about mutual interaction between nations. In case of our country, modern Japan was too busy importing Western civilization to export the unique culture of its own. Things seem not much different today. It becomes apparent with the issues of globalization. Discussions about the topic tend to lean toward how best Japan can adapt. Seldom do they explore how best Japan can lead. What Japan needs to do now is to focus on exporting its experiences as well as importing those of others.
This idea was inspired directly from my participation in the "2012 Intellectual Exchange Programme between Japan and Europe in Alsace Japanese Study Seminar--Taisho/Prewar (Showa)," co-organized by Centre Européen d'Études Japonaises d'Alsace (European Centre for Japanese Studies in Alsace; CEEJA) and the Japan Foundation. On September 8 and 9, 2012, young researchers who conduct leading-edge Japanese Studies flocked from countries across Europe--including France, Germany, Italy, Spain, Russia, Switzerland, and Bulgaria--to the CEEJA in Kientzheim, in the Alsace region of France.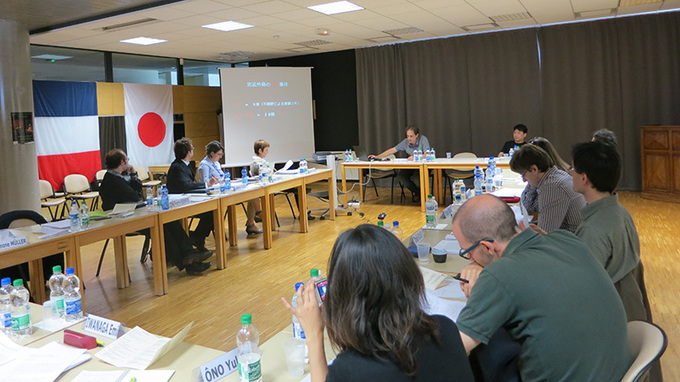 Whenever I tell this much to someone not familiar with the seminar, that person stares at me in disbelief. Apparently, two questions come up in mind. Am I equipped to keep up with a multi-language seminar held in Europe? And are there that many European researchers specializing in Japanese Studies? The first question is well-founded, the second a gross misunderstanding. Both questions actually come from a typical Japanese mind preoccupied only with the importing side of international exchange, one that naturally assumes all multinational seminars are held with a universal language like English because very few Europeans speak Japanese. Nothing can be farther from the truth. The Japanese Studies conducted by Europeans is of extremely high standard. We Japanese are simply unaware of it. And perhaps we Japanese, who speak only our native tongue, are also the only ones who think our language is too difficult for any foreigner to learn. In fact, during the whole course of the seminar, nothing but Japanese was spoken--in the reports, in the discussions, and even during the breaks in between.
To prove how advanced and cutting edge the research themes are, here are some that came up in the reports. The major figures covered at the seminar were novelist Takeo Arishima, journalist Gaikotsu Miyatake, scholar Motoki Tokieda, philosopher Tetsuro Watsuji, and historian Shigeki Toyama. One study involved a sociological analysis of the child development through dowa fairy tales. Another revolved around a film jointly produced by the Soviet Union and Japan in the 1930s. As seen, the themes are diverse indeed.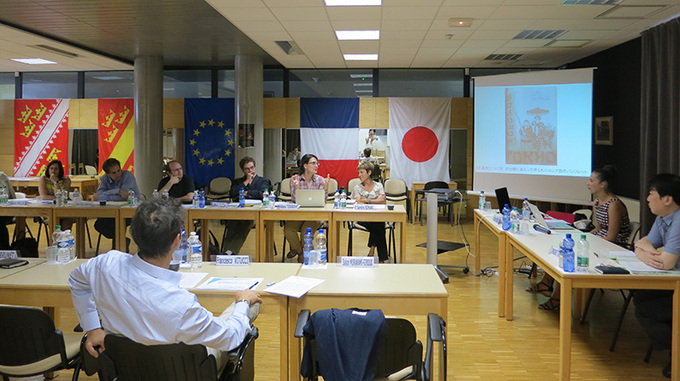 The following ten reports were presented in the two-day seminar, all spoken in Japanese: "Women in Anna Karenina and A Certain Woman," "The Dowa of Taisho/Prewar Period: The Invention of the Child," "Caricaturists Between Conviction and Opportunism (1931-1945)," "A Man Called Skeleton--Rediscovering Miyatake Gaikotsu," "The Showa Debate on the 'Literature of Action' and the Birth of the French Concept of the Intellectual," "The Problem of 'Intentionality' in Tokeida Motoki's Theory of Language," "Rethinking Watsuji Tetsuro's Early Conception of Japanese History," "Marxism and Irony--Toyama Shigeki's Writing of Showa History," "The First Soviet-Japanese Joint Production Movie Big Tokyo (1932) and Its Sound," and "Prewar Showa Short Documentary: A Multimedia Didactic Module Proposal"
Once again, all these reports were presented in fluent Japanese. To think of it, the seminar was a curious experience. After it finished, the presenters and I had dinner at a restaurant near the CEEJA. Local diners within earshot of our table looked at us with puzzled expressions. They had plenty of reasons to. The French and other European natives in our party were all speaking in some bizarre, unidentifiable language. Had locals understood what we were saying, they would have been completely mystified. We were talking about how great it would be to sing karaoke--one presenter even flipped out his smartphone and started singing Shinji Tanimura's "Subaru"--and how Sachiko Kobayashi is the only singer fit to succeed Hibari Misora as a cultural icon.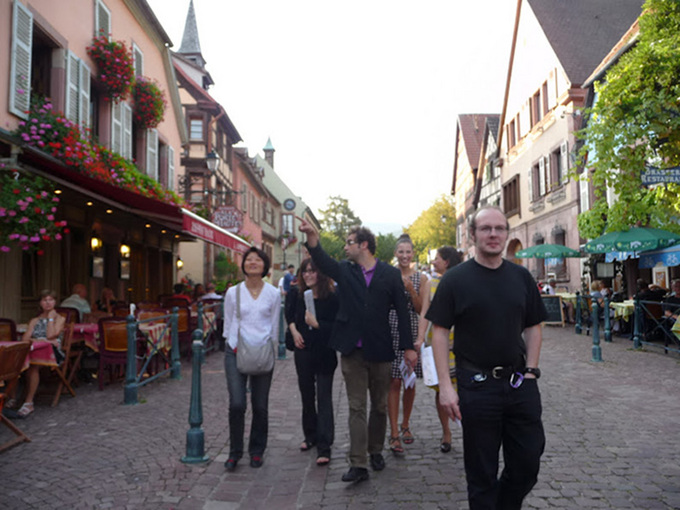 I asked the researchers one question any Japanese would want to ask: why study the Japanese language and not Chinese? China is a great, and still growing, country. It would seem a far better target of research. The answer was, "I don't deny the attraction of China. But I'm more interested in Japan."
The response was reassuring. Japan was the first nation outside the West to embark on modernization. Along the way, our people had gradually integrated into Japanese culture various universal values rooted in the West, like the rule of law, basic human rights, and democracy. Aren't these experiences of modern Japanese history perfectly worth exporting? Economic growth in the 21st century has progressed hand in hand with political turmoil. The history of Japan's modernization should offer a wealth of hints for stabilizing the non-Western world.
Being so free of the preconceptions we Japanese have toward our own history of modernization, the research themes of European youths brimmed with intellectual inspiration. I couldn't help thinking that Japan should concentrate more deeply on exporting its experiences, and on encouraging the world to import them.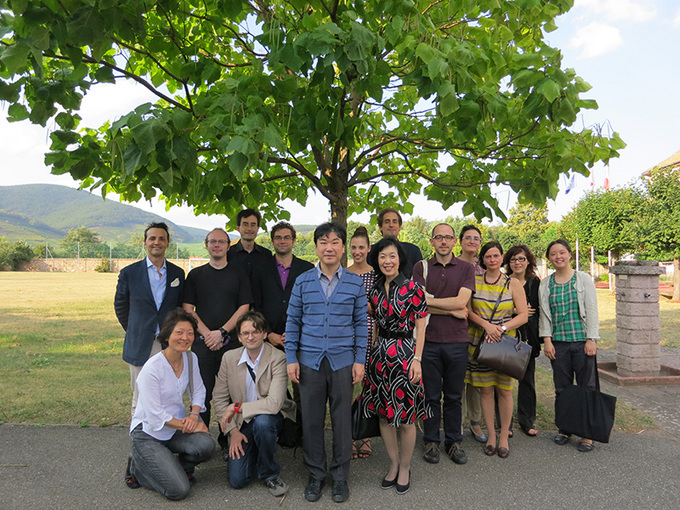 Group photo with the participants of the two-day intensive seminar amid the lush nature of Alsace (the writer in center)
In closing, I owe much thanks to the seminar's organizers and participants. The truth is, I lost my luggage in transit from Paris to Strasbourg. I only retrieved it a month after I returned to Japan. I'd be lying if I said the loss caused no inconvenience whatsoever. But receiving the kindness and hospitality from the organizers and the participants, I enjoyed every minute of my stay in Europe. I extend my deepest thanks to those who engaged in the seminar. With everyone's support, Alsace has become my second home.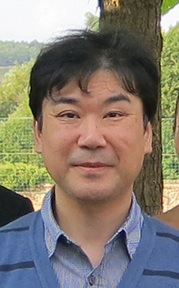 Toshikazu Inoue
Professor at Department of Political Studies, Faculty of Law, Gakushuin University. Earned a Doctor of Law degree at the the Graduate School of Law, Hitotsubashi University with a specialty of political and diplomatic history of modern and contemporary Japan. Major publications include: Kiki no Naka no Kyocho Gaiko (Cooperative Diplomacy during the Crisis; 25th Yoshida Shigeru Prize); Nihon Gaiko-shi Kogi (Lectures on Japan's Diplomatic History); Asia Shugi wo Toinaosu (Rethinking Asianism); Nicchu Senso-ka no Nihon (Japan in the Second Sino-Japanese War); Showa-shi no Gyakusetsu (Paradox of Showa History); Yoshida Shigeru to Showa-shi (Shigeru Yoshida and Showa History); Yamagata Aritomo to Meiji Kokka (Aritomo Yamagata and Meiji Japan); Senzen Showa no Shakai (Society of Showa Pre-war Period); Senzen Showa no Kokka Koso (Political Ideology in Prewar Showa).