Introducing Traditional Japanese Toys and Plays to the Children of Timor-Leste in the Year of Friendship and Peace
Tsuneo Sakai
Hiroko Okamoto
Hanae Abe
(Toy consultants, NPO Japan Good Toy Association)
On May 20, 2012, Timor-Leste celebrated the 10th anniversary of its independence. This year also marks a decade of the establishment of diplomatic relations between Japan and Timor-Leste. The two countries have therefore declared 2012 as the "Year of Friendship and Peace between Japan and Timor-Leste" (to commemorate the peace year marking the 10th anniversary of that diplomatic relations), and held a series of events and programs in honor of the occasion. To kick off the commemorative year, the Japan Foundation organized a 10-day visit program dispatching Japanese toy specialists to Timor-Leste. The program, in cooperation with the Embassy of Japan in Timor-Leste, took place in February and introduced traditional Japanese plays with toys mainly for local children.
The toy consultants of the Japan Good Toy Association, a non-profit organization, visited Laga orphanage in Laga, Baucau District, the AGAPE School for the hearing impaired in Dili, the capital of Timor-Leste, and the Bazartete Junior High School and Kindergarten in Liquica District. Tsuneo Sakai, Hiroko Okamoto, and Hanae Abe showed the children a wide range of traditional Japanese toys such as origami (paper-folding), kendama (a toy similar to cup-and-ball), taketombo (bamboo-propellers), koma (spinning tops), takeuma (stilts), and hagoita (wooden paddles used in a badminton-like game). They invited the kids to play with these toys and also engaged them in a fukuwarai game, in which blindfolded players pin cutouts of eyes, nose, and other features onto a blank face.
The toy consultants also used interactive panels (a panel theater) to feature Japanese songs such as Okina kurino ki no shita de (Under a Big Chestnut Tree) and Fushigina poketto (The Magic Pocket). A panel theater is an educational approach that engages children through storytelling, songs and games, and is staged using a large cloth-covered panel on which picture and letter cutouts are placed. At every institution, the children laughed and thoroughly enjoyed the show, which was performed in Tetum, the language of Timor-Leste. The project offered a valuable opportunity for us to showcase various types of traditional children's plays and develop deeper understanding of Japanese culture in Timor-Leste.


AGAPE School for children with the hearing impaired in the capital city of Dili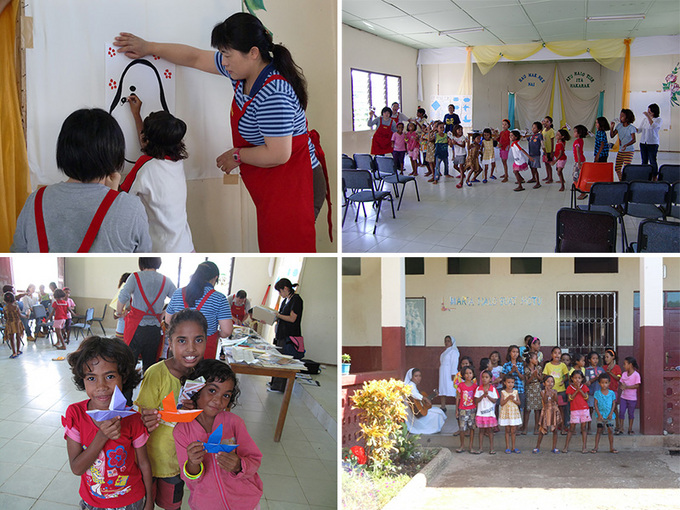 Laga orphanage in Laga, Baukau District
Also, for the toy consultants who normally work with Japanese children, the project in Timor-Leste was a rewarding experience as commented below.
Tsuneo Sakai
The children we met were living under unimaginably difficult conditions, but they had that unquenchable curiosity unique to kids. In fact, the harsh environment had made them all the more eager to meet and talk to people, and I found them to be very sincere.
When I saw the children having fun to play with the toys we introduced, I realized that Japanese plays have universal appeal and can be enjoyed anywhere in the world. In addition to benefiting the children, I hope this project provided an opportunity for the adults around them to become aware of the power of play.
Hiroko Okamoto
The project made me realize the obvious fact that what children of one country find fun or interesting is also enjoyable to children of any other countries. The kids we played with were so full of life and energy, and I was convinced that they would one day change their country for the better.
Hanae Abe
Everywhere we went, fukuwarai was the biggest hit of all the plays. It was a happy surprise; we didn't quite expect it to get such a reaction. The game where a blindfolded player creates the face of a Japanese bonita (pretty woman) apparently offered a sense of thrill and excitement, like being involved in a live performance. Their spontaneous peals of laughter made a lasting impression on me.
The ten days we spent in Timor-Leste was a wonderful experience having brought me numerous discoveries and the opportunity to connect with a new culture. Playing with the children, I was struck by how ingenious they were. Also, they reminded me that children, whatever country they are from, are blessed with abundant creativity to develop new ways of playing, and that there are so many things we can learn from them.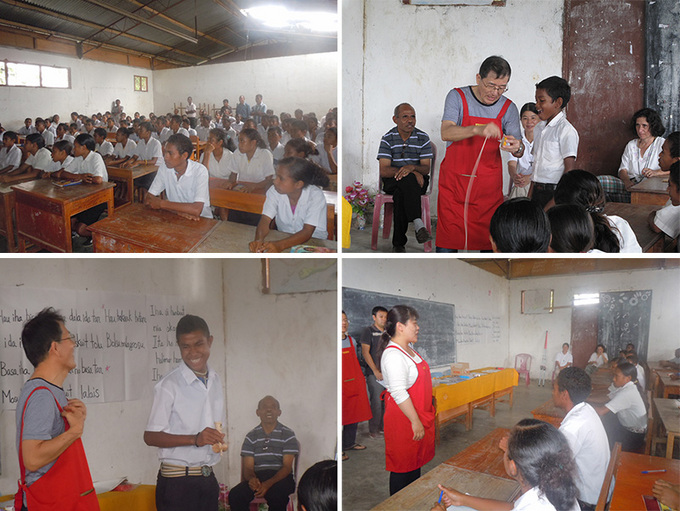 A junior high school in Bazartete, Liquica District
Six months after the program ended, the A.C.I. Sisters, who run the kindergarten in Bazartete, Liquica District, received a delightful gift from the local nuns working in Timor-Leste: a video of the children playing with the traditional Japanese toys introduced through the program. The video, recorded in July 2012, was shared with the toy consultants, too.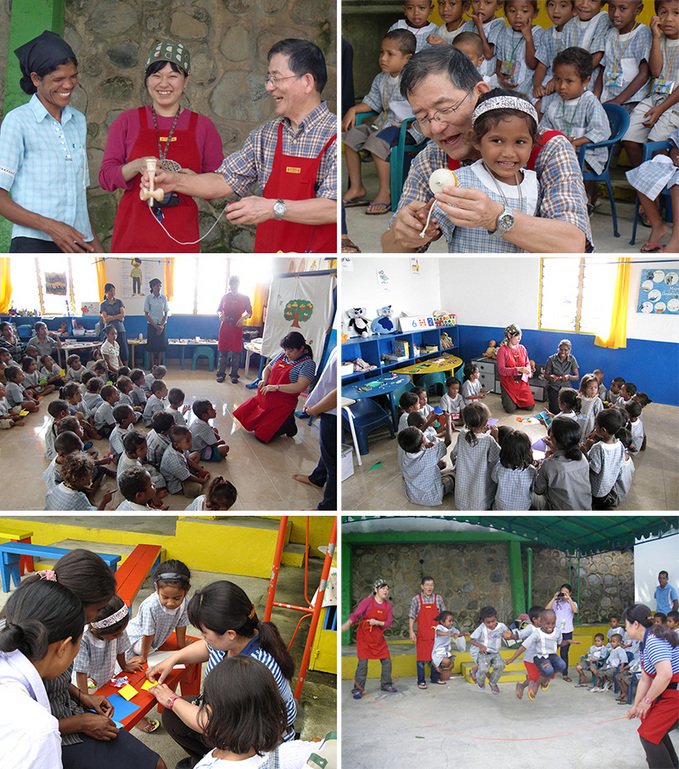 A kindergarten in Bazartete, Liquica District
Hiroko Okamoto
Thank you very much for the video image of the children having fun to play with the traditional Japanese toys. It reminded me of the people who kindly assisted us in Timor-Leste, and made me want to visit them again, to see how they are doing and to thank them. I also wondered whether the children still played the games we taught them.
During our stay in Timor-Leste, we met many people and had numerous memorable experiences. I fondly remember one time when a junior high school student and I made an origami catamaran boat together. When it was done, the student picked up a pen and wrote on the boat: "Timor-Leste and Japan--Friendship boat." Since this is precisely what we had come to communicate, I was deeply moved when seeing the writing. Even without being told, the student understood what this project was about.
The video has also brought back many other memories. I remember how the project reinforced my view that regardless of where they live, all children find excitement and joy in same things. I also recall how those children gave me strength and courage by being so resilient and forward-looking even in the face of adversities.
After I returned to Japan, I had an opportunity to share my experience in Timor-Leste with the students I work with. Then just recently, I was able to show them the video. I think it brought the students closer to the world outside of Japan and helped to broaden their interests. I would like to reiterate my appreciation for the valuable opportunity to take part in the project.
Nation building in Timor-Leste has just begun. Through cultural exchange events and programs, the Japan Foundation continuously looks forward to being part of the process to nurture and foster future leaders of Timor-Leste.