Japanese Culture, Advanced Technology and Energy Policy All Wrapped into One--Introducing Japan's Solar Power Generation in New Zealand, Tonga and Fiji
Takuya Hoshii
Assistant Professor
Research Center for Advanced Science and Technology (RCAST)
The University of Tokyo
As part of the Japan Foundation's cultural exchange program, Professor Yoshitaka Okada of the Research Center for Advanced Science and Technology (RCAST) at the University of Tokyo and I, as a core member of the Okada lab, conducted a series of lectures and workshops on next-generation solar energy technology in Auckland and Wellington (New Zealand), Nuku'alofa (Tonga), and Suva (Fiji), from late July to early August, 2012. Solar energy, I was told, was a rather unusual topic for a project sponsored by the institution.
It was an unprecedented undertaking for our lab team as well. In addition to giving lectures on the latest solar cell research, the project involved in conducting a science workshop "Enjoy making your own solar cells: by hands-on experiment", which we presented for an open campus event at the University of Tokyo Komaba campus in June 2012. Conducting this workshop abroad was going to be a challenge. For one thing, silicon substrates, which are used for IC chips production and the key material for making semiconductors, were not readily available in the countries we would be visiting. For another, we were informed we would not be able to follow the standard practice of cleansing the materials using chemicals at the workshop venues.
For a semiconductor researcher this condition was serious setbacks, and I couldn't have been more anxious as I prepared for the trip. To make matters worse, the silicon substrates that arrived shortly before our departure were not the ones I had intended to order--they had a different structure--meaning we had to manipulate them with chemicals manually, in a great hurry. So there was a lot of running around in the days preceding the departure, but we somehow managed to board the plane as scheduled, leaving the summer heat behind in Japan and heading for the Southern hemisphere.
New Zealand: Abundant sources of renewable energy dilute local interest in solar power
It was winter in New Zealand. It wasn't freezing, but the temperature was chilly enough in the mornings and evenings to send us running to a local store for winter gear. On the drive from the airport to downtown Auckland, what struck me was that the scenery was just as I had expected--flocks of sheep pasturing on the meadows. I was amused to learn that the word "kiwi," the name of the country's national bird, was also used to refer to the people of New Zealand. It appeared that each city had its unique population make-up: for instance, I saw many Japanese, Chinese, and other Asians in Auckland but hardly any in Wellington. According to a local staff member, the British influence is most evident in the southern island of the country.
In New Zealand we gave lectures at three venues; the University of Auckland, the MacDiarmid Institute, and the Embassy of Japan in New Zealand. The lecture at the MacDiarmid Institute was delivered to fourteen universities via video conferencing. We also conducted a workshop at the University of Auckland. The events were attended by a large number of enthusiastic participants, who were eager to pose questions during the Q&A after the lecture.
Renewable energy provides a significant share of electricity in New Zealand. According to the 2010 data, as much as 74% of the country's energy came from hydroelectricity and other renewables. With its main industries being agriculture, dairy farming, and tourism, the country naturally has a strong awareness of protecting the environment. But their interest in solar power is, regrettably, not very high. This can be explained partly by the fact that they have abundant potential sources of other renewables, such as water and geothermal heat, but more importantly, the general consensus seems to be that the weather in New Zealand is simply not favorable for solar energy. In fact, even in Auckland where precipitation levels are considered to be high, the total number of hours of sunlight is nearly 2,000 hours per year, which puts it on par with Japan in terms of sunshine hours. This figure is not at all discouraging.


The first lecture in New Zealand was held at the University of Auckland. To spark curiosity of the audience, Professor Okada prefaced his lecture by introducing the cultural and symbolic meanings of the sun in Japanese society, with examples like the national flag. After discussing the energy policies in New Zealand and Japan, he talked about Japan's research in advanced technologies while showing some samples of solar cells and concentrated solar power devices of various materials and structures. More than 110 people attended the lecture, including the university faculty, students and the general public of all ages. The lecture was followed by a lively Q&A session.


At the University of Auckland, I conducted the hands-on workshop to create original solar cells. Each participant made their own solar cell by designing an electrode on a silicon substrate using a special pen containing conductive paste. Afterwards, we had some fun group activities, including a power output competition. The participants also tried to get a motor running by connecting their solar cells together.
Tonga: The strong sunlight gives us hope for a promising future in solar energy
Following the visits in New Zealand we headed toward Tonga, a Polynesian country where local people are generally tall and well-built. On the flight to the island nation, a graduate student belonging to the Okada lab, who accompanied us as an assistant, sat squeezed between two large people in a three-row seat. He looked decidedly uncomfortable. I found Tongans to be warm and friendly, and so easy-going some of the service personnel gave me the impression that customer service was not their priority. English is widely spoken but they have a distinctive accent. For example, I struck up a conversation with a man sitting next to me on the plane, and it took me a while to understand he was actually saying "first time," which to me sounded more like "face time." But a day or two after I told this story, our taxi driver said the same thing, in the same accent, which made our group laugh.
Tonga has a weak industrial base, and most of the social infrastructure such as hospitals has been financed by foreign aid, including Japanese ODA. Tilted utility poles could be seen here and there, suggesting the electricity supply was likely unstable. The country is heavily dependent on diesel generators for its power supply--over 90%--and this translates into high fuel import costs. The enormous fuel bills have affected Tonga's trade deficit, which is covered, again, by foreign assistance.
The good news is that Tonga is blessed with about 2,500 hours of sunlight per year, and the sunlight is intense. The conditions are ideal to harness solar energy efficiently. In recent years, Tonga has implemented several solar power projects with foreign assistance, including the construction of a 1.5MW-class solar power park and the installation of home solar power systems for communities in remote islands. In future the country needs to develop capabilities to effectively manage and maintain these systems and installations. I sincerely hope that the students of the Tonga Institute of Science and Technology, where we held the lecture and workshop, will one day become instrumental in supporting the country's social systems and infrastructure.


About 70 people attended the lecture at the Tonga Institute of Science and Technology, including some electric company employees as well as faculty and students. The audience was very attentive; their interest was partly inspired by the fact that Tonga's first solar power station, a joint venture with a New Zealand commercial company, had gone online just recently.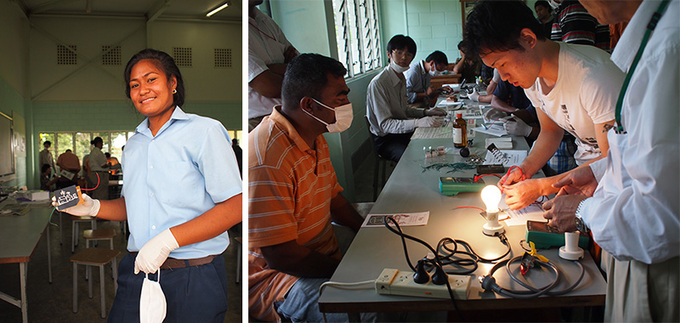 Following the lecture we held a solar cell workshop with the supports of Japan International Cooperation Agency (JICA) senior volunteer Matazo Yamagata and the school faculty members. At the end of the session, the participants engaged in a performance contest in which they measured and compared their cell's electric current and voltage output.
Fiji: Projects are underway to install home solar energy systems
We made a brief last stop in Fiji. It was a whirlwind tour of 45 hours, of which 8 hours were spent on travel. We arrived in the capital, Suva, at night. The bright street lights suggested that the country was more modernized than its neighbor, Tonga. Although people were just as friendly here, what set them apart from Tongans was perhaps their commercial fervor. When I visited the markets during my free time, shopkeepers often called out to me, eager to make a sale. I observed an array of fish, vegetables and fruits. The local staff told me the types of fish found here were similar to those in Okinawa, and that thanks to Chinese immigrants an increasingly wide variety of vegetables are now available in the markets.
Until recently, approximately 80% of power in Fiji came from hydroelectricity. The development of mining has brought this figure down to 60%; thermal power accounts for almost the rest. Composed of fairly large islands, with plenty of mountains and rivers to generate hydroelectricity, the country's reliance on thermal power is not very high at present. Modernization and economic development are certain to increase energy consumption, and we can assume that Fiji's electricity costs are already on the rise. Meanwhile, a sizable number of households on remote islands still lack access to electricity. To improve the situation, projects are underway to install home solar power systems in these communities. Considering the fact that Fiji can expect 2,500 hours of sunlight annually, these power generators will no doubt serve as effective sources of electricity.
As tourism is a significant and vital industry here, preservation of nature comes to their top priority. Many students from nearby high schools attended our lecture and workshop at the University of the South Pacific, underlining Fijian's strong interest in environmental issues.


The lecture in Fiji, held at the University of the South Pacific, was moderated by Professor Raturi, a researcher of organic solar cells, and attended by about 80 participants including students and teachers from seven high schools, university students, and business people. After the lecture, students came up to me with dozens of questions.


At the solar cell workshop, some students seemed more focused on drawing than on making efficient solar cells; a female student enjoyed making a Ninja design on her cell. The Fiji Times, a local newspaper, carried an article about the workshop.
The future of solar power generation: Converting solar energy into electricity
Having completed the two-week tour, we returned to Japan where the mid-summer sun was burning hot. As I look back, things went smoothly, overall. All three destinations were English-speaking countries and we hardly experienced any communication problems. Perhaps it helped to make us feel to be at home that we saw so many used Japanese cars on the streets in the countries we visited.
Put simply, solar power generation is the conversion of solar radiation into electricity. The initial investment on solar panels and other equipment is almost the only cost involved in the solar energy system; the running cost is low as there is no need for fuel. It is useful especially for resource poor countries or those that have a strong awareness of environmental issues. Solar powered generators can also be used as stand-alone energy sources in areas not sufficiently served by the power grid, although batteries are essential. The technology is most efficient in areas that have a high number of sunshine hours. Each of the three countries we toured had respective energy needs, policies and practices. It was intriguing for me to learn how these different backgrounds influenced their views on and approaches to solar energy.
As engineers, we are non-specialists on subjects like philosophy or faith. Still, in the hope of inspiring a better understanding of what the sun has meant to the Japanese historically, we opened each lecture with a discussion about the role and influence of the sun in our society, such as the spiritual significance attached to goraiko (sunrise), the myth of the sun-God Amaterasu, the fact that the country's name and the design of the national flag are derived from the sun, and so forth. Like in any agricultural society, the Japanese have traditionally valued and treasured the blessings of the sun. This, I believe, is an aspect of our culture that is easily appreciated by people of other countries. Nothing would be more gratifying if our lecture and workshop provided some small impetus to turn people's attention to the environment and to arouse interest in Japanese culture from a new, previously unexplored perspective.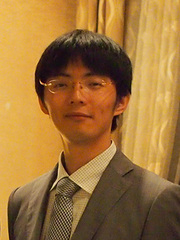 Takuya Hoshii
Born in Fukuoka in 1984, Hoshii earned his Ph.D from the Department of Electrical Engineering and Information Systems of the Graduate School of Engineering, the University of Tokyo. After working as a research fellow at the Japan Society for the Promotion of Science, he assumed his current post in 2011. As researcher at the laboratory headed by Professor Yoshitaka Okada, Hoshii has been involved in projects to create 3D quantum dot nanostructure and superlattice using the self-assembly growth method and the development of quantum dot solar cells as part of the research to develop innovative photovoltaic technologies on high-efficiency solar cells and materials.