A Community inside a Gallery, Featuring Mobile Sculptures Created with the Children of Birmingham
Takashi Tsuchiya and Chishino Kurumada
KOSUGE1-16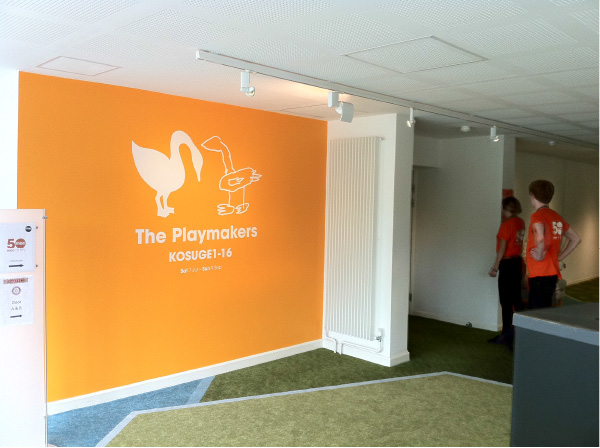 Artist duo KOSUGE1-16 held an art exhibition entitled The Playmakers (Jul 7-Sep 9), at mac birmingham, an arts center located in Birmingham, the United Kingdom to celebrate the center's 50 year anniversary. The curators commissioned us to create new work that would bring together people of diverse cultures and generations while following mac's core vision to engage and inspire children through art. As part of the project, we were in a month-long residency at mac to work on the installation and conduct workshops for local children.
Interactive art productions and workshops require a fair amount of communication with staff and audience. Although we had plenty of experience in conducting such activities at home, The Playmakers was our first production outside Japan, and the English language posed a challenge for us in a number of aspects.
We tried to work on this project through careful and extensive discussions well in advance with mac's technical staff for all the arrangements, using sample models and prototypes, drawings and video images. Anticipating language difficulties on the scene, we tried to think ahead and be specific when communicating our needs from Japan. This approach proved to be very effective and allowed us to set to work smoothly once we arrived in the U.K. Planning ahead also gave us more time to reflect on this project and helped create more vivid images of the installation in our minds. This experience reminded us that we should always be equally careful and thorough in preparing for any art project, whether or not there are potential language problems involved.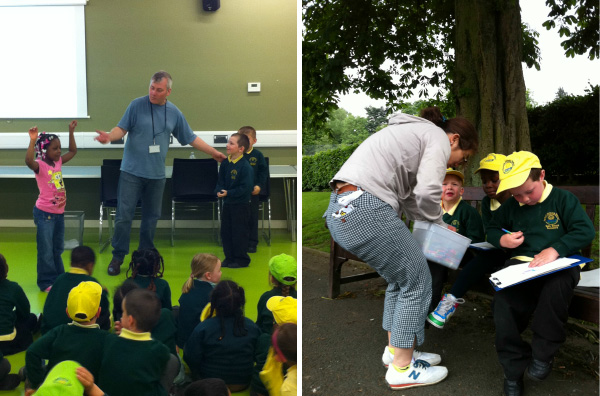 In the final phase of planning, our friend and artist Miho Shimizu of the art group Danger Museum joined us to assist the project. She came to Birmingham to stay with and support us in everything from work to daily life, as well as being the interpreter. It is not too much to say there would not have been an exhibition if we hadn't had Miho's support.
For the one month residency in Birmingham, we took our five-year old son and eighteen-month daughter with us. The mac staff was very kind to our children. Fortunately, the kids had playmates, too-- the two curators on the project, Debbie Kermode and Kaye Winwood, both had young children around the same age so they often got to play together. We also found a wonderful babysitter.
There was plenty of amusement for our children. The view from a double-decker bus with which we commuted from the arts center to our rented apartment was a lot of fun in itself. And as we took our daily walk through Cannon Hill Park, which houses the arts center, the children enjoyed feeding leftover pieces of bread from breakfast to ducks and squirrels that gathered around the pond. Once, our son was so engrossed in throwing the bread crumbs he lost his step and fell into the water. Undeterred, he continued to look forward to going to the park everyday.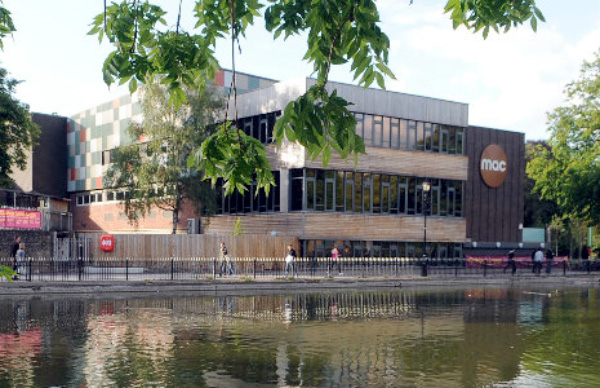 mac birmingham presents a broad range of art works, performances and workshops across all genres, including music, theater, dance, sculpture, paintings, crafts, installations and more. Its founder and the inaugural director, John English, envisioned providing all children in Birmingham an open access to art and aimed to build a community through activities of the arts center. Furthermore, in line with his principles emphasizing community involvement, it was designed and constructed by local students and volunteers.
On the opening day of The Playmakers, we met a woman who told us that she had participated in the construction work for mac's outdoor theater when she was seventeen. Remembering the two-week volunteer experience during which time she had camped out in the park, she said, "John English was busy in his office and hardly came outside, but I just had so much fun. I even fell in love with an ice-scream vendor in the park." Another time, a woman who attends a drawing course at mac came to observe our work at Weston Studio, which was our main workroom. Looking at the half-completed John English puppet, she said she remembered him to be generous with children.
The arts center, which just marked its 50 year anniversary, has had a series of refurbishments throughout and become how it appears today. It is a bustling community hub where boys and girls that used to visit in the early days of its establishment still go as adults, seeking new encounters. As someone who takes an interest in connecting art to everyday life, we found the arts center truly inspiring. So this history and ethos of the arts center led us to the idea of building a community within the gallery space, picturing in our mind an installation plan that allow people of all generations to spend time in whatever ways they would enjoy.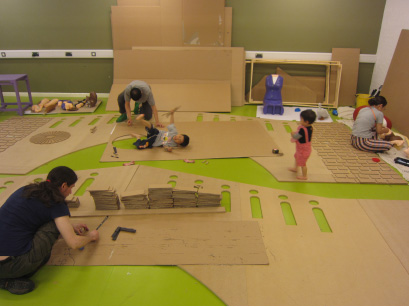 We worked on the installation in Weston Studio in mac. There were so many things to do and we struggled in finding a balance between art, housework and taking care of the kids. Fortunately, we found a Japanese babysitter looking after our children half a week from 10:00 am to 2:30 pm. She was also a musician performing fantastic music in a band. In fact, we liked their music so much, and decided to use it in the documentary video for this exhibition.
Finding a balance between work and child-rearing is never easy, but children sometimes bring a valuable dimension to our work. Even young kids have a world of their own, which often inspire us as parents. One such moment came when our son's drawing of a swan caught an attention from mac's designer. He suggested us to use the drawing on the exhibition banner and staff T-shirts, and we actually did. If we are open to incorporating random encounters or unexpected events into the exhibition's components, it can result in discoveries and greater opportunities for involvement.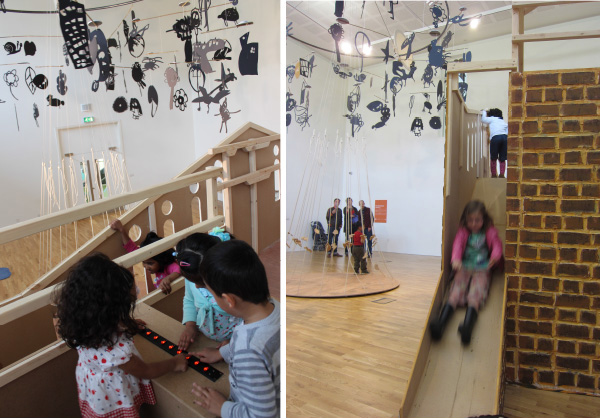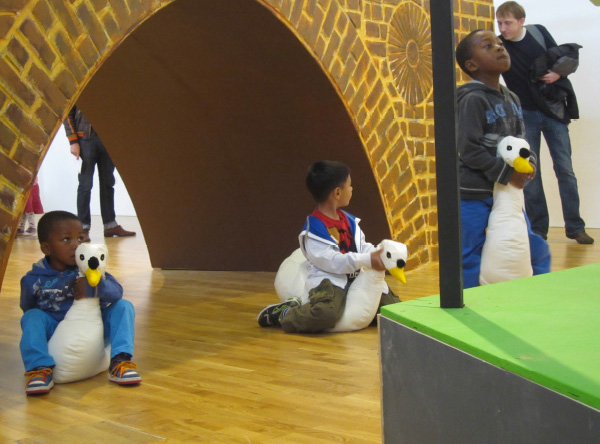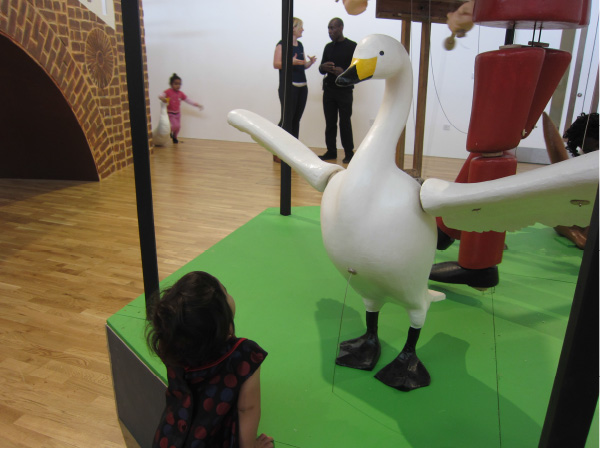 We were aiming for the similar effect with our workshop. We had seventy-five children for this event, all around the age of five. First, the children explored Cannon Hill Park and collected objects of every shape. Then they created drawings by using the objects with the frottage technique (an art technique to obtain an impression of a rough or textured object by placing a piece of paper over the object and rubbing the paper with a pencil). The workshop facilitator, Brian, also did a great job of organizing a skit and some physical activities to help the children better understand what this project was about.
Although the participants came from economically disadvantaged communities, their background was not that important for this project. The point was that they came to the place called an 'arts center' for the first time and produced a work of art together. Of more than 200 drawings they made, we selected some 160 designs to create two enormous mobiles as part of the installation. These were suspended from the ceiling.
The installation also featured a bridge, from on top of which children could overlook the entire room and control the movements of both the mobiles and the lights by using the switches. The mobiles provided dynamic movement into the gallery space, and the projected shadows would flash by like images in a revolving lantern. We added slides and a dark tunnel to the bridge structure to spark children's adventurous spirit.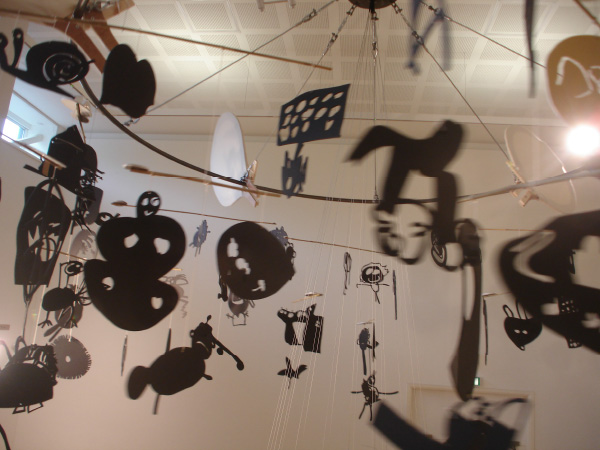 About twenty ropes radiate from the center of each mobile, extending to the floor, and about half of those ropes are connected to the puppets. Visitors can operate the puppets by tugging at the ropes. The central figures among the puppets are those of John English and his partner Mollie Randle; John stands on a bandstand with a paint brush in hand, surrounded by park animals, while Mollie sits in the back, watching her husband with a cup of tea.
After the exhibition's opening, on July 10, we had the opportunity to take part in an artist talk at the Japan Foundation, London. Entitled "Game on!," the event was moderated by Keith Whittle, specialist on Japanese art, and featured as panelists Joceline Howe, Education Curator of Serpentine Gallery and artist, Debbie Kermode, one of the curators of The Playmakers and Deputy Director of Ikon Gallery, and Takashi Tsuchiya from KOSUGE 1-16.
Debbie started the talk with an introduction of the project at mac. Then Tsuchiya spoke about our life in the town of Kosuge, from which our artist name derives, and traced our work from the early years to the present. Afterwards, Joceline joined us in the panel discussion, in which the audience also participated.
In the discussion, some important issues were raised, such as the relationship between communities and art, approaches to collaborative art projects with volunteers and workshop participants, and copyright issues related to these collaborative works. What stood out in the discussion for us was when it came to how the U.K. wide economic disparity between communities was affecting the outcome of workshops and art works. This perspective that art works can be influenced by income gaps within a nation was something we had never been aware of in Japan.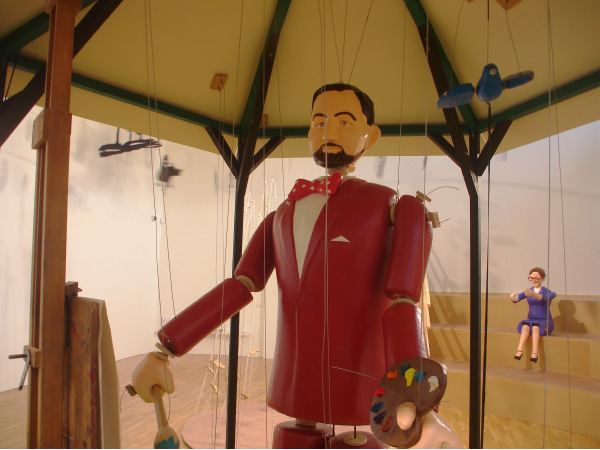 Our artist name KOSUGE1-16 was derived from our home address in Tokyo and represents the essence of our art practice. We just happened to pick this area for our home and found that the residents here kept up warm "mochitsu motaretsu [give and take]" relationships within the community. This community spirit has influenced our practice in many ways, and we wanted to export this idea through our work. When the mac curators approached us with this commission, they first asked us to produce a work representing a "mochitsu motaretsu" relationship. They explained that this concept was all the more significant in Birmingham today precisely because it has become a multi-ethnic, multi-racial city.
The mac birmingham center provided a perfect venue to express "mochitsu motaretsu." Yet even with an arts center open to everyone, it somehow left us an impression that art still belonged to people of certain segments of society. One month was too short to fully explore this theme; with more time we could have accomplished much more, and we regret not being able to do that. We would like to find an opportunity to practice art abroad again and pursue this subject further in a longer time span.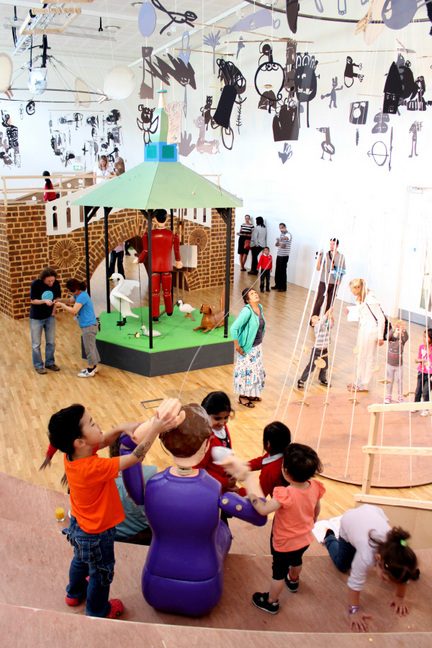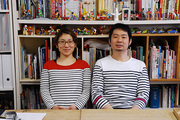 KOSUGE1-16
The artist duo of Takashi Tsuchiya and Chishino Kurumada started their art practice in 2001. Some of their main solo exhibitions include Test Track "Mukojima" (2009), GUESS SPORT? The laboratory of sport (2004), and Barrier-Free for a bypath for a bicycle (2002). Their first solo exhibition in the U.K., >The Playmakers, was held at mac birmingham, an arts center in the city of Birmingham.

KOSUGE1-16 Official HP http://www.kosuge1-16.com/
Takashi Tsuchiya
Born in 1977 in Saitama. Graduated from Oil Painting Course, Department of Painting, Faculty of Art and Design, Tama Art University in 2001.
Twitter: http://twitter.com/kosuge116/

Chishino Kurumada
Born in 1977 in Fukushima.
Twitter: http://twitter.com/guruguru_pah