Taking Tsugaru Shamisen and Shakuhachi to the Arab and Persian Countries
Chikudo Takahashi, Tsugaru shamisen player
Takahisa Kawasaki, Shakuhachi player
The Japan Foundation organized a hogaku (traditional Japanese music) tour in Tunisia, Egypt, and Iran, to feature the hogaku performers including Tsugaru shamisen player Chikudo Takahashi and shakuhachi player Takahisa Kawasaki.
While the three nations are all Islamic countries, they are in fact very different in terms of their landscape, culture, townscape, and people. Returning to Japan, Chikudo Takahashi and Takahisa Kawasaki talked about their tour, their performances and experiences in each country.
---
Excitement of exploring a world of uncertainty and the unknown
KAWASAKI: Tunisia is about 10,000 km away from Japan and it took us roughly 21 hours to get there. The country sits on the southern coast of the Mediterranean Sea and is known for its white European-style buildings with blue doors, and the impression you get isn't of sandy deserts. It felt more like a sea resort.
TAKAHASHI: For our first day in Tunisia, we visited the Institut Superieur de la Musique and held a workshop for the students. Since it was a music school, the students showed strong interests in what we did. They'd find differences or similarities between our instruments and theirs, and asked us many questions as they touched the instruments. Time went by so quickly that we had to set a time limit to end the session.
KAWASAKI: Besides showing interests in the shamisen, they were also very curious about the shakuhachi that is similar to a traditional instrument of the local called the nai (a wind instrument made of reed).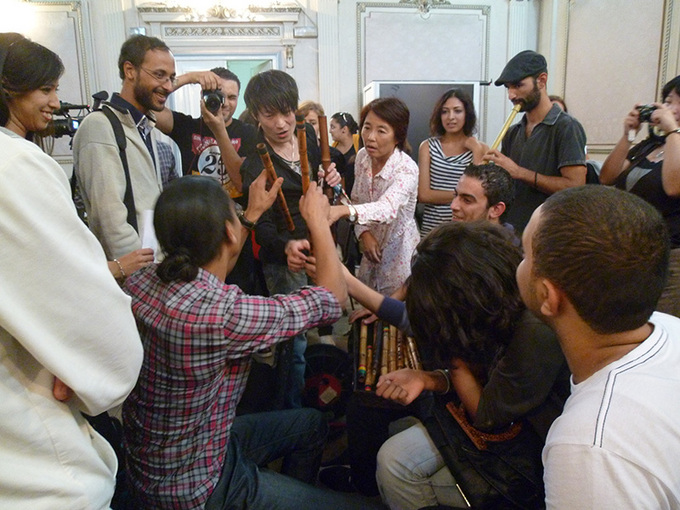 Workshop at the Institut Superieur de la Musique
TAKAHASHI: Our performance at the Teatro National was the first of its kind. It was designed to offer a casual opportunity for young people and general public to get in touch with traditional Japanese music. Before leaving Japan, we'd heard that audiences in Islamic countries wouldn't be hesitant about getting up and leaving in the middle of performances if they became bored. So, we were plunging into a world of uncertainty and the unknown, with anticipation and a little trepidation. But with interpreters on hand, the performance turned out to be a resounding success, with the audience laughing and applauding, and even cheering for an encore. The students who participated in the workshop also came to see our performance, and that made us really happy, too.


Performance at the Teatro National
KAWASAKI: The highlight of our tour in Tunisia was playing at the Carthage Music Festival, an international event held every October. The venue was the Carthage Acropolium, a former cathedral in the site of Carthage, where we had a full house and an enthusiastic crowd. After the performance, we had Japanese-language school students and local people coming to talk to us.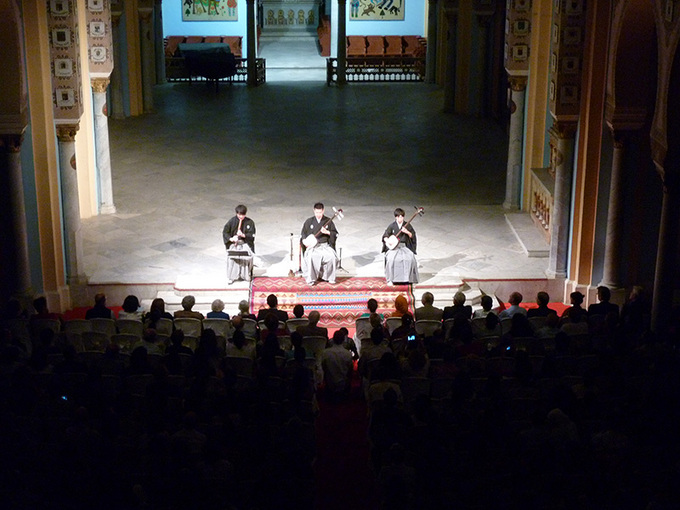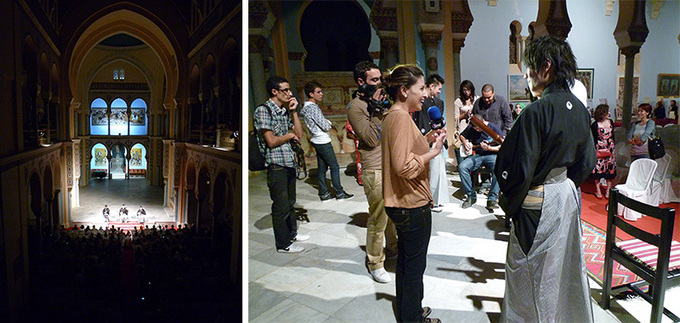 Performance at the Carthage Music Festival at Carthage Acropolium, a former cathedral
TAKAHASHI: Because it used to be a cathedral it didn't have any acoustic facilities, and so we didn't use any microphones. I think this actually managed to highlight the delicate timbres unique to the shamisen and shakuhachi as well as other Japanese instruments. Since it was an international music festival, the audience included many music people, artists, diplomats, and other people accustomed to various art forms, which brought a lively Q&A session afterwards. It was also a memorable experience since their comments touched on philosophy and spirituality: some people said that they felt a sense of spirituality from our music or that they could see the dialog between humans and nature, and others asked us what we were thinking of when playing. Television broadcasters also came to the music festival to interview us.
Speaking of television broadcasters, in Tunisia, we received a sudden request to appear on a live broadcast of the national television. So, we changed into traditional Japanese outfits early in the morning and went to the TV station. Before we noticed, the show had already started and we were on air. There were no cues, and it turned out to be quite different from what we'd discussed beforehand. This was very different from being on television in Japan, and it seemed to illustrate the Tunisian knack for being spontaneous without getting stuck in formalities.
Arriving in Cairo just before the Eid al-Adha (Feast of Sacrifice)
KAWASAKI: After our performance in Tunisia, we traveled to Egypt, and as we stepped out of Cairo airport, we found ourselves enveloped in swirling clouds of dust. It felt like we had finally come to a desert country. The city of Cairo was full of life, with bustling crowds, and the complex townscape was a mixture of new and old, completely different from that of Tunisia.
TAKAHASHI: Since it was just before the Islamic festival of Eid al-Adha (Feast of Sacrifice), we saw herds of sheep kept all over the city, wherever there was space, and we could find meat hung on the windows of butcher shops for the festival feast.
KAWASAKI: On our first day in Egypt, we held a workshop at the Arab Music Institute, Academy of Arts. After giving a shamisen and shakuhachi performance and a short talk about the instruments, the local students and professors gave us a performance with their traditional instruments.
TAKAHASHI: The professors at the Institute are also professional musicians, and we were delighted to hear them play. We were also very impressed with the profound history of Arabic instruments such as the oud, riq, kanun, and ney, and how musicians were dedicated to preserving the ancient melodies that date back to the birth of these instruments.


Workshop at the Arab Music Institute, Academy of Arts in Egypt
KAWASAKI: In Egypt, we performed at the Sawy Culturewheel, a popular venue among young people and locals, and at the Cairo Opera House which was built with Japanese support a quarter-century ago.
TAKAHASHI: The Sawy Culturewheel is a venue situated on a towhead in the River Nile. You could see the Nile River cruise boats passing to and fro, and it had a relaxed atmosphere like a club. The other venue, the Cairo Opera House, was, as its name suggests, a prestigious place that hosts opera and ballet performances. At any rate, performing with Saber, the Egyptian kanun (a traditional plucked string instrument used for Arabic music) player, was a wonderful experience. We hadn't had any previous arrangements for the performance, but he is a musician who's been playing all over the world, so we were able to enjoy an improvised session with him.


(Left) Performance at the Sawy Culturewheel, (Right) Performance at the Cairo Opera House
KAWASAKI: With Saber, we performed "Zorony" at the Sawy Culturewheel, and "El-rabi3" at the Cairo Opera House. These are both famous pieces in Egypt, so simply playing these first phrases with the shakuhachi elicited cheers and applause from the audience. We also had Saber join us for a Japanese folk song called "Akita Nikata-bushi," and this session also delighted the crowd. In Egypt, everyone really listened to us play, and it was a great pleasure to perform there.
TAKAHASHI: People in Egypt were also very expressive, and the audience clapped and gave us standing ovation midway through pieces, and cheered for encores. After the performances, members of the audience climbed up onto the stage to shake our hands and take pictures. It was a blast.
If you're in Egypt, I guess you have to see the pyramids and the Sphinx. We drove 13 kilometers west from Cairo to Giza, and soon as we approached, the skies got clouded with sand, and the desert appeared right before us. We saw the colossal structures just standing there unprotected from the elements, and they seemed so spontaneous that it was as if we were witnessing the slow but certain flow of time. When I looked towards Cairo, we could see the city buildings blending in with the giant ancient structures so naturally. It was then that someone gave me the surprising piece of advice that I should be careful about cleaning my ears that evening. In Egypt, the sand gets everywhere, into your eyes, nose, and ears, and apparently, if you're not careful when cleaning your ears with cotton buds, the fine grains of sand could damage the inside of your ears. That was the moment I realized what it was really like to live there!
"Come again. We'll be waiting!"
KAWASAKI: The last country we visited on our tour was Iran. It was late at night local time when we got there. There'd been an hour's delay in our departure from Egypt, so we missed our connecting flight, and had to wait about five hours in Dubai for the next one. It turned to be a 13-hour journey, and it was 2:30 a.m. when we landed in Tehran.
TAKAHASHI: On the day we arrived in Tehran, people were in the midst of celebrating the Islamic festival of Eid al-Adha, and the town was quiet. There weren't any people around, and that got us a little worried whether we would have an audience for our performance.
KAWASAKI: Tehran, the capital of Iran, sits at 1,200 meters above sea level, and the rainy season cooled the temperature down a little at that time. Maybe because of this, the town looked a bit different from the other countries. It seemed calm.
TAKAHASHI: In Tehran, it was during a Japan Culture Week, and we played for two days at the Andisheh Center. This Center also had a panel exhibition of beautiful Japanese landscapes and held demonstrations of origami and shodo (traditional Japanese calligraphy) as part of a program to introduce Japan to Iranian children.
KAWASAKI: It seems Iran enjoys a flourishing cultural exchange with Japan, and there were also kendo teachers and students from a dojo in Tehran giving a demonstration.


(Left) Andisheh Center, (Right) Kendo performance by teachers and students of a dojo in Tehran
TAKAHASHI: We had huge audiences for our two-day performance, including many Iranian government officials, cultural figures, general public, and students. Once the performance started, it was so successful that all the worries we'd had at first were dissipated. At the end, we played the Iranian anthem as a surprise, and everyone stood up and cheered. Then, after the performance, the audience got up on stage, and asked us for photos and shook our hands, and we also ended up responding to impromptu interviews by radio and television stations.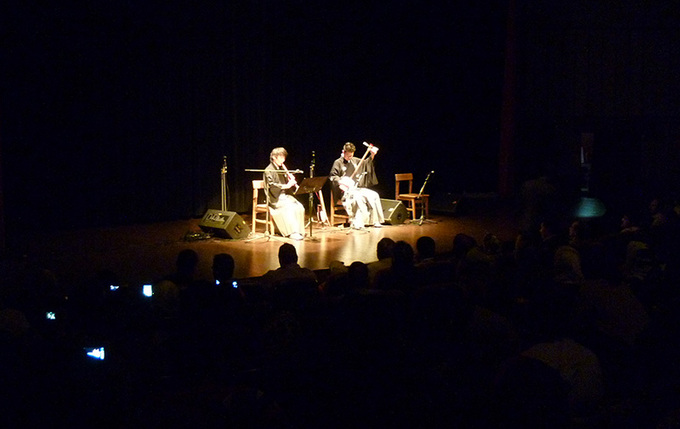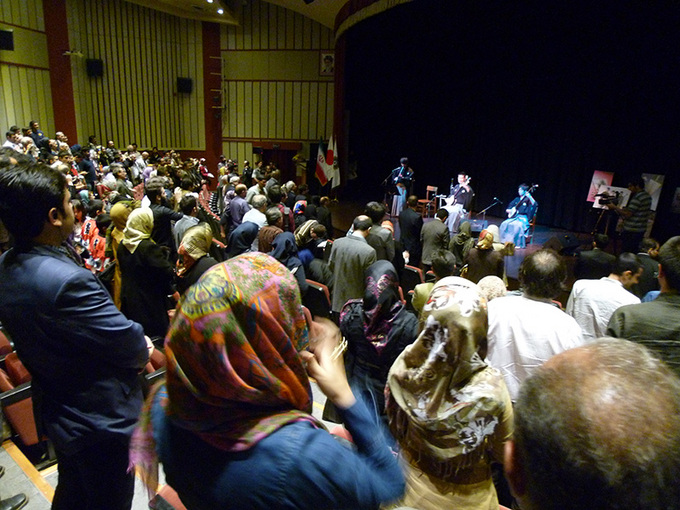 Performance at the Andisheh Center
KAWASAKI: On the last day of our tour in Tehran, we visited the Mahoor Institute of Culture and Art and spent an interesting time there, enjoying a discussion with the professors and musicians of Iranian traditional instruments.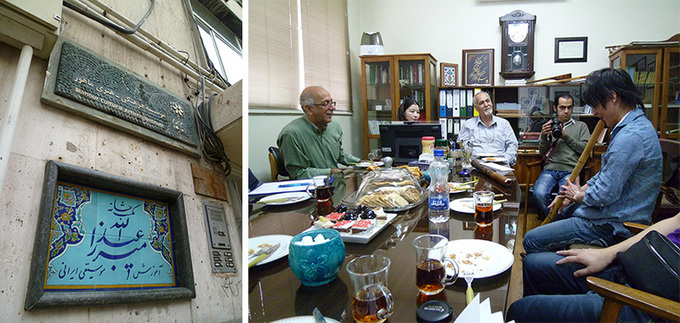 Meeting professors and musicians of Iranian traditional instruments at the Mahoor Institute of Culture and Art
TAKAHASHI: The three countries we visited on this tour were all Islamic countries and they all had similar writing, food, and instruments, but Tunisians and Egyptians belong to the Arab world, while Iranians are Persian. It was a fantastic opportunity to closely observe how the Arab and Persian people have completely different cultures and customs.
The female interpreter smiled and explained to us in the fluent Japanese she'd acquired while studying in Japan, "If you think of China, Korea, and Japan, they're all Asian countries, but they're completely different aren't they?" Last of all, she shook my hand, saying in Japanese, "Come again. We'll be waiting!" and those words made me happiest of all.
KAWASAKI: This tour in the three Middle East countries made me feel that, though there may be various differences in customs and ways of thinking because of different climates, cultures, and religion, the heart and soul we invest in music is something we can share regardless of what race we are, or what nation or tribe we belong to. In the wake of the Great East Japan Earthquake, many people around the world gave us tremendous support and many words of comfort. I think one of the best things of this tour was that we were able to convey our deepest gratitude for their support. In future, I hope to continue doing and communicating what I can, not only to people in Japan but also around the world, too.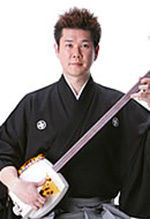 Chikudo Takahashi
Tsugaru shamisen player
Chikudo Takahashi started to play Tsugaru Shamisen at the age of 9 under the influence of his father, and at the age of 19, he began studying under the master, Chikuzan Takahashi as his last apprentice. Takahashi started his career as a solo at the age of 24. While inheriting a rich musicality from his master, he has also established a strong reputation for the deep lyricism in his performances. In addition, Takahashi has broadened his musical horizon through learning other musical instruments, such as Kokyū and Sanshin, and has created an original style with his lively and sophisticated stage performances. Takahashi has participated in numerous overseas performances. http://chikudo.com/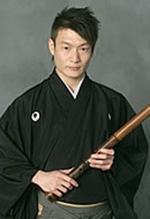 Takahisa Kawasaki
Shakuhachi player
Takahisa Kawasaki studied Kinko-ryū Shakuhachi under his father, Ginhō Kawasaki. He also became an apprentice of the master, Shūgetsu Kakehi, who taught him the Kinko-ryū and the Myōan-ryū Shakuhachi. He also apprenticed under Kifū Mitsuhashi learning various musical styles ranging from traditional to contemporary Shakuhachi music. Kawasaki has received many honorable awards throughout his career, and has actively participated in overseas music festivals in Korea, Taiwan, France, Russia, and other places. http://t-kawasaki.net/index.html