A Beautiful World That Can Be Enjoyed by Anyone, Anywhere on Earth--Introducing Ikebana in Zimbabwe, Ethiopia, and Kenya
Misei Ishikawa
Instructor, Sogetsu Head Office
The Japan Foundation organized a tour of Ikebana lecture demonstration and workshop in Zimbabwe, Ethiopia and Kenya, given by Misei Ishikawa, an instructor of the Sogetsu School of Ikebana.
Using the unrivalled supply of materials available in Africa, one of the world's largest flower-producing regions, Ishikawa introduced the attractions of Ikebana, the Japanese art of flower arrangement that reflects Japanese aesthetics. She gave us an account of her experience, along with photos of the works created.
---
When introducing the traditional Japanese art of Ikebana in three African countries, I intended to convey the history of Ikebana in the context of Japan's culture, and its significance in social activities, in a way that would be easy to understand for the local people having different cultural backgrounds and lifestyles.
As well, I sought to show the possibilities of Ikebana, taking into account the local circumstances in each country, and to express harmony with each culture through Ikebana. At this event, I wanted the local people to get an idea of the pleasure, richness, and beauty of Ikebana.
Zimbabwean Prime Minister's wife among participants
The first country we visited was Zimbabwe, and about 300 people attended the first day's lecture demonstration where 10 works of Ikebana were displayed.
Believing that we should make it a top priority to take advantage of locally sourced flowers as much as possible, I used yellow hypericum and roses grown on a Zimbabwe farm to show a basic form of Sogetsu arrangements, kihon risshin-kei moribana (piled flowers, basic upright style). I explained the basic principles of Ikebana: the length and angle of the three main branches, called shin, soe, and hikae, and their relation to the jushi, additional branches, as well as the importance of space. (Arrangement 1)
A distinctive feature of Sogetsu Ikebana is that it can be done anytime, anywhere, by anyone, using any materials. It thus aims to be a type of flower arrangement that any person, no matter where they are in the world, can practice. In order to give people a real sense of what that means, I displayed nine or ten works during the lecture demonstration that would convince the local participants of the potential for Ikebana in Africa.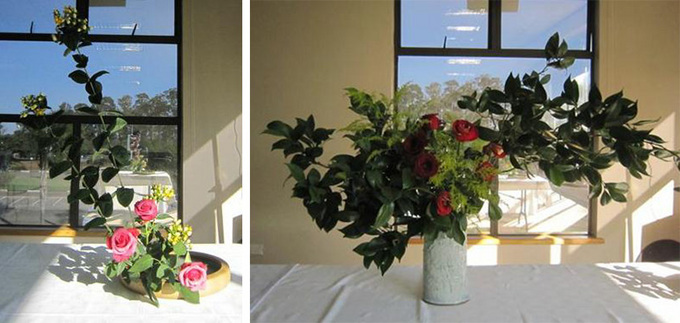 (Left) Arrangement 1: First, I explained the basics of Ikebana, using flowers grown on a farm in Zimbabwe (yellow hypericum and roses).
(Right) Arrangement 2: Camellia, solidago (goldenrod), a red rose specie named "Samurai," and a pink rose named "Friendship" were used to convey a message of friendship between Zimbabwe and Japan.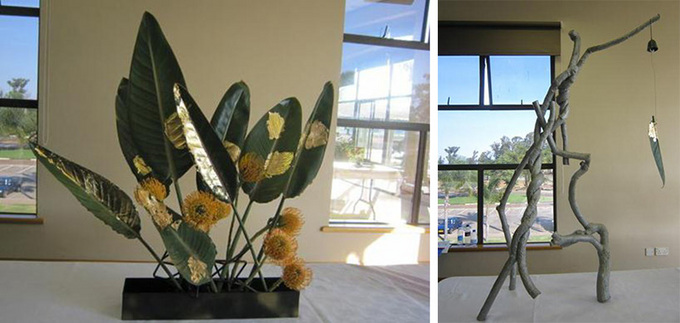 (Left) Arrangement 4: This piece is made with strelitzia and pincushion, both big favorites in Zimbabwe, and incorporates the sparkle of gold leaf. As I demonstrated how to apply the material to the leaves, I explained that people in Japan like to use gold leaf for special occasions or events.
(Right) Arrangement 5: A silver-painted vine, a strelitzia leaf, and a wind-bell made of Nambu ironware are combined to show that Ikebana can be created even without a container. The sound of the wind-bell gives a vivid impression of summer, one of Japan's four seasons. Its chime forms part of the work, and when it echoes throughout the hall, it produces exactly the feeling and sound created by the season and space, and lets the audience experience the "heart of Japan."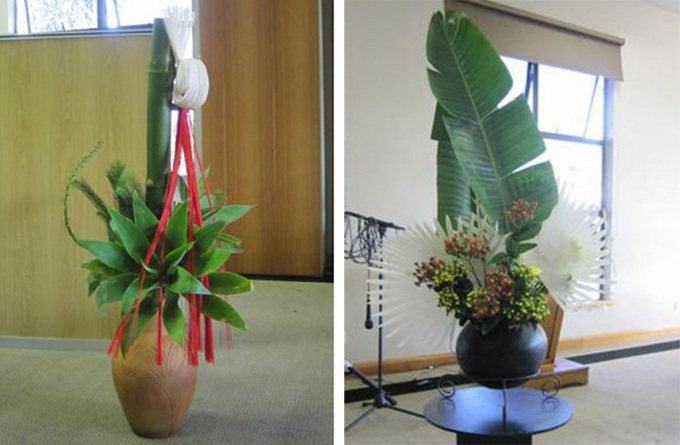 (Left) Arrangement 7: Mizuhiki paper cords, pine, and bamboo are combined with the African flower agave in this uniquely Zimbabwean take on a traditional Japanese New Year's arrangement.
(Right) Arrangement 8: Leaves of Japanese banana and Chinese fan palm, and red and yellow hypericum are arranged in a black vase made by the Shona tribe. The work echoes the colors of Zimbabwe's flag: black for the people, red for the bloodshed in the struggle for independence, yellow for the mineral resources and wealth, green for agriculture and prosperity, and white for peace and the future.
Zimbabwe has a lot of jacaranda, and I'd been told that it is a spectacular sight when the purple flowers are in full-bloom. We were able to see some of the flowers during our visit at the end of October. Zimbabweans are said to have a close affection for this plant that is rooted in the earth and boasts a flowering tree. I created the final arrangement of the day (Arrangement 10) using the color and texture of Japanese washi paper to express the purple of jacaranda flowers, in honor of the love that Zimbabweans have for their country's plants.
In particular, everyone raved about the piece that wove together all of the colors used in the national flag (Arrangement 8), and the last big display (Arrangement 10) on which I'd worked especially hard.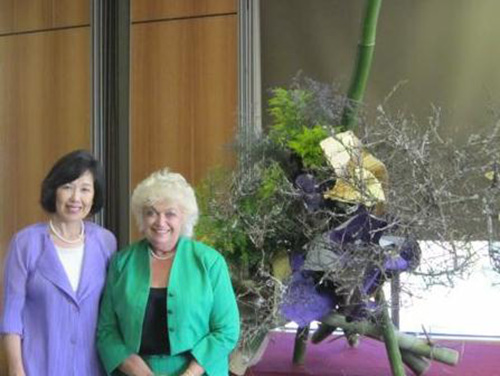 Arrangement 10: A major piece created with an inspiration from jacaranda, one of the world's three major flowering trees. The stage was filled with bamboo, yuzu trees, nandina, chrysanthemum, blue throatwort, statice, gypsophila, and solidago (goldenrod), as well as Japanese washi paper (purple and gold/silver reversible). Mary Marques, a long-time practitioner of Sogetsu Ikebana in Zimbabwe (right), provided invaluable assistance on this project, from the advance preparation to the day of the event.
The next day's workshop attracted an over-capacity crowd of 70 participants. First, the teachers created three pieces and used each one to demonstrate basic techniques: how to use the tools, the method of cutting stems under water, how to incorporate one's ideas into the work, and how to enjoy Ikebana itself. Afterwards, participants were asked to select their own items from each of the assortments of branches, leaves, and flowers, and arranged them freestyle in containers they had brought with them. (The same workshop was held later in Ethiopia and Kenya.)
In addition, those who wished were given pieces of the bamboo used in the demonstration and invited to try their hand at making a vase, thus experiencing the pleasure of creation.
By dividing the task of instruction among three teachers from Japan (the writer and two assistants), we were able to offer guidance to each and every participant, paying careful attention to their individual personalities. The demonstration allowed them to have fun playing with various ideas and to enjoy the dynamism of Ikebana.


(Left) We had a chance to tour this farm operated by Mr. Weller, who provided us with flowers for the event in Zimbabwe. Thanks to the wide variety of materials we received from the farm, the workshop participants were able to practice with many types of plants, including branches.
(Right) Mrs. Elizabeth Tsvangirai, the wife of Zimbabwean Prime Minister (third from right, front row), was the guest of honor at the lecture demonstration. Japan's ambassador to Zimbabwe H.E. Mr. Yonezo Fukuda (second from right), was also present and listened to the lecture attentively.

The workshop on the second day in Zimbabwe attracted 70 participants. A wide range of attendees including both young women and men experienced the dynamism of Ikebana. There were even some visitors from the neighboring country of South Africa.
Ethiopia's custom of hospitality
In Ethiopia, a very international crowd of 100 people attended the lecture demonstration, where we showed nine arrangements. These works focused on branches, and most of the materials were gathered from the flowering plants of the Japanese ambassador's residence. In particular, since we were able to obtain poinsettias and hydrangeas, we could introduce the unique method of encouraging water absorption that has been carried on through Ikebana, and therefore give the satisfactory lecture.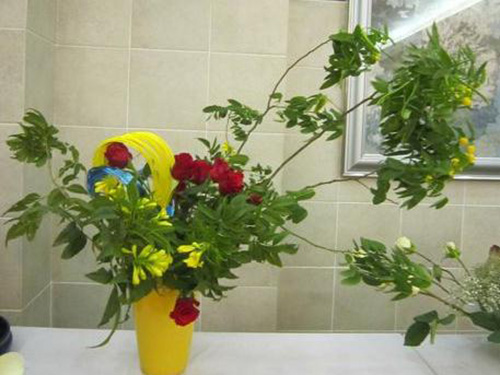 Arrangement 2: This arrangement consists of two yellow flowering trees, roses, and blue and yellow mizuhiki paper cords in a yellow vase. It illustrates how the traditional mizuhiki can be enjoyed in a contemporary, free style. The work incorporates the colors of the Ethiopian flag: green for the rich earth, yellow for peace, harmony of ethnicities and religions, and red for the blood spilt in defense of the nation.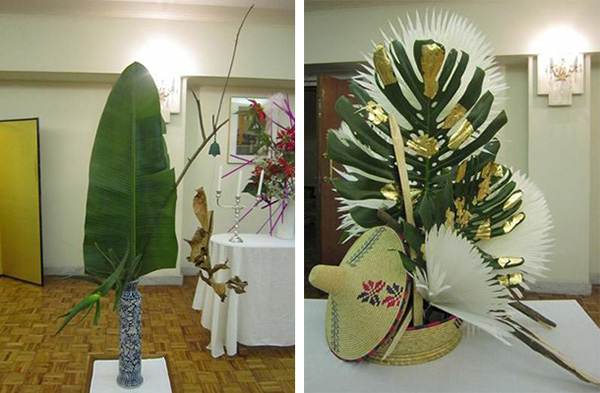 (Left) Arrangement 5: Fresh and dried leaves of ensete (false banana, a typically Ethiopian material) were used along with aloe, assorted trees, and a Nambu ironware wind-bell. Here too the sound of the wind-bell ringing through the space was a hit with the audience.
(Right) Arrangement 7: This arrangement employs a lidded basket used for storing the Ethiopian staple of injera (a lightly grilled crepe-like bread made from teff cereal flour that has been dissolved in water and then fermented.) This injera's basket is a traditional craft of the Oromo tribe, which can be found in any Ethiopian household. We placed a basin inside so that it would hold water. I explained about the gold leaf that was sprinkled on the monstera, and demonstrated how to apply it, while introducing the popular Ikebana material of bleached flowers. Being innovative in structure, as well as in the combination of materials and colors, this was a popular piece among the participants. We succeeded in making people realize that Ikebana can be done with the plants and containers found near at hand.
A lecture and demonstration was held the day following the workshop in Ethiopia, and some participants attended both events, creating a congenial atmosphere throughout.
During our stay in Ethiopia, we had the opportunity to take part in a traditional Ethiopian coffee ceremony, a ritualized way of drinking coffee. Like Japan's tea ceremony, the coffee ritual encompasses a spiritual element, and has set its own kata, or prescribed forms. It struck me that the development of culture from customs of hospitality is an aspect shared with the Japanese "way of tea" and "way of flowers."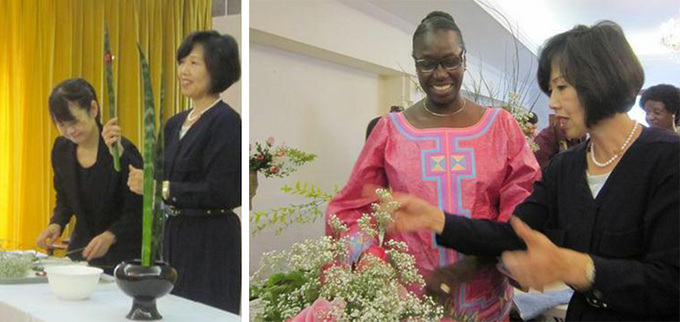 In Ethiopia, a lecture and demonstration was held on the day after the workshop. Some participants attended both events, creating a congenial atmosphere throughout.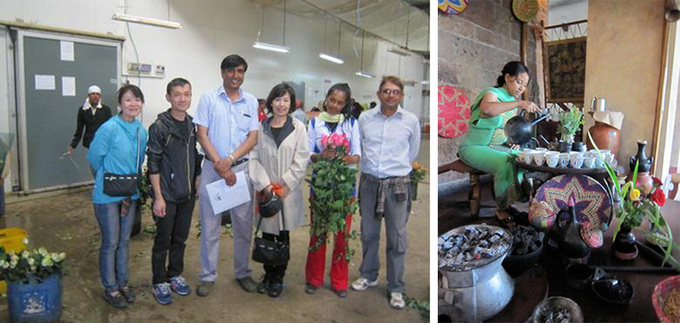 (Left) We toured the rose farm of JJ Kothari & Co. Eth. Ltd., who were of tremendous assistance to the project. In addition, the farm contributed nearly 400 cut roses for this project, so we were able to use many species of blooms at the lecture and demonstration. At the workshop, as well, not only the instructors, but also the 50 participants could all work with these wonderful flowers.
(Right) The coffee ceremony, a traditional ritual of drinking coffee in Ethiopia
Participants in Kenya include a large number of university students
In Kenya, an Ikebana presentation was scheduled as the main event during Kenya's Japan Cultural Festival (organized by the Embassy of Japan in Kenya.) Approximately 200 people attended the lecture and demonstration, where we exhibited 10 arrangements.
These contemporary and stylish pieces using typically African containers were very well-received, and, I think, made people realized that they could do Ikebana with local materials, too. I hope that this will serve as an opportunity for Ikebana to become more widely practiced in Kenya.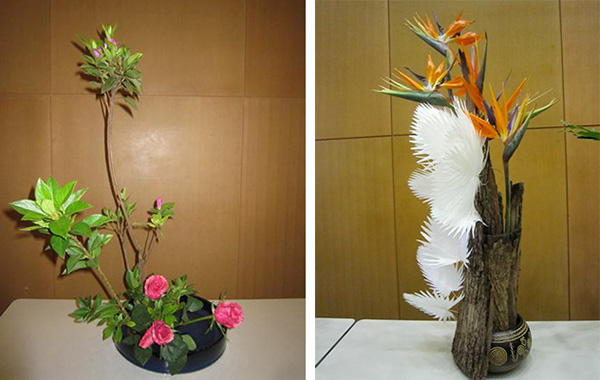 (Left) Arrangement 1: Using azaleas provided by Manu Chandaria, this arrangement shows a basic form of Sogetsu Ikebana: kihon risshin-kei moribana.
(Right) Arrangement 3: Tree bark, bleached Chinese fan palm leaves, and strelitzia were arranged in a transparent glass cylindrical vase and a hollowed-out white pumpkin to make a uniquely African container. By incorporating materials that at first glance seem totally unsuited to flower arrangement, such as tree bark that was piled up beside the firewood at the ambassador's residence, we showed how anything at all can be used in Ikebana.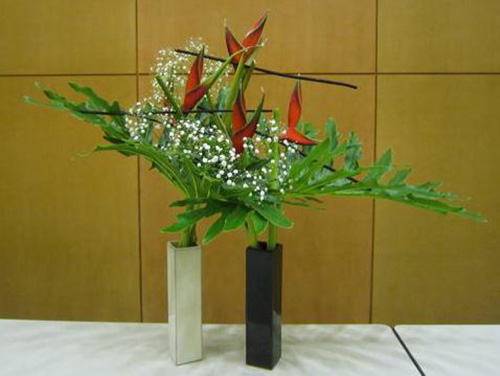 Arrangement 4: This work consists of selloum, heliconia, gypsophila, and colored hemp reeds (black) to represent the colors of the Kenyan flag: black for the people, red for the blood spilt for the sake of independence, green for the abundant nature, and white for unity and peace.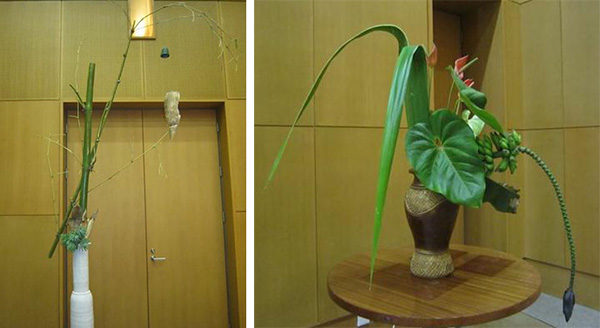 (Left) Arrangement 6: Bamboo, bamboo bark, and succulent plants are combined with a Nambu ironware wind-bell. Waving a fan to make the bell ring was an amusing performance that created a fun, warm and friendly atmosphere at every venue.
(Right) Arrangement 7: This shows an example that would be easy to put together in Africa, using an African gardening pot we found at a roadside flower vendor, and typical local flowers including a banana with fruit and blossoms, agave, and anthurium flowers and leaves.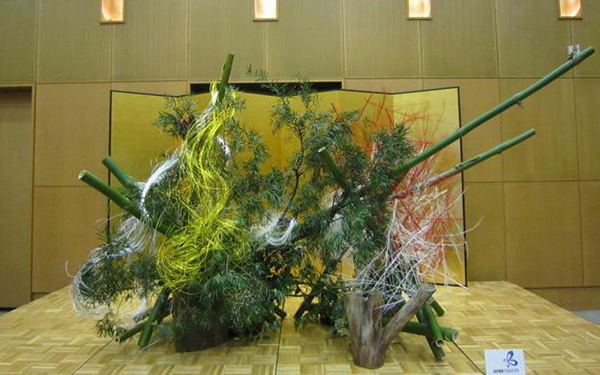 Arrangement 10: This work presents the possibility to create a large-scale work of Ikebana, depending on the space. The stage was filled with bamboo, tree stumps, fern, euonymus, amaranth, gypsophila, cattails, laceflowers, statice, red and white burningbush, and dozens of gold, silver and white mizuhiki paper cords, with a framework made of bamboo and tree stumps. I believe that this arrangement conveyed the vast potential of Ikebana to viewers.
For the last major work (Arrangement 10), the stage was filled with bamboo, tree stumps, fern, euonymus, amaranth, gypsophila, cattails, laceflowers, statice, red and white burningbush, and dozens of gold, silver and white mizuhiki paper cords, with a framework made of bamboo and tree stumps. This arrangement demonstrated the possibility to create large-scale Ikebana depending on the size of the venue. It had a powerful impact, and the lecture demonstration ended in a wave of excitement among the crowd.
All of the arrangements were left just as they were on display in the hall of the Japanese Embassy in Kenya, so that participants at the Japanese food demonstration that followed the Ikebana lecture could also enjoy the exhibit. I was delighted to see Kenyan university students taking pictures in front of the large arrangement.
The next day's workshop also took place during the Japan Cultural Festival, and attracted a variety of participants (about 50 people) who had an interest in Japanese culture, including Kenyans and non-Kenyan residents. What struck me most about the lecture demonstration was the large number of Kenyan university students in attendance who were interested in Japanese culture in general.
It seems to be a trend among Kenyan students these days to use the Internet to enjoy foreign cultures outside the English-speaking world. Many of the students who participated in the event were studying Japanese, and with their fashionable attire they looked not very different from university students in Japan.
In Kenya, we were fortunate that our demonstration coincided with the Japan Cultural Festival, which made a different atmosphere from those in the other countries, and it was a very good experience to present Ikebana to an enthusiastic audience of the country's residents. Questions were plentiful at both the lecture demonstration and the workshop, and I really felt that we were able to have a lively exchange.


In Kenya, the demonstration was held as the main event of the Japan Cultural Festival, and attendees included a lot of Kenyan university students who were interested in Japan's culture.


Kenyan participants looking pleased with their Ikebana arrangements


The writer buying flowers and containers at a Kenyan market with project assistants Seika Kasuya, and Koji Kurata (Photograph courtesy of the Sogetsu Foundation)
In conclusion, we were very fortunate to be met with eager participants in all of the three countries, Zimbabwe, Ethiopia, and Kenya. And it is my hope that this event will promote deeper understanding of the pleasure, richness, and beauty of Ikebana, and that it will serve as an opportunity for the art to evolve as it blends into the culture of each country.
---
Ikebana Lecture Demonstration & Workshop
<Schedule>
Zimbabwe (Harare)
Monday, October 29, 2012: Lecture demonstration
Tuesday, October 30, 2012: Hands-on Ikebana workshop
Venue: Celebration Centre
Report by the Embassy of Japan in Zimbabwe
http://www.zw.emb-japan.go.jp/inside/images/ikebana2012.pdf
Ethiopia (Addis Ababa)
Sunday, November 4, 2012: Hands-on Ikebana workshop
Monday, November 5, 2012: Lecture demonstration
Venue: Residence of Japan's Ambassador to Ethiopia
Report by the Embassy of Japan in Ethiopia
http://www.et.emb-japan.go.jp/art_cul29.html
Kenya (Nairobi)
Saturday, November 10, 2012: Lecture demonstration
Sunday, November 11, 2012: Hands-on Ikebana workshop
Venue: Embassy of Japan in Kenya, Hall
Report by the Embassy of Japan in Kenya
http://www.ke.emb-japan.go.jp/CultureFest2012.html
http://www.ke.emb-japan.go.jp/IkebanaWorkshop.html
---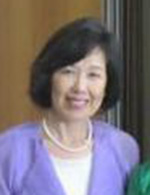 Misei Ishikawa
Instructor of the Sogetsu Head Office (Sogetsu Foundation). With her rich experience of Ikebana practice and of living in India and Kenya, Ishikawa promotes the attractions of Ikebana widely, both in Japan and abroad. She is an accomplished potter as well, and sees the matching of containers and flowers as an important part of her pursuit of Ikebana.
Project assistants
Seika Kasuya (Sogetsu Head Office Assistant)
Koji Kurata (Sogetsu Atelier)