Children Express Themselves through Rap Music--Towards a Society Where Diversity Is a Given
Young-G
Omiyuki CHANNEL/stillichimiya
In October 2012, in Shinjuku, Tokyo, I participated in an event titled "Rap in Tondo 2 x Shinjuku Art Project." This was a workshop to teach children with foreign origins living in Japan how to compose hip-hop music and write lyrics.
It all started a year and a half ago. In May 2011, I was invited by the Japan Foundation to take part in a workshop held in the Philippines that would teach the joy of expressing oneself through hip-hop. The event, "Rap in Tondo 2," was held for children living in poverty in Tondo, Manila, the largest slum in East Asia. The success of that event prompted a second version, and this time I was to be in charge of a workshop that would take place in Shinjuku.
The workshop in the Philippines had been a great experience for me. This time, the really enticing thing was that I would have another chance to work with the rapper O.G. Sacred. I had met him in Tondo, and, having shared that whole experience together, we formed a brother-like bond. A former gangster, he is now pursuing a musical career as the main member of Tondo Tribe, a hip-hop group that he put together with his buddies in Tondo, and they had represented the Philippines at the previous event in 2011. I was thrilled at the offer, and accepted the job on the spot.
I'd been informed that the kids we were to instruct were in situations that made it difficult for them to accept their foreign roots positively. Some of them were trying hard not to stand out at school so they wouldn't get bullied or suffer discrimination. Well then, if they could discover the joy of expressing themselves freely and regain their true selves through this workshop, that would be great, I thought.
Getting the children to open up through sound
After thinking a lot about the content and making various preparations, I greeted the children on the first day. There were about 15 participants, ranging from elementary to high school students, all with roots overseas in places like the Philippines and Myanmar. I could feel their wariness at our first meeting. We were grownups, and strangers, and they looked at us with a gaze more piercing than that of ordinary kids. I also sensed a kind of sadness deep in their eyes that you wouldn't find in Japanese children their age.
On the first day we recorded sounds from musical instruments such as tambourines, drums, and bells. I also lectured on how to compose music using computer software and keyboards. Some were very shy and wouldn't open up easily, but once they were handed a musical instrument, they looked happy playing it. Sound brought us closer than words.
A high school boy who arrived at the end of the workshop left a lasting impression on me. He had moved to Japan from the Philippines when he was in grade school, and had taken up dancing. He was pondering his future, whether he should go back to the Philippines or stay in Japan as a foreign resident. He poured out his thoughts to the Filipino rapper O.G. Sacred--how his identity would waver between the two countries, and how this caused him to lead a complicated adolescence. His worries were something I'd never experienced, since I'd been born in Japan and had grown up in an ordinary Japanese family. O.G. told him the importance of transforming those feelings into "self-expression," and also taught him about rap, a form of music that the boy hadn't tried before. He worked hard on writing lyrics until it was time for him to leave for his part-time job. He even showed us his dancing and was smiling before he left. Participating in creative activity with an artist from his home country seemed to have lightened his spirits.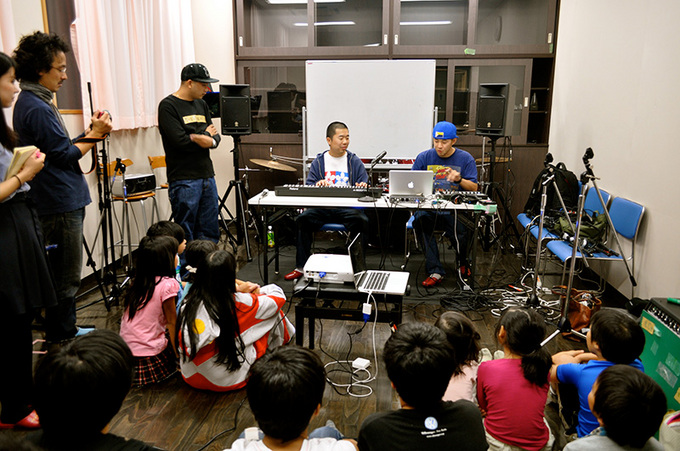 Workshop, Day One
No one looks cool at the start
On the second day, GOW, a Tokyo-based singer and TV personality with Scottish and Philippine parents, joined the workshop. The full-on schedule took us from writing the music and the lyrics to recording the song, all in one day. We asked the withdrawn children to pick out words they liked from magazines and newspapers on the topic of "the world." The little ones showed their innocence by choosing pure and unexpected words like "Love, love the world!" which took us by surprise. They looked really happy and were beaming when they were singing. Maybe they were enjoying their moment of freedom from their complicated every-day worries.
Those in their adolescence reacted a bit differently. For example, a Chinese high school boy who had moved to Japan in grade school was unenthusiastically fiddling with his cell phone and didn't seem interested in making lyrics. He looked uncomfortable writing them, and was the most reluctant when recording the song, saying that he felt embarrassed. But we persisted, telling him to give it a shot, and finally persuaded him to write some lyrics and record the song. He showed a bashful smile when he heard his voice in the newly-made song. It was a pure smile, different from the expressions he had shown earlier.
In my heart, I was thinking, "Yes! This is it!" Singing or writing songs isn't at all cool from the start, and it can be embarrassing too. But it's also fun. Creating or expressing something all starts from this point. I'm sure he was able to feel that joy.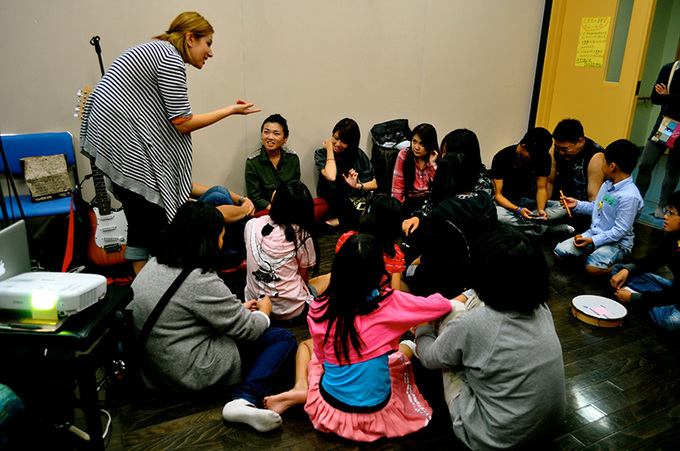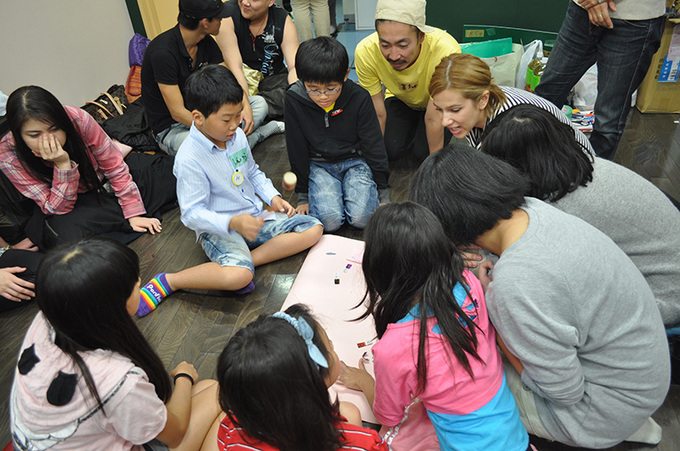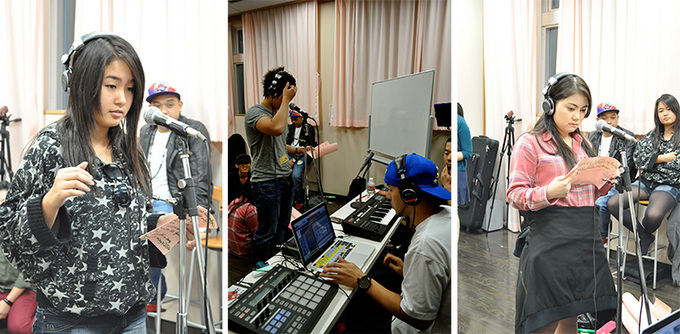 Workshop, Day Two
A society that doesn't respect diversity isn't right
The theme of this event was to "cultivate diversity through arts." But when you say this slogan out loud, it makes you stop and think. A society should be diverse in the first place. If it needs an event to promote this, isn't it the society that has problems?
The logic of a group works strongly in Japanese society. This helps maintain order, but at the same time it can turn into a force that oppresses the individual. For example, in Japan, there's a straight track that starts from elementary school leading you all the way to college and even on to a job, and everyone is extremely afraid of straying away from that path. The entrance exams and job-hunting processes are systems which could stamp out individuality. If you don't go along with these systems, you won't be accepted in society. When I was an adolescent, I thought all this was wrong and worried about it, which eventually led me to express my feelings through music. I hope that the children who participated in the workshop will have their own opinions and strong will. And it would be really great if they could realize that it's not them but society that's wrong in not respecting diversity, and learn how to recognize what's wrong. This is a message I'd like to send not just to the children, but to many people through my music.
In that sense, the Japanese hip-hop scene is actually facing a quite similar situation. It's strongly influenced by the U.S., and what's considered "good sound" is determined by some authoritative figure or by the trends; as a result, the musicians end up competing in a very small arena. And this tendency leads the scene to be accepted only by some core fans.
Our group, Omiyuki CHANNEL (stillichimiya) is the antithesis of the situation in the industry, and we produce hip-hop songs that we believe only we are capable of making. It's our way of showing resistance towards the closed hip-hop industry and, by extension, to the Japanese society that doesn't often admit variety. It is also a way to represent the liberation of the mind. These are the ideas I'd like to get across through my music.
It was really an honor to be able to take part in this workshop. I've been keeping in touch with some of the children through Facebook; some come to see me at events, and I think I've made some really good friends. And I will continue supporting the "Rap in Tondo" and "Shinjuku Art Project", and make this circle much bigger.


A seminar held to share the outcome of the workshop: "Creating the Multicultural Society through Arts" November 3, 2012, at the Japan Foundation JFIC Hall "Sakura"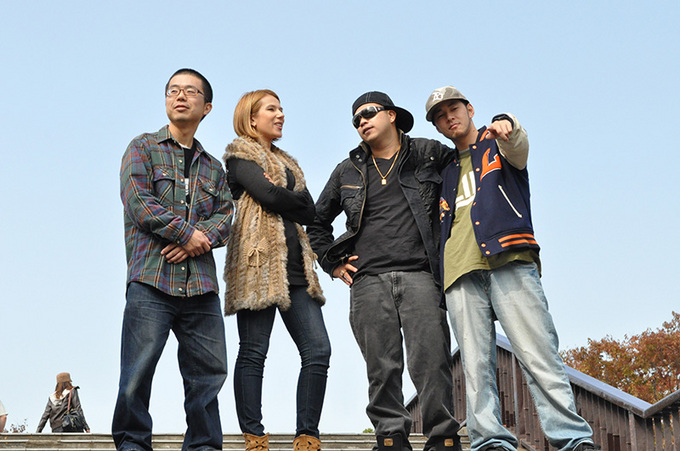 The artists who participated in "Rap in Tondo 2 x Shinjuku Art Project." From left, Big Ben of Omiyuki CHANNEL; GOW, a Tokyo-based singer with Scottish and Filipino parents; O.G. Sacred of Tondo Tribe, a hip-hop group based in Manila; and Young-G.
Young-G
Young-G is the producer of stillichimiya, a rap group from Ichinomiya Town in Fuefuki City, Yamanashi Prefecture. He also works as an MC, and collaborates with Big Ben in the worldwide producer duo Omiyuki CHANNEL. In 2011, he participated in a two-week workshop with the Philippine's top rap group Tondo Tribe, which included a studio recording.