"Tondo, Ichimiya, Kuzoku, Hip-Hop and Film": The Streets of Manila and Yamanashi Overlap
Katsuya Tomita
Film Director

Production by Katsuya Tomita

One evening--or rather, late at night, I got a call from Young-G (Seiji Nakamura). He's a rapper for the hip-hop group "stillichimiya." He's also one half of the beat-maker duo "Omiyuki CHANNEL" that produces most of the music for stillichimiya. His voice was trembling with excitement. Since it was late, I wondered what it could be. I thought it might be something about the music we had asked them to make for the movie Saudade that our group called "Kuzoku" was making at that time. Members of stillichimiya were to appear in the movie as well.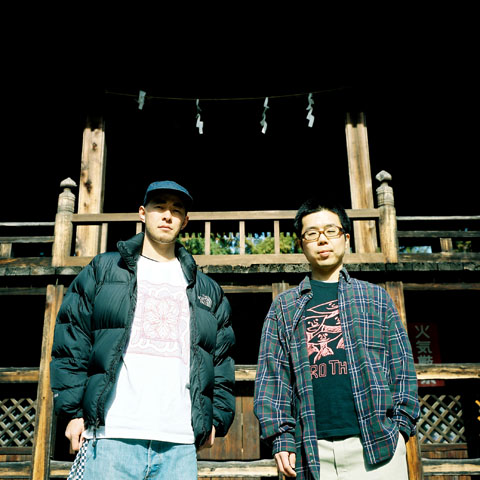 The two members of Omiyuki CHANNEL: Young-G (left), Big Ben (right)
The movie Saudade (2011) is set in my hometown of Kofu City in Yamanashi Prefecture. Construction laborers, immigrants and hip-hop are among its main themes. It takes a look at a provincial city labeled as epitomizing the hollowing out and exhaustion of contemporary Japan and focuses on the interactions between the characters appearing in the movie--Japanese, Brazilians, Thais, Filipinos and so on. Kuzoku began working several years ago as a group of independent film makers. Our work isn't limited to Japan. We went to the so-called Golden Triangle, an area overlapping the mountains of Thailand, Laos and Myanmar, and made a movie about the troubled history of the Mon people, a minor ethnic group living there. The project has become something of our life's work and we're still working on what we call the "trilogy on the shadow economy in Asia." So when Young-G called us, we couldn't have asked for better news.
"We're going to the Philippines, to Tondo in Manila, which is called the biggest slum in Southeast Asia. We're going to hold workshops on hip-hop there," he said over the phone. I immediately told him that I would do anything to go with him and film everything. He told me that there was constantly conflict and even shooting between the gangs that young people in the Tondo district have formed. I had a gut feeling that I would never again get a chance to step into such a place with a camera. What's more, some members of those gangs formed a hip-hop group and were increasingly active. The workshop's goal was to support them in the hopes that it would end the conflict in the district. To begin with, if you trace the roots of hip-hop, you'll go back to the African Americans who lived in the slums of America. It's not hard to imagine that they poured their wish to overcome the hardships in their lives and their longing for change into their lyrics and combined it with a rhythm. Not to put too fine a point on it, but I think the Tondo-based hip-hop group Tondo Tribe, which is featured in Rap in Tondo, has the same roots as those who originally started hip-hop. It isn't hard either to imagine that those who have dreams of becoming hip-hop artists in Japan, a safe and peaceful country, have at one point or another felt jealous of people who got to experience such circumstances. It might seem ridiculous, but if you consider that the source of the energy that originally created hip-hop is found in music like gangsta rap (rap that has violent lyrics), it might not be easy for some people to stop admiring those circumstances.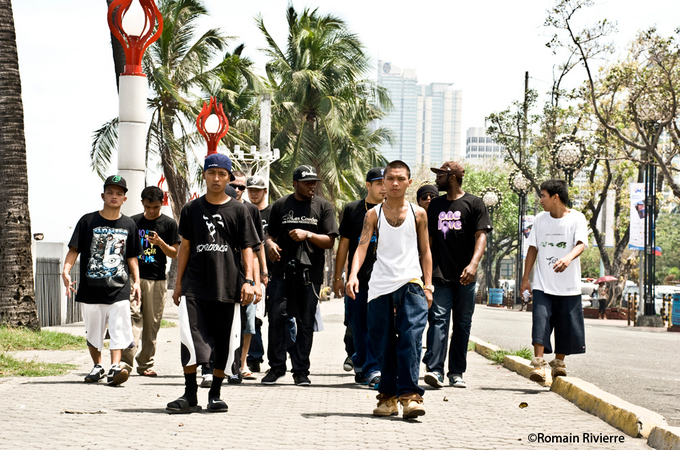 The hip-hop group Tondo Tribe
The hip-hop scene in Japan has become diversified with the artists involved going through processes of trial and error. That's how stillichimiya was born.
I used to dislike Japanese gangsta rap because it seemed like the artists were just boasting about how much of a rebel they were, how strong they were, or how miserable their lives were. Then, I learned of the hip-hop group stillichimiya. They were based in Ichinomiya, which is famous for its peaches, in Yamanashi Prefecture, where I am from. They chose to call their group stillichimiya to protest against the name of their hometown disappearing in the course of what's called the Hesei mergers of municipalities nationwide that started in the late 1990's. I was fascinated by how they cleverly blended kindness with the odd mixture of scrupulousness, mischievousness and vigor that is common in youngsters. For example, one of their songs is about the sorrows of an elderly couple that can't find anyone to take care of their peach orchard after they are gone. I was glad to be able to fulfill my desire to do something with them someday through my humble film Saudade. The two members of Omiyuki CHANNEL working with stillichimiya were going to the Philippines to produce for Tondo Tribe, and I would get to tag along. How could I not be excited? By the time he had called me, Young-G had already discovered the meaning behind producing for Tondo Tribe. I fully agreed with him.
Sure enough, the two weeks I spent with Tondo Tribe, the children of the Tondo district and those of the Davao region on the island of Mindanao was like a dream. I wouldn't give it up for the world.
The two members of Omiyuki CHANNEL gained an unbelievable level of trust with the crew of Tondo Tribe, and also gained a friendship that goes beyond borders and will last a lifetime. The same was true for us. When I first heard that I would be meeting a hip-hop crew made up of former gang members, I got flurried. I wondered what kind of vicious youngsters they would be. But when I first met Shielbert Manuel, the leader of Tondo Tribe, I realized that it wasn't at all as I had imagined. From his gentle appearance, I got the sense that people in the Philippines joined gangs because they needed to in order to be able to make a living, not because they want to appear tough. But he wasn't always so gentle. There were times when Shielbert's face became incredibly stern. As a matter of course, he had the sharpness of someone who had lived his entire life in a situation with no escape. He also had the tolerance that comes of being a brotherly figure that people looked up to. He was a wonderful person of integrity unlike any other 25-year-old I had ever met.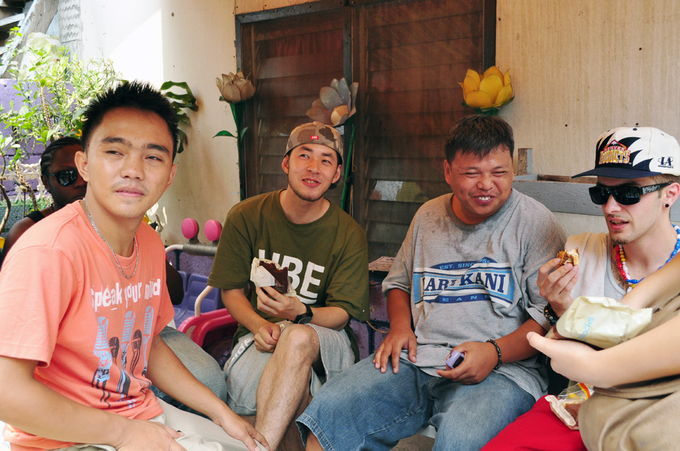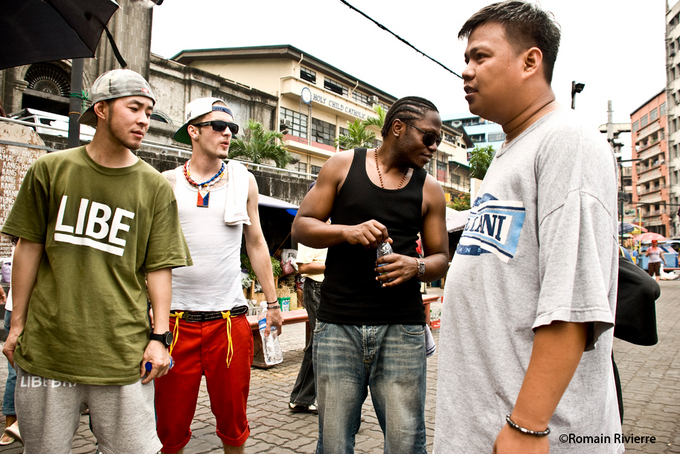 One day, we were walking down the street with Shielbert around the place we were staying near Ermita, Manila, when we found ourselves surrounded by children begging for money as always. Without thinking, we gave them money as we usually did. Seeing this, Shielbert put his hands together and bowed his head deeply. He gently admonished us, saying, "Thanks so much. I really appreciate the thought, but doing that won't help these kids. They'll think that it's easy to get money, and won't learn to work hard." We were ashamed of how thoughtless we had been, but when Shielbert wasn't around, we just couldn't help ourselves and reluctantly gave them money.
With all of that happening, the workshop was going smoothly, and although the two members of Omiyuki CHANNEL had gone there as producers, they were amazed by the skill of the rappers. Still, they worked to meet the crew's every demand. It was clear that it was a wonderfully stimulating experience for both groups. We begged Shielbert and his crew to appear in one of our films someday and they cheerfully agreed. Now, not only can we return there whenever we want, but we'll have people who will welcome us back.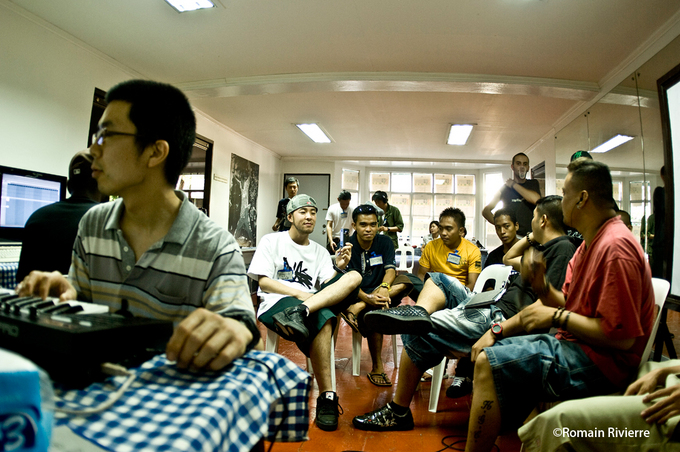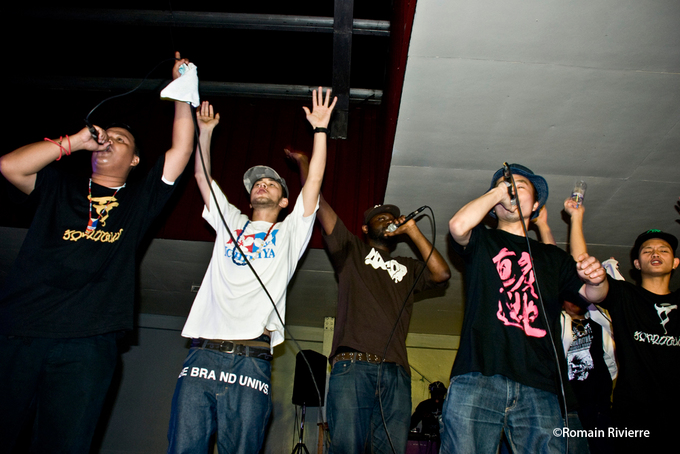 In Tondo, I found the undisguised facts about how people are going about their daily lives. I couldn't help but think that this is what human beings are meant to live; pretty words just don't matter. The people there were dangerous yet kind, and they were poor yet rich. Let me just say this: Tondo had everything that Japan had lost. We told them we wanted to live in Tondo, and they replied that their dream was to go to Japan. I want to think that's why it was important for us to communicate with them. I plan to work with what I filmed at Rap in Tondo 2 to make a documentary film and show it in theaters.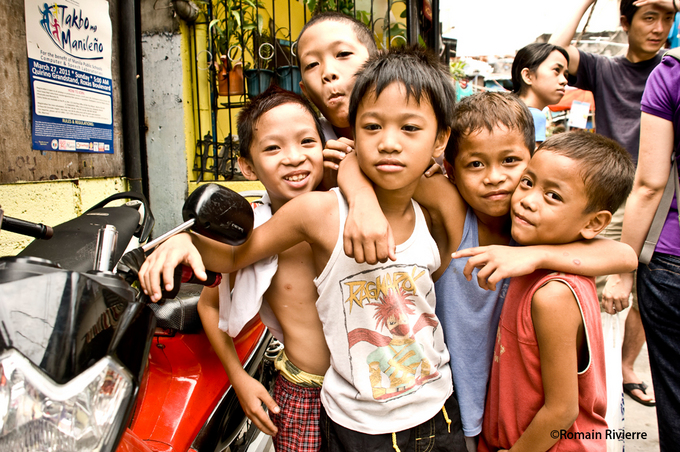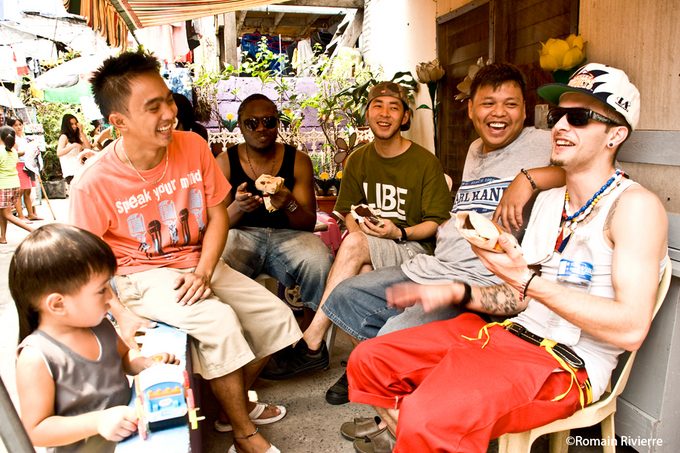 Katsuya Tomita
Tomita was born in 1972 in Kofu City, Yamanashi Prefecture. He formed Kuzoku--a group of independent film makers--in 2003 and directed movies such as Kumono ue (Above the Cloud) (2003), Kokudo nijugosen (Off Highway 20) (2007) and Saudade (2011). In Kokudo nijugosen, he depicted the lives of Japanese youngsters who lived on the roadside of a present-day provincial city lined with large retail stores, consumer finance companies and pachinko pinball stores. Despite the shocking content and the fact that it was an independent film, it caused a stir and was ranked as the ninth best Japanese movie of that year. His newest film Saudade, scheduled for release in October, ran for the international competition section of one of the four great film festivals of the world--the Locarno International Film Festival. This was described as an extraordinary feat, especially because it was an independent film.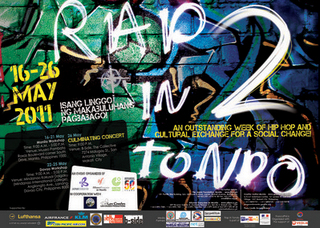 * Rap in Tondo 2:An international hip-hop festival. It is a project to support young people in the poor areas and conflict-affected regions in the Philippines. Artists from Japan, the Philippines, France and Germany work together on the project with the goal of reaching out as many youngsters as possible on the appeal of hip-hop, how hopes and dreams are expressed and realized through music and the importance of peace. (The event is sponsored by the Japan Foundation Manila, Alliance Française de Manille, the Embassy of the Republic of France in the Philippines and the Goethe-Institut Philippinen).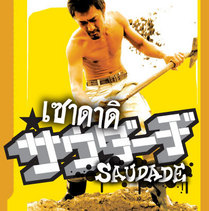 * Kuzoku's newest film Saudade began its first run at the Eurospace theater in Shibuya from October 22, 2011 and was later screened in independent theaters across Japan. The film was shown in the international competition section of the 64th Locarno International Film Festival. Website: http://www.saudade-movie.com/?lang=en