Report on the India-Japan contemporary dance co-production project titled "-scape"
Contribution by dance critic Norikoshi Takao (project mentor for "-scape")
The Japan Foundation New Delhi's international co-production with an Indian theater of the dance project "-scape." Dance critic Norikoshi Takao, who served as the project mentor for the Japanese side, contributed his thoughts on how the Japanese and Indian artists created this work, which was streamed online in March 2021 amid the COVID-19 pandemic.
Report on the India-Japan contemporary dance co-production project "-scape"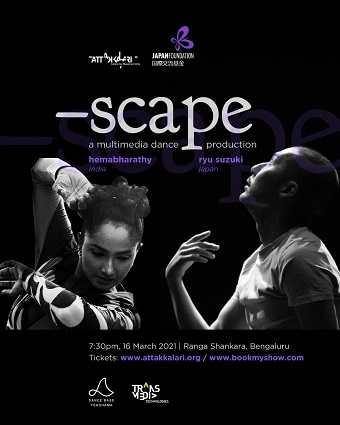 Main visual for "-scape"
[Project Launch]
The project "-scape" is an international co-production between the Japan Foundation New Delhi (hereafter the Japan Foundation) and the Attakkalari Center for Movement Arts, Bengaluru (Attakkalari Center).

The COVID-19 pandemic occurred while this project was underway. I would like to document the circumstances and vicissitudes of this dance project, which was forced to make drastic changes due to the "once-in-a-century disaster," but on the other hand opened up new forms of expression.

The project request was initiated from Jayachandran Palazhy (hereafter Jaya), Artistic Director of the Attakkalari Center, at "EARS ON MUMBAI" (an event like India's version of TPAM*1) held in Mumbai in November 2018. He told a member of staff from the Japan Foundation, "Many young artists do not have much experience working with peers from overseas. We would like to have Japanese and Indian choreographers, dancers and staff stay at the Attakkalari Center in India to co-produce a dance piece. Although it is intended to be performed at the festival to be held at the Attakkalari Center, we are aiming to create a high-level work that can be performed at dance festivals not only in India but also in Japan and around the world, so we would like the Japan Foundation to cooperate with us."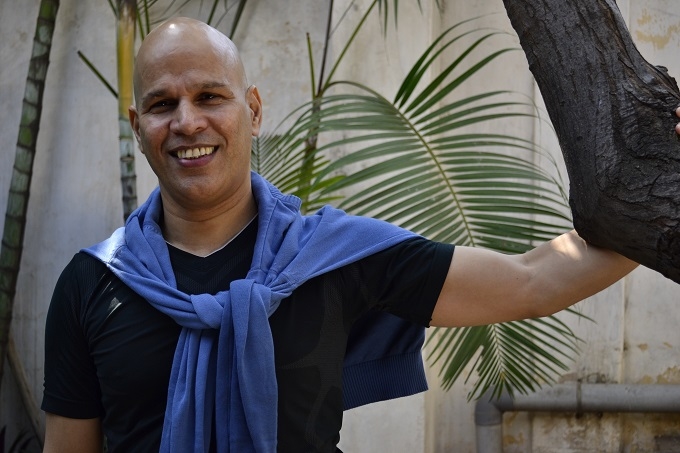 Jayachandran Palazhy
India is a country with a strong tradition of traditional dance, but in the past 10 years, young dancers who have studied contemporary dance in the UK and other countries and developed their careers have been returning to India, and a new wave of dance is making itself known. I was invited to New Delhi in 2015 for the international dance festival "IGNITE!" and experienced firsthand the excitement of contemporary dance in India. I am well aware that the Attakkalari Center is a key presence in this field and is widely recognized around the world, and I have met Jaya several times at festivals abroad.
Jaya's Arrival in Japan
In January 2020, I was asked by the Japan Foundation via email to serve as an advisor to the Japanese side of the project (I eventually became the "Project Mentor" alongside Jaya).

Since Jaya was scheduled to stay in Yokohama from February 11 to 16 to see the "Yokohama Dance Collection," "HOT POT,"*2 and TPAM, I and Jaya had a series of in-person meetings.

The project summary at that time:
<Initial Project Summary>
- Form a company of 10-12 members by selecting young choreographers, dancers, technical staff, etc. from both Japan and India.
- The residency will be held at the Attakkalari Center for around three weeks in August and September 2020.
- In February 2021, the company will gather again at the Attakkalari Center to complete the work, which will then be performed at festivals organized by Attakkalari and in other cities.
- The aim is to perform at dance festivals in Japan and around the world.
- Jaya will select the members on the Indian side by holding auditions, etc.
- On the Japanese side, Norikoshi will recommend a choreographer. Japanese dancers and choreographers that Jaya saw during his stay in Japan will also be referenced. Auditions for Japanese dancers will be held by the Japan Foundation, Attakkalari Center and Norikoshi.

After Jaya's return home, the Japan Foundation staff flew to Bengaluru at the beginning of March for a more detailed meeting and a preliminary inspection of the theater.
Advent of the COVID-19 Pandemic
I recommended and selected Suzuki Ryu as the artist for the Japanese side.

Suzuki had won numerous awards both as a dancer and choreographer, and his abilities were evident. Also, his ability to communicate in English on account of his extensive international experience was also taken into consideration.

The artist selected by Jaya for the Indian side was Hemabharathy Palani (hereafter Hema). She was an artist that I had seen performing at a festival in Singapore the previous year and decided to invite to a festival in Korea, where I was an official advisor.
However, after March, the environment changed drastically. The menace of the COVID-19 virus swept over the world. Having said that, in March, we did not expect the COVID-19 pandemic to last as long as it did, and we were hopeful of being mobile again in a few months, so we set the following schedule.

- Project members of Japan and India will be decided in May-June.
- Japanese dancers will travel to Bengaluru in late August for a three-week residency.
- Return trip to India in January 2021 for the premiere at the Attakkalari India Biennial, followed by a tour of two or three cities in India.

Talks of participating in festivals and biennials in various Indian cities were also proceeding at the same time, but the COVID-19 pandemic only intensified, making all of this impossible.
Change of Direction to Remote Production
Nevertheless, the staff held a series of Zoom meetings to explore the possibility of realizing the project, and the direction was changed to remote production.

Various festivals and artists were already producing and distributing their work remotely, but not many were distinctive. It was necessary to come up with a concept that was not conventional.

For one thing, the work should be something able to convey to people 100 years from now how the artists, faced with the "once-in-a-century disaster" of the COVID-19 pandemic, perceived reality and took up the challenge. Rather than remote production becoming a "substitute," we sought to make it a "positive opportunity to create a unique expression of the COVID-19 pandemic."

The option of "using a few dancers on the Indian side and Suzuki choreographing remotely" was quickly ruled out. Based on Suzuki Ryu's experience with remote choreography for another job, he deemed that it would be difficult to improve the quality.

Creation and performance were to proceed only with Suzuki and Hema.
[Approach From the Japanese side]
"Deconstructing" and Sending the Dancer to India
The answer Suzuki and Hema came up with was "to deconstruct the artist known as Suzuki Ryu, send him to India, reconstruct him, and dance with Hema."

Originally, the body of the dancer Suzuki Ryu should have been transported to India to be created together with Hema, but due to the COVID-19 pandemic, this was not possible. Therefore, each analyzes and depicts the memories, experiences and landscapes as well as the fragments of joy, fear, change and loss that make up who they are. The concept is to "deconstruct the existence known as the self and send it to the other person as elements."

It is an interesting point of view.
Specifically, the Japanese side was to "deconstruct" Suzuki Ryu based on the concept, create music and a short video, and send them to Hema. Hema and the Indian side agreed that they could freely edit and use the materials as they saw fit, and the work proceeded.

The first step was the production of the video on the Japanese side.
Filmmaker Yoshigai Nao
The power of images becomes important for this purpose. Therefore, we requested Yoshigai Nao's services.
Yoshigai is herself a dancer and choreographer (she is featured dancing in the promotional video for Yonezu Kenshi's hit song "Lemon"), and she has made numerous dance films that have been screened as part of special programs. "Grand Bouquet" was officially invited to the Directors' Week of the 72nd Cannes International Film Festival.

Yoshigai held numerous meetings with Suzuki, and a constant dialogue continued during the filming, which took place in December 2020. Composer Tatsuki Amano and I also participated in the filming.
Various images capture Suzuki's "daily life," including his daily routine at home and his own dance methods.
An Obsession with Doraemon
A distinctive feature is the numerous stuffed toys that Suzuki cherishes. Each has its own name and history. In particular, he has a special attachment to an old Doraemon stuffed toy. It is about 30 centimeters tall, and the eyes that were once attached have come off.

While the human body is completely renewed physically in a few months by metabolism, stuffed toys remain basically the same material even after 20 years. In other words, for Suzuki's sense of self, "old stuffed toys" are "materially longer and more familiar" than "my current body," Suzuki says.

This idea is similar to "The Paradox of Theseus's Ship."
This paradox of identity poses that when the ship that the Greek mythological hero Theseus sailed on his adventures is repeatedly repaired and the damaged parts replaced, when finally all the parts are replaced, can it still be said to be the Theseus's ship?

While eliciting these words from Suzuki, Yoshigai delves into his inner life, including what he loves and fears most. Suzuki himself candidly describes his "bitter experience of having his popularity snatched away by other Japanese dancers at a Spanish dance festival to which he was invited after winning an award in a Japanese competition," and his "sense of anxiety that there would no longer be a demand for him as a dancer."

Filming also took place at Dance Base Yokohama, a dance house where Suzuki was selected as an associate choreographer, where a completely naked Suzuki and his stuffed toys were filmed. Yoshigai's camera sometimes took ultra close-up shots, capturing the way Suzuki's skin and wrinkles looked like unexpected living things.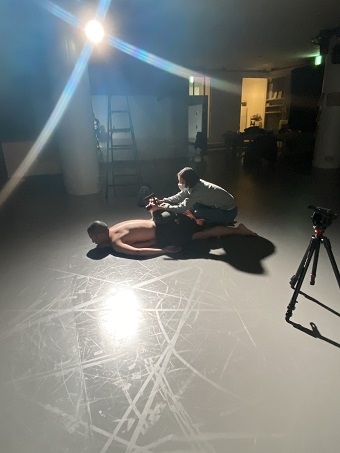 Filming on set (Photo by Dance Base Yokohama)
The Result is a "Video Work of Art."
The resulting video work by Yoshigai is a "document of Suzuki Ryu" of less than 30 minutes in length (he also sent other footage, including a method video of the motions that Suzuki says he is formulating).

From the beginning, Yoshigai's own voice relays information about Suzuki to Hema who has never met him.
In the video, Yoshigai suggests that if the Doraemon stuffed toy is so important, why not send it to India in place of Suzuki's body, only to be met with stubborn resistance from Suzuki.

Other filmed materials included footage of water, which Suzuki says frightens him, footage of Suzuki dancing in the past that was found on the internet, and a kendama performance in which he also incorporates movements of his knees in his dancing.

Amano, who has experience working with Suzuki, demonstrated his skills in the area of sound. First, he recorded the conversation between Suzuki and Yoshigai during the filming, the sound of Suzuki playing with a kendama, and natural sounds, and output these sounds by simulating them with numerical values close to the latitude of the land where Suzuki lived. Then of course he composed music ranging from noisy to emotional sounds, responding to a wide range of visual demands and thus creating a sensational fusion.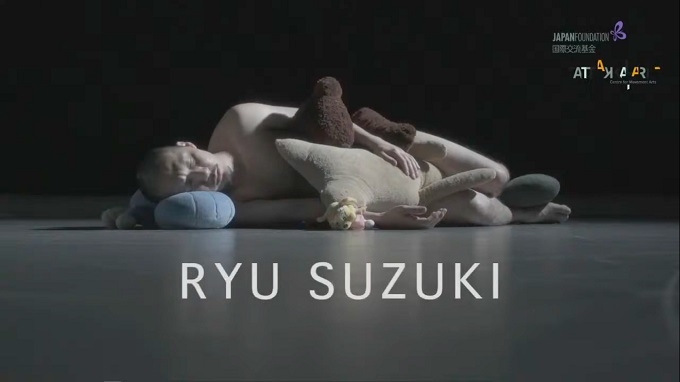 Documentary video of Suzuki Ryu
[Approach From the Indian side]
Hema's Concept
The original plan was to "create a live performance of Hema freely using any footage of Yoshigai deconstructing Suzuki." In February 2021, Hema also sent footage of the movement sequences used in the work.

After watching Yoshigai's video and hearing Amano's audio, Hema made some policy decisions and commented back.

<Hema's concept>
- Suzuki's video uses a lot of objects, so I will try to avoid using them in my part of the video as much as possible. By the way, Doraemon is well known in India, so that doesn't present a problem.
- I would like to include my thoughts about my father who passed away suddenly last year and memories of him.
- Although Suzuki is afraid of water, I love to swim and dive. It's interesting to see diametrically opposed approaches to the same thing.
- In the video, Suzuki said, "When I die, I want my Doraemon stuffed toy to be put in the coffin with me," which left an impression. Stuffed toys are not alive, but they are getting older faster than Suzuki, meaning it felt like they were growing up.
- "Journey" is one of several important key words in this work. Using the medium of song, Amano describes the process of Suzuki becoming a dancer. The journey (life) continues with a growing series of unexpected events.
- In the same way, in "Landscape," the artist overlaps himself with the transition of "old buildings being torn down and new buildings being erected."
- In "Memory/Dreams," the sound of playing with a kendama amplifies the entire space. It was evident that the kendama he played with as a child influenced Suzuki's current dancing.

Hema also asked Yoshigai and Amano to provide video and music for her onstage performance.
[Stage Construction Work]
The project develops in three phases
After that, the artists continued to hold meetings with each other and with everyone else at every key point to share policies and opinions.

However, Suzuki and Hema had not given up on the idea of performing together on one stage.
We began to think of this project in three phases.
- Phase1: The Japanese dancer will be "deconstructed" and sent to India to hold a live performance there (this time).
- Phase2: The Indian dancer will be "deconstructed" and sent to Japan to hold a live performance there.
- Phase3: Japanese and Indian dancers will perform live together, using footage from each other's performances to date.

The performance date was March 16, 2021, at 7:30 p.m. (IST). The venue was Ranga Shankara, a famous theater in Bengaluru. The title decided on was "-scape." This work captures life as various "scenes": landscapes, townscapes, and mindscapes.

The set design consists of a wide gauze curtain hanging down on stage right, and three cylindrical cloth strips on stage left, extending from the ceiling like pillars. The image projected on the stage left wall permeates through the cloth columns but is clear. In contrast, the image projected on the gauze curtain on stage right appears blurred, but it conveys the image moderately well without being overly strong.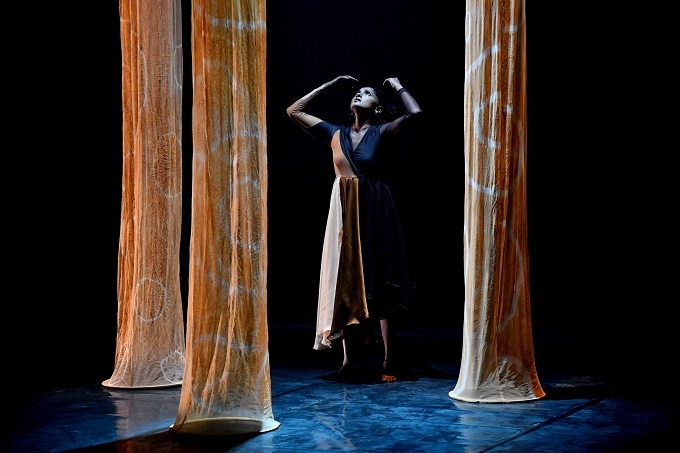 An impressive set design with cylindrical cloth strips hanging down
Discussion on the Order of Performances
The Indian side proposed the following configuration: "In the first half, there will be Hema's performance, followed by a break of a few minutes, and in the second half, only the documentary footage of Suzuki, filmed and edited by Yoshigai, will be shown."

<The Indian side's proposed configuration>
- The images captured by Yoshigai are one cohesive whole and should be shown all at once.
- Images of Doraemon and Suzuki's voice should appear during Hema's performance.
Instead of showing Suzuki's entire presence from the beginning, it is more effective to start the video in the second half after attracting the audience's interest by asking, "Who is this man?"
- The audience has come to see a dance performance, so it is better to start with the dance.

<The Japanese side's proposed configuration>
- If Hema's dance comes first, it would appear to be separated into a "dance work and a video work," and would lack the cohesiveness of a single work. Isn't there a risk that some people will just watch the dance and leave?
- For most Indian audiences unfamiliar with Suzuki Ryu, the fact that there was a Doraemon and male voice during Hema's performance would have drifted from their memory. If it is to be in two parts, Suzuki's video should be shown first.
- Suzuki's video ends with Yoshigai asking, "Hema-san, can you send him something important?", which ends with the "question." It would be better if Hema's performance began in response to this, where the final scene, which ends with the call "Papa.....," seems to be a reply to Suzuki's image in the form of "sending Hema's most important thing (her feelings for her father) to Suzuki," and it becomes coherent as one piece of artwork.

Both sides had their good points and shortcomings.
Jaya suggested that a pamphlet explaining the purpose of the project, such as "This work is a collaboration between Hema and Japanese artist Suzuki," be distributed to the audience on the day of the performance, and that an explanation be given on stage prior to the performance to ensure that the concept was correctly conveyed to the audience. Everyone consented to the Indian proposal.

On the day of the event, Jaya and Ishimaru Aoi from the Japan Foundation who is responsible for this project, both took the stage to share their comments. Ishimaru explained the project in Japanese for the Japanese audience watching via live video feed.
[Live Performance and Video Feed]
The Day of the Performance Is Coming Up
At the beginning is an image of water. Hema dances in a long dress with Suzuki's voice talking about water alongside the sounds created by Amano, which conjure up an image of being underwater. Before one notices, the images appear to show red flames and bubbles rising.

In the video, a Doraemon stuffed toy is placed in a box (coffin) with a large quantity of flowers and is then carried away by the water, reminding us of Buddhist transmigration and reincarnation.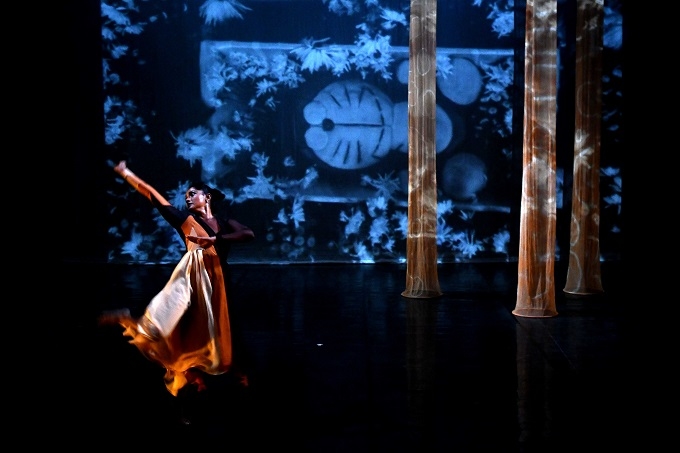 Hema dancing with the Doraemon stuffed toy projected on stage
This is followed by a "journey" sequence originating from an image of clouds. Hema wanders around the stage against the backdrop of images from the window of an airplane landing from above. A railway bridge spans a river, and the bridge finally leads to Suzuki's running image. Hema makes a gesture of walking slowly but barely moving. This gesture seems to symbolize that it us who are forbidden to go elsewhere. The image of a dead moth stretching its wings in a train window overlaps with this.

The projection disappears, and the voice of Indian singer M.D. Pallavi echoes in the background, alone with Hema. The floor is taken up with Hema's unique dance, which is performed quietly and brimming with emotion.
This time, Hema herself dances while telling her story. Stories of childhood, her father, and "all journeys stopped"......

Doraemon in a box, while the packed flowers flow out into the water. The rhythmic sound like fast drops of water, and calling out to her late father with "...... Papa," in a voice that reverberates.

With what sounds like a beating heart, music echoing in the distance, Hema, lying on the floor, slowly rouses herself. She stands up, stretches her hands to the heavens, and says one last word: "...... Papa" before the stage goes dark.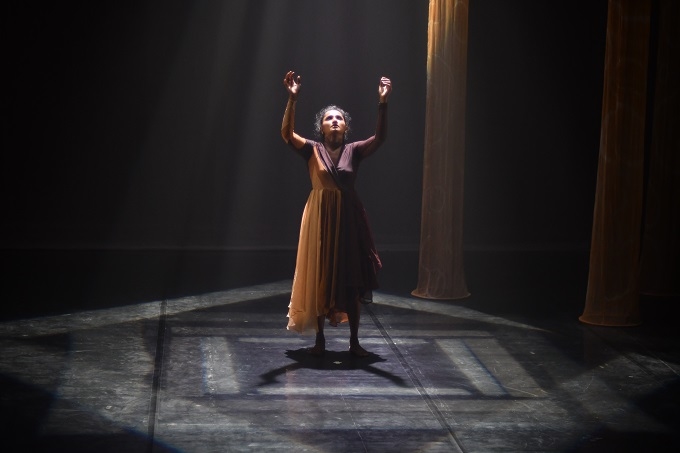 Last scene of the performance
After a five-minute break, Suzuki's video was played.
A Rousing Success With a Full House
The lighting and equipment were repeatedly checked by Japanese and Indian staff right up to the last minute. The performance was streamed online from beginning to end, including the comments from Jaya and Ishimaru. Also, the venue was nearly full.

When it came to an end, the Doraemon stuffed toy, Suzuki's audio and video overlap, etc. worked well, and the live performance never seemed to diverge from the video.

Hema's dance had an overwhelming presence on the large stage. The style was a unique fusion of traditional and contemporary dance, carefree and overflowing with emotion. It also demonstrated a high affinity with the images and sound.

I couldn't help but hope that the day would soon come when both Hema and Suzuki would be on the same stage together.
The Work as a Gateway to the Future
However, within a month and a half of this performance, a new strain of COVID-19 spread rapidly throughout India. If the date had been a little later, the performance of "-scape" itself might not have been possible.
Today, with the COVID-19 pandemic, we are again reminded of the difficulties faced by the performing arts.

"-scape" showed that artists did not give up expressing themselves in the face of the COVID-19 pandemic, and that people willing to support them could work together across national borders.
The difficulty encapsulated by "being unable to meet" was instead transformed into "an expression of making the experience a positive opportunity."

When society seems to be suffocating, it could be said the mission of art is to open a vent and breathe new air into people and society. We believe that "-scape" has accomplished its mission.

Eventually, when the COVID-19 pandemic is overcome, "-scape" will come to its true end. I look forward to that day.
An interview with the filmmaker Yoshigai Nao, who oversaw the video for this performance, and Jayachandran Palazhy, the mentor for the Indian side, is now available on the Performing Arts Network Japan (PANJ) of the Japan Foundation.
"Dance and visualize emotions before they become words" - Yoshigai Nao (choreographer, dancer, filmmaker)
https://performingarts.jpf.go.jp/E/art_interview/2108/1.html
"What the Attakkalari Center, India's Center for Contemporary Dance, is aiming for" - Jayachandran Palazhy
https://performingarts.jpf.go.jp/E/pre_interview/2108/1.html
Residence support: Dance Base Yokohama