Clothes that People Find Beautiful and Want to Wear--Japanese Mode Goes to Brazil
matohu
Hiroyuki Horihata
Makiko Sekiguchi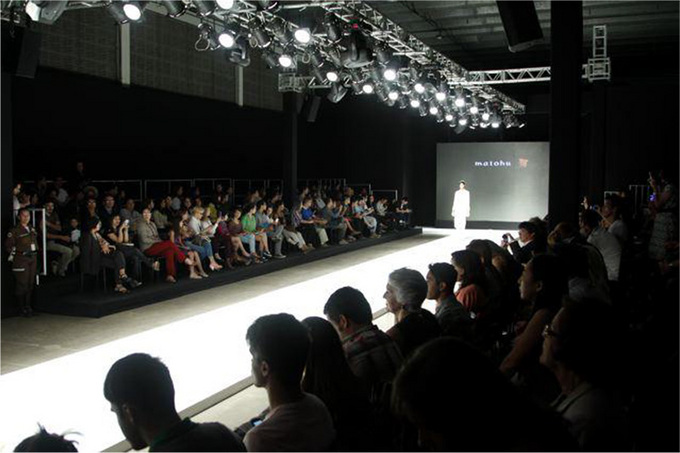 As part of the Japan Foundation's Program for Presentation of Japanese Culture and Arts (Program for Dispatching Artists and Cultural Specialists), designers Hiroyuki Horihata and Makiko Sekiguchi of the fashion brand "matohu" participated in the Brasilia Capital Fashion Week in August 2012, and gave lectures in Rio de Janeiro and Sao Paulo.
In today's world, the spread of globalization increasingly carries a homogenized culture, and fashion is consumed like fast food. In this context, the Japan Foundation introduced the world of matohu--a brand that focuses on traditional Japanese aesthetics and pursues both universality and contemporaneity--to the people of Brazil, where development is progressing rapidly in the lead-up to the 2014 FIFA World Cup and the 2016 Rio de Janeiro Olympics.
On returning to Japan, the two designers of matohu contributed an essay to us. Please enjoy the photos and video together with the article.
---
It was thanks to an introduction from Professor Sanae Kosugi of Bunka Fashion Graduate University that we ended up going to Brazil, although the schedule overlapped with preparations for our next collection, and so turned out to be pretty tight. We had some concerns since it was our first time to hold a proper fashion show abroad, but with the cooperation and efforts of many people, we were able to make a presentation on a par with what we would do in Tokyo. It was a wonderful experience, and we were able to leave behind great results.
It seemed to have been a fresh experience for the local people too, different from the typical Brazilian show and sense of aesthetics. We felt this first-hand, from the interviews we did and the reviews we heard afterwards.
We perceived many things in Brazil: the light and the climate; the complications of race and history; the people's sensitivity and their view of life; and the various characters of the cities of Brasilia, Rio de Janeiro, and Sao Paulo, along with countless other similarities and differences. Not only were they different from Japan, but each city also had features that distinguished it from other large cities of the world. It was precisely these local differences that created the rich diversity of the country, and were a source of mutual stimulation.
Our difference in values made it all the more fun. Understanding one another was difficult in many ways, but we realized through the fashion show and lectures that the Brazilians empathized with our perception of beauty and our perspective on tackling problems. I think that understanding others comes with the dual effect of delving deeper into ourselves.
A chance encounter in Rio de Janeiro was symbolic of the whole experience. At one of the shops we happened to visit, we met Claudia Savelli, an accessory artist with whom we clicked immediately. We kept in close touch with her even after returning to Japan, which led to our fruitful collaboration at a Tokyo fashion show in October that seemed to have been arranged by fate.
Two points were vital in realizing this collaboration.
The first was communication through the Internet using email and Skype. In particular, video-calling via Skype seemed to bridge physical distances and even a 12 hour time difference between Brazil and Japan in a way that would only be possible with contemporary technology. It enabled us to have detailed meetings every day where we could show each other the actual objects we were working on.
The second and most important was human qualities. Regardless of differences in race and nationality, individual human character is what you rely on in the end. Claudia was sincere, kept her promises faithfully, and was always perfectly prepared for our meetings. This evolved into an exchange between human beings grounded in mutual respect.
If you respect each other's culture and history, and have the will to understand each other, it's possible to create a collaboration that will touch people's hearts. Clothes that people find beautiful and want to wear exactly define "fashion" itself that captures the contemporaneity, or the "now." This was what we learned from each other in the various episodes that took place throughout the program.
---
Activities around the country
Fashion show at Brasilia Capital Fashion Week (August 15)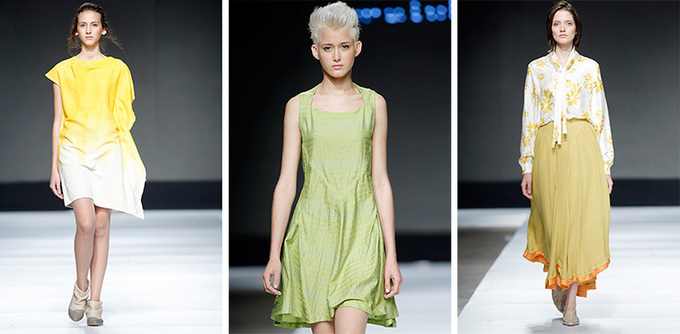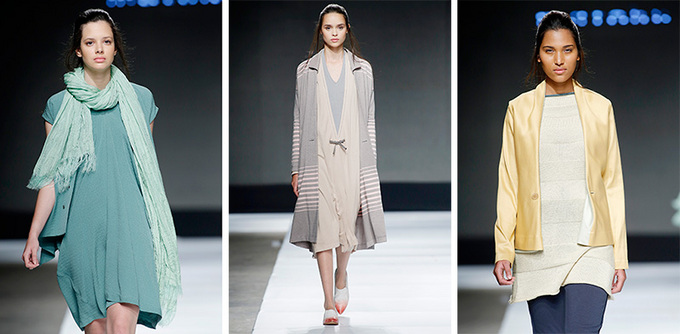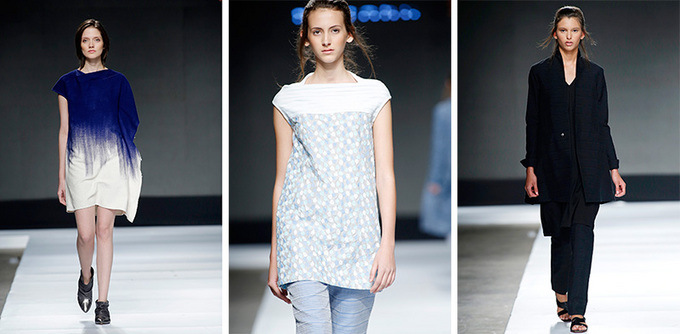 Photo: Cristiano Sergio/FOTOFORUM
There was a lot of confusion during the rehearsal, but the performance was perfect when it came to the actual show. People were shouting "Bravo!" at the end, and it concluded with great success.
Here is a video clip from the fashion show in Brasilia.
Video courtesy of:
Capital Fashion Week
matohu staff: Manabu Iida
Show Director: Hiromasa Tsujii, Hiroki Shimoda
Lecture at SENAI / CETIQT, Rio de Janeiro (August 17)


Lecture at SENAI (National Service for Industrial Training) for students and teachers.


(Left) The air was buzzing with excitement after the lecture, as we took numerous pictures with the students. Many waited in line to take a photo.
(Right) Around 20 experts and teachers gathered for a focused discussion. Participants were especially interested in collaboration between traditional skills and fashion, and time management for creative work.
Lecture at Istituto Europeo di Design, Sao Paulo (August 20)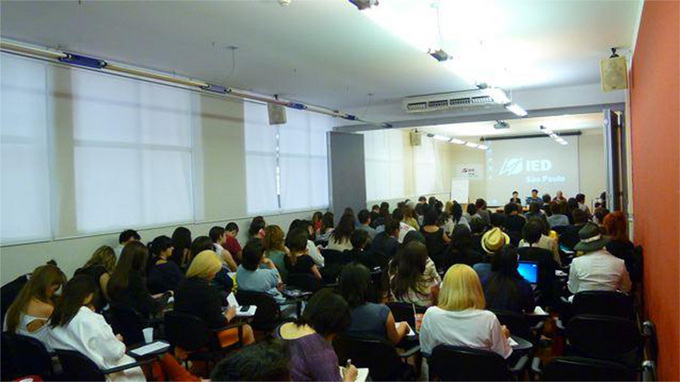 The 100-seat classroom was packed for the lecture starting at 1 p.m.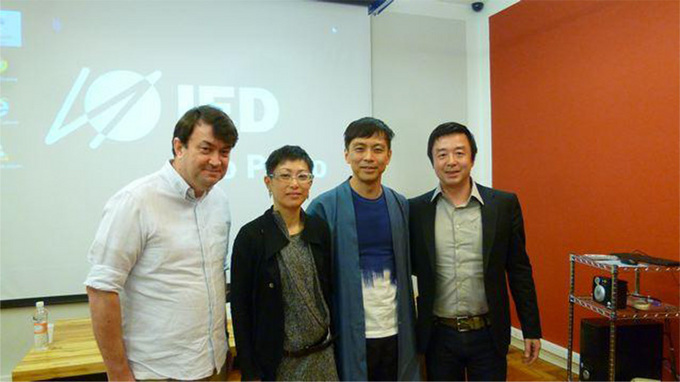 Attendees included Jum Nakao (far right), a world-famous designer who took charge of costume production for the Rio 2016 handover performance at the London 2012 Olympics closing ceremony; and Walter Rodrigues (far left), a designer who loves Japanese traditional design.
---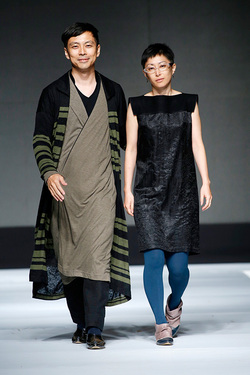 Hiroyuki Horihata
Makiko Sekiguchi
Horihata earned his master's degree in philosophy at the Graduate School of Letters at Doshisha University, and Sekiguchi graduated from the Law and Public Administration Course at Kyorin University before they both started studying Creative Apparel Design at Bunka Fashion College.
After graduation in 1998 they worked respectively at Comme des Garçons and Yohji Yamamoto as pattern makers for five years. In 2003 they moved to the U.K. to work with London-based designer Bora Aksu on his collections. On returning to Japan, they launched the brand "matohu" in March 2005, starting off with the '05-'06 A/W collection.
Since March 2006, they have been taking part in Japan Fashion Week. In 2009, the brand received the Mainichi Fashion Grand Prix New Designer Award, and the Shiseido Sponsorship Award. The brand concept is "creating new clothing from traditional Japanese aesthetics." By using original textiles and pattern cutting, matohu proposes new clothing that transcends Japanese and Western boundaries. The name matohu literally means "to wear clothes" in Japanese, and also "gives the sense of restraint, allowing oneself to mature, like fruit, slowly."