Rethinking Japan-U.S. Relations through a Visit to Vietnam
Yasushi Watanabe
Professor, Keio University
In March 2013 Keio University professor Dr. Yoshihide Soeya and I gave a series of lectures in Vietnam on the theme of "Japan's New International Relations: Japan-China-US Relations and South East Asia." At the seminar, hosted by the Japan Foundation as part of its Japanese studies seminar tour program, I delivered a lecture entitled "Soft Power and Japan's International Cultural Engagements" in which I introduced the Japanese experience, practices and challenges in public diplomacy, drawing on developments in this field in various other countries.
The lectures attracted a huge audience, presumably because Professor Soeya's lecture revolved around the prominent issue of the ongoing conflict between Japan and China. The March 19 lecture held at the University of Social Sciences and Humanities, Vietnam National University, Hanoi drew a large crowd of about 470 persons, more than double the expected audience size of 200, and the lecture at the University of Social Sciences and Humanities, Vietnam National University, Ho Chi Minh City on March 22 was attended by over 380 people. On both occasions the audience was eager to ask questions and in Hanoi, in particular, with over 30 people raising their hand to speak, there was simply not enough time to address all questions even though the session was extended for nearly one hour.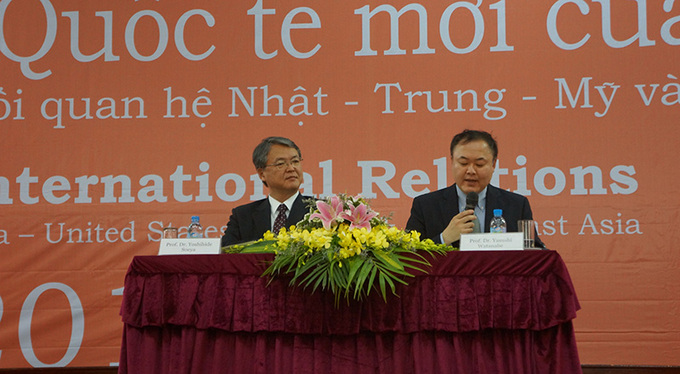 (Left) Professor Yoshihide Soeya, (Right) The writer


The lecture at the University of Social Sciences and Humanities, Vietnam National University, Hanoi


The lecture at the University of Social Sciences and Humanities, Vietnam National University, Ho Chi Minh City
"Vietnam" as viewed by an American studies scholar
In contrast to Professor Soeya, who has visited Vietnam close to ten times since 1989, I was a first-time visitor to the country. I was especially struck by the high level of interest in Japan and the sheer enthusiasm shown by the Vietnamese audience. As the geographic focus of my research is the United States, this trip provided me with a number of remarkable discoveries and experiences.
Firstly, in Vietnam anyone planning to give a lecture outside of university premises must get the government's prior approval on the content of the speech before delivering it. The existence of such a policy made me take a certain level of precautions in preparing the lecture notwithstanding the fact that I was to speak at a university. I should emphasize, however, that as far as this seminar was concerned the discussions, including the question and answer session, saw exchanges of views and opinions much more candid than anything I had expected. Needless to say, some public security officials were present at the scene and no one would have been allowed to criticize the authorities openly.
Secondly, most Japanese scholars of American studies, myself included, are prone to associate Vietnam with the Vietnam War, a symbol of America's reckless military intervention. For this reason I was curious to learn how America was perceived by Vietnamese citizens. To be honest, I had expected to hear frequent America-bashing.
My preconception proved wide of the mark, however. We did come across occasional anti-American rhetoric, but overall Vietnamese people viewed the U.S. in a distinctly favorable light. Even the public's perceptions of the Vietnam War appeared much less intense than what I had imagined them to be before arriving in this country.
This discovery prompted me to revise a part of my second lecture: At Vietnam National University, Hanoi, our first stop on this tour, I ventured to discuss the U.S. public diplomacy during the Vietnam War, which, in reality, was rather propaganda. To my surprise the audience did not seem the least bit engaged with this topic, so I decided to omit this part of the speech in Ho Chi Minh City. After all, the song that was blasting throughout the auditorium before the lecture was none other than "Hotel California" by the American band the Eagles!
Vietnam: A country with an astute sense of balance
Vietnam can be described as a country with a strong interest in Japan and a pro-American atmosphere. These attitudes are of course explained in good part by Vietnam's economic ties to the two countries and the rise of consumer culture there, but just as relevant is their entrenched wariness towards China. For over one thousand years China has exerted a powerful influence over Vietnam. As a sign of the Vietnamese attitude toward their neighbor, the Confucius Institute, an organization that promotes Chinese language and culture, has yet to open an office there. As Vietnam, too, remains embroiled in a territorial row with China, I imagine many in the seminar audience must have closely identified with us as we discussed the Senkaku/Diaoyu Islands dispute between Japan and China.
At the same time, having had the opportunity in-between the seminars to speak with various business people and researchers in addition to the university faculty, I became acutely aware of a different side of Vietnam. Having been strongly influenced historically by major powers such as China, France, Russia and America, Vietnam has developed an astute sense of balance in maneuvering its way through the world. I heard about a number of episodes that illustrate their skillfulness in the art of diplomacy, for example, that Vietnam ordered its first nuclear energy plant construction to Russia and not to Japan, taking China into consideration, and that the government banned on broadcasting the comments by Fidel Castro of Cuba regarding the death of the former U.S. president Richard Nixon, out of courtesy to America.
Plainly put, Vietnam is not in a position to take sides with Japan, let alone to publicly declare that support, despite their deep-rooted wariness toward China and the strong interest in and expectations for Japan. We should understand the global context in which Vietnam is placed as we seek to deepen relations with the country, including in the area of public diplomacy.
Another observation I made about Vietnam is the historical, psychological and cultural distance between Hanoi in the North and Ho Chi Minh City in the South. Short as my trip was--less than a week--I sensed the stark differences between North and South Vietnam on various aspects.
In relation to what I mentioned earlier about forging stronger ties with Vietnam, I should point out that the Japan Foundation has no office in Ho Chi Minh City, but only in Hanoi, where it has the Japan Foundation Center for Cultural Exchange in Vietnam. Admittedly, there is the Vietnam-Japan Human Resources Cooperation Center (Japan Center) run by the Japan International Cooperation Agency (JICA) in Ho Chi Minh City which provides various training programs such as business courses that aim to build skills required in a market economy and Japanese-language courses. All the same, many of the students and young researchers I spoke with in Ho Chi Minh City voiced their hopes to have a comprehensive Japanese cultural center in their city as well.
Japan is currently facing financial constraints, but nevertheless we shouldn't fail to make a clearly essential investment for the near future. More importantly it is such a waste of opportunity not to take advantage of the current climate, brimming with potential. This year marks the 40th anniversary of Japan-Vietnam diplomatic relations; there could be no better time to begin to take steps toward reinforcing the links between the two countries.
In closing, I would like to express my sincere gratitude to the Japan Foundation staff who coordinated this trip. Every time I witness the hard work, dedicated efforts and creative approaches of those who serve at the forefront of public diplomacy I am deeply humbled, embarrassed by my own naive perspectives in one of the books I have published, Culture and Diplomacy: The Age of Public Diplomacy (Chukoshinsho). This recent visit to Vietnam was full of rich learning and discoveries that inspired in me an urge to revise the book in its entirety. At the same time, in this week-long trip I realized the critical need to travel around and explore Asia more extensively in order to better understand Japan-U.S. relations and the United States as an American studies scholar.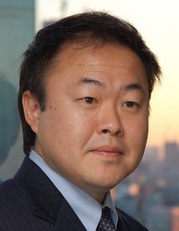 Yasushi Watanabe
Yasushi Watanabe earned a Ph.D. in Social Anthropology from Harvard University in 1997. After post-doctoral research at Cambridge and Oxford Universities, he joined Keio University Shonan Fujisawa Campus (SFC) where he currently specializes in American studies and cultural policies.
Watanabe, a Japan Academy Medal recipient in 2005, previously served two fellowships, the first at the Weatherhead Center for International Affairs at Harvard University under the Japan Foundation Abe Fellowship Program from 2003-2004 and another at Downing College, University of Cambridge, in 2007.
He has served as Executive Director of the Japanese Association for American Studies and on the Advisory Council on Public Diplomacy at the Japanese Ministry of Foreign Affairs; he is also an editorial member of Gaiko (Diplomacy) magazine and a book reviewer for Asahi Shimbun.
His books include After America: Trajectories of the Bostonians and the Politics of Culture (2004), which won a Suntory Prize for Social Sciences and Humanities and the Hiroshi Shimizu Award from the Japanese Association for American Studies; Culture and Diplomacy: The Age of Public Diplomacy (2011); and the co-edited volume Soft Power Superpowers: Cultural and National Assets of Japan and the United States (2008).
---
From the editors
The Japan Foundation welcomed professors Dr. Yasushi Watanabe and Dr. Yoshihide Soeya as lecturers in the Japanese Studies traveling seminar "Japan's New International Relations: Japan-China-US Relations and Southeast Asia" held in Hanoi and Ho Chi Minh City. Dr. Soeya has also contributed an essay titled "Missing Diplomacy toward Asia? --The Blind Spots of Japanese Foreign Policy Recognized through a Visit to Vietnam."