A Learning Journey to Japan: Superintendent of a U.S. Public School District Aiming to Strengthen the U.S.-Japan Friendship
Dick Cvitanich
Superintendent of Olympia School District, Olympia, Washington
When fourteen educators from across the country gathered in Los Angeles on a Friday evening in late June, each held high expectations for their upcoming journey to Japan. Representing school districts and universities from across the country, all shared a passion and interest in promoting Japanese language and cultural studies within their schools and communities. The learning tour, sponsored by the Japan Foundation, would include lectures, school visits, trips to cultural and historical sites, and information exchange opportunities with Japanese educators. By the end of the tour it was clear to all participants those high expectations were exceeded.
Established in 1972 by the Japanese government with the purpose of carrying out programs for international cultural exchange, the Japan Foundation organized this program to further promote a better understanding of Japan among U.S. educational leaders and to nurture an affinity toward the people and culture of the island nation. Sponsors encourage the participants to use this experience in their decision making when developing and expanding the quality of Japanese language, culture and history education at elementary and secondary levels in the U.S.
The pre-departure orientation in Los Angeles included an overview of the economic and strategic relationship Japan has with the United States, as well as a brief and humorous explanation of key Japanese phrases to make our journey more comfortable. It culminated with an evening dinner and reception at the home of the Japanese Consulate, where all participants were treated to the warm hospitality they would experience throughout their travels in Japan. Before departure, everyone in the group recognized the excellent organization of the Japan Foundation, and in particular Senior Program Officer Maki Watanabe. We were in capable hands!
Dialogue between Japanese and U.S. educators
With so much to learn in a country I had never visited, I determined to journal every day so I might better remember the sights, conversations, and impressions that presented themselves so quickly. It is often in the details one can find the essence of a people and nation, and I was determined to understand all I could in this short time.
Looking back at my notes, many events and opportunities stand out that contributed to my growth as a professional educator. These included a lecture presented by Dr. Mark Langager, Senior Associate Professor of Education at International Christian University on the Japanese Education System, visits to elementary and secondary schools where faculty and students treated us with respect, kindness and curiosity, and an opportunity to engage in dialogue with representatives of the Ministry of Education, Culture, Sports, Science and Technology where we learned that Japanese educators have a focus on developing a "Zest for Life" in their students.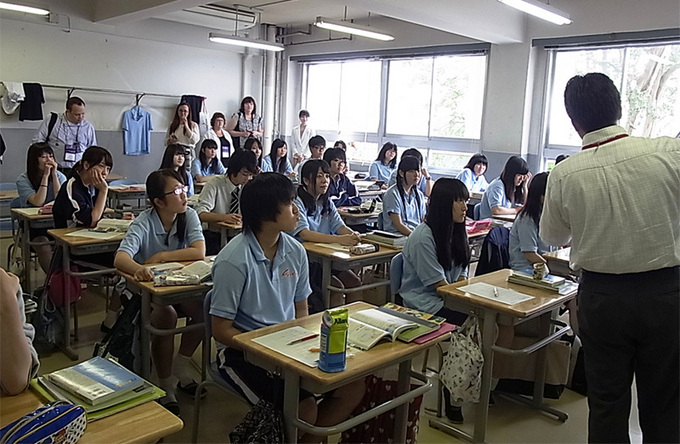 Observing a class in Shokei Gakuin High School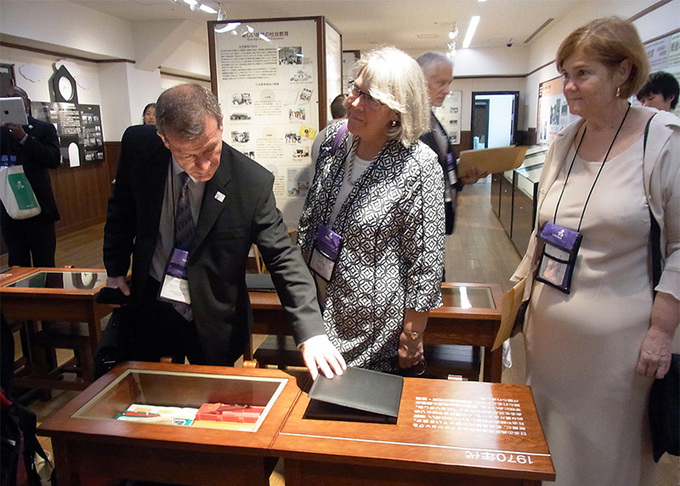 Museum of MEXT (Ministry of Education, Culture, Sports, Science and Technology)
Yet, as I reflect on this opportunity, it is more the observations of the culture and people that created the greatest impression upon me. The joy on the faces of elementary children at Rikuzentakata Municipal Yokota Elementary School, many of whom were victims of the Great East Japan Earthquake, spoke eloquently about the resiliency and work ethic of the Japanese people. Our visit to the disaster area outside of Sendai, and later to the "Home-for-All" further reinforced this sense of loss, but also the obvious spirit of cooperation to rebuild lives.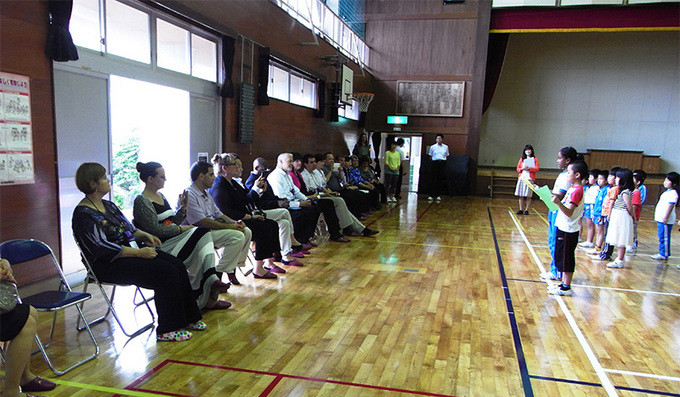 Yokota Elementary School in Rikuzentakata


Visit to the disaster-stricken area
Observing various scenes of Japan
How a country honors its history and culture in light of a rapidly changing world also opens a window to their collective thinking. There was no shortage of these opportunities built into the itinerary; our capable guide making each stop more interesting. Enjoying the chance to visit Fushimi Inari Shrine, Kiyomizudera, Kinkakuji and Ryoanji Temples, and the Japanese Tea Ceremony all spoke clearly of the power of reflection and Japanese traditions.
With the small amount of free time provided, we enjoyed the cities of Tokyo, Kyoto and Sendai. On our own, we were free to discover the friendliness and efficiency of Japan. My journal is filled with writing about how impressed and pleased I was by the many sites and experiences. These included the Shinkansen bullet train, fresh sushi, Shibuya and Shinjuku, izakayas, Tohoku Rakuten Golden Eagles baseball team, beef tongue, crowded train stations and subways, "Salarymen," affection for former Seattle Mariner Ichiro Suzuki, geisha culture, teens in Harajuku, the quiet of the Narita Airport and public places, Ginza, yakitori, the silk screen beauty of the country side, organized chaos at the Tsukiji Fish Market and the cleanliness of the cities. Most importantly, I was impressed by the friendliness and honesty of the people I met.
Our journey culminated with a visit to the Ministry of Foreign Affairs, where we were welcomed by Naoko Saiki, Director-General for Cultural Affairs. She reminded us of the great friendship between Japan and the United States and the importance of building upon this relationship by expanding Japanese language and cultural opportunities in the U.S. She encouraged us to explore avenues to increase U.S.-Japanese student exchange programs as well as cultural exchanges of all ages. She was gracious and articulate. Later that evening, the Japan Foundation hosted a farewell dinner celebration for all participants where we had the opportunity to visit with friends and colleagues we had met throughout our stay; a chance to say arigato and goodbye.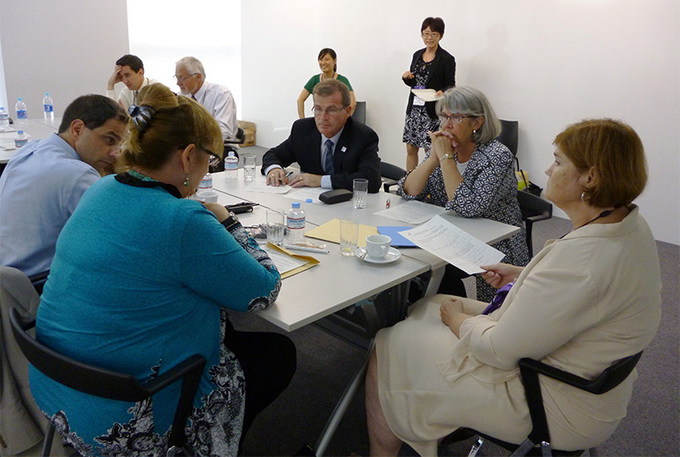 Debriefing discussion
Toward the development of Japanese-language education in the United States
As superintendent of a public school district with approximately 9,000 students I have been profoundly moved by this opportunity. Our district currently offers Japanese language study to students in grades nine through twelve, including International Baccalaureate level. Through this opportunity, I have developed keen interest in expanding language study to other schools in our district. Questions I will ask our staff, community and Board center upon how we can expand Japanese language learning to our other high schools and middle schools. How can we create learning experiences for students to study Japanese culture and history both as a curricular opportunity and after school club? How can I begin to support student and staff exchanges with Japanese schools? Finally, how can I better integrate our students and citizens with our sister city, Kato.
As I read my journal on the long plane flight home from Japan, I was reminded of the beauty and self sufficiency of Japan. I considered my gratitude for the professional and personal opportunity the Japan Foundation offered me as a school leader. Finally, I clearly understood the importance of Japan as a friend to the U.S. and the efforts we must make to strengthen that friendship. Thank you Japan Foundation on behalf of all us.