Young Female Players of Traditional Japanese Music to Visit Latin America and Perform with Famous "Folklore" Musicians
Chie Hanawa, Tsugaru shamisen player
Yoshimi Tsujimoto, Shakuhachi player
Musical duo "FUGA," who brings together the traditional elements of Japanese music and the sensitivity of present day sounds, toured Argentina and Chile from July 15 to 24, 2013. The duo is comprised of Chie Hanawa, the youngest winner of the women's A grade competition in the All Japan Tsugaru Shamisen Championship, and shakuhachi player Yoshimi Tsujimoto.
In Buenos Aires, they were joined on the stage by the internationally renowned quena player, Raul Olarte. In Santiago, they appeared in the finale of the Japan Festival at the Centro Cultural Gabriela Mistral and performed with guitarist Juan Antonio Sanchez, a winner of the Altazor Award of the National Arts in Chile.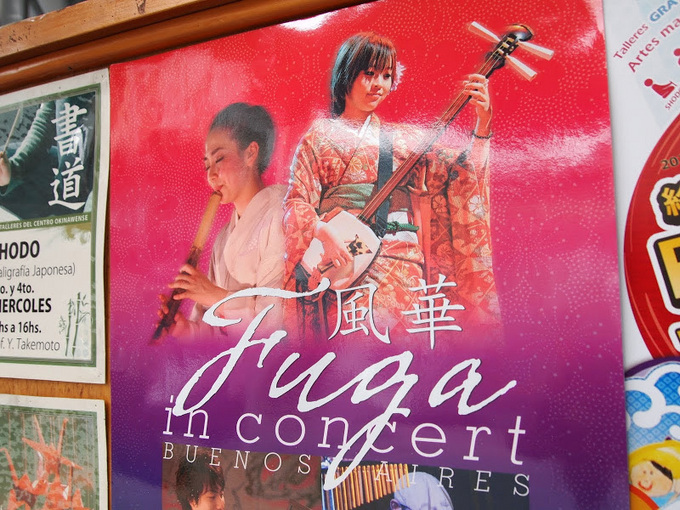 Poster for their Buenos Aires concert
Despite the language barrier, we were able to talk to each other sincerely through our music (Chie Hanawa)
For the first time ever, I embarked on a concert tour in South America and had absolutely no idea how the audience would react. We both were apprehensive about whether they would like our music. But the people we met in both Chile and Argentina welcomed us warmly; they were so friendly that we didn't feel as though we were meeting them for the first time and our anxieties gradually disappeared.
The concert staff members were very kind and helped us with the settings, and they always showed the greatest concern for our well-being. So it was with a grateful heart that we did our best to convey the Japanese spirit which had its origins on the other side of the globe. The audience listened with great enthusiasm to our music and our feelings of gratitude grew by the day.
Guitarist Juan Antonio Sanchez, who joined us on the stage in Chile, got into the spirit of things and surprised us by diverging from the agreed-upon highlights and jumping into an impromptu jam session. Although we didn't speak each other's language, it was a moment we became able to have conversation with each other through music, and that sparkling memory still remains in my heart.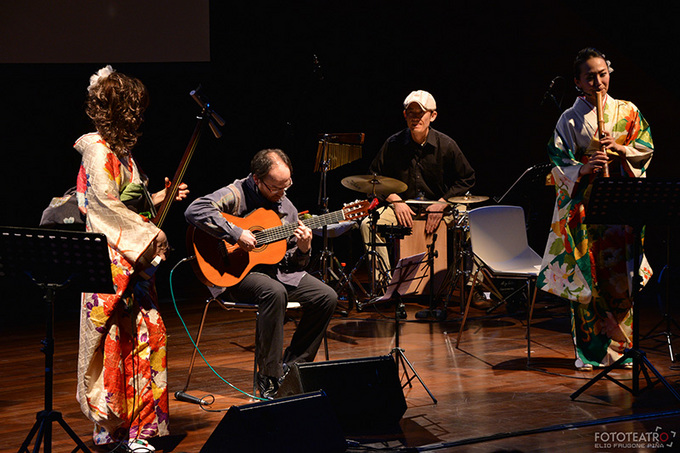 Jam session with Juan Antonio Sanchez
In Argentina, we performed with Raul Olarte, the eminent quena player. While listening intensely to our music, he brought us together in a warm embrace with the profound notes of his quena. Although the quena, a traditional flute of the Andes, and the shakuhachi are worlds apart in their origins, I was impressed to hear how similar they were in the quality of their sounds.
Japan and South America are distant in their locations. But this tour made me realize that the distance between our hearts was not very far. The spirit of learning new things from the past is at work here. That is why, I believe, our fellow musicians and audiences in South America warmly welcomed and enjoyed our efforts to bring the old and new together in our music.
I strongly hope to return to South America in near future and meet those friends again. Until then, I will continue devoting myself to working on my music. This tour gave me renewed strength and determination, so now I would like to communicate even more deeply with the world through my music.


(Left) Santiago cityscape, (Right) the concert venue in Santiago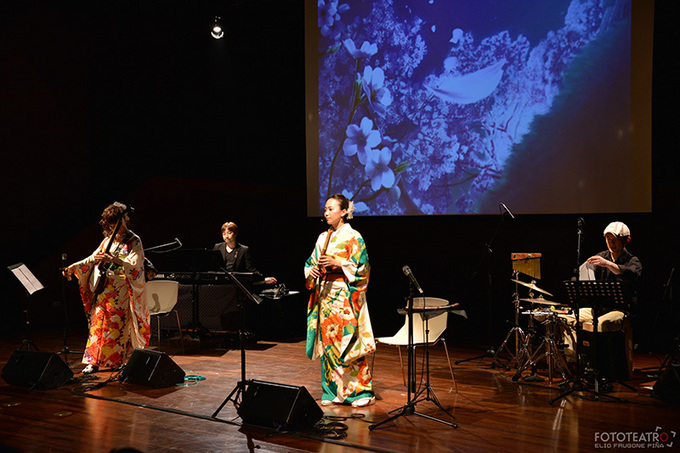 Performing in Santiago
A first attempt to play the quena in Argentina (Yoshimi Tsujimoto)
I became very excited when I received the invitation to tour South America. Never had I dreamt I would be performing in Chile and Argentina--the other side of the world from Japan. It was to be a 10-day tour, from July 15 to 24, 2013. My expectations grew bigger and bigger as I set off for the first time to South America.
And I was especially looking forward to performing with leading musicians in those two countries.
Our first stop was in Santiago where we were joined on stage by Juan Antonio Sanchez, who is a composer and one of Chile's leading guitarists. I was spellbound by the subtle and vivid tones of his guitar. And in Buenos Aires, I had the wonderful experience of playing with Raul Olarte, who is recognized as one of Argentina's best quena players.
In Japan, when I played "El Condor Pasa," the famous Andean folklore melody, people often told me that the tones of the shakuhachi and quena were very similar. So, naturally, I became interested in the quena and since I was in Chile where this flute originated, I asked to be taken to a musical instrument shop. The owner of the shop showed me a number of different traditional instruments and explained their characteristics in detail and even allowed me to play them. Of course my main interest was the quena and I was shown a variety, from which I chose one to bring home with me.
When we arrived in Argentina, I asked Mr. Olarte to teach me how to play the quena. Broadly speaking, the quena and shakuhachi are similar in structure and I didn't have too much difficulty producing notes, but there was a huge difference in the tone. When Mr. Olarte played his quena, the sounds were warm and they seemed capable of catching the wind and flying far away.


(Left) Buying my own quena, (Right) Being taught by Raul Olarte
On a concert tour like this, you can experience the culture of the country you are visiting at close hand, too. I think it becomes a wonderful opportunity to get to know and interact with the people through music and the performances. It has made me determined to reflect this experience and stimulus in my future activities in Japan. What's more, I would be more than gratified if our performances lead to more people in South America showing an interest in Japan and coming closer together. Thank you.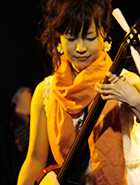 Chie Hanawa
Tsugaru shamisen player
Born in Ibaraki Prefecture, Hanawa began learning the Tsugaru shamisen at the age of nine from Mitsuyoshi Sasaki, and at 17 she first entered the women's A grade at the All-Japan Tsugaru Shamisen Championship and became the youngest winner ever. While she was studying traditional Japanese music at the Tokyo University of the Arts, she made her professional debut with her album Tsuki no usagi (Moon rabbit, 2004). Since then she has been giving live performances at clubs in Tokyo and played in bands. She has formed "hanamas," a Japanese-Western music duo with violinist Natsumi Okimasu. She has also set up "Yui," a group with shakuhachi player Yoshimi Tsujimoto and Kou Kakinokihara (koto), both university friends. She has performed in front of the Imperial Family at the Toukagakudou concert hall, and toured overseas in Asia, Europe and the United States. She has also appeared in TV commercials. She is recognized as an up-and-coming talented artist who is willing to cross genres and take the Tsugaru shamisen to new heights.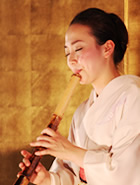 Yoshimi Tsujimoto
Shakuhachi player
Born in Wakayama Prefecture, Tsujimoto was 16 when she began playing the shakuhachi. While she was studying the shakuhachi at the Tokyo University of the Arts, she appeared on the popular TV program, Daimei no nai ongakukai (Concert without a name), and toured the United States and Italy. In 2011, she played the shakuhachi in a touring performance of Banka no mai (Late summer dance), a play starring popular stage actor Taichi Saotome. Tsujimoto is based in Tokyo, playing with her university friends in the group, "Yui," and as member of "Aioi," an orchestra of Japanese traditional music.