Theater from Tohoku: Spiritual Exchange beyond Remembrance of the Earthquake Disaster and History between Japan, China, and Korea
Koji Hasegawa, Artistic director of performing arts at the Aomori Museum of Art,
writer and director of "SHUGEN ~Celebration/Expression~"
Park Kun-hyung, Playwright and director from Korea
Yu Rongjun, Playwright and director of the Shanghai Dramatic Arts Center
A theater project titled "SHUGEN ~Celebration/Expression~" on the theme of the Great East Japan Earthquake disaster is currently underway. It is a joint production created as part of the exchange programs between the three neighboring countries of Japan, China, and Korea. Being led by Koji Hasegawa, the artistic director of performing arts at the Aomori Museum of Art, the production involves Japanese theater people based in the Tohoku region as well as stage actors, musicians, and photographers from China and Korea. The project is scheduled to tour eight cities in the three countries, starting with a performance in Aomori, Japan, on October 11, 2013.
A panel discussion was held prior to the tour, inviting the playwrights from Japan, China, and Korea to share their thoughts on theater production and cultural exchange with the historical and political background of the three countries in mind.
(The panel discussion was held in Tokyo at the Korean Cultural Center Hanmadang Hall on March 8, 2013, and moderated by Bunji Yokomichi.)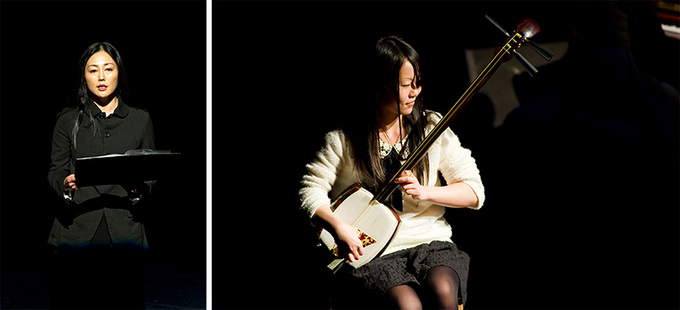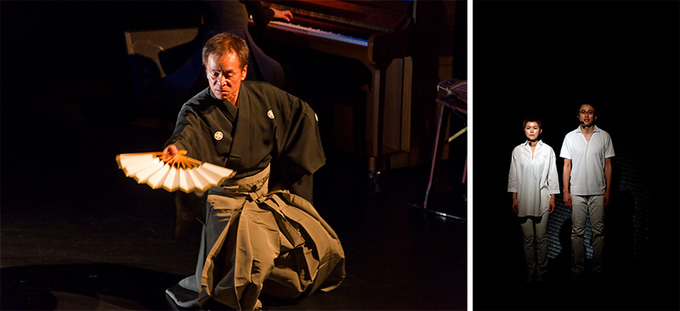 Pre-event in Aomori
The earthquake disaster and theater
HASEGAWA: A month after the Great East Japan Earthquake of March 2011, we held a theater performance of a piece by Osamu Dazai called Tsugaru at the Aomori Museum of Art. We invited people who had evacuated to Aomori from Iwate Prefecture to the performance, and so it was that I met the head priest of a temple serving as a shelter for the evacuees.
This head priest said to me, "Mr. Hasegawa, truly terrible things have happened." Apparently, one of the evacuees from Iwate at his temple said, "As you are the head priest, please listen to my anguish," and then confessed to him, saying, "I escaped from the tsunami by driving away by car. And while I was trying to get away, I ran down and killed some people running in front of me and I survived. Do I have the right to live?"
I felt that perhaps only art or religion could provide a solution to such suffering. I believe there must be something that only we as theater people or artists are capable of doing, and that is what I would like to try and do.
Theater in Korea: the fringe theater movement in decline
PARK: I belong to a theater company called "Golmokil (meaning "back street" or "alley")." Golmokil are places that are filled with memories but are also disappearing as our cities grow larger. They used to be the paths children took to go to school. At Golmokil, we also played with our friends, heard the neighbors having a row, and got up to mischief as a student. Thus, they are the places where we spent a lot of time as we went through life.
I named the theater company Golmokil because I thought it encompassed the sadness and joy in peoples' lives and was full of fond memories we'd want to pass down to our children. And so, our performances often revolve around the simple thoughts and feelings that are now being forgotten or the time we spent without distractions. It has been a decade since we first started the theater company, and so we celebrated our 10th anniversary with a festival, holding a performance titled "Golmokil with a stove."
There are more than 130 theaters crowded in Seoul's Daehangno area. Many larger commercialized theaters have also been established there, including a theater designed specifically for musicals, funded by corporations. These days, expert producers also participate in ordinary theater company productions. And though the result may be professional, I feel that we're getting more performances that seem to be lacking in the human touch. Fringe theater companies like us used to be the mainstream of Korean theater, but now it is in gradual decline.
There may be various reasons for this decline, but one of the major factors is the audition system employed by large theaters. The audition system is fine in the sense that it provides young actors with opportunities. For an actor, rather than performing solely in your own theater company, passing an audition and getting cast in roles leads to better economic situations and a better system. But this has also had an impact on actors who are the lead players in smaller, weaker theater companies. The most crucial element for a theater company to continue performing is the actors. If the leading actors enjoy a higher level of flexibility, that leads to the frequent reshuffling of members in small theater companies, and that makes things difficult.
As for the general trend in theater, the themes are now more concerned with personal, simple, and familiar issues rather than raising awareness of major issues. While society is becoming more affluent, the individual is experiencing harsher environments, and this can be seen in phenomena such as the rise in young people committing suicide or the aging society. These are the sort of things that are becoming the themes for theater today.
Small theater companies gaining momentum in China
YU: The Shanghai Dramatic Arts Center is a national theater company that was established after the merger between the Shanghai People's Art Theater and the Shanghai Youth Drama Troupe. (NB: In China, modern theater is called hua ju or "spoken drama.") China's modern theater companies were established after New China was founded in 1949, and they were modeled after those of the former Soviet Union.
The 90s were a terrible period for modern theater and performing arts in China. Few people came to see the performances, and hence there was little revenue. Theater people had no choice but to shift their activity base to television and movies. But there has been a major change since around the year 2000.
In the old days, Shanghai only had four or five national theater companies, but now there are 40 or 50 groups. Beijing has as many as 150 to 200 fringe theater companies and we are seeing many similar troupes sprouting up in Shanghai too. These days, theater is gaining popularity with younger audiences, and more people are now involved in theater. There have also been more theater performances in cities other than Beijing or Shanghai.
But there are also problems. Two years ago, the government started reducing its funding for theaters. Because of this, many national theater companies have chosen the path of independent management, while smaller theater companies have been struggling, being unable to receive government funding and scraping by with admission fee revenues and theater members pitching in.
The significance of Japanese, Korean, and Chinese theater people of the same era coming together
HASEGAWA: I have always wondered why it has been so difficult for Korea, China, and Japan--countries that are geographically and culturally very close--to understand each other better. So, this time, to collaborate with members from Korea and China, I decided that we would work together from the first steps of the process. The issues of language or political systems may be present, but I believe that we also have an element we can share, and that is our spirit. I hope this project will turn out to be spiritual exchange rather than economic exchange. That is what I would like this to be.
YU: I've been involved in joint productions in more than 20 countries for the past 13 years. I think we've been able to work with various countries because we believe that working with other theater companies and theater members enables us to produce better results. When we work with people of various countries, it is so exciting that we almost forget which country or which culture we belong to.
PARK: I believe that the fundamental objective of cultural exchange is human exchange. It is important for people to meet each other and interact face to face. By eating the same meals together, going to rehearsals together, and going back to the dormitories together, we can discuss and understand the differences in our points of view. I believe this "SHUGEN ~Celebration/Expression~" project can be more than a simple human exchange. I believe it's a significant initiative, providing a place with deep resonance, where everyone can share the meanings and values offered therein.
New production on the theme of the earthquake disaster
PARK: The title "SHUGEN ~Celebration/Expression~" can be interpreted as a festival with words and conversations, but for me it sounded like the opposite. It was not about a festival but a tragedy. Not about words either. I thought it was a story of a tragedy experienced by body and soul.
Another word that came to mind was "immortality." I don't know how this production will start and end in this autumn and winter, but the people who perished in the Tohoku region on March 11, 2011, have become immortalized in our minds. If this production is able to leave some sort of impression on the audience, besides simply being a form of art or mass entertainment, I believe that theater, with its value and meaning, is capable of conveying that concept of immortality, and I actually believe it will be able to do that.
YU: China's Sichuan province also experienced a massive earthquake in 2008, and many were killed. I wrote a play after the earthquake, and this had a long run in Shanghai. It was about what people felt after the earthquake, how we helped each other, and about the many people who were lost in the disaster. We as artists tried to figure out how we could help people in the disaster stricken areas.
After the Great Hanshin Earthquake of 1995, a theater company from Kobe came to Shanghai to perform a play about the human ties between people and families. A theater company from Taiwan also performed a piece in Shanghai about how the blind were affected in an earthquake. When we face natural disasters, we work together to move forward, and so we can help, show love for, and understand each other better. I hope we can all have the courage to overcome natural disasters together.
Relationship between major cities and regional areas
HASEGAWA: People who live in Tokyo tend to have a stereotypical image of people in regional areas. For example, they may simply assume that people of Aomori Prefecture are warm-hearted and compassionate, but this may not actually be the whole picture. When it comes to promoting the regional attraction, people often end up boasting about what they have, but it won't last long. I believe we need to aim for something more universal.
I write and direct plays for the Hirosaki Theater Company in Aomori, and there we perform with the local Tsugaru dialect. The reason why I choose to use the dialect is that it adds a sense of reality to the actors' physical movement and body language. My priority is not about simply highlighting the charm of Tsugaru. I'm more interested in how people get along with each other, the kinds of relationships that hurt us, or how we can understand each other more deeply. My interest lies in these sorts of universal aspects.
That's why the conventional framework of "central" and "regional" as opposing forces does not really exist in my mind. Instead, I hope to propose ideas that encourage people to adjust to each other's way of thinking.
To accept the past and welcome the future
HASEGAWA: Originally, the title of our project "SHUGEN ~Celebration/Expression~" didn't have a slash mark in the middle. But when I visited Korea and China for research, I did sense that there was an indelible past between our countries and that was why I added the slash mark.
I think we need to keep thinking about when we can take this slash mark away. Humans need to forget in order to move on, but there are things that we must not forget. I hope to engage in creative activities in future with the awareness that there are such things between the three countries of Japan, China, and Korea. What do you two think about this?
YU: It is a very real issue. A couple of days ago, I heard that a Chinese troupe member had decided to leave a theater production because it was related to Japan and that had upset the member's parents. But my nine-year-old niece can speak Japanese although she hasn't studied the language. She loves Japanese singers. In China, Japanese singers are very popular. I believe that international cultural exchange can help us eradicate wars and understand each other better.
PARK: In Korea, there's a book of medicine called Dongui Bogam which was written in the 17th century during the Joseon Dynasty. It was probably influenced by the ancient Chinese physician Hua Tuo and other famous doctors. This book provides instructions on what medicines to take and how to apply acupuncture for pains in specific parts of the body, but perhaps what is more remarkable is that it states that it is normal to experience pain when the body is wounded. The important lesson it provides is not to fear pain or feel distress from being wounded.
Whether it's in East Asia, the United States or Europe, as long as people are alive they can get hurt. But I believe these wounds can heal with time, and we should take a long-term approach to let ourselves heal. While we continue making efforts in our generation, I believe our descendants will do better than us, become smarter, and be able to enjoy happier lives in harmony with the people of East Asia.
(Edited by Ayako Tomokawa)
---
Japan-China-Korea Joint Production "SHUGEN ~Celebration/Expression~" Tour Schedule
[In Japan] (3 cities)
Aomori
Dates: Friday, October 11 to Sunday, October 13, 2013
Venue: Aomori Museum of Art
Sendai
Date: Sunday, November 24, 2013
Venue: Sendai City Youth Cultural Center
Tokyo
Dates: Friday, November 29 to Sunday, December 1, 2013
Venue: New National Theatre, Tokyo
[In Korea] (3 cities)
Daejeon (official invitation to the Grand Festival)
Dates: Saturday, October 19 and Sunday, October 20, 2013
Venue: Daejeon Culture & Arts Center
Seoul (official invitation to the Seoul Performing Arts Festival)
Dates: Friday, October 25 and Saturday, October 26, 2013
Venue: Daehangno Arts Theater
Jeonju
Dates: Friday, November 1 and Saturday, November 2, 2013
Venue: Sori Arts Center of Jeollabuk-do
[In China] (2 cities)
Shanghai (formal invitation to the Shanghai International Contemporary Theatre Festival 2013)
Dates: Thursday, November 14 to Sunday, November 17, 2013
Venue: Shanghai Dramatic Arts Center
Beijing
Date: Scheduled for mid-January 2014
Venue: Penghao Theater
---
"SHUGEN ~Celebration/Expression~" photo collection
A photo collection produced by Japanese photographer Risaku Suzuki and Korean photographer Kim Jiyoun. The photographs were taken as they traveled to Shanghai, Suzhou, Seoul, Sendai, Tono, and Aomori, which are locations related to the characters in "SHUGEN ~Celebration/Expression~." (All five photos below are by Risaku Suzuki.)
http://www.akaaka.com/publishing/books/bk-shugen-risaku.html