How Would Media and Technology Play a Role in the Progress of Society?
Ade Darmawan
Director of ruangrupa (Indonesia)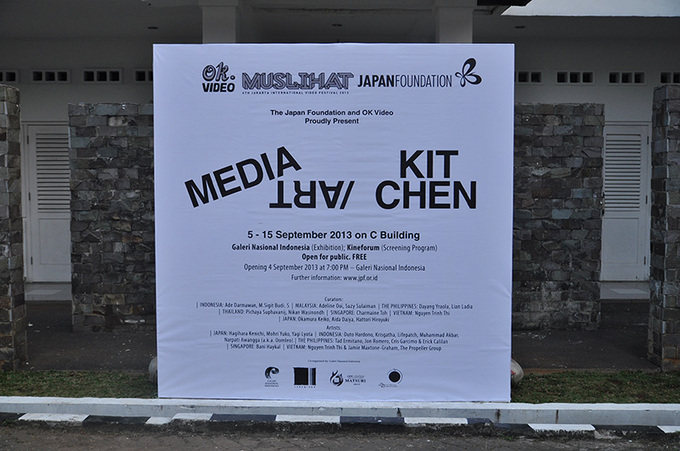 An exhibition of media art from Japan and ASEAN countries, entitled "Media/Art Kitchen - Reality Distortion Field," has been on view, starting with the grand opening in Jakarta in September 2013.
It is always difficult to propose an exhibition that features media art and reflects regional conditions at the same time because then, we would easily get into being "stereotyped." Creating a forum to share knowledge between a group of people with various backgrounds could serve as an interesting method to address locality context without being a cliché. This time, we had a discussion and mapping forum and concluded to hold several exhibitions in various cities and countries with different invited artists, designed specifically to bind with the contextual and physical need of each location. This has become an interesting and important approach, turning to be like a collection of local recipes mixed with spices of diverse origins in its entirety.
The "Media/Art Kitchen" exhibition in Jakarta, which we initiated, presents critical and reflective implications for daily consumption of technology and visual media language. We have found it interesting to see the works that are simple yet have a keen insight into visual and media technology culture in the society. Having seen the progress of society, it is very important to look back on the role of media and technology and ask ourselves how the media has changed our lives, and how we perceive our surroundings, reality and ourselves. Today, we often witness young people creating photographic, film or digital video works with their cellphone and uploading them on social media. That only shows an insignificant fact to prove how rapid the media have grown along with the advancement of technology. The devises to mass-produce images have been easily accessed in everyday life, and our daily lives have taken us to become a consumer of those media technology.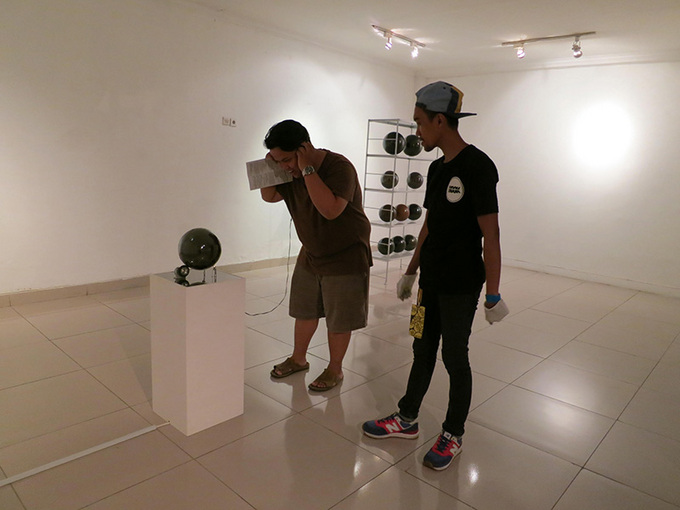 Exhibition view (Photo by Deasy Elsara)
Technology and art
The Jakarta edition of "Media/Art Kitchen" focuses on the contrasts between the artists' attitudes to deal with the advancement of technology and the society's behaviors to consume technology. Employing the technological devises that are familiar in everyday life, the artists conduct various experiments to alter these initial functions. Moreover, the exhibition also presents new approaches to industrial products, collaborations with philosophical and aesthetic discourse, and standpoints as an inside-critic taking advantage of technological development and at the same time criticizing the very nature of technology itself.
The works of Hagihara Kenichi (Japan), Nguyen Trinh Thi & Jamie Maxtone-Graham (Vietnam) and Muhammad Akbar (Indonesia) show how people use their body expressions and perceptions in front of a camera or lens. It is a simple yet brilliant trick to capture the changes in consciousness when being photographed, and the artists skillfully present them in their video works. Meanwhile, Narpati Awangga, a.k.a Oomleo (Indonesia), with his pixel-art works, both printed and .gif animation, reminds us of the smallest unit of a digital visual form, the concept of pixel. We are also reminded of the immensity of sound storage media that was popular in the 80s: cassette tape, used in Yagi Lyota's (Japan) work. The tapes are wrapped and piled up on various sizes of balls, and play the recorded sounds. This work then produces unexpected and atmospheric sounds, overlapping from dozens of meters of the tapes that fold the balls.
This exhibition also aims to correlate artistic practices, which analyze design/product, with the ideas of exchanging, adding or altering the initial purpose or value of an object, of re-using or re-making aesthetic speculation, and of resisting against or challenging and developing the system.
Mohri Yuko's (Japan) work explores the relation between space and objects with these kinetic and sound elements. Mohri creates an ecosystem by combining ordinary and historical materials, and the whole installation is designed with accurate precision to respond the space, aiming to produce the effect of uncertainty and unanticipated sound and movement. And then we have work of Lifepatch (Indonesia) who designs an electronic irrigation system based on humidity sensor. The installation, called Moist Sense, acts as simulation of a simple automated irrigation system using humidity sensor to measure water content in the soil. The plant's needs of water could be met by sensor and electronic circuit connected to a terminal will automatically send water according to its needs. This installation uses a series of simple application of LED lights and electronic oscillations (sound) to represent plant's health. The health of the plant could be detected by water content in the soil.
When the soil is highly moisturized, LEDs and sound rattles faster, and the other way around when the soil gets less moisturized. This automatic watering system will send water to the plant when the soil dries. Each plant has an electronic sensor and oscillator which generates triangle and square waves and noises. The different combination of water quantity and electronic instruments create an audiovisual composition as an output.
Another interactive work titled Sammy And The Sandworms, inspired by Golan Levin's program, comes from Tad Ermitano (Philippines). Ermitano enables audience to interact with his work by drawing lines that moves like worm on a computer screen--in addition to that, audience could also manipulate the sound coming from the worm's movement across the screen. This work takes audience into the exploration of computing, programming and electronic devising to manipulate sound and video in real-time.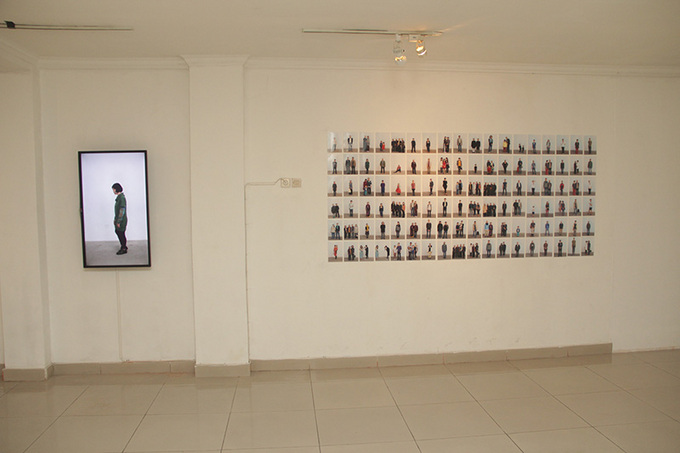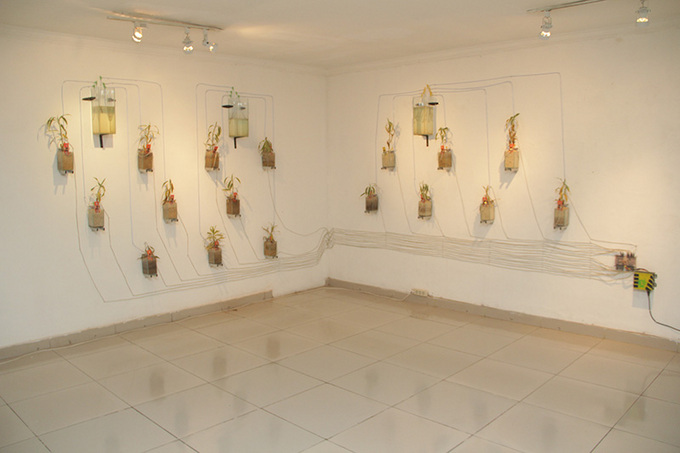 Exhibition view (Photo by Haritsah and Rian)
The performances and laboratories attracted a great deal of attention
During the opening night, which coincided with the opening of OK. Video Festival at Galeri Nasional Indonesia, the M/AK's artists were attracting large number of audience with their performances. It began with a sound and multimedia performance by Horio Kanta (Japan) that amazed audience with his found objects, kinetic works and electromagnetic movement. Thereafter came a collaborative sound visual performance by Tad Ermitano (Philippines) and a sound exploration by Duto Hardono (Indonesia). Lastly, Bani Haykal (Singapore) came forth with a sound performance using his self-designed musical instrument. (For more detailed report on the opening and performances, please see the article, "'What is Media Art?'--Curators from Japan and Southeast Asia Explore Today's Meaning of Media Art".)
We also held the laboratories where artists could directly work together with other artists/participants. The labs focused on reusing old and second hand tools/gadget/electronic stuff that could be found at flea market. They agreed to find materials for works from a flea market called "Mall Rongsok" (Trashy Mall) in Depok. For about a week, they shared their knowledge and experience and explored various possibilities that could come out from that particular object. Horio Kanta saw the found object as an element and stretched the notion of technology and its functions. This was also the case with Lily Adi Permana (Indonesia). Meanwhile, Krisgatha (Indonesia) and Sammuel Bagas (Indonesia) looked at social and historical context of the found object as their initial point of exploration.



Laboratories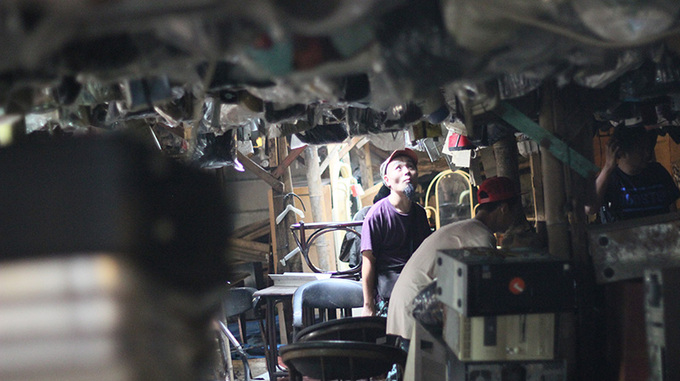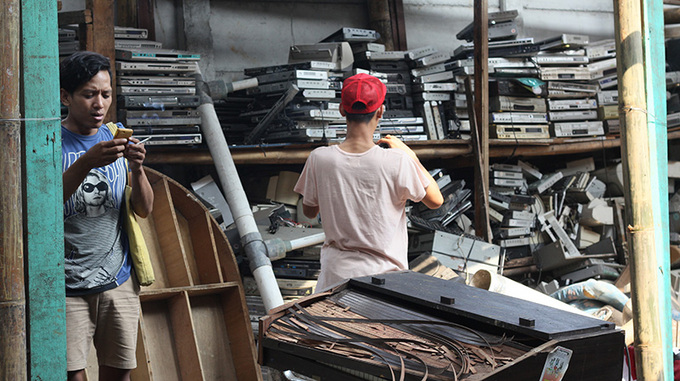 Going shopping for the laboratories (Photo by Yayan)
On workshop session at M/AK Jakarta, Lifepatch gave a workshop on making a simple electronic microscope using a webcam. The workshop was enthusiastically attended by junior high school students. On top of that, Tad Ermitano also shared his knowledge to a group of college students interested in programming and digital sound.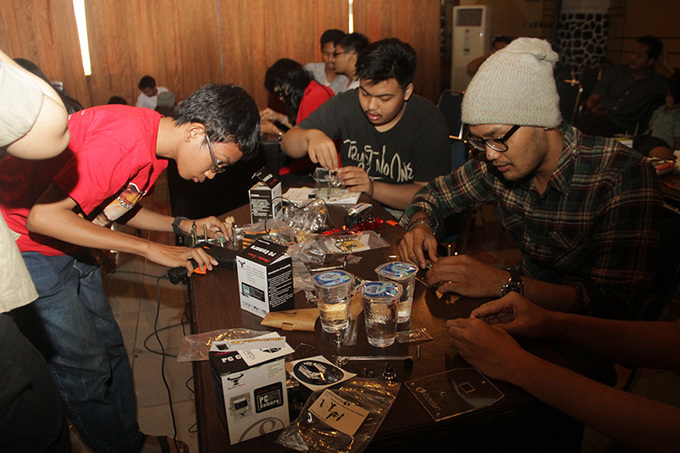 A workshop by Lifepatch
Altogether, M/AK Jakarta successfully offered audience the opportunities to experience various interactive works, art pieces that correspond with space, and performances. Beside all that, the exhibition also presented media art in general as a form of innovative art but still close to our everyday life. Most of the artists involved in the exhibition are using a simple combination of everyday objects and technology to invite audience to experience different cultures. The fact that "Media/Art Kitchen" exhibition in Jakarta was held alongside with OK. Video Festival has turned out to be a great strategy to complement and enrich the experience of wider public on media art. Furthermore, the involvement of Japanese and Southeast Asian artists has also given a different yet significant contribution to the development of artistic expressions as well as social and cultural ideas and, therefore, of Indonesia's media art as a whole.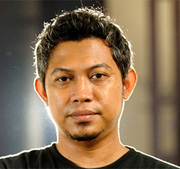 Ade Darmawan
Ade Darmawan (b.1974, Jakarta) is an artist and curator. He co-founded ruangrupa artists' initiative in Jakarta and currently serves as its director. He studied at Indonesia Art Institute (ISI) and continued his studies in Amsterdam, Netherlands on a two-year residency at the Rijksakademie Van Beeldende Kunsten (State Academy of Fine Arts, Netherlands). He was a member of Jakarta Arts Council between 2006 and 2009, and became the artistic director of Jakarta Biennale XIII-ARENA in 2009. His latest solo exhibitions include "Human Resource Development" at Ark Galerie, Jakarta in 2012 and "Home Theater" at artclub1563: contemporary art center, Seoul in 2013.