The Invaluable Experience to Create an Exhibition by 13 Curators across the Borders
Adeline Ooi
Independent curator (Malaysia)
We have come a long way since late August 2012, when the 13 curators from Japan, Indonesia, Malaysia, the Philippines, Singapore, Thailand and Vietnam met in Tokyo for the very first time. That first August meeting in Tokyo felt like the first day of school. We had to go through the "getting to know you" process and break the ice before we can all buckle down and work together. We were like students on a long field trip; we did everything together, and over the many meals, coffee breaks and commutes in the train to museums and artists' studios, we would ask each other questions and exchanged thoughts, told each other about what we do and talked about the art scene in our respective countries. It was useful to have that time together as we had to understand a little bit about each other's background, interests, differences, etc.
We received the full brief on the project a few days before we left Tokyo and it immediately revealed a clear picture of the upcoming tasks with a skeleton structure for the project. It would require the curators to create a series of exhibitions presenting media art from Japan and our ASEAN countries to commemorate the 40th Year of ASEAN-Japan Friendship and Cooperation. This exhibition will take place in 2013 and will travel to four cities - Bangkok, Jakarta, Kuala Lumpur and Manila.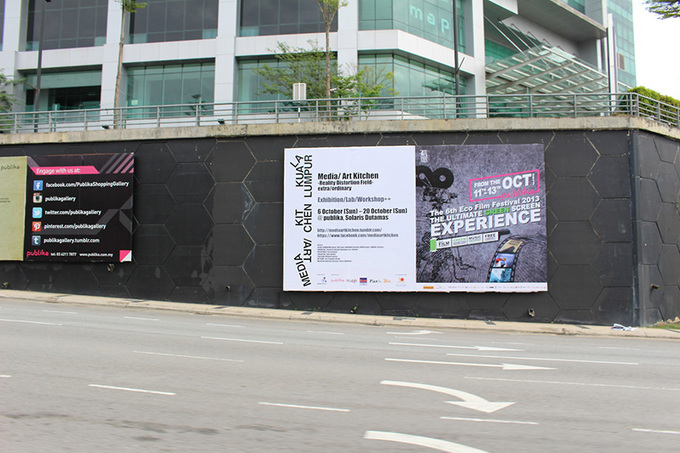 The differences in social conditions and cultural contexts
Sometimes the simplest tasks turn out to be the most difficult ones to execute. We had to ask ourselves and each other those "big" questions we knew we had no easy answers, such as: "What is media art?" "How is it defined and understood in your country?" and "What qualifies as media art in your country?"
The results that we presented illustrated that the definition and understanding of "media art" are highly uneven due to the different social and cultural contexts, infrastructures and resources available in our respective countries. What is media art and what qualifies as media art differ from one country's art scene to another. Furthermore, with the development of technology that enables and supports this medium, the definition or identity of media art has been constantly re-inventing itself in its making. It was like trying to pin down a slippery eel.
We came away from the August meeting a little overwhelmed and confused. So far we've more or less agreed on a tour schedule and possible venues. We have decided to take the crescent route and kick off the project in Jakarta in September, to coincide with O.K Video Festival to maximise critical mass. From Jakarta, the tour would move to Kuala Lumpur in October, Manila in November and end in Bangkok with a grand finale in December. Each show would be tailored to the needs and contexts of each city. The artists who have shown in one city need not be seen in another. The aim was to present a diverse mix of artists as much as possible. At this point, we've already begun to identify a number of artists whom we think would be suitable for each city and context, but we were not 100% certain yet.
Seeing the project at a distance was a necessary step to gain a clearer picture. We needed to let things "stew" a little in our heads. - A playwright I know describes this process as "putting ideas on the back burner and letting it go on a low simmer". I'd like to believe that we were all thinking and not thinking about the project at the same time, while we were back at our respective offices in our cities.
The second grand meeting turned out to be a major turning point
We kept in regular contact with our fellow curators and JF staff members in Japan and in our own cities until our second meeting in Tokyo at the end of February 2013. By this time, our Japanese co-curators: Keiko Okamura (Curator, Tokyo Metropolitan Museum of Photography), Daiya Aida, Chief Educator, Yamaguchi Center for Arts and Media (YCAM)), and Hiroyuki Hattori (Curator, Aomori Contemporary Art Centre (ACAC), Aomori Public University) had completed their tour of the four ASEAN countries that the exhibition will travel to. We felt rather sorry for them as the schedule was short and intense - "very typically Japanese," we were told. This was also the first time to visit Indonesia, Malaysia, the Philippines and Thailand for most of them. I can't imagine what went on in their minds, as the amount of information must have been overwhelming and foreign to say the least.
The February meeting proved to be a major turning point for the project. Ideas for the show became clearer by the time the 13 of us got together for the second time. We had gotten to know each other well enough to understand each other's aims and visions. We were aware that this was probably the last time we would all get together as we only had approximately six months before the first show would open in Jakarta. We spent most of our time in the meeting room at the Japan Foundation Headquarters, fleshing out the exhibition and programme structure, deciding the concept/ theme of each exhibition and its technical needs, as well as how the workshops, labs, screenings would take shape. We narrowed down the list of artists from our respective countries that we think are appropriate for the project. This consolidated list of artists and/or their works from Japan and the ASEAN countries would act as the base menu, and the curators from each city would select suitable artists' works to include in the different exhibitions. We all felt that the education component would make the project more meaningful and agreed that workshops and labs should be held at the all 4 venues to cater to different levels of audience participation, from the more specialist levels to college students and teenagers.
We also had to face the greatest challenge of all, deciding the exhibition title, which proved to be the most time consuming and exhausting exercise of the entire meeting! In the end we all agreed on "Media/Art Kitchen", inspired by the concept of "kitchen" and "cooking" to imply experimentation, playing, and a site for creation, while the subtheme "Reality Distortion Field" was a homage to Steve Jobs and an apt description of the works that will be seen across the four cities.
The "Media/Art Kitchen" exhibition in Kuala Lumpur aimed to be audience-friendly
The "Media/Art Kitchen" exhibition in Kuala Lumpur has been designed to consider a general audience who may be encountering "Media/Art" for the first time. The KL exhibition is perhaps the most unconventional of the four shows as the exhibition space is situated in a suburban mall, across three zones of this vast complex - The Black Box, The Art Row (Units 54, 55 and 56), and at Plan B, a very popular café in Publika.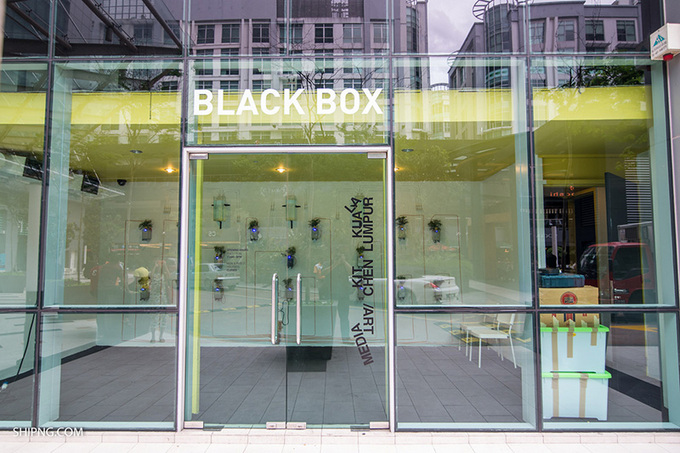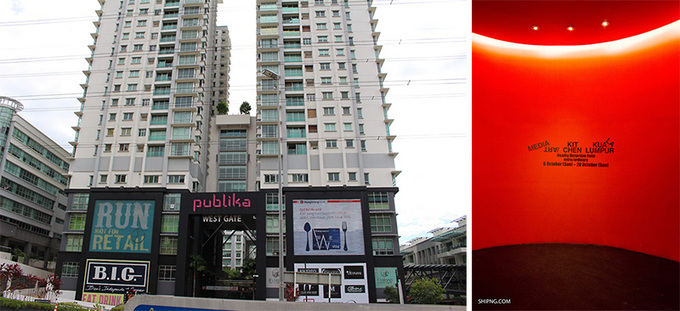 The exhibition venues
The exhibition features 13 artists - Bani Haykal (Singapore), Tad Ermitano (Philippines), Fairuz Sulaiman (Malaysia), Hagihara Kenichi (Japan), Horio Kanta (Japan), Kuwakubo Ryota (Japan), Lifepatch (Indonesia), Narpati Awangga a.k.a. oomleo (Indonesia), Operasi Cassava (Malaysia), Nitipak Samsen (Thailand), Tamura Yuichiro (Japan), The Propeller Group (Vietnam) and Yagi Lyota (Japan).
Their works highlight the ubiquity of media technology and gadgets and remind us that media is very much a part of our surroundings. - They are the objects that we consume and utilize everyday whether or not we are conscious of its presence. From smartphones to media players at home, from the CCTV cameras to the social networking sites and vast image sources that we surf everyday on the Internet. Due to the venue location set in the shopping mall, we wanted this exhibition to be audience-friendly, engaging to different age groups. We believe this approach has brought a huge advantage as we already have existing fans of media art.
Patiently waited 48 hours for the paint to dry up
The setup of the exhibition began on October 1. The Japanese artists, Kuwakubo, Yagi, Horio were the first group to arrive. Meanwhile "Jose" or Tamura Yuichiro had arrived 3 days earlier to complete the second part of his brief residency which involved collaboration with the Mah Meri tribe who live on the outskirts of Kuala Lumpur. He had already visited KL once, from September 8 to 15. Tamura would create a special work for the Kuala Lumpur exhibition and he was interested in the masks made by Mah Meri people. This was followed by the arrival of Lifepatch members Ucok and Timbil, Tad Ermitano and oomleo the next day and finally Bani Haykal on October 3. The artists were assisted by a group of media art students from Multimedia University who willingly gave up their holiday for the "Media/Art Kitchen" project in KL. We couldn't have asked for a better group of people to assist with this project. A number of them were star-struck, particularly by Kuwakubo and Bani Haykal. Even our exhibition builders were standing in awe of Kuwakubo's work and set themselves the challenge of building the most perfect white box ever for the artist.
Our setup days progressed quite swiftly and not without its challenges. Each day was confronted with minor technical issues, and we even had to resort to some last minute shifts in the exhibition layout to suit the needs and requests of various artists. Out of everyone, Horio and Kuwakubo had the most complicated setups. Horio had to create a site-specific installation in the back room of the Black Box, while Kuwakubo had to patiently wait 48 hours for the paint in his special white box to dry before he could move it.
The artists were very helpful and supportive of each other; they would visit one another's space on their breaks, compare notes and have their "tech geek" talk. It was heart-warming to see them getting along so well with each other, and I was told that they would go out together and try out different kinds of Malaysian food over dinner and had long chats over beers at the rooftop of one of their B&Bs.
The show finally came together at midnight on October 5 and by the time Kuwakubo completed his artist talk, it became clear that the jewel on our KL crown would be Kuwakubo's Tenth Sentiment. We weren't sure how the audience would respond to the show as a whole; but then, we were very pleased to find the visitors of all ages enjoying themselves during the walk-through before the official opening that evening.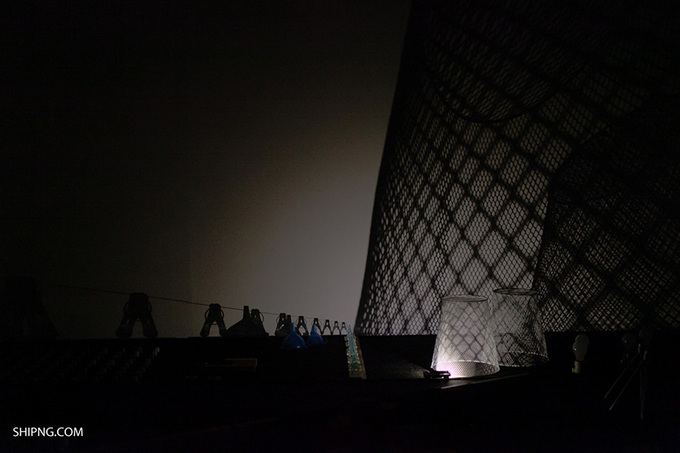 Kuwakubo Ryota, Tenth Sentiment
The interactive element to entertain the audience
The first weekend of the exhibition was very well attended. Tad's Sammy and The Sandworms was an instant hit among children and Kuwakubo's space was rarely empty whenever I looked in. Other crowd favourites include Bani's Dormant Music sculptures cum modified musical instruments, Yagi's Sound Spheres, Nitipak Samsen's Coinflipper video, Fairuz Sulaiman's Praxijectorgram which got members of the audience to draw their own animated sequence, and oomleo's pixel art animation exhibited at plan B café.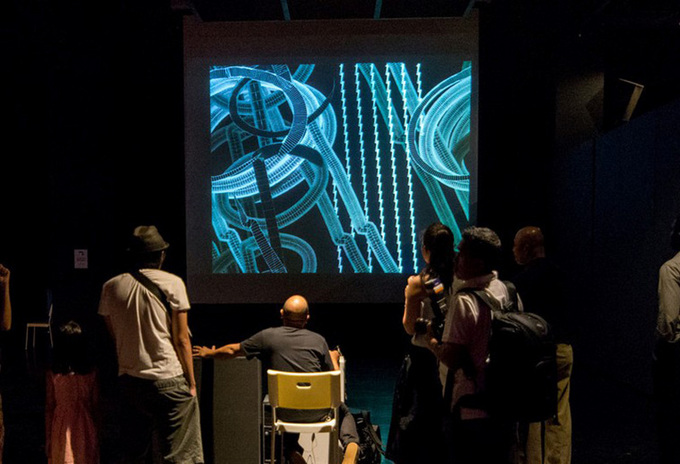 Tad Ermitano, Sammy and The Sandworms


(Left) Bani Haykal, Dormant Music, (Right) Yagi Lyota, Sound Sphere


(Left) Nitipak Samsen, Coinflipper, (Right) Fairuz Sulaiman, Praxijectorgram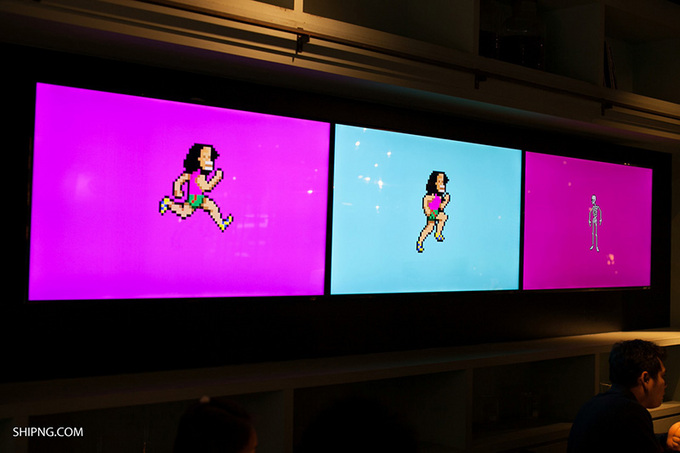 A pixel art animation by Narpati Awangga a.k.a. Oomleo
The exhibition would continue to draw large groups of visitors particularly on weekends; we received a cross section of the KL crowd, from families to student groups, designers and architects, young adults and people who are generally curious. It was interesting to hear the audience feedbacks, as many said that they truly enjoyed and preferred media art exhibitions to those featuring traditional art such as painting and sculpture as they do not know how they should respond to paintings. The interactive element was a good way to encourage audience participation, and it would seem that flat screen TVs, projectors and toy trains made the audience feel far more familiar with, and friendlier toward the exhibition.
The workshops and laboratories attracted a great deal of attention
Alongside the exhibition, labs/workshops have been created especially for members of the audience who wish to learn more about the basics of media art. Horio Kanta showed participants how to convert light into sound, while Lifepatch introduced a method of creating touch sensors. Oomleo conducted a 6-hour workshop on how to make pixel art, while our co-curator Aida-san highlighted the phenomenon of hearing sound. Bani encouraged his workshop participants to unlearn their musical knowledge and rethink musical expressions, and Fairuz showed partcipants the endless possibilities of employing shadows and forms to convey a narrative. We were very pleased that all the workshops had full attendance!
Led by Lab Master Yap Sau Bin, we presented two different themes over the two-week period. The first week was "sound and circuits", and the lab was transformed into a noisy crazy kitchen, literally with pots and pans, random cooking utensils, vegetables and fruits. The lab crew made vegetables cry, showed visitors how that sound can actually be "seen" and jammed a lot with the visitors. On the second week, the lab became a dark room for "forms and shadows". Here audience were encouraged to create their own shadow stories inspired by absurd key words, using the objects provided specially for the visitors. We found that children were particularly drawn to the labs as it felt like a playroom of sorts where they could experiment and have fun.
All in all, I would say that the Kuala Lumpur show was a success, and I hope that the Malaysian audience had fun with the works in the exhibition as much as we enjoyed presenting it to them!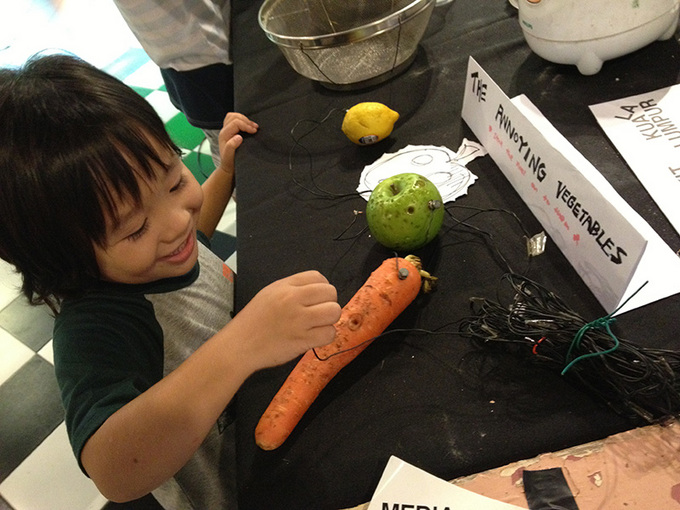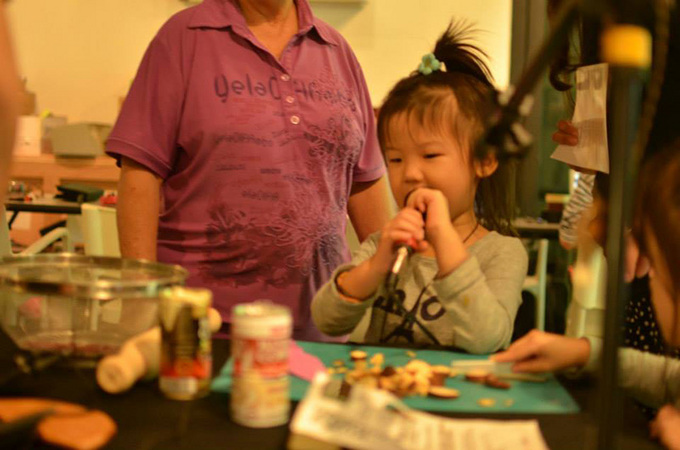 A lab "Sound and Circuits"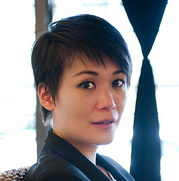 Adeline Ooi
Adeline Ooi is a curator and arts writer from Malaysia. She is the recipient of The Nippon Foundation's Asian Public Intellectual (Junior) Fellowships Grant 2002/2003. She has over 10 years of curatorial and market experience, working on a broad range of exhibitions, projects and publications in the region, focusing mainly on Indonesian, Malaysian and Filipino contemporary art. She worked as Curator at Valentine Willie Fine Art Gallery in Kuala Lumpur from 2006 to 2008. In 2008, she left the Gallery to co-found RogueArt, a group specialising in Southeast Asian contemporary art, with partners Beverly Yong and Rachel Ng. She is also on the Board of Director's at Silverlens Foundation in Manila.