Neither "Asian" nor "Indian" - Discussion on curating in India
Che Kyongfa
Curator, Museum of Contemporary Art Tokyo


Since contemporary Japanese art is not yet widely introduced to the art scene in India, the Japan Foundation sent Che Kyongfa, a curator of the Museum of Contemporary Art Tokyo, to participate in the Curators' Hub in Kolkata, India. During her stay in India, Che also visited Mumbai and Santiniketan, and in this article she reports on her impressions of the young artists she met and other encounters and exchanges she experienced in India. 


---


During my trip to India, I was given an opportunity to meet Dr. Rustom Bharucha, the author of Another Asia: Rabindranath Tagore & Okakura Tenshin. In the introduction of the publication, he points out that there are different degrees in which the countries in Asian region necessitate an idea of "Asia", through giving the bipolar cases of India and Singapore as an example:

If one accepts that identities are not unchanging 'givens' assumed as birthrights, but rather, are constructions that are shaped in and through larger discourses, then one must emphasize that the absence of (such) an Asian discourse in the public domain of contemporary India. In this turbulent domain encompassing any number of identitarian debates around caste, community, religion, gender, region, language and nation, the belongingness to larger imagined community called Asia does not exist. ...Indeed, one could argue in this context that Singapore needs 'Asa' in a way that India does not, in order to enhance its state-managed multiculturalism in metropolis...1

The fact that the young nation state of Singapore needs a hyper-real "Asia" to establish a national identity within its diversity and politics of culture while Indian society and culture rejects the idea of having a common essence reveals the contradictions and exclusive nature encompassed in the idea of "Asia".

Dr. Bharucha's points of India not requiring any discourse - or belief - of "Asia" can be applied to thinking about the situation of the contemporary art scene in India. Generally when one speaks of Asian contemporary art, India as a nation and the geographical region are automatically included, but it is not likely that Indian artists recognize themselves as "Asian" artists - nor even as "Indian" who share an affinity and common essence of culture.



What is "contemporary art"?
The works by artists I saw on my whirlwind trip to Mumbai, Kolkata and Santiniketan dealt with a range of issues in various aesthetic languages and media: paintings that presented a straight criticism of India's social issues including gender, wealth gaps and loss of communities through urbanization, as well as three-dimensional works with religious themes, drawings that incorporated calligraphy, and video works with reference to pop culture that avoided using regional cultural codes. In Mumbai, art spaces like CONAand Clerk House House kindly arranged meetings and tours, and getting to see such a variety of artistic practices in one go was as if it was a curatorial presentation which showed India that evades definitions and trends and at the same time posed the question, what defines contemporary art?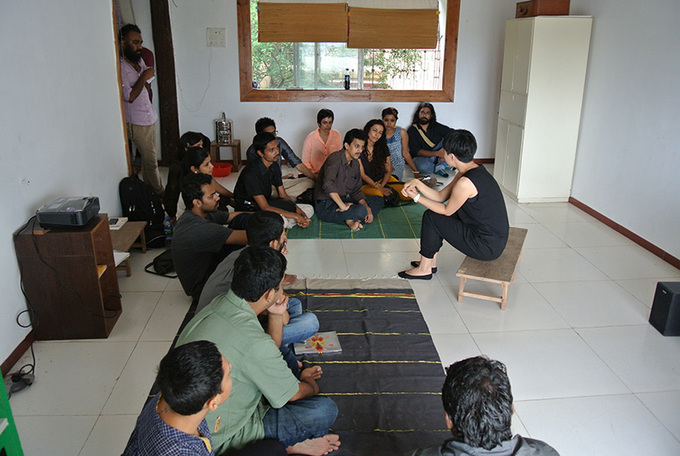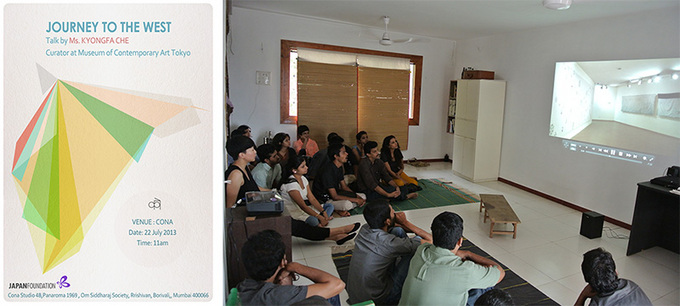 Lecture at CONA in Mumbai.

A number of factors are intertwined to define which works would be seen as "contemporary art" in an international scene and which would remain on home ground, and the curator's influence is by no means small.
As well as in other Asian countries, curators began to emerge in India in the 1990s to introduce artists from India at international venues. Despite the lack of specialized training programs, a growing number of curators have joined institutions in Europe and the US, undertaken independent curating projects while active as researchers and writers, or organized educational projects in and outside the country. During this period of transition, a project called Curators' Hub was launched in 2011 to discuss the issue of curating and to share ideas, and I was invited to the event in 2013, now in its third year.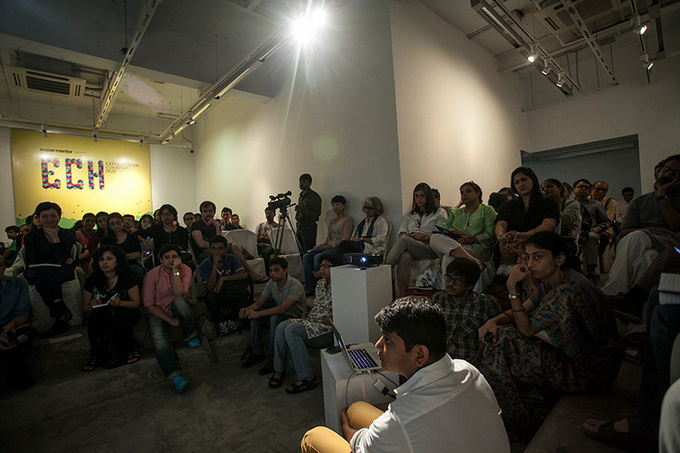 Curators' Hub


A role required for curators to play
A private gallery in Kolkata named experimenter organizes the annual Curators' Hub. The event takes a simple format whereby 10 curators from within India and overseas are invited to talk about their curatorial projects and areas of interest, followed by a Q&A and discussion. The two-day event attracted artists, gallery owners, students from all over India, and also staff members of cultural institutions that supported the project.
 Before the presentations, the moderator Aveek Sen introduced several issues to ponder over, such as the politics involved in the relationship between curators and artists and/or their organizations, relationship with the market, and questions on the language curators use to communicate what an artwork is. While these issues are crucial in the production and distribution of art, the role played by curators can vary, depending on the site and the purpose of the exhibition or event. Neither a clear methodology nor ethics exist here.
This year, among the speakers were four Indian curators. They were Sandhini Poddar, an adjunct curator at the Solomon R. Guggenheim Museum in the United States, Nancy Adajania, who co-curated the Gwangju Biennale 2012 in Korea, Natasha Ginwala who curated a part of the Taipei Biennial 2012, and writer Girish Shahane, who serves as a director of The Skoda Prize for Indian Contemporary Art (awarded to an artist under the age of 45 in India). They introduced us their unique approaches to curating exhibitions, and so added a further dimension to the discussions.

As independent curator, I talked about the video festival I had organized with an Indonesian art initiative. I chose the project since most of the other presentations focused on curatorial projects at major art institutions in Europe and the United States or at international art biennales, and I wanted to share my experiences of producing exhibitions in a different condition. Different in the sense that it required ad-hoc curatorial experiments and compromises due to lack of infrastructure and funding. More importantly, it was different because there were no fixed organizational system and roles, and everyone worked in a much organic manner. But that fluidity led to meaningful collaboration for producing an exhibition for the audience who might have never come across with video art. And I thought this process might offer a slightly different response to Aveek's questions to the curators.



What is curating?
The events like Curators' Hub will definitely bring changes to India's curatorship and art production through discussions on curatorial discourse. To explore what the practice is and can do, it is important to invite curators from the West and hear about their projects, and I believe that artists, researchers, and curators can absorb much from these occasions.
If, however, curating is the practice that examines ideas and systems of knowledge circulating in the present society, or uncovers subjectivities that are yet to emerge and be recognized, then in considering curatorial practice in India, there will be a need for more platforms that reaches out to other non-Western regions in order to share what kind of practice is happening where the system that produces and distributes art differs from the West.
Rather than creating new frameworks for "Asia" and "us", if the dialogue with other regions that share same issues and concerns with India develops further, it would make it possible to arrive at concrete discussions as to what kinds of curating would be necessary and what could be done. And this should lead to a more deliberate approach to considering what sort of production and articulations are being excluded by what is called now "contemporary art" in the current international art world.






* Original text in Japanese, translated to English by the Japan Foundation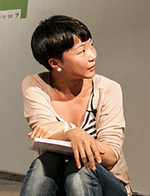 Che Kyongfa
Curator, Museum of Contemporary Art Tokyo
After receiving an MA in Art History and Theory (20th century) from Goldsmiths College, University of London, she completed the Critical Studies (post-MA) at the Malmö Art Academy in Sweden. She assumed her current position after a period as an independent curator.
Her major curatorial projects include: "
Omnilogue: Journey to the West
" (2012), a joint project at Lalit Kala Akademi in New Delhi; "Fog Dossier" (2010) at Artsonje Center in Seoul; "The Demon of Comparisons, Electric Palm Tree" (2009), a joint project at Stedelijk Museum Bureau Amsterdam; and OK Video Festival (2005), a joint project at Galeri Nasional Indonesia in Jakarta.
1. Bharucha, Rustom (2006): Another Asia, p16