Turning a "Close but Distant Relationship" into a "Close and Friendly Relationship"
Yuko Aoki
Reader, director of Karuizawa Reading Pavilion, and former NHK announcer


The Japan Foundation, Seoul, presented a Japanese culture and language seminar entitled "Kotoba no chikara - rodoku no sekai" (The Power of Words--the Practice of Reading Aloud) in December 2013. The seminar consisted of two segments: a public reading of Japanese novels and poems, which was designed to provide an opportunity for the listeners to appreciate the sound and flow of the language, and a workshop for advanced Japanese-language learners focusing on accurate pronunciation, accent, and intonation. In the following article, Yuko Aoki, a reader who helped run the event as an instructor, talks about how it was received.



---


We have an expression in Japan, "a close but distant country." Nothing better describes the view I had of Korea than this expression; Korea to me was a remote country. All I knew about Korea was what I had learned through television, newspapers, and books. Never having been there I could only imagine--unsuccessfully--what it was like in Korea to feel the flow of water and the air, the sparkling of light, and everything else that give us a real sense of life. So when Yoshihiro Yamada, a former executive announcer and my former senior colleague at NHK, asked me if I would be interested in taking part as an instructor in a public reading event in Korea, organized by the Japan Foundation, I was taken aback by how little I knew about our neighbor.



Eager for new discoveries
Although the position I was recruited for in this program, a first of its kind, had the title "Japanese-language instructor," it in fact involved little teaching. The program's focus was to provide an opportunity for the Korean participants to listen to Japanese novels and poems being read aloud and appreciate the beauty of the sound and richness of the language. This is why the position was offered to me, a reader, instead of to a Japanese-language or literature scholar. There was concern, however, that a reading event alone might not be inviting enough, so the Japan Foundation turned the program into a double feature by adding a separate segment: a workshop targeting advanced learners of the Japanese language.
The workshop seemed like a reasonable idea, but would a book reading event really succeed? I was full of doubts, wondering how much the participants would be able to understand the materials and whether they would enjoy the experience. I couldn't even begin to imagine what would unfold. But not having a clue might turn out to be that much more thrilling. I felt a spirit of adventure ignite in me and found myself saying, "I would be happy to do it, Mr. Yamada. I don't know whether they will like the reading but I don't want to go in with any preconception, especially because this is a new undertaking."
As I talked to him, a Korean film titled Poetry that I had seen a few years earlier sprang to mind. It is a film about an elderly woman in the early stages of Alzheimer's disease. She signs up for a local poetry class and tries very hard to write poems while she is gradually losing her ability to find words. The story is set against the infinitely ordinary life of ordinary people. The film filled me with a sense of sorrow and grief, and my heart went out to the elderly woman who radiated quiet beauty. I was truly moved by the delicate and rich world created inside the heart by weaving poetry into the fabric of daily life. And given it is this "country of poetry" to which I was headed, I thought to myself, there must be a fascinating discovery or two waiting for me. Yes, I'll think of it that way. With this renewed outlook, I boarded the flight for Korea in the evening of December 2, 2013.



Surrounded by earnest participants
The day after our arrival in Seoul, we were at the Japan Foundation building by three in the afternoon and, after a quick meeting and script preparation, were conducting the workshop from four-thirty to six. Yoshihiro Yamada mostly ran this segment while I sat on the side, making occasional comments. The room was packed, at full capacity with about 50 participants. Yasutaka Takeda, in charge of organizing the event, couldn't have appeared happier; the registration was filled immediately after the sign-up started, which he said was a very good sign.
During the workshop, each participant was asked to speak aloud in Japanese and together we attempted to identify and solve issues with his or her pronunciation or accent. The participants surprised me with their excellent Japanese. Talking to them was like having a conversation with native Japanese who speak a regional dialect in the countryside. They had already achieved a level of fluency beyond anything I had expected. Another surprise was the large number of young people in the audience. We had people primarily in their 20s to 50s, and hardly anyone from the older generations that I had expected to see attended.
People lingered for a long while after the workshop was finished, surrounding and bombarding us with questions. Very forthcoming and driven by a strong desire to learn, they fired one question after another. One person asked for help with this particular problem: The Korean language does not have pronunciations starting with dakuon (voiced sounds)--i.e., sounds using g, z, j, d, b consonants--so when he tries to say "boku (I or me)," for example, what comes out of his mouth is "poku." He wanted to know how to fix this problem, and both Mr. Yamada and I rummaged our heads, sweating to come up with an answer. The other participants also contributed their suggestions, and together we searched for ways to help our friend. The enthusiasm continued to permeate the room. We told him at one point that his Japanese was perfectly understandable and that a little variation in pronunciation was of no importance, advice he flatly rejected. He wanted nothing less than perfect pronunciation.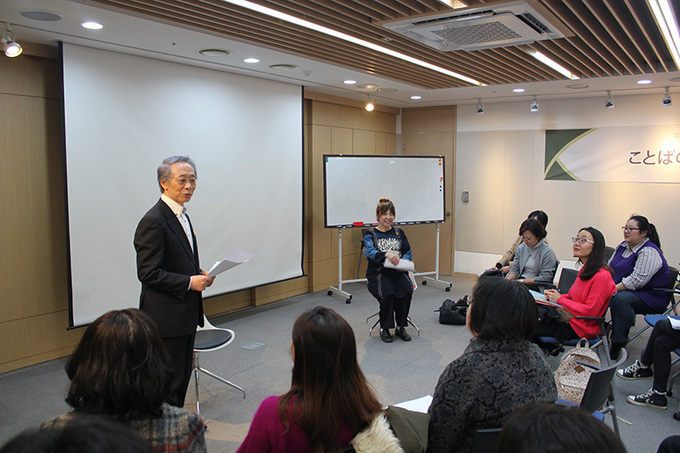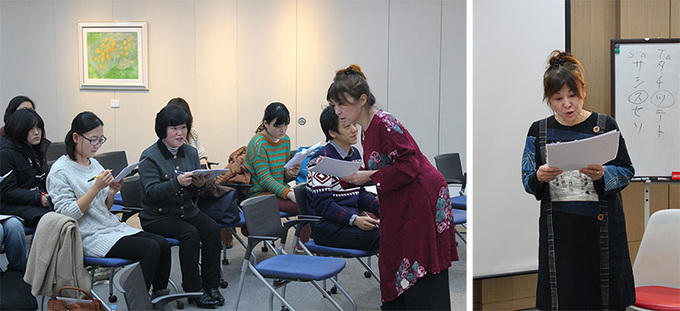 The workshop in Seoul
The participants, all fluent in Japanese, showered the instructors with questions even after the workshop was finished.



Fostering friendship through meetings and interactions
The next segment, the public reading session, ran from seven to nine in the evening at the same venue, which was again packed to capacity with a different group of participants from the workshop. Some people even had to be turned away. On this first day I read aloud two works, Nakisugite wa ikenai (Don't Cry Too Much), by Rintaro Uchida and Chumon no ooi ryotriten (The Restaurant of Many Orders) by Kenji Miyazawa. Mr. Yamada read a few more, including Kotoba asobi uta (Rhyming poems) by Shuntaro Tanikawa and Crêpe by Shizuka Ijuin. The audience listened with rapt attention and, unlike the average Japanese, did not hesitate to laugh out loud when something struck them as funny. I liked that they wouldn't hold back their feelings. As in the workshop, we were showered with questions when the reading was over. I heard that in Korea, they do not have the practice of public reading. "I came here not knowing what to expect," said one of the audience members, "But I was completely taken in. I'd like to try it at home." "Nakisugite wa ikenai brought me to tears," confessed a young lady who came up close to me, saying "I cried from the heart. I'll tell all my friends about the book." At times like these, I had forgotten that I was in Korea.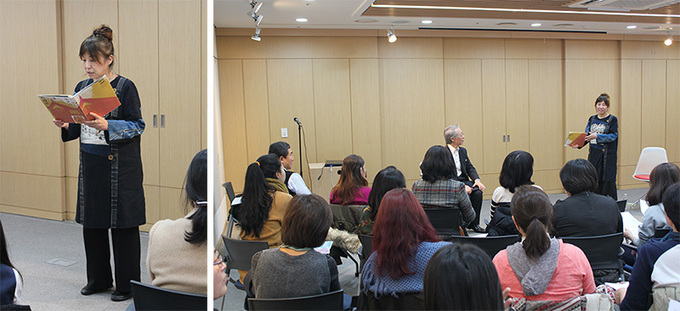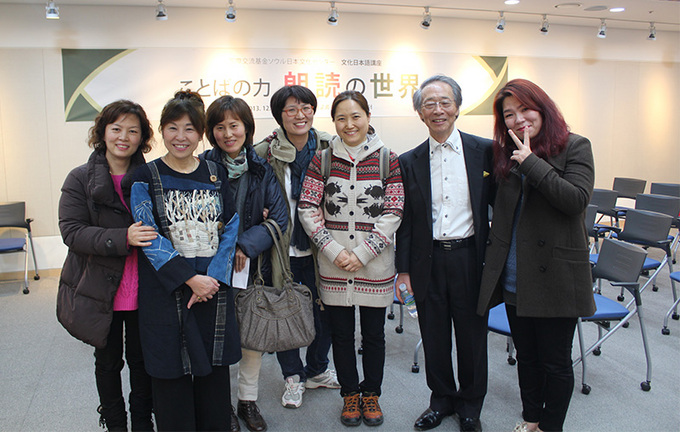 Public reading event in Seoul
The audience listened earnestly, at times laughing and at others crying

There is no question that fewer people study the Japanese language in Korea now than before. An increasing number of students turn to Chinese nowadays because Koreans tend to study a foreign language for career advancement.
The Korean and Japanese languages use similar grammatical structures and it is relatively easy for a speaker of one language to learn the other. So, it has been, in fact, reported that some Korean students who have been exposed to the Japanese language once are likely to return to it even if they may choose Chinese as their foreign language subject at the start of the school year. That is because they remember the joy of the quick progress achieved in learning Japanese. Following the first day, we conducted the same workshop and book reading event twice in Seoul and once at Pukyong National University in Busan before departing for home. The students and the people from the community were full of warm comments, telling us over and over that they enjoyed the program and to visit again. The simple, well-worn notion--that it is the accumulation of these meetings and interactions that fosters a mutual and reciprocal friendship--sinks in me. The six-day trip magically transformed my view of Korea from a "close but distant country" to a "close and familiar country." The smiling faces of the people I met in Korea remain deeply engraved in my mind's eye.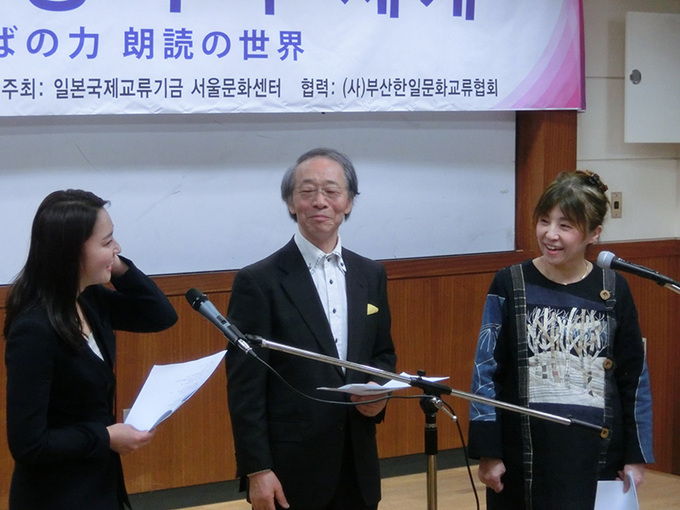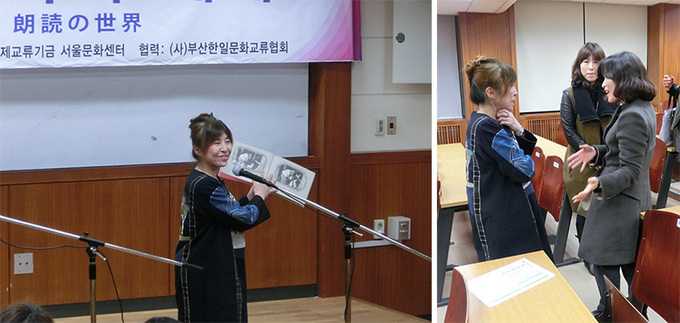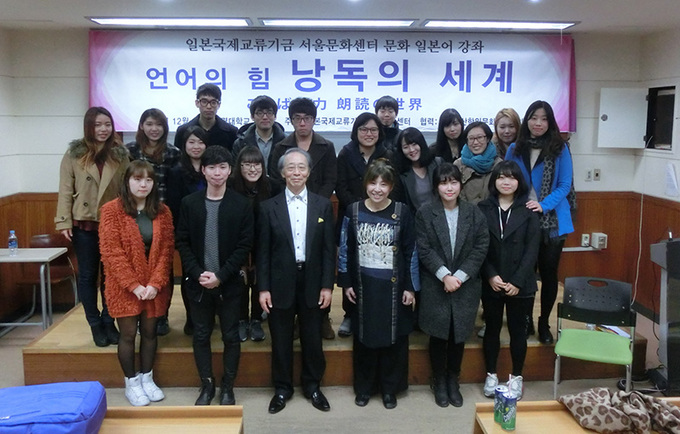 At Pukyong National University in Busan, Korea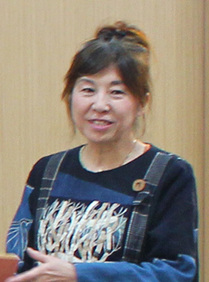 Yuko Aoki
Reader, director of Karuizawa Reading Pavilion, and former NHK announcer After graduating from university, Aoki joined Japan's national broadcaster NHK in 1973, where she served as an announcer for the next 37 years. In addition to reporting and anchoring for a television show, she engaged in the development and production of programs focusing primarily on social welfare issues. Public reading has been her lifework, and Aoki has produced programs on the topic.
After leaving NHK in 2010, she privately financed the building of Karuizawa Reading Pavilion in Karuizawa, Nagano Prefecture. As the pavilion's director she has widely advocated reading aloud and the joy of audio expression and has held public reading sessions throughout Japan. In January 2013, Aoki became director of the Karuizawa Town Library. Her daily radio program Karuizawa rodoku sanpo (Reading Walk) is aired on FM Karuizawa from 7:30 to 7:45 a.m., Monday through Friday and from 9:00 to 10:00 p.m. on Saturday (Re-run of the five weekday sessions).
(The program can be heard at http://fm-karuizawa.co.jp/introduction.html">http://fm-karuizawa.co.jp/introduction.html)