The "Media/Art Kitchen - Reality Distortion Field" Exhibition in Manila: A New Bridge between Artists and Audience
Dayang Yraola
Curator, writer, cultural resources manager (Philippines)


This event is in celebration of the 40th Year of ASEAN-Japan Friendship and Cooperation in 2013. The words to describe both--the celebration and tasks--seemed to be too big, which makes it an exciting horizon. For the 13 curators from the participating countries, it was a much welcomed obvious opportunity to expand our comforts zones. The original task at hand was to build an exhibit featuring media/art from Indonesia, Malaysia, Philippines, Singapore, Thailand, Vietnam and Japan. A few meetings after, workshop, lab, performance, talk and screening were added into the to-do list.



Technology and "Sensorium"

There were two concerns that directed us into shaping the project--How will it be called? Who will be on it? On the two meetings held in Tokyo and some occasions of meetings online, the question of how the project would be called kept on coming up. To say media/art is a conscious decision to emphasize that the two are different but interacting forces. Kitchen is as much literal as it is a metaphor to a place where innovation is done, shared and subjected to more improvisation. Reality distortion field, to simplify, refers to the potential to squeeze more out of an already abundant resource. In the end the project became an avenue to present, to learn about, to explore and to explore-more what media and, with, or art has to offer.
Taking cue from the project title, "Media/Art Kitchen," Manila curators - Lian Ladia, Hattori Hiroyuki and myself, tethered a selection of artists that would best respond to the theme. In doing so, another "force" had to be considered - technology. The use of media art, as a label per se, is not very common in the Philippines. As suggested by one artist-curator from Manila, this same label is translated as works that involve various types of technology (analogue, electronic, mechanical, digital, cyber, biological, anatomical)--technology as simple to complex machines and/or systems; and a "node" of connection was offered--senses. Senses in this case are faculties from anatomical technology to perceive as it is much a subject of perception by means of other technologies. Hence, "Sensorium" was born to be a theme of the Manila exhibition.



The Manila exhibition that involved local artists and curators

EXHIBIT was held at the Ayala Museum from November 8 to 24, 2013. Ayala Museum is one of the oldest private museums in the country's largest central business district. As such, it regularly caters to a variety of audience, including student groups, expatriates, regular art audience, tourists and a good number of "passersby" (or one-time museum visitors).  
The installations included in the exhibit were: Lifepatch (Indonesia)--combined bio-technology, electronics and present them as a matter of aesthetic curiosity; Tad Ermitano (Philippines), Liby Limoso (Philippines), Manny Montelibano (Philippines), Anggun Priambodo (Indonesia), Chulayarnnon Siriphol (Thailand) and Maria Rosalie Zerrudo (Philippines) touched on different themes that are either unusual or very familiar to Asians in a single channel viewing station in karaoke format; mamoru (Japan) emphasized sound of familiar things and occurrence through a textual sound installation; Hagihara Kenichi (Japan) documented social nuances and presents them in a subtle humor; Yagi Lyota (Japan), Kawayan de Guia (Philippines) and Umeda Tetsuya (Japan) did/borrowed simple machines and reconfigure them into interactive/kinetic devices; Yagi had audience as part of the mechanism or machine; Ringo Bunoan (Philippines) and Makino Takashi (Japan) challenged common expectations when perceiving an exhibit by requiring other faculties/senses to be used--visual and auditory for Makino and olfactory for Bunoan; Tamura Yuichiro (Japan), Renan Ortiz (Philippines) and Montelibano encouraged people to experience a sizable narrative via alternative but accessible electronic and/or digital technology; Fairuz Sulaiman (Malaysia) and Bruce Quek (Singapore) used digital technology in relaying issue that is familiar in all cities as a sensorial material and not exactly a narrative.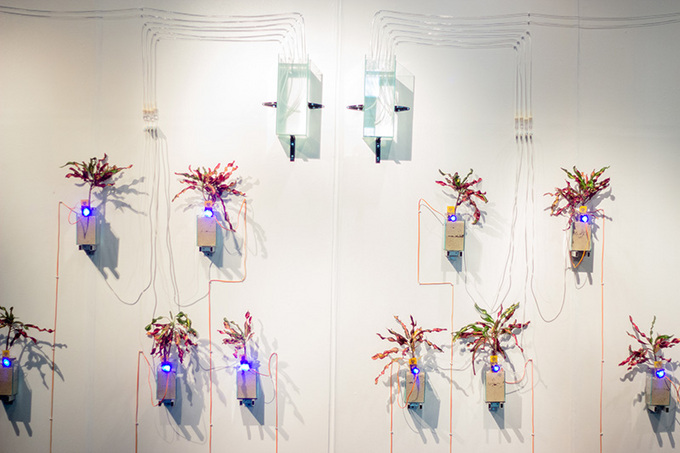 Lifepatch Moist Sense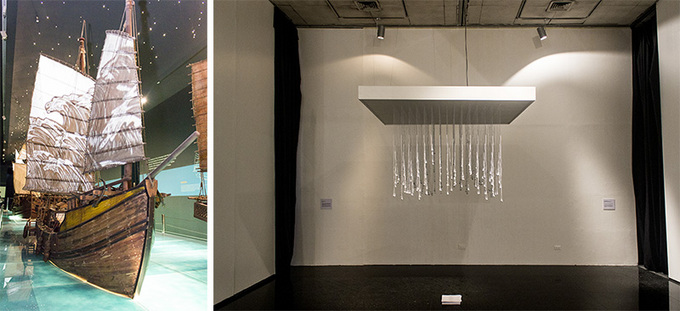 (Left) Fairuz Sulaiman The Sea of Screens, (Right) Renan Ortiz Murmur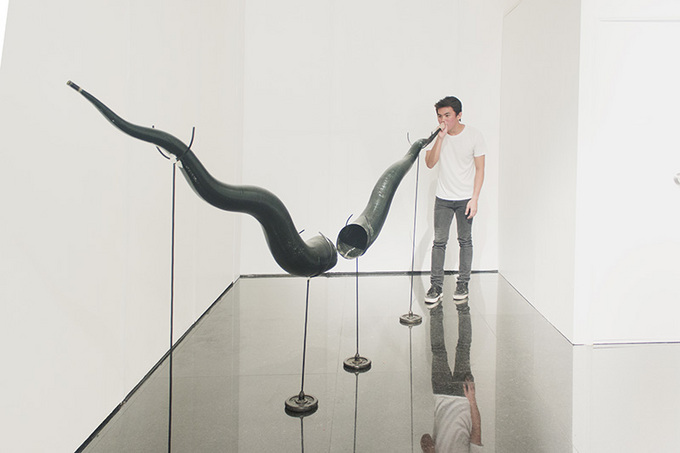 Kawayan de Guia Sungay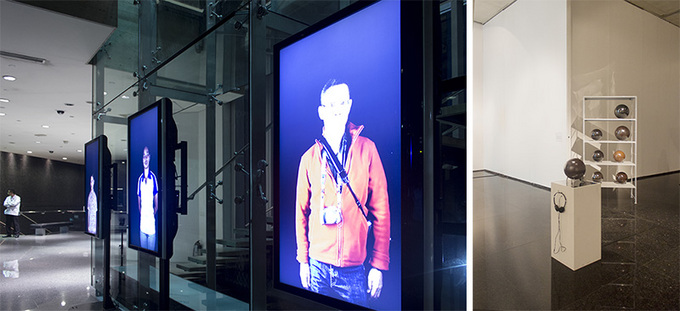 (Left) Hagihara Kenichi sight seeing spot (Japan, Manila, Jakarta), (Right) Yagi Lyota Sound Sphere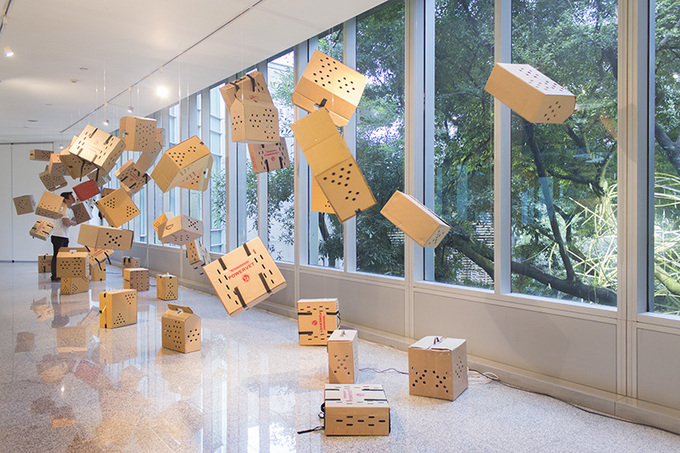 Manny Montelibano Biya

PERFORMANCES were programmed to be held in three different venues--Ayala Museum, Escolta (98B COLLABoratory) and Green Papaya Art Projects. In Ayala Museum, during the launch of the "Media/Art Kitchen" in Manila on November 7, three pairs of performances were held: Erick Calilan (Philippines) and Paolo Garcia (Philippines) for electronic audio and video sampling; Caliph8 and Mannet Villariba (both Philippines) for a collaborative performance using digital sound, live video and physical performance; and Mel Araneta (Philippines) and Bani Haykal (Singapore) did a joint performance using DIY instruments and music systems.
On November 9, Umeda did a performance with students of University of the Philippines and De La Salle University, Benilde School of Design and Arts at 98B that incorporate light-sound-movement systems. On the same program were performances by Elemento, one of the most innovative music/sound/noise groups in the Philippines formed by Lirio Salvador and Bent Lynchpin (Philippines), Caliph8's band known for their spontaneous experimentation in digital and electronic sounds. On November 15 after working with the Pirate Radio Workshop, mamoru did a performance creating soundscape with his audience voices and familiar objects (bottles, straw, fruit, text, radio). This performance held at Green Papaya Art Projects was aired via WSK.FM Radio and streamed online. The last two performances were presented in cooperation with Fete dela WSK, an independent media art festival spearheaded by Tengal and Merv Espina (artists-curators from Manila).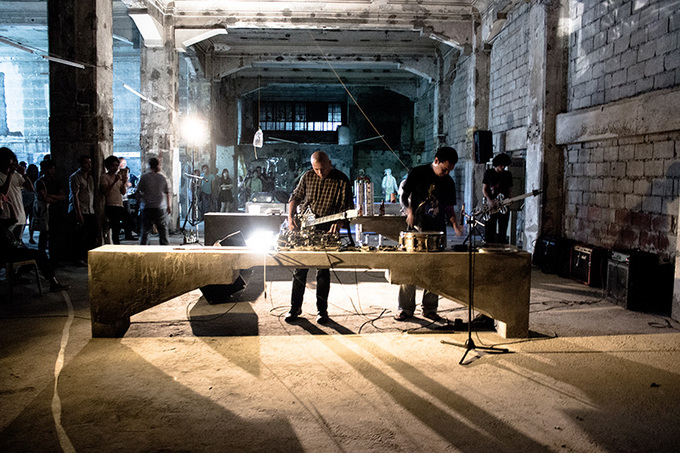 Performance of Elemento




Performance of mamoru, aired on the WSK.FM Radio show





Performance of Umeda Tetsuya

LABS, WORKSHOPS AND LECTURES were programmed to be held at 98B (Escolta), Green Papaya Art Projects and Benilde School of Design and Arts. Project Joint is a lab and workshop by Stanley Ruiz (Philippines/USA) and Gary-Ross Pastrana (Philippines) on a vacant room in First United Building in Escolta--the same building where 98B holds an office. That vacant structure was an old Department Store. Ruiz and Pastrana worked on modifiable designs to fix, repair or replace broken and missing parts of the building. This Lab was held on November 4-8. This same space was used for the performance of November 9. Re-mediation is an art laboratory and workshop exploring re-mediated objects and images, which focused on exercises on survival and disaster management and critical, collaborative engagement between Mark Salvatus (Philippines) and Stephanie Syjuco (Philippines/USA), which was held from November 20 to 24 at 98B. This lab was originally designed as an art lab exploring available network tools to create artworks amidst physical distance, since Syjuco is based in San Francisco, USA and Salvatus is in Manila.
The re-design of the lab is the artists' immediate response to the devastation created by Typhoon Haiyan (Yolanda) on November 8. WSK.FM Radio is a laboratory by Tengal (Philippines) and Merv Espina (Philippines/Vietnam) dedicated to exploring sound waves and broadcast systems in creating an educational radio component for underground media festival Fete dela WSK. The lab was held from November 7 to 17. The radio program featured interview and performance by mamoru, interviews with Jong Pairez, Norberto Roldan, Diego Maranan during the staging of the "Media/Art Kitchen" in Manila; an interview with Ade Darmawan and Ermitano during the opening of the "Media/Art Kitchen" in Jakarta; and interviews with Suzy Sulaiman and digital culture and media practitioner Roopesh Sitharan during the opening in Kuala Lumpur.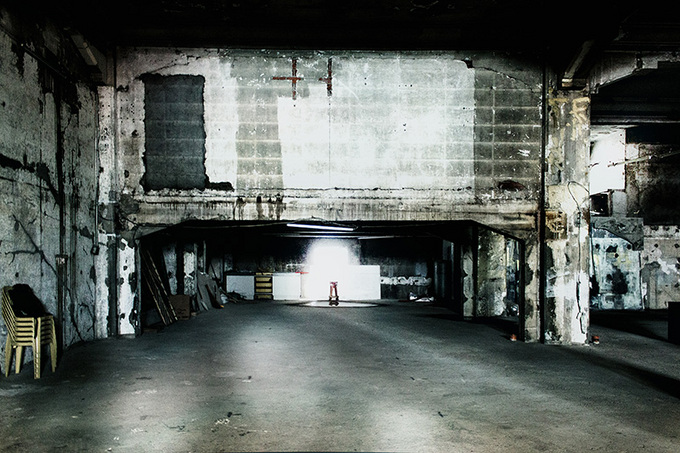 First United Building, 413 Escolta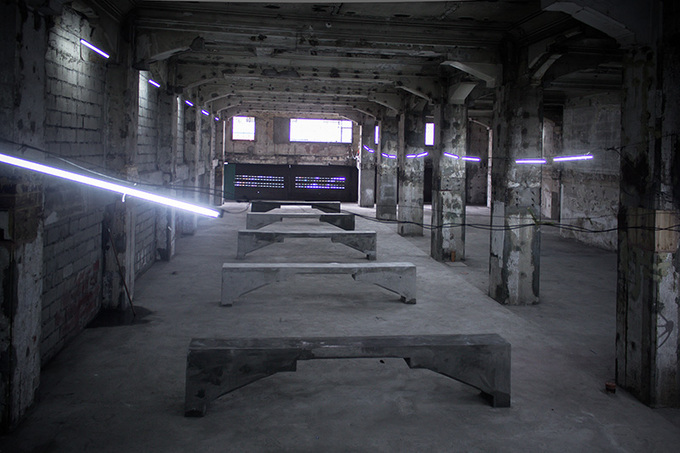 Project Joint, a laboratory created by Gary-Ross Pastrana and Stanley Ruiz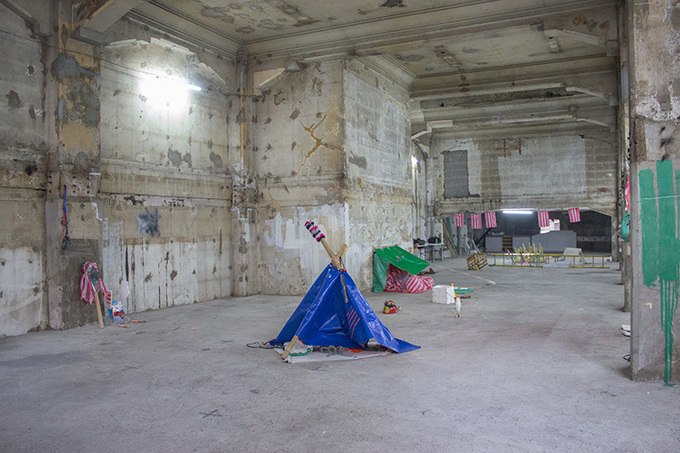 Re-mediation, a laboratory created by Stephanie Syjuco and Mark Salvatus
(All photo by Martin Vidanes)

Being a partner of this project and as part of the education programming of "Sensorium", a number of talks and workshops were also scheduled at the Benilde School of Design and Arts. The themes and artists were as follows: "Ingenuity in times of disaster" by Ruiz, November 13; "The listening workshop, found sound and avant-garde music" by Kaloy Olivades (Philippines) on November 15; "Music Production and the art of sampling" by Caliph8 on November 15; "Collaborative Improvisation in Design by Ruiz on November 13; "Experimental Film Workshop" by John Torres (Philippines) on November 22; and "Tactical Digital Aesthetics: Micro-Subversions of Digital Networks" by Syjuco on November 25. LECTURES held at the Benilde School of Design and Arts were: "On multidisciplinary performance, video and animation" by Sulaiman on November 9; "Employing the skills of production design to media art practice" by Weather Bureau (Lena Cobangbang and Mike Crisostomo) (Philippines), November 9; and "Structuralist masterpieces and conceptual experiments in film and video" by Yason Banal (Philippines) on November 25.

SINGLE CHANNEL SCREENING were held at the Cinematheques of the Film Development Council of the Philippines (FDCP) on November 9-10 for Baguio City; on November16-17 for Iloilo City; and on November 23-24 for Davao City. A screening was also scheduled at Benilde School of Design and Arts Cinema on November 20 & 22. The three program themes-- Landscape and Beyond; Media at Hand; and Being Physical--contain films from the same countries that are part of the "Media/Art Kitchen" exhibit, workshop, labs, performance and talks. This component was curated by Okamura Keiko (Japan) and Charmaine Toh (Singapore).

It was a lot. Our calendars were full until the very last day of the "Media/Art Kitchen" in Manila. Building a big team was essential for everything to happen. We were fortunate to have engaged a number of local artists/curators, like Ermitano, Alvin Zafra, Con Cabrera, Mayumi Hirano and the artists of 98B, to name a few, and the participating artists who worked with us in various activities. Students too from the Benilde School of Design and Arts and the University of the Philippines contributed in the project, either as artist assistants, docents, documenters, facilitators and participants of labs, workshops and talks.



After all...it makes sense

The "Media/Art Kitchen: Reality Distortion Field" in MANILA is as diverse as the Philippine archipelago. Through its programs, "SENSORIUM" tried to address as much senses there are, and presented as much variety and configuration of media+art+technology projects as we could possibly afford, given our resources (people, space, time, finances, materials, etc), and encouraged participation of audience in as many different levels as there were. While "Media/Art Kitchen" as a project attempts to embody a celebration of friendship between Japan and the ASEAN, it had proven to be more than that when implemented. It became a new bridge where new friendships were forged, between and amongst practitioners and our audience.

In the Exhibit alone, some projects were familiar enough for the audience to recognize immediately and feel comfortable. Others were totally different which brought them to deviate from the usual reaction of asking "What is it?" "What is it about?" "Is this art?" These were replaced by "how-to" questions. "Aha! Moments" or discovering how the works work and what it was trying to achieve--moments of discovery. During the opening program, an officer of the Ayala Museum shared that she was advised that in experiencing these "new works" it is better to "accept the interruptions and the feeling of displacement that comes with it, because there resides the art." My guess is a lot have followed suit because this reaction resonated through all other activities of "Sensorium".

Curating "Media/Art Kitchen" was just an idea until artist assistants, lab and workshop participants, and audiences of different levels of engagement started interacting with the artists and their works and until it was presented to a more distant audience. The actual experience of having the senses heighten, lend, borrow, use, suppress, complicate, isolate and question through media+art+technology projects could not simply be deemed as incidental. They were what "Sensorium" is all about.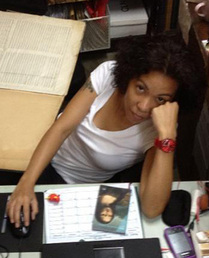 Dayang Yraola
Dayang Yraola is a curator, writer and cultural resources manager. She received her Bachelor of Arts in Philippine Studies majoring in Literature and Art Studies, and a Masters in Museum Studies from the University of the Philippines. She was an arts associate of the National Art Gallery Singapore through Singapore International Foundation in 2010 and a grantee of the Asian Cultural Council in 2012. Her most recent curatorial work is "Listen to my Music" (U.P. Jorge B. Vargas Museum, 2013) and an on-going work titled "Project Glocal BKK-HK-MNL-SG" (2011-2015). She is over-all coordinator of Laon-Laon, an international network of music research centers in Asia, since 2008. She currently works as an Archivist/Collection Manager at the University of the Philippines Center for Ethnomusicology.