Making a Fresh Start for the Creation That Will Remain Relevant in a Thousand Years-- The Restaurant of Many Orders Asia Tour
Hiroshi Koike
Director, writer, choreographer, set designer, and photographer


Kenji Miyazawa's renowned children's story, The Restaurant of Many Orders, was performed in Asia.--The Japan Foundation organized a performance tour of The Restaurant of Many Orders (written and directed by Hiroshi Koike, original story by Kenji Miyazawa) as part of the Hiroshi Koike Bridge Project. The tour took place from October to November 2013, with performances held in the Philippines, Indonesia, Malaysia, and India. Hiroshi Koike spoke to us about the background to the production of this highly appraised work, which was reported as being a play and a dance, a comedy and a tragedy at the same time.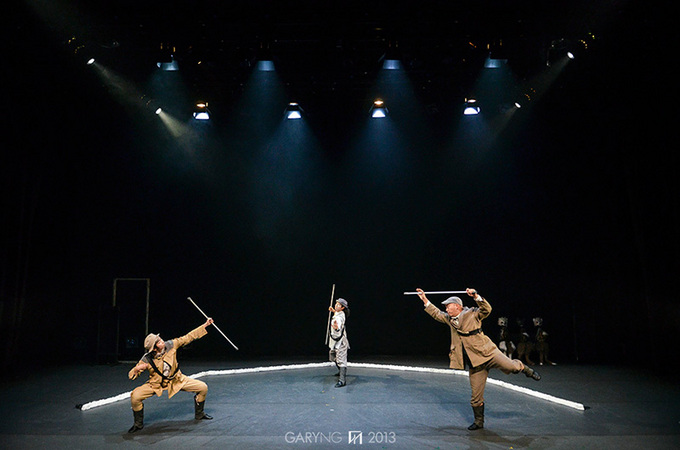 The Restaurant of Many Orders Asia tour (1)


In deep pursuit of the relationship between humans and nature

From October to November 2013, The Restaurant of Many Orders traveled across Asia, connecting six cities in four countries. The tour, organized by the respective overseas offices of the Japan Foundation, covered Manila, Jakarta, Penang, Kuala Lumpur, Delhi, and Thrissur, and this turned out to be the first overseas tour by the Hiroshi Koike Bridge Project since Pappa TARAHUMARA disbanded.
In fact, I originally had the idea of producing this work, with the feeling that it would be necessary to deeply pursue the relationship between humans and nature. I produced this work with a strong consciousness of the situation at the time, in which it seemed inconceivable that humans hoped to continue surviving and live far into the future. This was happening not only in Japan, but across the world. I resolved to create this work in December 2010 during my stay in Iwate, and wrote the script in January 2011. Rehearsals had already commenced by the time the major earthquake struck on March 11, 2011 ("3.11").

Although there had been a vague premonition, 3.11 still came as a huge shock. Earthquakes and tsunamis are natural disasters, but nuclear problems are man-made calamities. Regardless of how the various acts undertaken by human beings have been intended for us to continue living positively, it is clear to one and all that these acts have been strongly hostile toward nature and worlds other than the human world. Human beings have lost their sense of piety and humility, and become a presence that takes a unilateral stance in its exclusive focus on attacking nature. Hence, I had felt that payback would definitely come our way.
When I am creating a work, the three elements of the stage take on the greatest importance. These are space, time, and a physical body. Theatrical plays are established through the exquisite blend of these elements, and I begin creating my work with hearing the sounds of the space. Instead of incorporating the sense of flow in the space, how the time flows, or what the physical body is like at that point in time into my creation, if I were to illuminate the overall society as a stage, the aspects of people and society that emerge would indeed seem to be strange, distorted, and lost with no place to go to. Although the 3.11 disaster had been a natural phenomenon, it felt as if it had revealed itself in the form of an anger that was mammoth yet awkwardly shaped. This flow had taken on some clarity since the 1990s, and even though much of it had felt vague, I had given my own self-indulgent and positive interpretation to that distortion and sense of stagnation, and made my preparations in a loose and aimless manner. This was the same even for works of art. Despite a sense of aimlessness and anxiety, it was pushed aside without being transformed into a strong sense of danger.
Although I had begun creating this work, this event placed us all into a position of nothing and forced us to stand in a situation where we had to think about starting from the point of zero. It was enough to lead me to believe that I was questioning my readiness. At that point, I disbanded Pappa TARAHUMARA, which had continued operating for 30 years, and launched the Hiroshi Koike Bridge Project. The concept of this project lays in the attempt to take the greatest action possible in order to build a cultural bridge linking eras, places, places and eras, as well as humans. I set out to make a fresh start with creativity at the core, and three pillars behind my concept--creation, education, and communication (such as publications).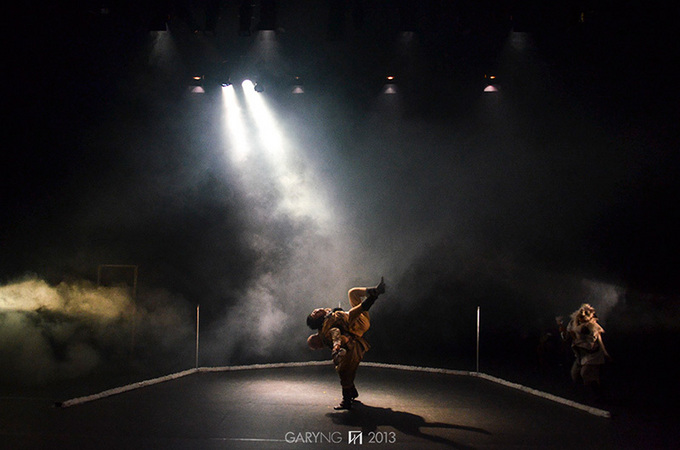 The Restaurant of Many Orders Asia tour (2)


Strong sentiments for Asia, a region swimming in a vortex of diversity

Although The Restaurant of Many Orders could not be performed in too small spaces, I wanted to make it possible to show the work in any places to a certain extent. While I needed to take extremely careful steps to select venues for Pappa TARAHUMARA works, I hoped that this work would function as a tool of exchange in any place as long as it was not an exceptionally unacceptable venue.
My sentiments for Asia became stronger in the mid-1990s. Feeling that the world was no longer consisting of European style alone, I turned my eyes toward another place with strong potential. I felt that this would be a region that was not in the European cultural sphere, but rather in Asia which was particularly close to us. Compared to the European style, which tends toward a single, one-dimensional value, the Asian style was swimming in a vortex of diversity. Its traditional arts were rooted in the land, deeply profound, and exuded a strong appeal. Of course, this did not represent a complete neglect of Europe and America. I felt that the thought and action of communicating more intimately with those who are close to us would provide a breakthrough in dissolving that sense of stagnation.
After 3.11, my sentiments became even stronger. The Restaurant of Many Orders provided treats for the hunters who had come from the city. These hunters split up and entered the forests in the mountains, viewing the animals as nothing more than game for their hunt. As a result of their insolent and outrageous behavior, they ran into a storm. In their confusion, they discovered a restaurant in the depths of the mountain. This restaurant was, in fact, a restaurant prepared by wildcats that meant to eat the hunters. Is this story not identical to the situation that we are now in? Without being conscious of it, we have gradually lost our sense of humility, and are gradually becoming prey for the natural world in a reverse order of events.
However, the people who possess much of the world's wealth only wish to see the profits that lie before them, and are desperately protecting the "now." They have closed their eyes to the problems and shoved them aside, and made advances toward accumulating even more wealth. These people have involved all the people of the Earth, and are dragging us all toward self-destruction. Wealth is, after all, nothing more than a fleeting dream. This thought is probably a vague, constant presence floating in the mind...
That is why the first performance, as a perfect theme, to be given by the Bridge Project had to be The Restaurant of Many Orders. There was also an important significance to touring the countries of Asia, where the societies are also gradually moving toward such a direction. Although Asia cannot be lumped together as one, Southeast Asia includes countries such as Malaysia that aim to become a developed country by 2020, while many countries are presently experiencing the bubble phenomenon. This region is moving quickly toward development, and still today, has aspirations for an American or European style of growth.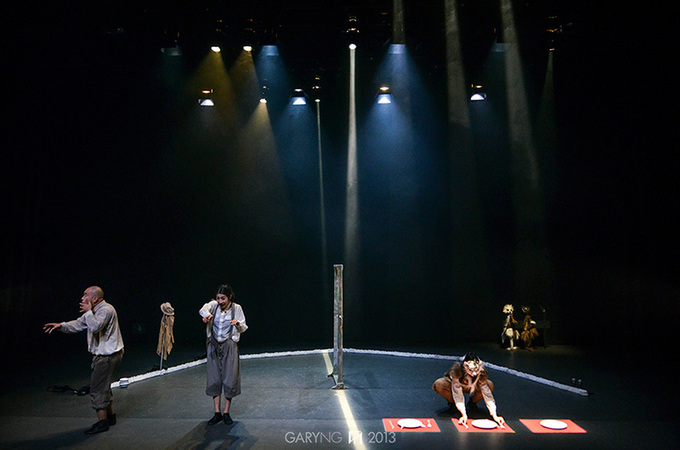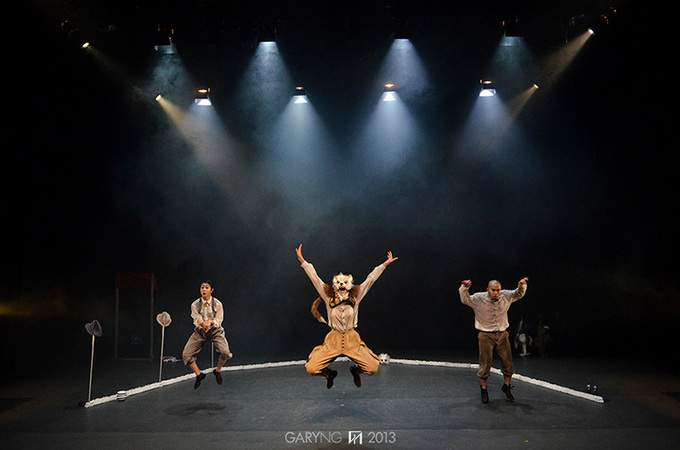 The Restaurant of Many Orders Asia tour (3)


Making the connection to what comes next even after a hundred or thousand years

We were welcomed with great warmth in all the venues during the tour. Also, I strongly felt that anyone in the world, including the young or old, male or female, as well as children, would be receptive to this work as long as they kept the circuit of their senses opened. Prior to this, Pappa TARAHUMARA had performed repeatedly in Jakarta and Kuala Lumpur, so many members of the audience knew about us and responded wonderfully to the performance. We even received an extremely strong response in cities like Thrissur where local people were unfamiliar with a contemporary theatrical stage. We had many enthusiastic and warm questions from the audience, asking us when we would be back again.
I discarded what I had taken for granted during the time of Pappa TARAHUMARA--that of going on an overseas tour several times each year--and embarked on this tour as a new journey and the first performance tour overseas. I will incorporate the responses and words given to us by the audience as my own flesh and blood, and I have to work hard in order to disseminate that in the future. Whether the performance was good or bad is not everything. It would be meaningless to limit the performance within those confines. It should rather make it connect to the next thing and provide suggestions and proposals for society.
One of the greatest differences from Pappa TARAHUMARA is the awareness; that is, an awareness of what comes next, a hundred years or even a thousand years later in the future. That is why the performance also includes classical artists and performers.
Humans receive life, and I have learned the significance of connecting what we can do with that life to the next. I feel that I have aged, but this is, I believe, my greatest mission of all.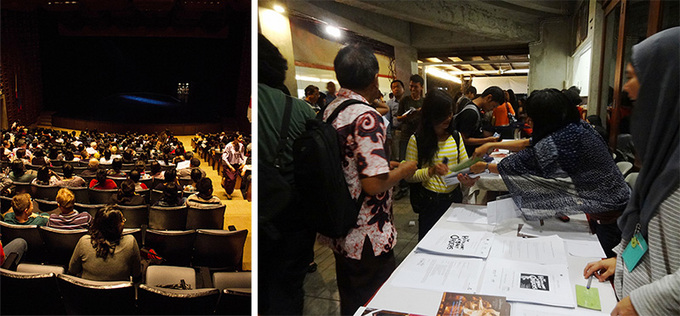 (Left) The hall was packed with audience members during the Manila performance (at the Cultural Center of the Philippines)
(Right) Reception desk at the Jakarta performance, brimming with enthusiasm and warmth (at the Salihara Theater)





Hiroshi Koike
Born in Hitachi, Ibaraki Prefecture. In 1982, he founded the performing arts group "Pappa TARAHUMARA." Thereafter, he was involved in the creation, performance, and choreography of all 55 works produced by the company. He has also created many theatrical works outside of Pappa TARAHUMARA. The works, which go beyond the genres of theater, dance, art, and music, have been performed in more than 35 countries, and received high appraisals in the international community. He has also produced works and participated in productions with global artists, and held numerous workshops around the world for professionals and local residents. He has held various posts as committee member and jury, etc., including artistic director of the Tsukuba Cultural Foundation and Chairman of the Asian Performing Artists' Forum. In December 2011, he published Long Goodbye--Pappa TARAHUMARA and Its Era through SEIGENSHA Art Publishing. In May 2012, he disbanded Pappa TARAHUMARA, and launched the Hiroshi Koike Bridge Project in June of the same year. In December 2013, he published Listen to Your Body under Shinchosha Publishing. He is currently involved in the "Mahabharata Project," which spans several years, in collaboration with classical performers from Asia, while the Kenji Miyazawa series is ongoing in Japan.