Creating Manga: Lecture Based on Rurouni Kenshin
Kaworu Kurosaki (novelist, screenplay writer, story collaborator)


Rurouni Kenshin, a Japanese manga series also known as Samurai X and Wandering Samurai in English, is beloved by readers in more than 23 countries around the world, even today, 15 years after the final installment of the series was published in Shueisha's Weekly Shonen Jump. There seems to be no end to the number of fans of the series who study Japanese language and history in order to better understand its plot, which incorporates historical facts from the Meiji Period (1868-1912). Brazil is no exception either, and thanks to the strong historical ties between Brazil and Japan, the series is enjoying a steadily expanding base of devoted fans.
 In February 2014, the Japan Foundation organized a lecture tour on the manga series Rurouni Kenshin in Brazil. The foundation invited Kaworu Kurosaki, a collaborator in the creation of the manga story, a novelist in her own right, and also a returnee from Brazil, to deliver a series of lectures based on the world of Rurouni Kenshin. Speaking from the perspective of someone who knows both Japan and Brazil very well, she explained the process of creating manga and characters in Japan, the actual situation of professional manga artists, and the difference between novels, anime and manga in terms of direction methods. Ms. Kurosaki also shared some inside stories from the world of manga creators.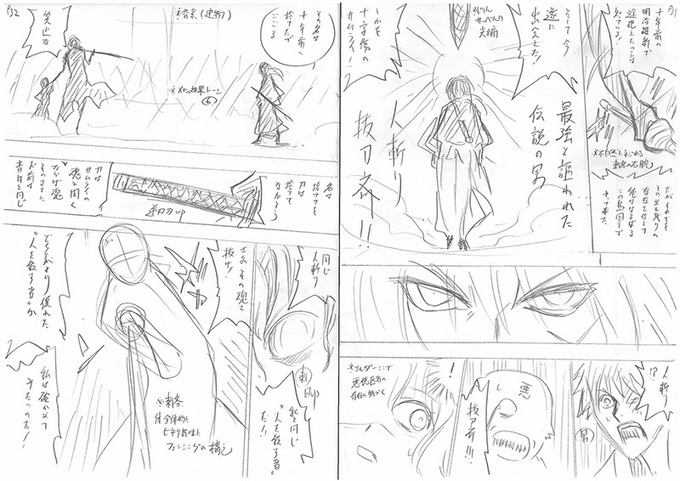 Preparation for the lecture. Prepared the storyboard from Rurouni Kenshin: Meiji Swordsman Romantic Story, Episode Zero, etc.

 I traveled to Brazil, the country where I was raised, to deliver a series of lectures on this theme.
 My husband, Nobuhiro Watsuki, is the author of the manga Rurouni Kenshin. I myself wrote the novel version of the series. From this perspective, it is a great honor for me to be invited to do this lecture tour.

Preparation stage
 First, I prepared the PowerPoint materials for the lecture.
 The theme was "Creating Manga," but in fact, there are numerous different ways to approach the process of manga creation, and they all depend on the artist. There are also many subjects that cannot be explained generally. That is why I decided to add the proviso that my lecture applies to the creation process of Rurouni Kenshin.
 The materials for the lecture were spread on 120 PowerPoint slides. I also prepared plenty of photographs and video. As for content, I could spend an entire day talking about the storyboard alone, but I knew this would not do, so I decided to adjust the length of my explanations and sift through the content on the spot, taking into account the time allocated for the lecture and the response of the audience.

 I wish I could say that this took care of all the preparations. Alas, I think there must be a genie lurking in the PowerPoint program. I kept trying to adjust the figures and fix the graphs, and, before I knew it, the departure day was upon me. Still, the genie kept whispering to me from the PowerPoint presentation: "Maybe it can still be improved if you check it some more." Eventually, I kept fiddling with the presentation even on the airplane. But being pushed around by this PowerPoint genie was kind of fun. Incidentally, I imagine it as a beautiful and well-endowed, sexy woman.



Manaus
 After a 36-hour trip from Japan (during which I was pushed around by the PowerPoint genie), I finally arrived.
My destination was Manaus, a city located at 3.8 degrees south latitude, near the equator.
 I lived in Sao Paulo 35 years ago. Back then, in my family we always talked about visiting Manaus someday. The image most people have of Brazil is the Amazon and jungles, but Sao Paulo, where I lived, is a giant metropolis located in the temperate zone, where high-rise buildings outnumber trees. And although I lived in Brazil, my life was detached from nature, so I always dreamt of visiting Manaus, a city that best represents the popular image of Brazil. My dream finally came true.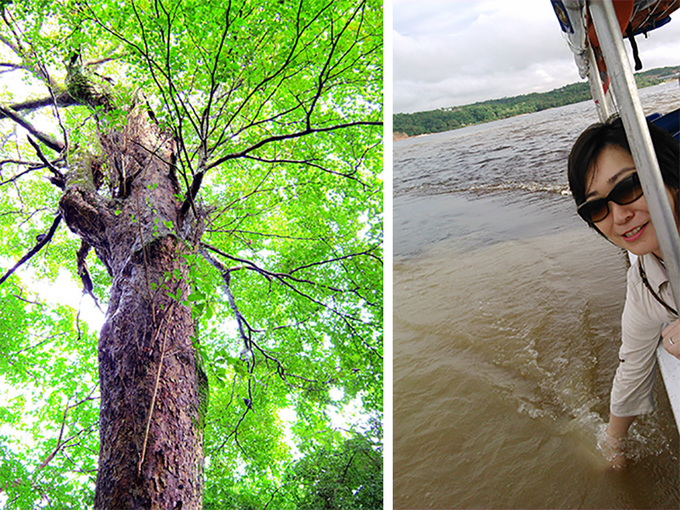 (Left) A 600-year old Tanimbuca tree in the National Institute of Amazonian Research (INPA).This tree predates the discovery of Brazil some 500 years ago.
(Right) Touring the Amazon where Rio Negro meets Solimões. The two rivers are completely different in color and temperature.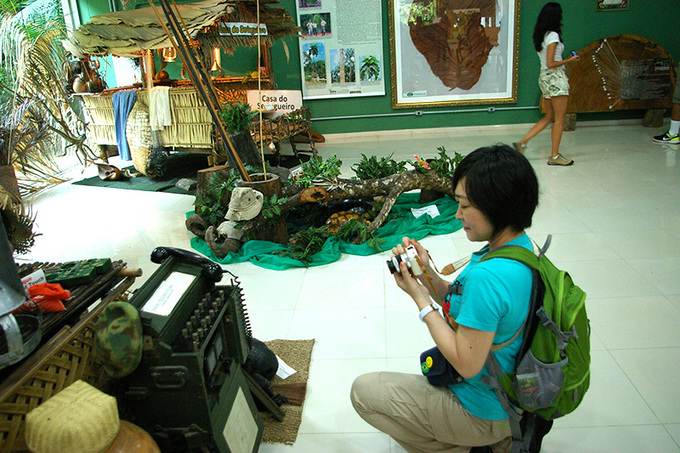 Taking a photo of an old-time wireless phone. It's huge compared to modern smartphones.

In Manaus, I delivered a lecture at the Sports Center Auditorium of the Amazonas Branch of the Social Service for Industry of Brazil (SESI). Halfway through the presentation, I had created a scene in which the words "UM MOMENTO!" ("One moment!" in Portuguese) were projected on the screen, but the audience would call out "Chotto Matta!" ("One moment!" in Japanese) in true Kabuki theatre fashion. Time passed very quickly in this lively atmosphere. The Brazilian audience did not belie my expectations: they were more enthusiastic than any other audience around the world. I felt extremely proud of the country that had raised me. I was also very glad I had fiddled so much with the PowerPoint presentation.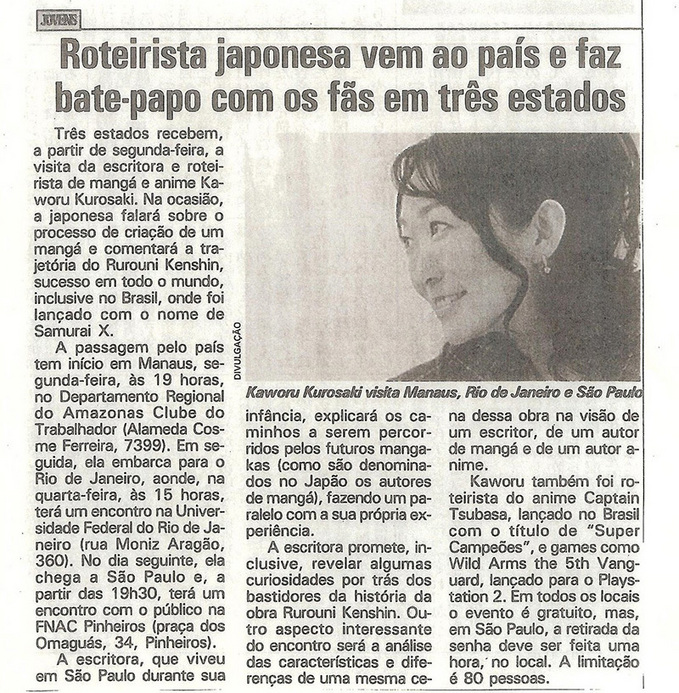 A fabulous shot of me published in a local newspaper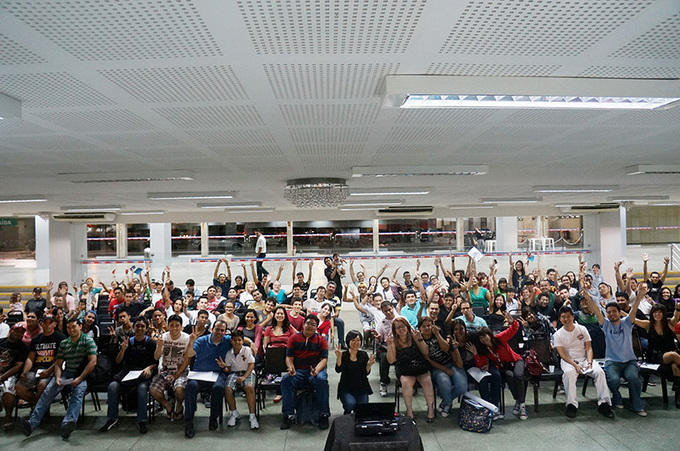 My first lecture in Manaus. The cheerful, enthusiastic audience made me feel extremely glad to be in Brazil.



Rio de Janeiro
 First, I visited the Rio de Janeiro Japanese School, which has 13 students. Here, I skipped the difficult parts of the lecture, and showed only the slides that used drawings to demonstrate the fun aspects of creating manga. The children observed with shining eyes as the soft and somewhat vague lines of the draft sketches gradually transformed into the sharp and clear lines of the finished manga. I was really happy to see their genuine pleasure and interest.
Also, I presented them with my books, as well as with books written by Mari Ishigami, a Rio de Janeiro-born novelist. It was a moving experience for me to successfully carry out the mission of delivering her books to her birthplace. And although no one had asked me to do so, I felt great satisfaction at completing my task.
 Later, I received letters from the students of the Rio de Janeiro Japanese School, which further deepened my memory of the wonderful time I spent with them. I would like to once again thank all involved parties for the incredible opportunity to deliver a lecture there.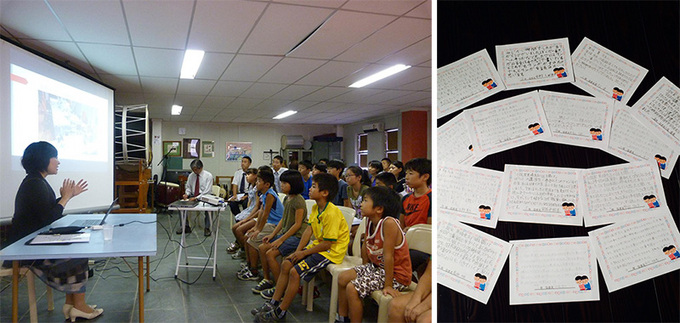 (Left) Schoolchildren in the Rio de Janeiro Japanese School listen attentively to my lecture.
(Right) The letters I received later. The beautiful handwriting and the efforts the children put in their messages moved me very deeply.

Next, I visited the auditorium of the Technical Department at the Federal University of Rio de Janeiro (UFRJ). There, I had a delicious lunch at the school cafeteria and enjoyed the feeling of being a student again.
 The number of spectators who attended the lecture that day exceeded the capacity of the venue, so every bit of space in the room was filled with people who had to stand and there were even people who could not see the presentation. The allocated time also exceeded the duration at other venues, so overall I think it was a productive and dynamic lecture.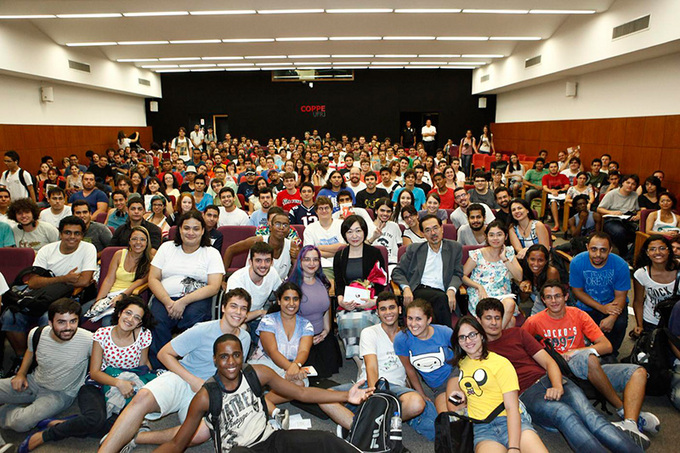 The lecture at the Federal University of Rio de Janeiro was attended by numerous spectators.

 In the evening, I attended a dinner with the top three members of Rurouni Kenshin Brasil, who expended great effort in advertising the lectures. They are enthusiastic, devoted, and extremely interesting people, and today we are friends on Facebook and exchange information about the latest developments in our lives.
 Incidentally, one of the members of Rurouni Kenshin Brasil brought up the following issue during dinner.
 As an avid manga fan, he was often told by his university teachers that manga and anime were of no use whatsoever, and that he should stop wasting his time with such junk, without being given a chance to explain his view on the issue. Subjected to such strong denial of his interest in manga and anime, the man fought with his teachers and eventually quit university.
 My husband, Nobuhiro Watsuki, got into a lot of trouble with his school teachers over his career path choice as well. As a student in a school centered on preparing students to advance to university, where very few chose to find employment after graduation, he was criticized very strongly for expressing his intention to become a manga artist. This experience is hardly a good memory for him. I have also been strongly criticized for my desire to write novels.
 Denial of one's dream profession or beloved hobby is just as hard as denial of one's entire personality. However, people who call themselves teachers yet are unable to understand this and lack empathy and sensitivity. This could be found in any country around the world. We are all kindred spirits who overcome the same difficulties despite our different countries.
 As for the path to advance to a special occupation such as manga creation or writing novels, there are people who become professionals straight out of school, and people who earn their living by working another job as they strive to achieve a professional level of competency. I would advise teachers who provide career guidance at school (or parents who worry about their child's career choice) to respond with understanding rather than denial when the child expresses ambitions to pursue such an occupation. It would also be extremely helpful if they provide students with guidance that takes into consideration ways to earn a living until becoming a professional, as well as schools where students can acquire technical skills and knowledge. This sincere request, which transcends national borders, comes from three people who have struggled through the identical experience of being picked on for their ambitions. Incidentally, if one wholeheartedly abandons one's ambitions, a new path will naturally open in front of them. This is one aspect of growth, and a part of human life.
 As for the member of the Rurouni Kenshin Brasil who brought up the issue, today he is working in the field of computer graphics. He showed me some of his original CG animations. They were examples of credible performance and made a poignant point about the lack of borders for the ambitions and skills to create something one truly loves.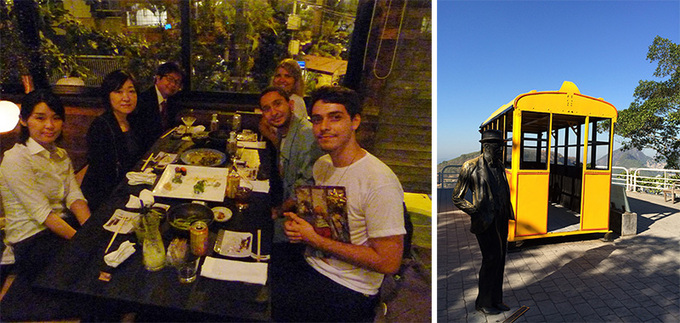 (Left) Dinner with the top members of Rurouni Kenshin Brasil: a meeting of kindred spirits
(Right) Visit to Sugarloaf Mountain. A cable car that was used 100 years ago.



Sao Paulo
 That was my first visit to Sao Paulo in 35 years.
Looking at the familiar scenery during the car ride from the airport to the city, I was overcome with nostalgia. According to the schedule, immediately upon arrival I had to deliver a lecture at the event space of an electronics retail store called Fnac, but just one look at the nostalgic sights of Sao Paulo filled me with deep emotions.
 Then, as I arrived at Fnac, I made a shocking realization.
 The Rurouni Kenshin DVD for Brazil was to be released the following day. And the lecture venue was at an electronics retail store, right next to the DVD counter. Could this be an organized sales promotion event? (Actually, it wasn't. It was a pure coincidence.)
 In such a situation, I thought, my lecture may impact DVD sales. Failure was out of the question. (I will just skip forward and tell you that the lecture was a great success, and I imagine it boosted DVD sales.)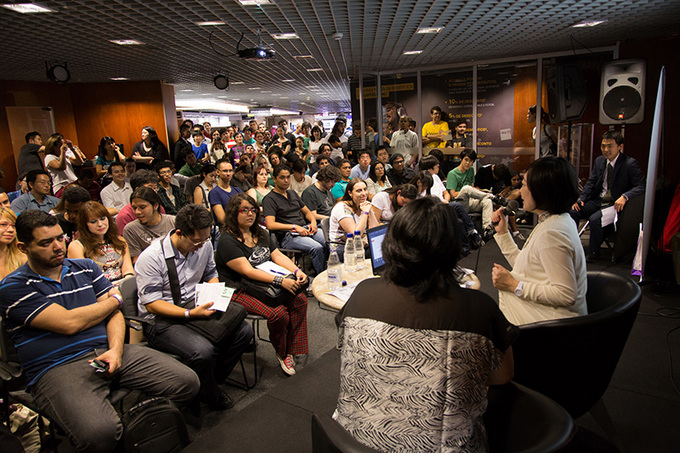 My lecture at Fnac in Sao Paulo. I hope the DVD sells well.




(Left) The address delivered by the director of the Japan Foundation, Sao Paulo, in Portuguese boosted the mood of the audience.
(Right) Explanation of the traditional Japanese haircut chonmage. With the next slide that explains the traditional Japanese undergarment fundoshi, I am going all out to get a laugh from the audience.

 Come to think of it, during my lecture I received the following question: "Is it hard to be the wife of a manga artist?" I took this question as the perfect opportunity to share with the audience a story that had proved quite popular in an interview I gave in the US. "The work of manga artists ties them to their desk all the time..." I started to explain, but then I realized that some of the spectators were already chuckling.
 Wait! Were this a rakugo performance, I would still be delivering the makura (warm-up talk). But if the audience is already laughing, does this mean they know the story I gave in the interview? I thought it was safe to share it, since Brazil was not an English-speaking country. But true to their reputation, the Sao Paulo spectators were very sharp. Still, I had no choice but to continue with the story. So I made up my mind and went on. "So he's sitting all the time, and his underpants tear very easily. And very often." (Even people who did not know the story laughed at this point.) "As his wife, this is a big problem for me. On top of that, Watsuki is as big as a sumo wrestler, so it is very difficult to find underpants his size. The other day when I was leaving for the U.S., he asked me to get him a life-time supply of American-size underpants. Are these sold in Brazil too? Large size underpants?" (This was met with calls of "Sure!") All in all, there were many people in the audience who had not heard the story before, so it was okay, but I will not be able to use the same story for a while. This inspired me to come up with some new stories.

 On my second day in Sao Paulo I visited JBC, the publisher that issues the Portuguese edition of Rurouni Kenshin.
Here I learned that the manga situation in Brazil has advanced to a level at which reading alone is not enough, and many people are beginning to draw manga. Apparently, a manga contest had attracted some 130 submissions. Furthermore, there are more than six manga schools in Sao Paulo, and the day when Brazil will have original "homemade" manga magazines may be near. I am really looking forward to it.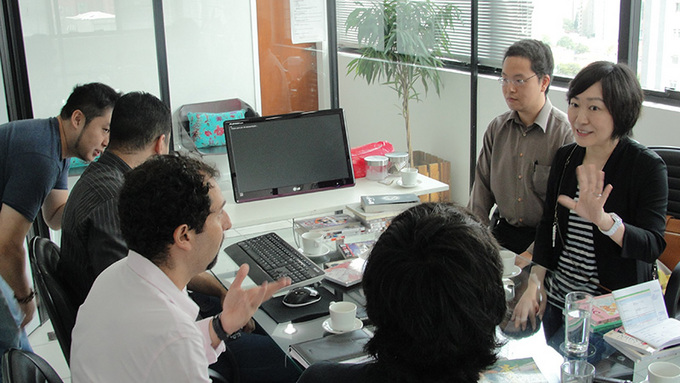 At JBC Publishing, listening to explanations about the manga situation in Brazil. This was an extremely useful learning experience for me.

 We left JBC in a hurry and headed for my Alma Mater, the Sao Paulo Japanese School.
 It is a large establishment with a total of 230 students, completely different in scale from the school in Rio de Janeiro and its 13 students. Yet there was no difference in the children's interest in manga. The listened to my talk, watched the slides, and responded with an endless flow of questions. I left the sorting of questions to the teachers and instead focused on responding as thoroughly as possible to each single one of them. Since the questions came from children, many of them were quite unexpected and surprising, and I enjoyed them immensely. For instance, one student asked me how stars are drawn. I thought the student meant the stars in the sky, but I was wrong. In fact, the question was about the concentrated linework. It does indeed look like stars. I enjoyed this exposure to the children's free sensitivity and imagination very much.
In the end, at my request, the students sang their school song. Of course, I can sing it too. It is a very beautiful song. As we sang, the feeling of nostalgia brought tears to my eyes, but we should keep this a secret.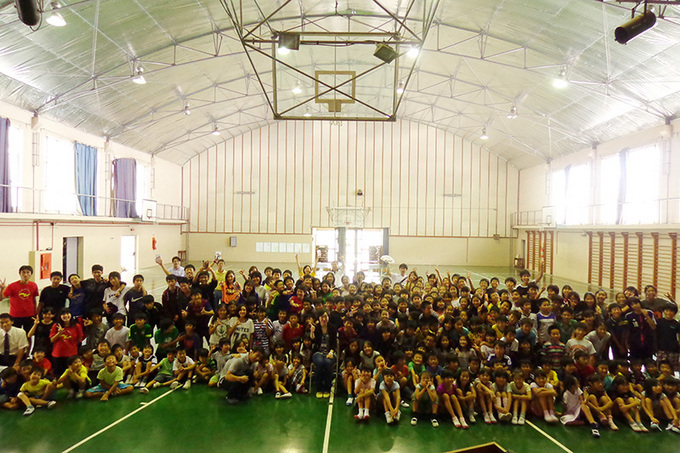 The huge audience at my Alma Mater, the Sao Paulo Japanese School

 So this is how my 10-day whirlwind trip to Manaus, Rio de Janeiro, and Sao Paulo came to its end. I travelled 44,313km, which is more than one full trip around the globe.
Many people took care of me and helped me in various ways. I will treasure the names of each and every one of them in my heart, and I would like to use this opportunity to express my heartfelt gratitude.

 On a different note, I would like to share a story I heard in Brazil.
 "A study implemented by a certain scientist who made boys read manga produced unexpected results. Can you guess what the results were?" I imagined that it would be something along the lines of improved literacy rates, but the correct answer was that reading manga resulted in lower drug use rates.
 According to the study in question, when boys become absorbed in manga, they get hooked on the story, and the curiosity to find out what happens next makes them use the money they would usually spend on drugs to buy manga instead. Inevitably, they stop using drugs. This means that manga is more addictive than drugs, right? This is a wonderful study. If the story is true, the authorities in rough neighborhoods where young people tend to abuse drugs might want to consider distributing the first volume of a manga sequel for free. Also, if anyone has any details about this study, for instance the name of the researcher, etc., please let me know. The PowerPoint genie lurking in my mind is whispering: "If we find a reliable source, we could use this story in our next lecture."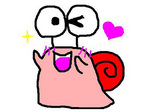 Kaworu Kurosaki
Novelist, screenplay writer, and story collaborator, as a child Kaworu Kurosaki lived in Sao Paulo, Brazil, before returning to Japan. In 1994, she made her literary debut with the novel Tenshitachi no Wakusei (The Planet of the Angels). Kurosaki collaborated in the story creation of the manga works Buso Renkin (Alchemist Warrior) and Embalming - The Another Tale of Frankenstein. She is the author of numerous novels, such as Rurouni Kenshin: Ginmaku Soushi hen, Buso Renkin.. Kurosaki also wrote the screenplays of numerous animation works and games, such as Captain Tsubasa. Her activities span a broad range of genres, including teaching voice actors and screenplay writers. Kurosaki is a member of the Mystery Writers of Japan. She is married to Nobuhiro Watsuki, the author of Rurouni Kenshin: Meiji Swordsman Romantic Story.