Design that Connects the World - Young Designers Visit the United States
Eisuke Tachikawa (NOSIGNER)
Yuri Naruse (Naruse•Inokuma Architects)
Takako Kansai (Zaim Inc.)
Tadahiko Sakamaki (KORG INC.)


As a part of the KAKEHASHI Project - The Bridge for Tomorrow Japan-U.S. Youth Exchange Program, the Japan Foundation started implementing the Japan-U.S. Young Professional Creators Exchange in 2014, covering the four major areas of Cool Japan: fashion, design, animation and art. As the second group of the exchange the Japan Foundation dispatched five young designers currently enjoying strong international recognition, including Good Design Awards, to the world's capital of design, the United States. During their time there the five creators visited design-related facilities, interacted with young U.S. designers and presented a current Japanese society through their own works.
Upon returning to Japan, the designers submitted reports on what they had become aware of through their interactions in the U.S., the responses they received, and future challenges and visions.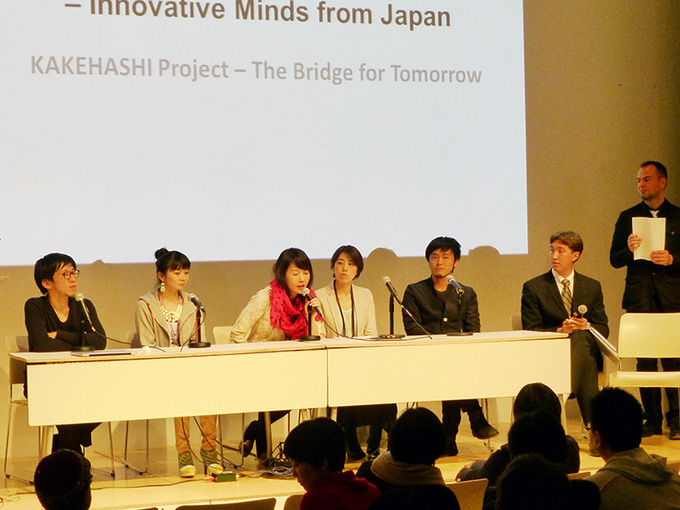 The possibilities arising from applying design to public administration  
Eisuke Tachikawa

This visit to the U.S. was a journey involving a great deal of learning. I work as a design strategist at the NOSIGNER design studio, and in that role, I come up with designs connected to resolving society's challenges. There is an impression that considering design strategies is something new in Japan, but in the U.S., design has increasingly become a component of solutions to social challenges, policy recommendations and corporate management strategies. I came into contact with truly world-leading case examples while in New York and San Francisco this time, and was able to gain an awareness of various issues through interacting with the people who had been involved in them.

 The case that left the greatest impression on me was NYC & Company, which was the first place we visited. After New York City's current Mayor took office, the operation of the city's tourism bureau was reorganized to make it a quasi-governmental agency, and as a result of installing a design strategist as the manager, not only was its website transformed into an extremely easy-to-use for tourists, but the company was also cultivated into an entity involved in a variety of public administration-related branding, including the websites of New York City's other ministries and agencies as well as festivals and social projects. I realized that New York is becoming more and more appealing thanks to close relationships between administrators and designers, and this had an impact on me as a designer.
 Currently, my job is to consider international exchange and cultural dissemination as the concept director of Japan's public diplomacy for the Cool Japan Movement Promotion Council, and so I am thinking about the relationship between administrations and design on a daily basis, but with the NYC & Company case I encountered a powerful practical example.
 At a presentation we carried out at the New Museum, I discussed my everyday design activities and how I would like to redesign Cool Japan, which has been going for 10 years. I received a very favorable reaction, and it was reassuring to discover that the people in the U.S. had similar feelings to mine regarding the things I have doubts about, such as Cool Japan's traction and the lack of a mission, the disconnect with foreigners' opinions and the poor image associated with Cool Japan as a name.
 Even in the U.S. there is awareness that the quality of Japan's designers is top-class. On the other hand, if you were to ask if Japan as a country understands the outcomes of design and is capable of utilizing them, Japan may regrettably rank right at the bottom among the world's developed countries. This trip allowed me to once again experience firsthand the possibilities that can be generated by applying design to public administration. Coming into contact with real-life examples in the U.S. allowed me to consider the future of design in Japan.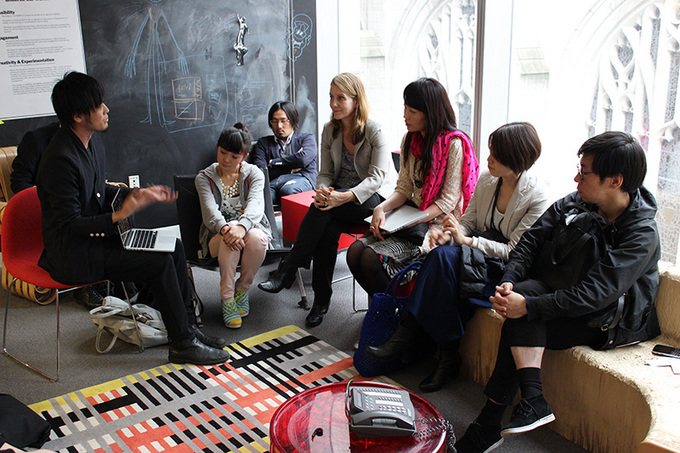 Exchanging opinions with MoMA's Paola Antonelli (senior curator)



Sharing not just the design, but the background to it  
Yuri Naruse

 In this dispatch, we visited two to four companies or universities a day, and in addition to introducing our respective fields of design to each other and exchanging opinions, we gave a lecture presentation in New York, so it was a very intense seven days. Prior to going I had been worrying about how much interest people in the U.S. would have in our design activities in Japan and whether they would understand, but those concerns disappeared completely once we actually got talking.



 My main field of activity is architectural design. I am chiefly interested in designing places where people gather and forge new connections, such as shared houses, shared offices, welfare facilities and community cafes. My job is to take "new activities" that did not exist during Japan's era of high economic growth and transform them into physical spaces. Japan consisted of farm village-type communities based on regional bonds and blood relationships, but when it entered its period of high economic growth, for many people the company became the main cornerstone of the community and the family. However, accompanying the decline in lifelong employment, the company's role as a cornerstone is disappearing, and with families taking various shapes and forms, social connections between people are called for that differ to the communities that existed thus far, and it is against this backdrop that the new places we are involved in designing are emerging. This is a situation that I had assumed people in the U.S. might find difficult to understand, as I imagined that they are more sociable than Japanese people and that by nature many of them change careers repeatedly rather than opt for lifelong employment. Once I outlined my initiatives and exchanged views, however, I discovered that in the U.S., initiatives are also underway to make welfare facilities hubs for regional connections. In addition, I learned that new types of facilities are beginning to emerge in the U.S. as well, including cafes that are appearing in New York as places where people gather and form social bonds, as opposed to just being straightforward cafes. Along with discovering that we had something in common, I was also able to have my efforts in Japan recognized.
 The other very interesting thing was that in Japan and the U.S. there are points in common when it comes to the challenges that are faced in the field in design and on the front lines of design education. For example, at NYC & Company, which we visited first, we were told that when New York City's website was revamped it could not have been achieved without working steadily, and by meeting with each key person directly and convincing them of the importance of design and the designers' vision. Similarly, at the Architectural Design course at Stanford University, which we visited in San Francisco, because the university as a whole wins recognition based on the doctorates one has and the essays one publishes, it is extremely difficult to employ people, who are actually engaged in the practice of designing architecture, as teaching staff. Precisely the same situation is occurring in Japan.
 I think one of the significant outcomes of this dispatch was being able to share not only designs themselves, but the background to them.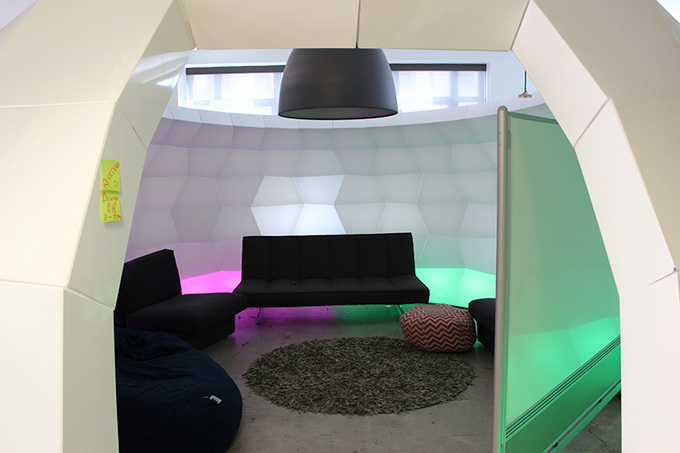 At RUNWAY's shared office



Creating services that inspire broadly
Takako Kansai

In this dispatch project, we visited a variety of locations, from companies and universities whose names everyone is familiar with like Google and Stanford University, to design firm like AKQA, and RUNWAY and other incubation centers that are quite simply gathering momentum now. We were able to interact with a large number of people, so it was an extremely valuable experience.


 In the United States, the thing I sensed most strongly was that, despite the difference in the scale of the market, there is no gap between Japan and the U.S., when it comes to the essentials of creating products or services. For example, the designs produced by Kiss Me I'm Polish would undoubtedly be accepted just as they are in Japan. The service concept of Shoes of Prey, which is run by Bracket and whom I have been working with in Japan, was so popular that it brought cheers from the women present wherever we presented it. This may only be true for large metropolises, but I got a real sense that good quality design is coming to be accepted without barriers, anywhere in the world.
 On the other hand, it was also possible to detect some differences. For example, cases in which the public and private sectors come together to support an overall region, like with NYC & Company, are still not so common in Japan. In particular the designs generated by NYC & Company are extremely stylish, and people living locally also said that it is contributing to improving the branding of New York as a whole. What can be learned from this is that Japanese 'design' on its own is at a sufficiently high level to compete globally, but in circumstances where design is combined with something extra, such as 'design' plus 'policy,' Japan still lacks experience. What sorts of scenarios can be foreseen in order to bring about initiatives such as this in Japan? I realized that this is a very interesting theme.
 Additionally, although this may have something to do with New York's local color, I frequently sensed respect for Japanese culture and technologies. When Tadahiko Sakamaki of KORG, who took part in the dispatch project with us, introduced the Kaossilator, it turned out there were its fans and users at various companies, and discussions about the product sprung up. Nevertheless, when it came to Web-related companies such as the one I am attached to, there seemed to be almost no knowledge of companies that originated in Japan. As someone involved in the industry this disappointed me, and it has also given me a sense of crisis.
 I feel a renewed desire to make maximum use out of the knowledge I gained from this experience and to come up with inspiring services that will gain acceptance widely among people overseas, not just in Japan.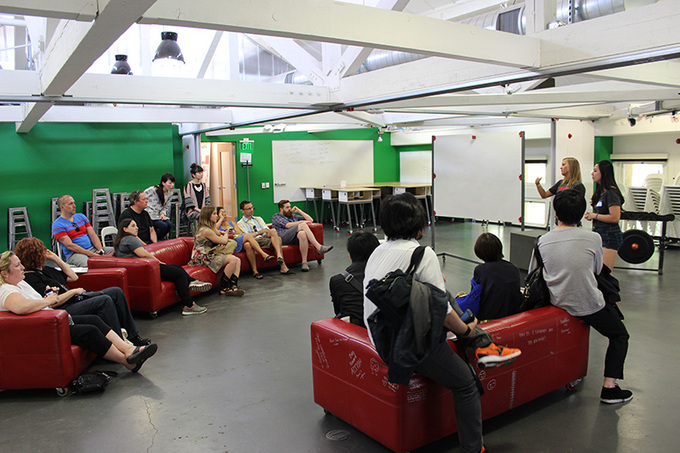 At Stanford University's Institute of Design



People's passion gives rise to works that connect to the world  
Tadahiko Sakamaki

 I participated in the KAKEHASHI Project as the product planning manager at an electronic musical instruments manufacturer. In the musical instruments industry, the U.S. is the world's largest market, and so I thought I had a fair knowledge of the U.S., but the country that I got to experience through this project differed from what I knew.



 I generally see the U.S. as a market and had an impression that following the 2008 financial crisis the market was stagnant and somewhat lacking in vitality. Although I heard that the market was beginning to recover, I had no real sense of that.
 However, the places I visited through the KAKEHASHI Project were full of vibrancy and the passion of the people working there was overwhelming.
 The U.S. designers and creators explained their works with a great deal of enthusiasm and, in particular, they did what makes the works interesting with details. Furthermore, when I presented my works they listened earnestly and asked a lot of questions. Whether they are coming up with works, or explaining works, or learning about other people's works, they engage in it passionately. I was surprised at how that passion was so much stronger than my own.
 Naturally I too try to engage in my own work with passion. When working at a company, being a little cynical can be advantageous, and being overly passionate can also have a negative impact on the team. Furthermore, now that I have been working at KORG for 10 years, the parameters of my job have widened and I am in charge of a number of projects at the same time. It may be that I have unwittingly slacked off and stopped throwing myself into projects with passion. And looking at friends and acquaintances around me, I think I am not the only one.
 Bringing passionate people together gives rise to new works, and people's passion drives them forward and outward. This changes a country itself, influences people and ultimately goes around the world. I believe if each and every one of us are more passionate, we will attain as much global competitiveness as the U.S.
 People in the U.S. are not the only ones overflowing with passion - so are the Japanese designers and creators I traveled around the U.S. with. I learned a great deal as a result of engaging in activities with them. Around the time the trip came to an end, I realized that with them around, my own activities would naturally connect to the world as well.

[Reference article]
Contributed Article: The Next Leap--Report on Exchange Among Young Fashion Creators in New York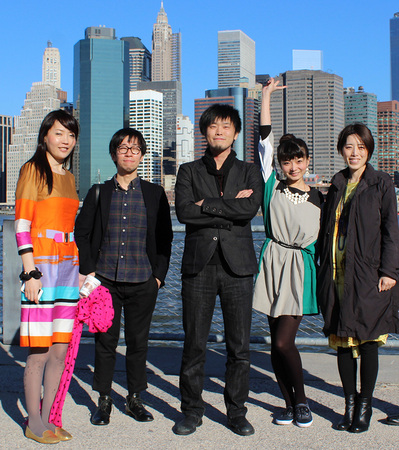 From left to right: Takako Kansai, Tadahiko Sakamaki, Eisuke Tachikawa, Ayana Tsukahara , Yuri Naruse


The participants in the Japan-U.S. Young Professional Creators Exchange Program (Design) are:

Eisuke Tachikawa (NOSIGNER)
Eisuke Tachikawa undertakes broad-ranging design activities that are focused on social significance. He has won a large number of awards in international competitions, including the Design for Asia Award.

Yuri Naruse Naruse Inokuma Architects
Yumi Naruse has been involved in architectural activities that focus on community-building, including the design of a large number of shared housing projects such as the Riku Cafe in Rikuzentakata City.

Takako Kansai (Zaim Inc.)
Takako Kansai is the developer of Zaim, which is a household accounts app that has become a huge hit with over one million users. She has been collaborating with various companies to broaden the app's possibilities.

Tadahiko Sakamaki(KORG INC.)
Tadahiko Sakamaki created the Kaossilator, a palm-sized synthesizer anyone can use easily. He is proactively engaged in unconventional and forward-thinking activities.

Ayana Tsukahara(Bracket, Inc.) Ayana Tsukahara developed Store.jp, which allows anyone to open an online store in as little as two minutes. She involved in launching innovative Internet-based services.